Gamble USA strives to improve your online gambling experience. We aim to help you play safely, make informed decisions when gambling, and increase your betting knowledge through our guides.
We adhere to strict editorial integrity; our content may contain links to products from our licensed & legal US partners.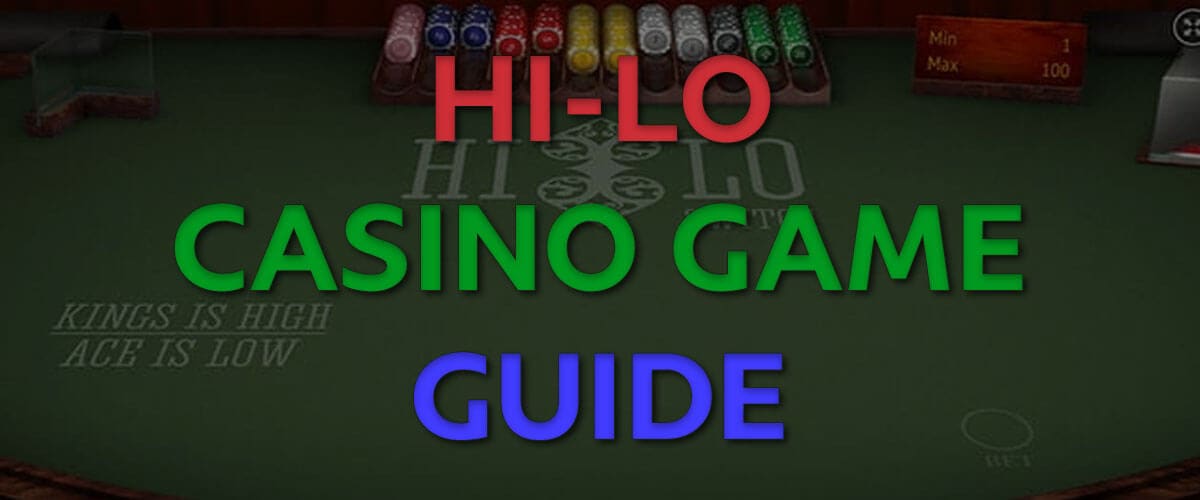 Hi-Lo is undoubtedly one of the world's most popular cards and casino games, and you may have heard of it because of its simplicity. It gives players the chance to win big cash prizes by correctly guessing whether the value of the cards will rise or fall. It is, in many aspects, the ideal entry to the thrilling world of cards and all the different varieties of the game that go with it.
Despite having straightforward rules, a High-Low card game is a thrilling experience. It can even enthrall a player with a lot of prior gambling experience. The user decides when to grab the win so that everyone can plan their game strategy. It uses a standard 52-card deck, and you must guess whether the following card will be higher or lower.
The main reason it's so popular is that it maintains a high level of excitement by keeping the player predicting at every turn, making predictions, placing bets wisely, and winning big prizes. Hi-Lo is undoubtedly the game for you if you're looking to get into card gaming and want something easy to get you started. So, keep reading to get a detailed overview of what makes this card game so exciting and guidelines on how to play it.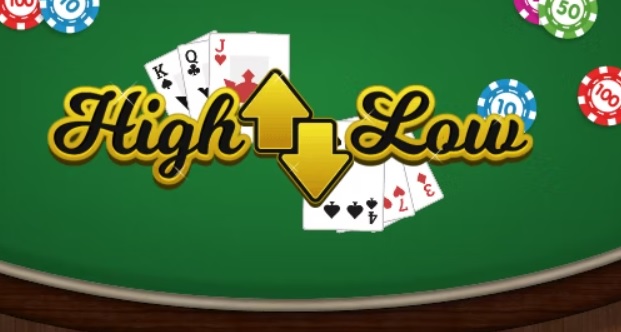 What is the Hi-Lo Casino Game?
HI-Lo is a category of well-liked card games available to play in land-based casinos and online. It is also known as the High Low card game and is one of the most popular casino games. Due to its simplicity, it's the perfect game for new players who want to put the brakes on slots and gradually move into table games. You also have a range of variations to pick from, which we'll cover in more detail below. Although the visual styles differ considerably, the basic concept is always the same.
Many players like interacting with live dealers and prefer challenging their gaming skills against a skilled croupier. Because of this, most live casinos provide both an online and live-dealer version of the High Low game and a wide range of bet limits to attract all players. There are no other participants because Hi-Lo is played just between you and the dealer. Generally, players must guess whether the next card will be higher or lower than the card on the table. If you think that sounds excellent and desire a comparable gaming experience, it's worth reading our guide.
Best US Casinos to Play Hi-Lo Game
The above are the highest-rated among legal casino apps for Hi-Lo. They are powered by several providers, each offering their own Hi-Lo table game. For example, you can play Hi-Lo at FanDuel Casino from Evolution or choose to play Hi-Lo from Playtech at DraftKings Casino. The rules will be mainly the same, but the interface and graphics will differ. All listed operators are legal and licensed to operate in the USA, so playing Hi-Lo real money there is an excellent choice. Click the links to get started with a Hi-Lo welcome bonus.
FanDuel Hi-Lo No Deposit Bonus – Our Top Pick
FanDuel ranks as the best Hi-Lo online casino USA due to its $100 no deposit bonus code. It is unlocked over four weeks in $25 casino credits without any gaming restrictions or wagering requirements. The site provides access to several Hi-Lo game variants and you can win real money without the need to deposit when playing there.
Exclusive $1,000 Play it Again Bonus
21+. T&C Apply
21+. T&C Apply
Amazing choice of slots & games
Exclusive Play it Again Bonus Up to $2,000
Exclusive $1,000 Play it Again Bonus
21+. T&C Apply
21+. T&C Apply
Hi-Lo Online Real Money
Hi-Lo is a simple game among all casino games, so it is offered at most online casinos. To provide players with a online gaming experience, we have compiled a list of the top-rated casino sites. With security as our first concern, we made our selection using a set of criteria to present you with the best. We only recommend reputable, licensed casino sites with strict security and player safety regulations.
So you can now play Hi-Lo online for real money in five US states. Simply pick one of our top-rated online casinos and enter your details to register an account. All of our top sites are legal and safe, providing terrific games with plenty of alternatives for High Low players. You can also get bonuses as a new player when you make your initial deposit at any of these casinos. Also, you may get free play games using online casino gaming, which isn't accessible in physical casinos.
Hi-Lo Card Game Rules
The rules of Hi-Lo games are the most straightforward of all online casino games. This game is played using a full 52-card deck, excluding the jokers. The player competes against the dealer and must predict whether the face-down card is higher or lower than the face-up card. Following the predictions, the dealer will turn the card face up and reveal the outcomes. It's just a guessing game; you win if your guesses are accurate. If they are not, you lose the game. The game is relatively fast-paced, so players will not get bored. If you win the initial wager, you can continue to play with your winnings and your original stake, or you can collect your winnings and start over.
The above rules apply to the simplest Hi-Lo games. But to make the game more engaging, it has been changed to involve more betting alternatives. You can wager on the same card, on Red or Black, on numbers 2 through 10, and on whether the next card will be a Jack, Queen, King, or Ace. Additionally, when playing online, you can view the most recent card information, including the cards that have already been drawn, how many cards are still in the deck, and how other players are betting.
How to Play Hi-Lo Game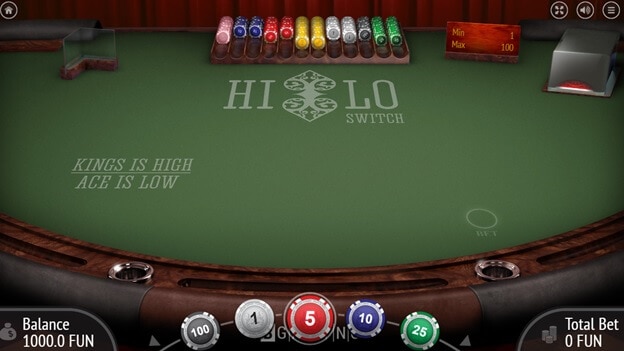 Playing High Low card games is relatively straightforward, as we already mentioned. The game only has two participants: the dealer, who manages the deck, and the player responsible for predicting the card values. Let's have a look at how to play the Hi-Lo casino card game online:
You must first set up an account with one of our

top-rated online casinos

and pick the preferred variation of a Hi-Low game.
The Hi-Lo card game's betting structure is straightforward because there are mainly two popular ways to wager: Higher or Lower. However, in some variants, you can wager on whether the following card will be an Ace of any suit, a King, number 2 through 10, same card, and Red or Black.
To get started, pick a Chip size to make your initial bet and hit the Deal button. You may often stake as little as $1 while playing Hi-Lo online or live, but if you have deeper pockets, you can bet as much as $1,000. Also, the odds for each result are displayed before you place your wager.
When you press the Deal button, you will see one face-down and one face-up card on the table. Check the face-up card and make a prediction for the next or face-down card based on its value.
The game is played with a basic 52-card deck, and the goal could not be more straightforward. Usually, you only have to guess whether the upcoming card will be higher or lower than the one already on the table.
The face-down card is revealed once the guessing period has ended or you have decided on your guess. When the guess is correct, the player wins and has the option to double or collect their winnings.
Your payout will be increased if you gather these cards in a sequence: the more right guesses you make in a row, the higher your reward. But, remember, you will lose if your prediction is wrong.
Hi-Lo Statistics: House Edge & Payouts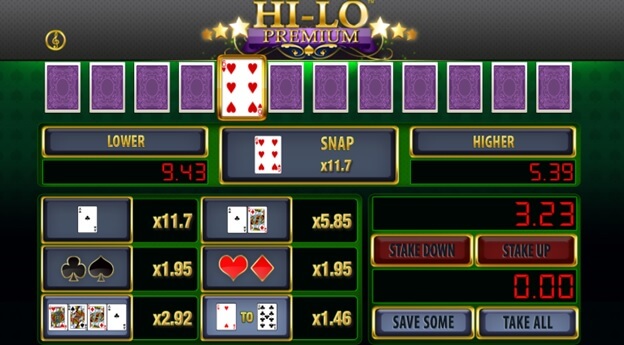 The game is simple, yet it still needs some quick decisions that require observation abilities. The odds of each round in this game will differ. Not only will the odds change, but the game will also not provide fixed rewards. The payout for correctly predicting whether the following card will be higher or lower can change in each game round. The payout for the round is lower if the odds are higher. A higher card value will result in a significantly smaller reward than a lower one. Usually, the odds are around 50-50, but with most Hi-Lo games having a 2.5% house edge, the odds drop to approximately 47.5%.
All games have a house edge to ensure that the casino always has an advantage over the player. Because of the house edge, the casino can expect to benefit in the long run. The return to player (RTP) is another way of describing a game's house edge. The RTP is the proportion of all money gambled by players that will return in wins over an extended time. The house edge decreases with increasing RTP. The Hi-Lo game's theoretical RTP could range between 96 and 98%, which is reasonable compared to other games.
Hi-Lo Online Game Variations
Many online casinos provide different Hi-Lo variations to spice things up and make the game more exciting and enjoyable for the players. There are several Hi-Lo guessing game versions, and you can pick between many RNG and live dealer versions.
Hi-Lo Switch
Hi-Lo Switch is a fun RNG variation that begins with three cards and more betting opportunities. It is a version of the standard high-low game, but it differs because you operate with three-card hands simultaneously. Three cards are dealt face-up when you place a bet, and you can bet "high" or "low" on each face-up card. You must win each of the three hands to collect your payouts, but each set of three hands only requires a single correct guess.
Omaha Hi-Lo
Despite the similarity in the names, Omaha Hi-Lo is an entirely different game. It is a popular and enjoyable video poker variation in which players battle for both the "high" and "low" portions of the pot. To build the most delicate five-card poker hand possible, each player uses precisely two cards from their four-hole cards combined with three cards from the board. The pot is distributed into the best high hand and the best low hand. The best high hand receives half of the pot, while the best low hand takes the other half.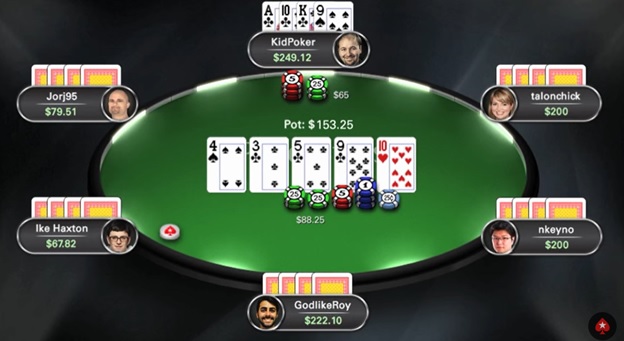 Live Hi-Lo
Another exciting version is Playtech's live Hi-Lo game, played with a live dealer, providing various betting possibilities and rewards. In this game, an elaborately costumed live presenter deals cards from six card decks, and you must correctly anticipate whether the following card will be worth more or less than the base card.
Players also have numerous alternatives other than betting on higher or lower, which we think is pretty impressive for a simple game of higher or lower. To add to the excitement, Playtech offers players to place additional side bets such as Same Card, Red/Black, 1-5/5-9, King/Ace, and J, Q, K, or A.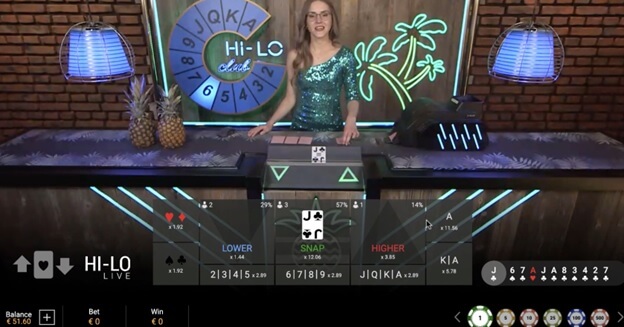 Hi-Lo Premium
This variation of the higher or lower card game is played with just 12 cards, and you must predict whether the next card chosen by the dealer is higher, lower, or the same (Snap) as the card already shown on the table. Aside from the Hi, Lo, or Snap bets, you may also wager whether the outcome card will be King/Ace, Black/Red, 2-5/6-9, and J, Q, K, or A.
The other most recognizable developers in the industry that have created different versions of the High Low game are Realistic Games, Play'n Go, and Evolution Gaming. You can also try the popular Hi-Lo Dice game, played with only a pair of dice. Another entertaining and quick card game you can try is Hi-Lo Flip. It's simple to learn and doesn't require any special abilities.
Tips & Strategies to Win at Hi-Lo
There aren't many strategies in Hi-Lo games because they're not very complicated. Yet, considering the game's simplicity, there is no harm in trying out the few viable strategies. Remember that none of these strategies will promise you success, but they will help you increase your winning chances. Making rational choices while betting each time is the first advice we'll provide players. Placing bets with lower odds, where the winning possibility is more significant than choosing wagers with higher payoff odds, is one of the greatest and simplest strategies to boost the probability of winning. So, pick sensibly and bet higher or lower based on the most likely possibility.
Another effective strategy for Hi-Lo games is the well-known Martingale technique. You can use this progressive betting method to make even-money bets. Using this method, you must put the same bet each time you win and start with the lowest first bet possible. But, you must double your wager if you lose. Although it's risky, this strategy is still often used. Another great strategy you can use to increase your chances of winning is card counting. Remember that online games with automatic shuffles are unsuitable for this strategy.
If you have a losing streak, playing Hi-Lo with the Martingale strategy will swiftly destroy your bankroll.
Always play responsibly by making and sticking to a budget. On the same note, the Hi-Lo free play mode is great to become familiarized with the betting style and gameplay without putting any money at risk.
Final Thoughts – An Outstanding Card Game for Beginners
High Low is a famous card-guessing game you may have heard of due to its simplicity. This card game is well-known for its longevity and enjoyable gameplay, requiring you to compete against the dealer. When a player guesses, he either wins or loses the pot depending on the outcome of his prediction. Your bet multiplier will rise for each card you successfully predict based on the betting choices and probability, and you may also accrue a streak of cards. If we were to list the simplest casino games to learn, Hi-Lo would undoubtedly be at the top of the list.
You are free to explore the more complex variants once you have mastered the simpler ones, such as the Drinking version, in which the punter stacks drinks to pass them to the other players. Overall, Hi-Lo is one of the simplest card games, making it the best option to start if you want to play card games in a casino or online.
FAQs
How to play Hi Lo?
To play this card game, you wager on whether the next card due to be dealt will be higher or lower than the base card. This is also a classic drinking game the more a player guesses incorrectly the more they have to drink.
How do you count cards in Hi Lo?
Hi Lo is a way of counting cards, which is also applicable for blackjack. This process involves assigning a point value to the rank of a card and then keeping a live count of whether the value is higher or lower as cards are dealt. This Hi Lo strategy has been around for a long time and is used to try and gain an advantage.
How do I win at Hi Lo?
To give yourself the best chance of winning at Hi Lo you need to make wise decisions on betting higher or lower. You can also read our tips and strategies above to improve your chances of winning.
What is the RTP of the Hi Lo game?
The RTP on the Hi Lo game typically ranges between 96-98%. Some variants that have been introduced will have an impact on RTP.
What is Omaha Hi Lo?
Omaha is a well known poker variant. Omaha Hi Lo follows the rules of Omaha High, with the difference being the showdown. This is a split pot game, with the pot divided in half. One half of the winnings is awarded to the best hand and the other half goes to the best low hand.