Gamble USA strives to improve your online gambling experience. We aim to help you play safely, make informed decisions when gambling, and increase your betting knowledge through our guides.
We adhere to strict editorial integrity; our content may contain links to products from our licensed & legal US partners.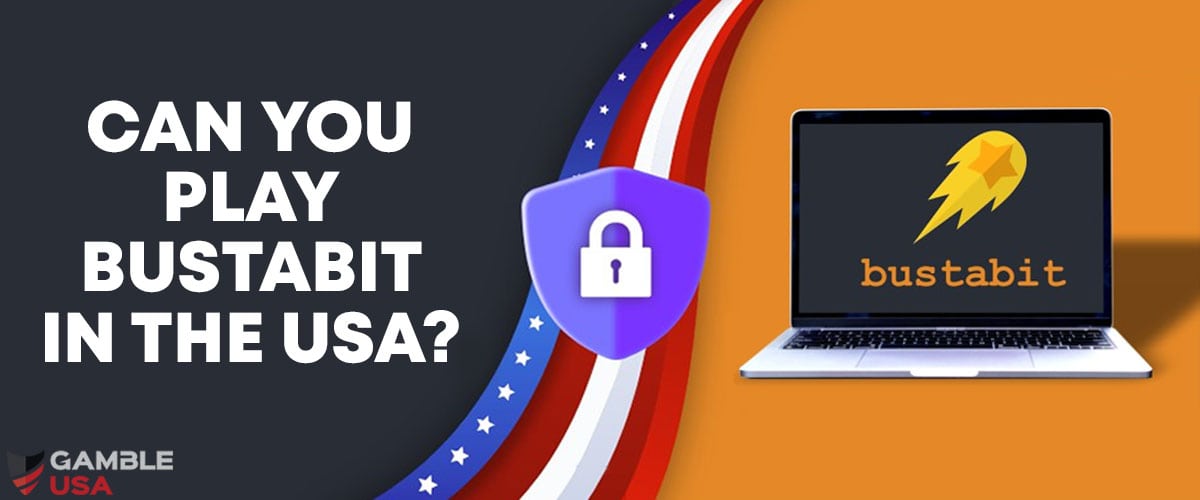 If you want to spice up your gambling experience, Bustabit is a fantastic option. However, can you actually play Bustabit in the US?
Since it's yet to be legal in the States, many players choose to bypass the regulations and join through a VPN, leaving room for foul play and raising a lot of red flags. Luckily, online gambling is regulated in some US states and regulated legal sweepstakes sites offer numerous games similar to Bustabit.
So, you can play games like Bustabit and enjoy the unique premise and rules of this game, even without spending any of your real money (if you don't want to). However, that does not mean you cannot win real money!
But more on that in this detailed guide that will help you learn how to play games like Bustabit in the USA and what to look for on legit sweepstakes sites.
Games like Bustabit Available for US Players
Since Bustabit is illegal in the States, several exciting games like Bustabit await you at top US sweepstakes sites. Here are other provably fair games with similar mechanics that reward players based on their final multiplier value:
Luckybird.io – Crash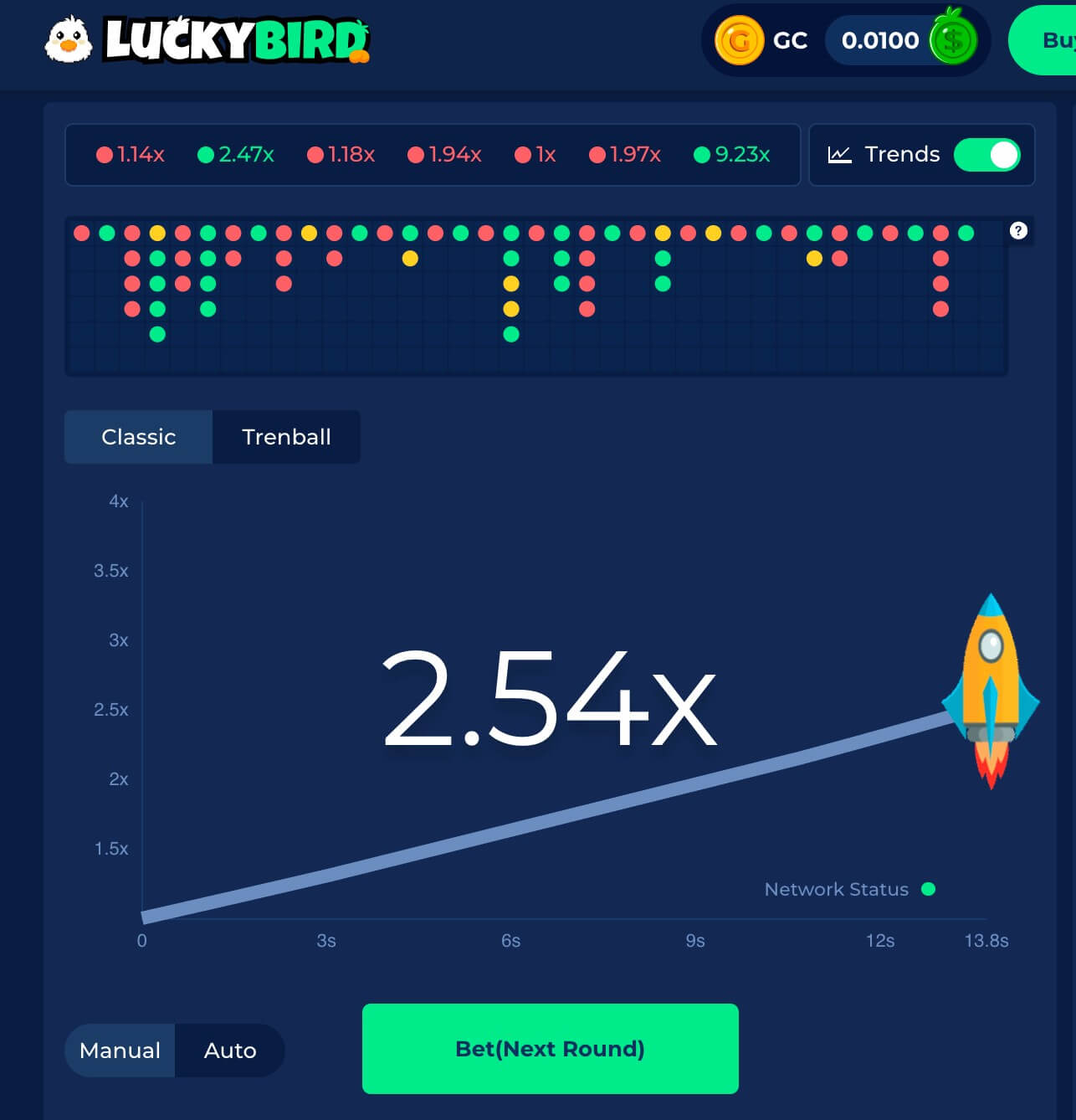 Crash over at LuckyBird.io is an exquisite crash game that displays a graph running on a random number generator. While players place bets before the Aviator game rounds, their payouts depend on the odds at which the airplane stops.
You get to follow other players' progress in a ranking list as you play, and set your bet range manually or automatically. The graphics of this Crash game are definitely high-quality, while the theme goes hand-in-hand with the premise of the game.
1000 GC + 0.2100 SC No Deposit Bonus
Crypto deposits & withdrawals
24/7 live chat
Great online community
1000 GC + 0.2100 SC No Deposit Bonus
Stake.us – Crash Game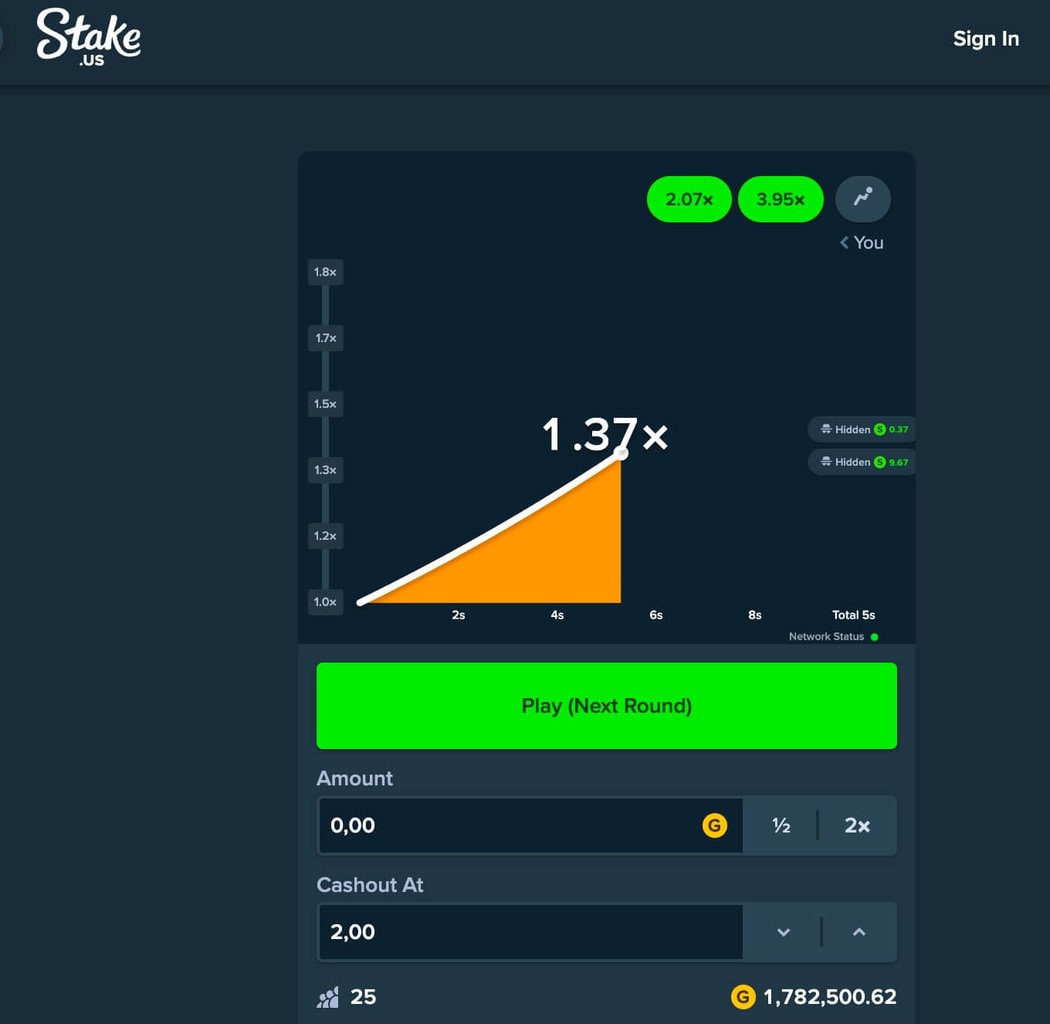 Crash is an in-house game developed by the Stake.us platform. It is powered by crypto and built with provably fair technology.
This sleek title is featured in the gaming platform's Stake Originals category, boasting a house edge of up to 99%. The Stake Crash game starts with a betting round, after which a bullish trail ascends across the screen with a leading round marker. You aim to cash out before the marker crashes, otherwise, the stake is lost. The longer the curve, the higher your winnings as the multiplier increases throughout its flight.
10,000 GC + 1 Stake Cash No Deposit Bonus
Only legal crypto gambling site in the US
Stellar range of slots, including Stake Originals
RNG and Provably Fair Games
10,000 GC + 1 Stake Cash No Deposit Bonus
Sweeptastic.com – JetX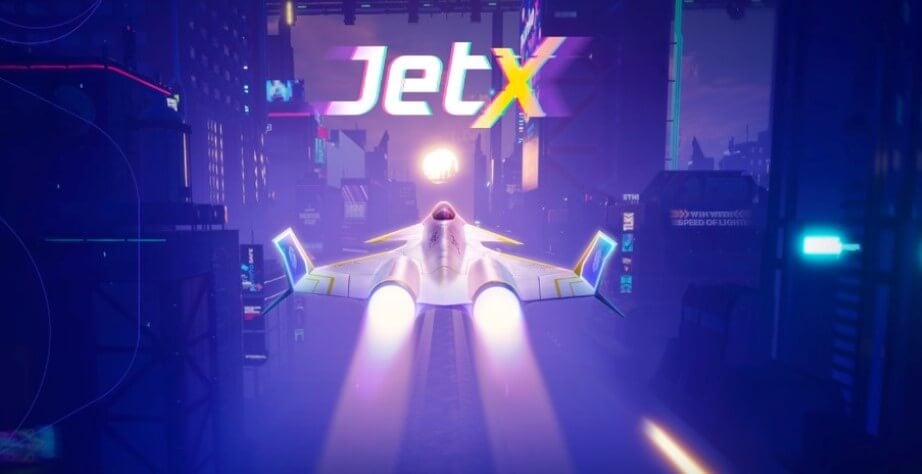 JetX is similar to Bustabit but with more captivating features. This arcade-style game is available at Sweeptastic and was released by a top provider, Smartsoft Gaming in January 2019, its gameplay involving a jet flying as high and far as possible to reward players with generous payouts.
JetX has no bonus features, however, it is possible to claim a jackpot prize known as the Galaxy Jackpot. During the round, multipliers start from 2x and increase to a maximum of 30x.
All Bustabit game alternatives covered so far are legal for US players located in all states except Washington – and you can play for free using our links and stand a chance to win real prizes!
47,777 LC + 22 Free SC
Huge catalog of 1000+ slots and casino games
Excellent UI with smooth browsing
Sweeps redemptions available for cash & gift cards
DraftKings – Rocket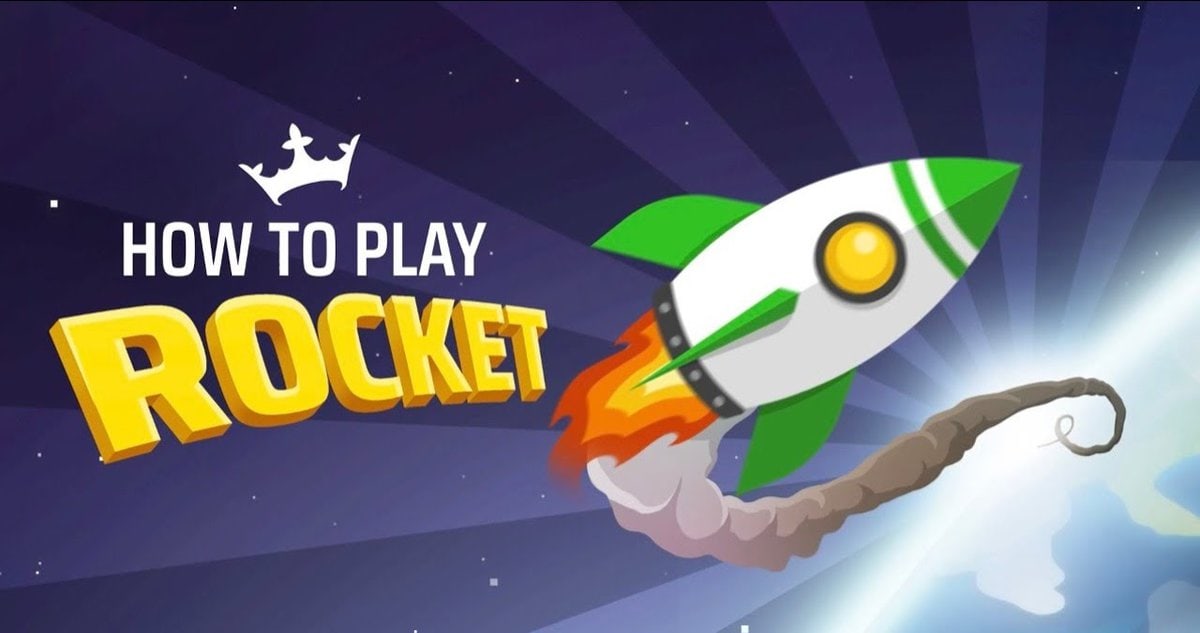 DraftKings Rocket is a game similar to Bustabit but played with a rising rocket. The player's task is to cash out by getting out of the rocket before it stops rising. The higher the rocket rises, the higher the multiplier that will be applied to your bet – sounds familiar, right? The game's maximum multiplier is 1000x, so if you stay in the rocket when the multiplier reaches this number, you will automatically win 1,000x your bet!
DraftKings allows you to even switch up your rocket and change the ship in the Settings section. It also promises small surprises here and there, but you'll have to play the game to see those! Unlike Bustabit, DraftKings Rocket game is available for New Jersey players.
$50 Casino Credits + $2,000 Bonus
Excellent mobile app
User-friendly design & games
$50 Casino Credits + $2,000 Bonus
What Is Bustabit?
Bustabit is an extremely popular crash game with thrilling mechanics. Its design features a graph displaying a curve that increases till it crashes. This title is built with simple gameplay and only a few Bustabit rules, so even beginners can get up to speed in no time.
Before the round begins, players place a bet in Bitcoin and are also able to see wagers from others on the screen. Afterward, they watch the multiplier increase from 1x upwards.
The multiplier at which you cash out is multiplied by your bet to determine your winnings. For instance, if you place a bet of $30 and stop the graph at a 50x multiplier, your total payout is $1,500. However, if the Bustabit crashes before you cash out, the wager is lost, and the next round begins.
The game is generated after statistical analysis, requiring you to wager a higher bet after winning and cut back to baseline after a loss. The script tracks previous attempts and predicts future outcomes with the best Bustabit strategy.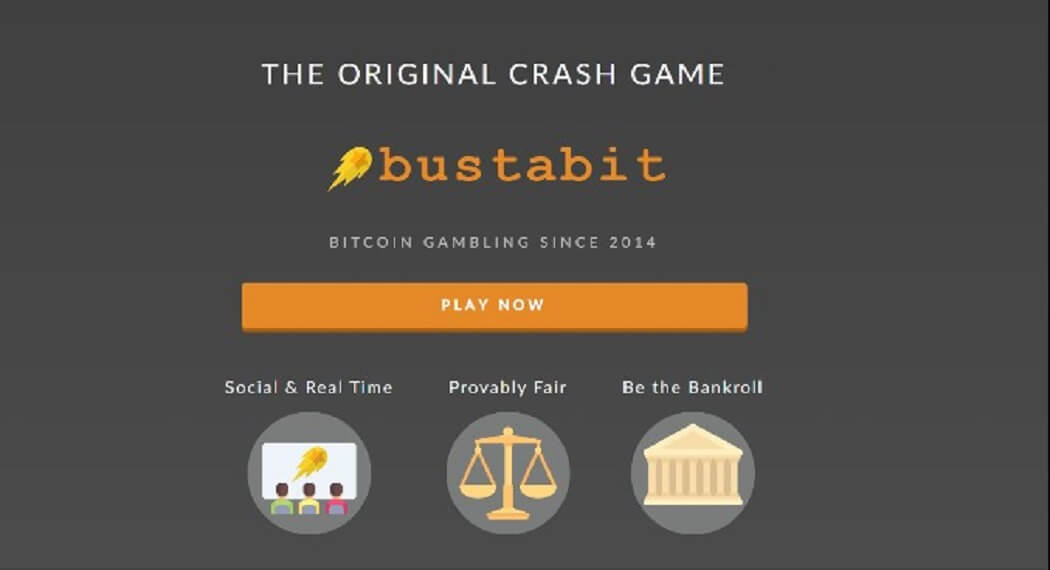 Is Bustabit Legal in the US?
Unfortunately, Bustabit is not legal in the US. The game itself is legal worldwide and comes with a license from Curacao eGaming Authority but that does offer it a free pass in the US.
US gambling laws are different to other countries, so this game is yet to find its way to the legal gambling pool in the States. Online crash games are featured at state-licensed US casinos in NJ, MI, PA, CT, and WV, or on sweepstakes casinos using virtual currencies. Offshore casino games like Bustabit are illegal to play here.
You can bypass certain regulations by using a VPN, but that's not recommended. Not only will you not get a payout, but you'll also be breaking the law.
Luckily, you can find many Bustabit alternatives that are legal in the USA, many of which we mentioned here in the article. Try out Crash Game on Stake.us or Rocket on DraftKings instead and play safely and securely.
Locations Where You Can Play Bustabit Games
If you want to play the original Bustabit game, you can do so when you travel to countries where it's legal. So, here are the countries that accept Bustabit players:
United Kingdom – In the UK, online gambling is legal and under the regulation of the United Kingdom Gambling Commission. So, it is possible to access the Bustabit game without breaking any laws but you must ensure the online casino operator is licensed and compliant with the UKGC's directives.
Malta – Gambling activities are regulated by the Malta Gaming Authority, making Bustabit accessible through licensed operators. Keep in mind Malta's gaming laws in order to avoid getting into trouble.
Isle of Man – The Isle of Man offers legal Bustabit play so you can access this thrilling crash game. In order to comply with Isle of Man gambling regulations, make sure you meet the age requirements and use legitimate sites.
Most jurisdictions license selected operators to offer games, and Bustabit isn't usually their pick. Instead, they use other providers' games like Spribe's Aviator.
How to Play Bustabit in the USA?
Before kickstarting your crash adventure, you should learn the basic rules of Bustabit. Ultimately, it is a very simple game with flexible betting limits.
On accessing the Bustabit platform, you find a graph and a curve that rises during the game. To begin a round, place your stakes by choosing a preferred multiplier value. Then, the multipliers on the graph increase from 1x upwards till the crash point. The aim is to predict when the crash will occur and cash out your winnings before then. If you do not cash out in time, your wager is lost.
The same rules apply to similar Bustabit games on legit platforms that boast user-friendly interfaces and make the gameplay more immersive and engaging.
The primary currency for Bustabit is Bitcoin, but players can rely on other digital currencies, as well. Note that you can play your favorite crash game for free or with virtual currencies to enhance your skills. However, it is crucial to place actual bets, also known as Bustabit bits, if you want to cash out real money crypto winnings.
Can I Play Bustabit in the US?
If you are wondering whether you can play the Bustabit crash game in the US, you should know that this particular game is still illegal. However, games similar to Bustabit are available and promoted on some reputable online gambling platforms. You must be above 18 years old to participate.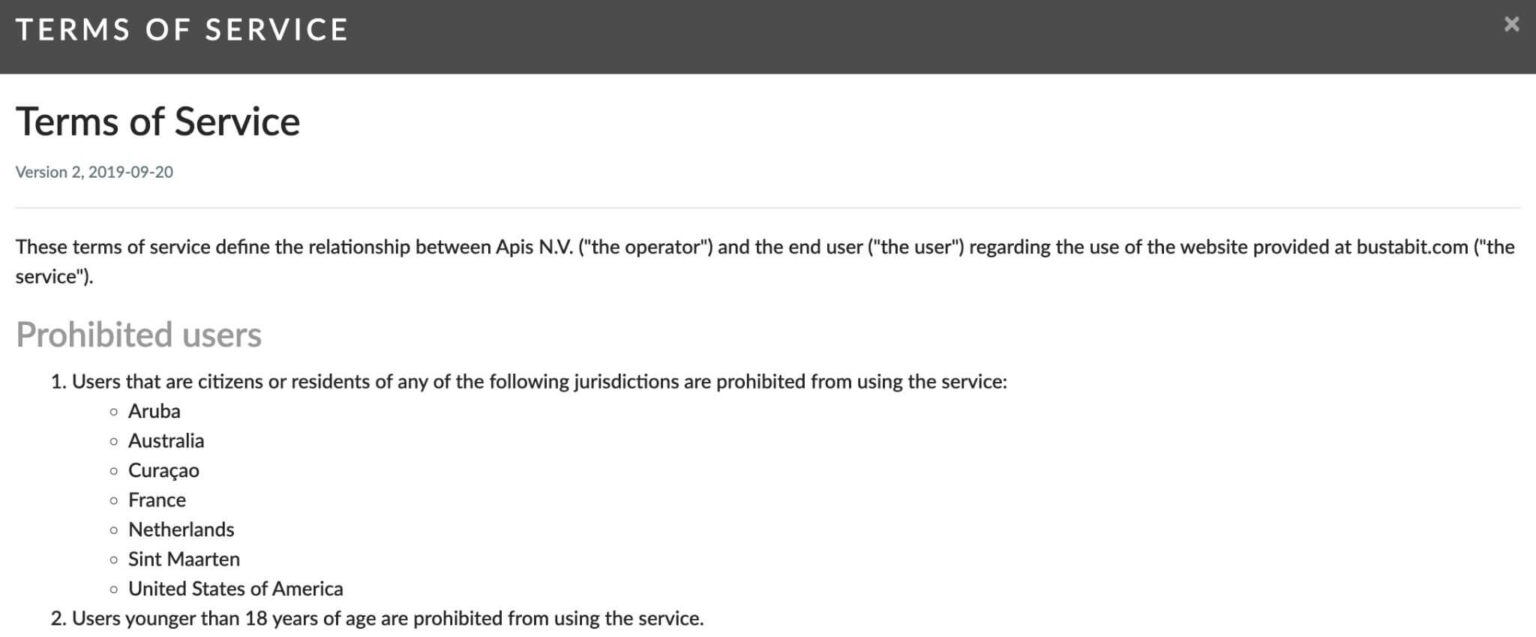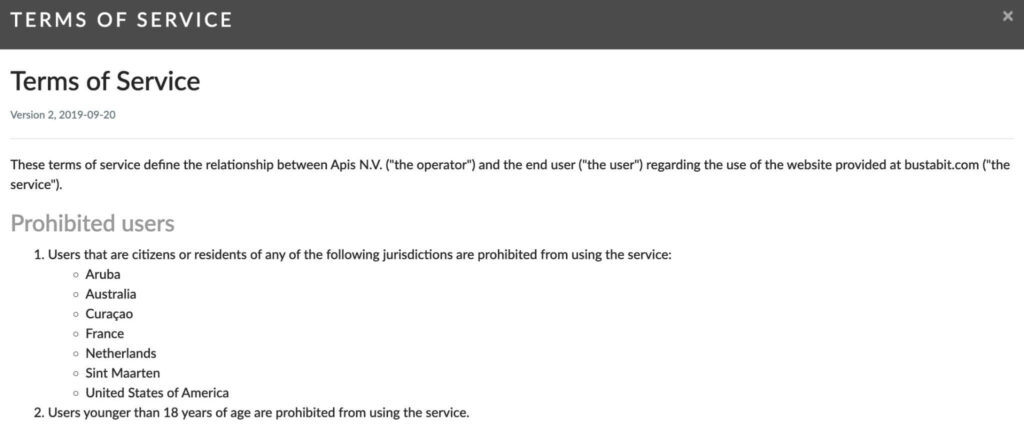 Playing Bustabit with VPN
Although a VPN helps to circumvent the restrictions, you should know that its use is against the terms and conditions of the platform. Even if you fool the system, playing Bustabit with a VPN makes it impossible to complete your account verification, which implies that you cannot play for real money.
If you decide to use a VPN to play Bustabit crash, you should know that your security will be compromised. Since you'll be playing on offshore sites, you're not protected and are exposed to harmful bots and possibly malware. To be on the safe side, choose to play games similar to Bustabit on regulated US sites.
Do Bustabit Games Pay Real Money?
Bustabit is a crash game that supports real money gameplay and allows players to place wagers and win actual money. It runs on a cryptocurrency-based system, allowing players to process deposits and withdrawals using primarily Bitcoin. If you place a bet on a round and win, you receive your payouts in Bitcoin and other supported digital currencies.
The game runs on a Bustabit system with a graph on which the multiplier increases until it goes bust. Players who choose the cash-out option before the crash secure their winnings. The value of your payout depends on the game outcome and the multiplier at which you stop the round. In essence, the higher the multiplier when you cash out, the more money you win.
To cash out real money from Bustabit, you'll need to rely on the operators featuring the game. If they are legit, they will ask for a basic KYC check and then let you have the winnings in your crypto wallet.
Why Games Like Bustabit Are Better Alternatives
Since Bustabit is illegal in the US, players need to find games like Bustabit that not only appeal to them but overcome their expectations. Here are a few reasons why games like Bustabit are better alternatives:
Better graphics – While Bustabit is fine and all, its graphics might seem a bit outdated to some players. On the other hand, games similar to Bustabit offer diverse themes and high-quality graphics that will keep any player engaged for days.
Flexible Betting Options – Games like Bustabit allow players to place an even broader range of wagers based on their budgets and receive significant payouts. The flexible betting options make the gaming experience more inclusive and enjoyable.
Diversity – Although Bustabit is unique in itself due to its crash mechanic that offers players the chance to win massive payouts, games like Bustabit offer that and much more. So, not only can you win big, but you can also explore different takes on the Bustabit game and discover new options that are not available with the original.
And of course, Bustabit is illegal to play in the US while these alternatives aren't. Choosing a legit site to play games like Bustabit from our list means you also access free bonuses and match boosts!
Key Takeaways
Bustabit is an innovative crash game with very few rules and a distinct gameplay with a graph on which a curve rises till a crash occurs. While this game is allowed in various countries worldwide, playing in the US is still not legal.
Instead, players can try similar Bustabit games on regulated sites like Stake.us and Sweeptastic. These games represent a fantastic choice for US players due to their fast-paced gameplay, flexible bets, and probably fair system that promise a fair and secure gameplay.