Gamble USA strives to improve your online gambling experience. We aim to help you play safely, make informed decisions when gambling, and increase your betting knowledge through our guides.
We adhere to strict editorial integrity; our content may contain links to products from our licensed & legal US partners.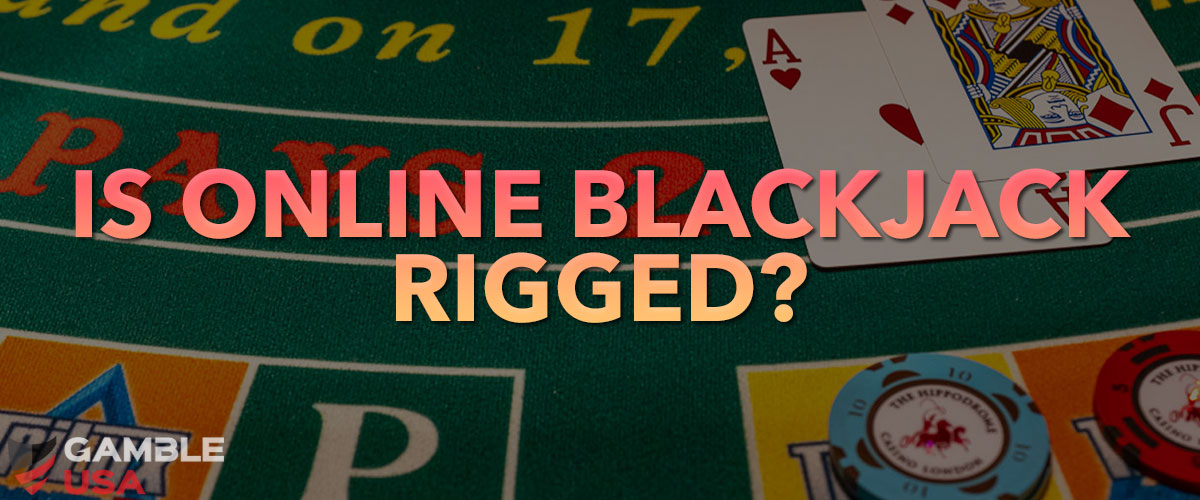 If you're an aspiring blackjack player, the age-old question "Is online blackjack rigged?" might have crossed your mind more than once — especially after a bad beat. That's completely understandable, as online gaming often feels like a puzzle inside an enigma. Its complex inner workings aren't apparent unless you're an industry insider.
Let's clarify from the get-go: online blackjack isn't typically rigged. But we won't just leave you with that assurance. Instead, we will unmask the concealed, navigate the often mysterious underbelly, and demystify the game's nuts and bolts. This guide will help address any lingering skepticism about the fairness and integrity of online blackjack.
Fair Online Blackjack Games
Here, you'll only find links to the best blackjack online casinos for US players, each holding a license from the states they operate. Below, we explain why this matters and ensures you only play foolproof blackjack.
Is Online Blackjack Rigged or Fair?
When you're fresh to the online blackjack scene, skepticism is inevitable. A run of tough losses, and suddenly you might find yourself thinking, "Am I being ripped off? Is online blackjack rigged?" And it doesn't help that online blackjack's mechanics remain a mystery for most, unlike the more palpable in-person play
It's easier to blame the online casino than to rethink our strategies or analyze the math behind the game.
Dubious practices and disgruntled players sharing their mistrust on various platforms only add fuel to the fire and create a narrative of suspicion. But before we let these accounts cloud our judgment, let's uncover the truth about them — one fact at a time.
RNG Software
The fairness of online blackjack, like in all online casino games, rests upon using random number generators (RNGs). These sophisticated programs simulate the unbiased nature of card shuffling through algorithms and mathematical equations, hence nullifying any player or dealer influence.
RNG software produces long strings of random numbers with no regard for previous outcomes or discernible patterns.
Let's take an example. You're playing online blackjack at a trustworthy online casino with a tested random number generator. Just as you hit the Deal button, the RNG within the game's code is called upon and delivers a seed value (starting number), which then determines the card you receive. In other words, this process is entirely random and ensures the card you get has no bearing on previous or future hands.
There are two core types of RNGs: true random number generators (TRNG) and pseudo-random number generators (PRNG). Most online gambling sites use the latter to power blackjack games.
While PRNGs are deterministic and could theoretically repeat the sequence, the advanced nature of these algorithms and regular game audits render predictions and exploits nearly impossible.
Blackjack Isn't Developed by Casinos Themselves
Online casinos don't usually develop their blackjack games in-house. Instead, they procure them from external software providers.
The US casino market is heavily monitored, and only reputable companies make the cut. Jurisdictional regulators require more than just software validation from casinos — they mandate that the games hosted on their platforms undergo a thorough inspection. Regardless of how renowned a software provider may be, it must undergo rigorous scrutiny from a local regulator to get an operational permit for that market.
For instance, software developers in Michigan have a lot of hoops to jump through before receiving approval. The Michigan Gaming Control Board requires providers to give comprehensive evidence of their games' integrity before they can enter the market.
For example, developers must provide detailed calculation sheets outlining the Return to Player (RTP) percentages of their online casino games. These numbers cover every aspect of a certain release, from the base game to bonus features, double-up options, progressive jackpot mechanisms, and more. In case there are player options that could impact the pay table, there must be separate calculations for each.
In addition to paperwork, developers must provide all the technical details, such as the game source code, computer equipment, and compiling programs.
The gaming board doesn't carry out this extensive audit process alone. Renowned agencies like Gaming Laboratories International also participate in certifying games for online casinos. With such rigorous checks, you can feel confident about the fairness and trustworthiness of your online blackjack games.
Outside Testing and Regulation of Blackjack Games
Regulation in the online casino market ensures a fair playing field, primarily through strict audits conducted by independent agencies or laboratories. They ensure that casinos meet the necessary criteria to secure a license from the local regulator.
Agencies like GLI, eCOGRA, SIQ, BMM Testlabs, QUINEL, iTechLabs, and TriSigma undertake the vital task of certifying iGaming content. They analyze the games offered by online casinos, focusing on two key components: the Return to Player (RTP) rate and the random number generation (RNG).
These audits involve both the supplier and vendor (casino), guaranteeing the games' specs are accurate and the operator's product handling is transparent.
For instance, Michigan's Gaming Control Board mandates that internet gaming platform providers submit their platform for evaluation either to the board itself or an approved independent lab.
The screenshot below, taken from the Michigan Internet Gaming rules page, illustrates the extensive requirements to secure a license.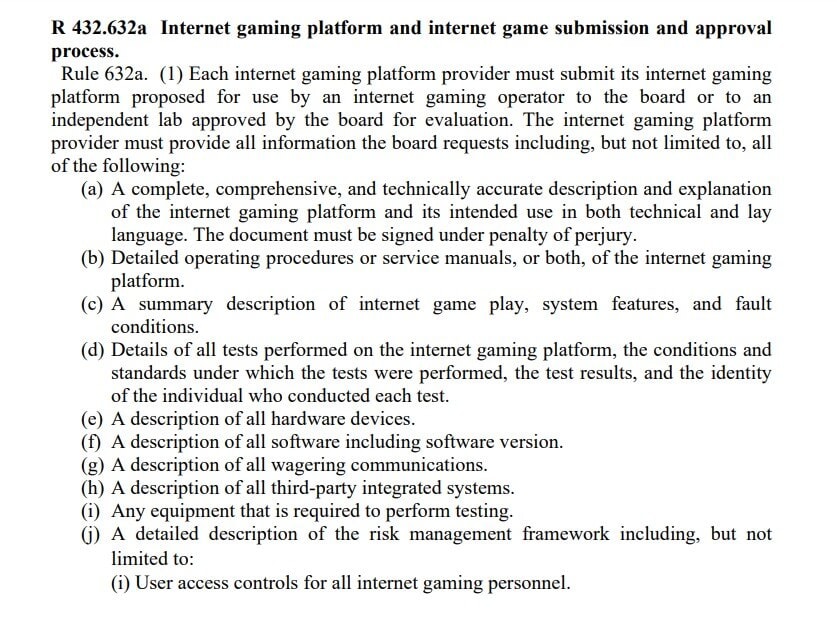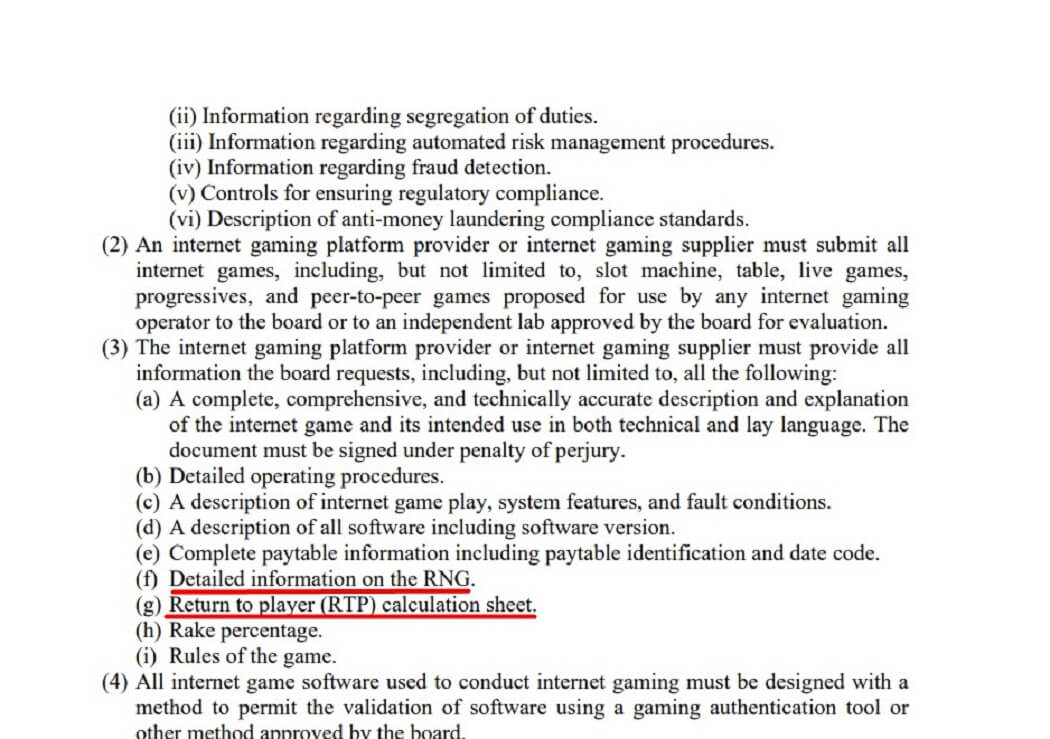 In another example, the Pennsylvania Gaming Control Board stipulates a similar submission requirement, in addition to insisting on specific standards for RNG systems.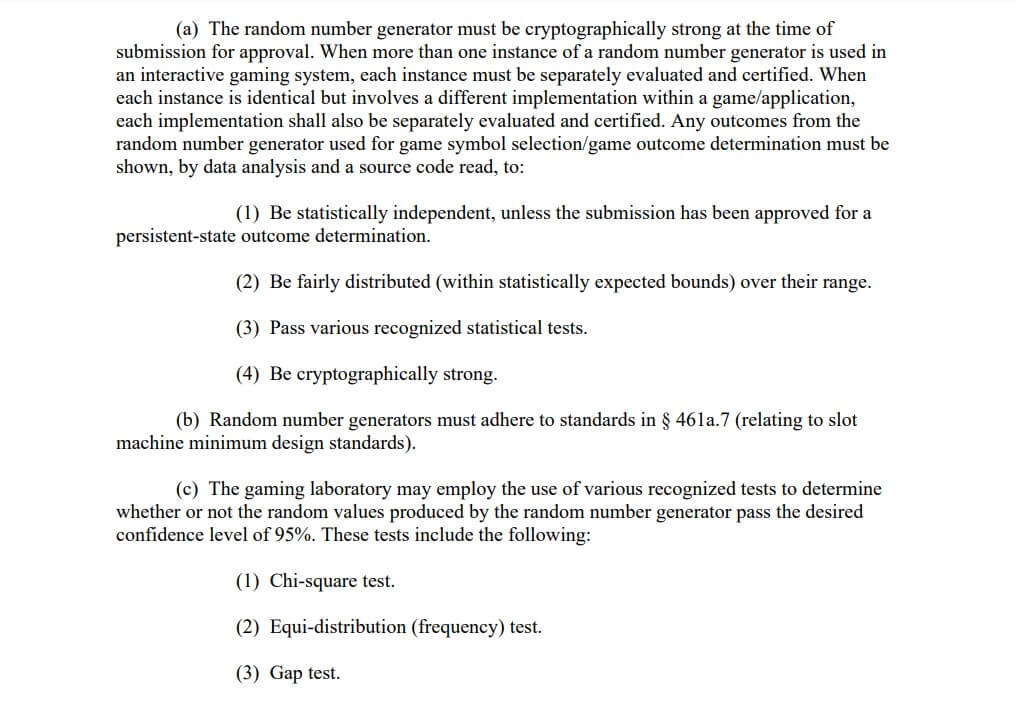 To emphasize, the RTP and RNG are systematically audited, providing a comprehensive check on the fairness and randomness of online blackjack games. This stringent process minimizes any room for manipulation, reassuring players of a fair and honest gaming experience.
Meaning of Blackjack House Edge
The house edge in blackjack isn't just a long-term construct — it's built into every game and bet. It represents the average gross profit a casino expects to earn per bet and is expressed as a percentage.
The house edge gives casinos a guaranteed profit margin and eliminates any need to tamper with the outcome of a blackjack game.
Now, keep in mind that the house edge is a long-term calculation. In shorter sessions, you might see some variations. For example, in one session, you could end up winning $95 for every $100 you wagered (leaving you down $5), while in another, you might come out ahead by $2 after betting the same amount.
On average, the house edge for most online blackjack game variations ranges between 1%–2%. With optimal play using a basic blackjack strategy, it can be whittled down to as low as 0.5%.
Other factors can further influence the house edge in blackjack. For instance, the S17 rule (where the dealer stands on a soft 17) can reduce the house edge by 0.22%.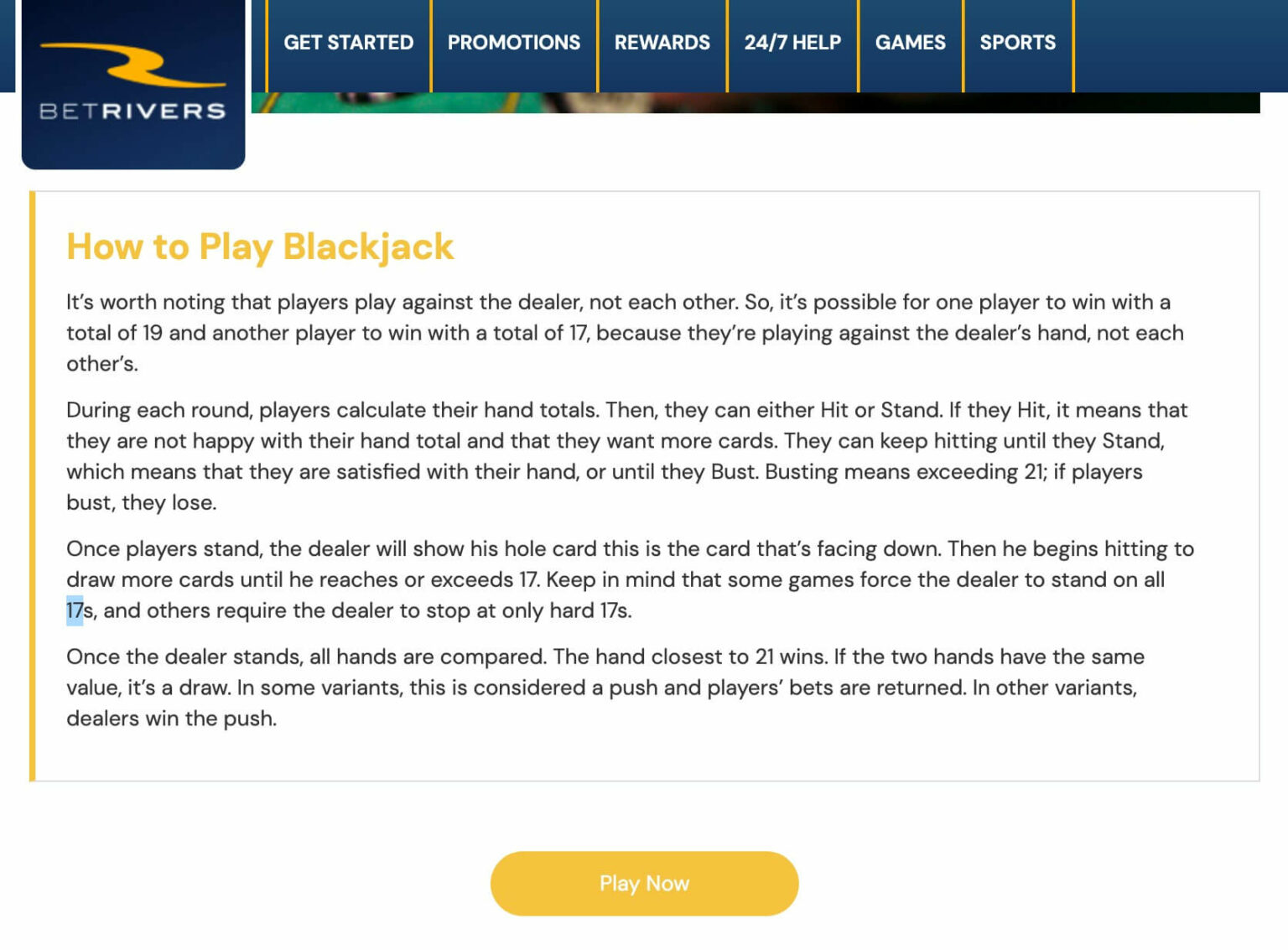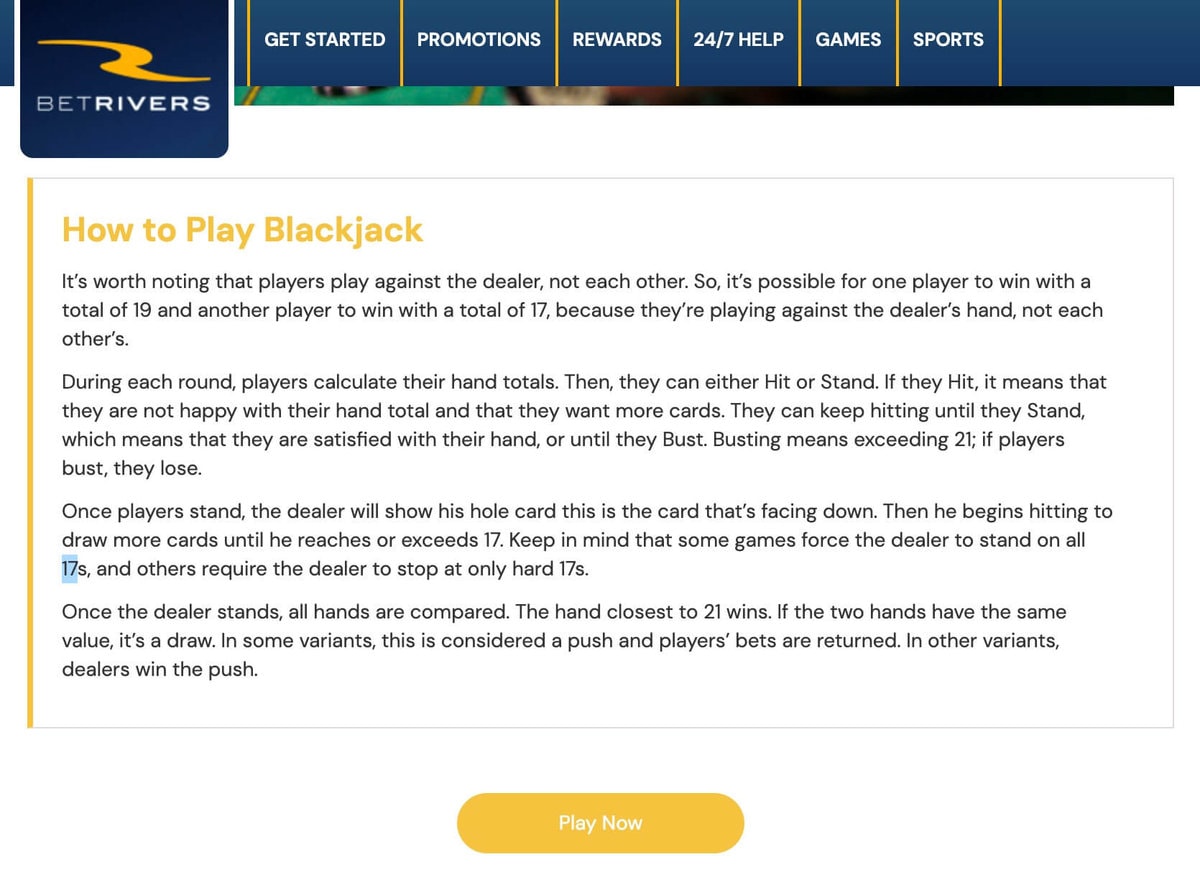 The number of decks in play also matters — in single-deck blackjack, the house edge can be as low as 0.13%, although very few casinos offer this variant.
In any case, casinos must clearly display the game's house edge, either in the lobby or the in-game settings.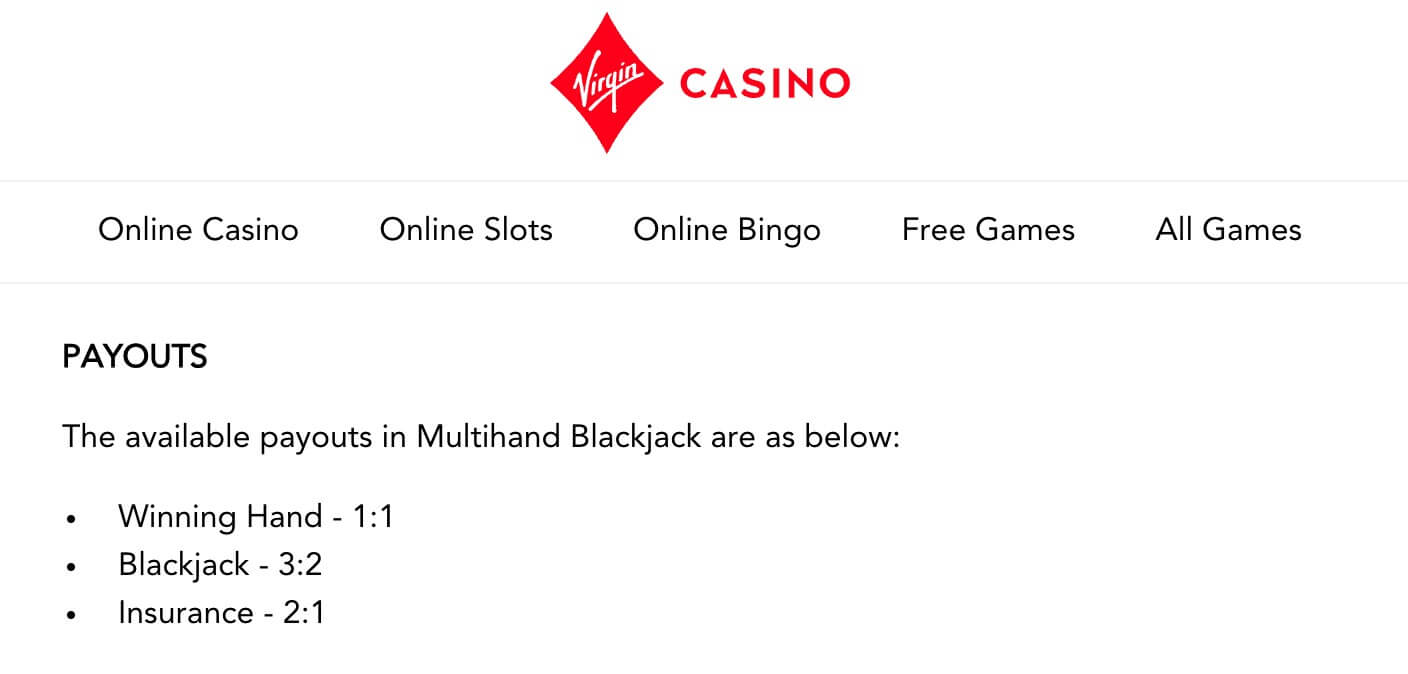 Your True Winning Odds on Blackjack
True odds indicate the actual probability of winning the bet without any house edge factored in. In other words, they represent a fair game where neither the player nor the casino would have an advantage.
Consider a scenario in which you play an online blackjack game that offers a 3:2 payout for a blackjack. Suppose you play 10 games, betting $10 each time, hence wagering a total of $100. If the true odds suggest you'll hit blackjack twice in those 10 games (while busting in the remaining ones), your total winnings should be $30 (as the 3:2 payout means you win $15 per blackjack). However, because of the house edge, your actual earnings may be less, as the casino pays out slightly less than the true odds.
Statistically, a player has around a 42.22% chance of winning each hand. Yet, this doesn't imply the house wins the remaining 57.78% of the time. There's also a possibility of a tie, or a push, which averages around 8.48% of the games. This leaves an actual loss probability at about 49.10%.
It's worth noting that these odds are not set in stone and can vary significantly based on the specific blackjack variant, the rules applied to the player and dealer, and your playing style.
Aspects That Protect Online Blackjack Players From Rigging
When it comes to casinos rigging their games, we could delve into the topic at length. That said, it all boils down to four key reasons why it makes no sense for operators to engage in such practices:
Sustained casino profit: Casinos don't need to rig games to make money. Every game, including blackjack, has a built-in house edge, ensuring casinos' profit in the long run.
Regulatory licenses: Online casinos must obtain licenses from jurisdictional regulatory agencies. This certification implies that the casino and its software providers have passed audits undertaken by independent testing labs, guaranteeing fair play.
Online reputation: Any scandal or gossip about rigged games can irrevocably tarnish a casino's reputation. In the digital age, accusations spread like wildfire on player forums and portals. If blackjack players believe they are being ripped off and that an online casino is rigged, they can reach out to the state regulator, ensuring player protection.
Immutable house edge: It is a common misconception that online casinos can tweak the house edge or Return to Player (RTP) of games mid-session. However, this would require access to the game developer's source code, which is not only improbable but also illegal. Misunderstanding arises due to some

slot games

having adjustable RTP configurations. But these configurations are set before the game is offered to blackjack players, and they cannot be changed in real time.
Examples of Rigged Blackjack
Casinos don't have to cheat to get an edge in a blackjack game. Rather than resorting to illicit activities, they use strategies that are well within the rules. For instance, they might introduce unfavorable table rules such as paying 6:5 for a blackjack instead of the customary 3:2 or preventing online blackjack players from re-splitting aces or doubling after splits.
They can alter the game's dynamics, like if the dealer is going to hit or stand on Soft 17, which can impact the house edge. Also, tempting side bets and insurance options can enhance the house's advantage. Even the number of decks used can have a bearing  — more decks means a higher edge.
Having said this, offshore online casinos have been caught cheating blackjack games. Such operators don't have a license or approval of their games by any official body, and can freely do so. That's why you should stick with operators we recommend if you want to play blackjack without worrying about rigging.
Summary
Despite the skepticism surrounding online blackjack, the reality is that reputable online casinos have no need to rig blackjack games. Plus, with regulatory licenses and a reputation to maintain, tampering with online blackjack game outcomes would be a risky venture.
You might have heard some rumors about casinos being able to change the game mid-session, but that's not technically feasible. Instead, it's crucial for players to be aware of table rules and game variations that may impact their odds and to keep myths at bay.
FAQs
Is the BetOnline blackjack rigged?
BetOnline has come under fire on player forums for rigging games. One Reddit user even claimed that the dealer in their live blackjack games used hand signals and shoe-scanning technology to manipulate outcomes. However, these stories are largely anecdotal and haven't been supported by any hard evidence.
Is blackjack on DraftKings rigged?
DraftKings is a legitimate online casino and gambling brand approved by multiple state gambling regulators in the US. It maintains a spotless reputation, so claims of its online casino having rigged blackjack games are unfounded.
What are blackjack winning odds online?
Winning odds in online blackjack can be up to 42.22%, depending on the game variant, the specific rules imposed by the online casino, and your playing strategy.
Is it better to play online blackjack or at a casino?
This depends on personal preference. Online blackjack offers more game variety and bigger bonuses. However, card counting, which is possible in land-based casinos, is not feasible online due to automatic shuffling and RNGs.
Can you really beat online blackjack?
While beating online blackjack in a consistent way is challenging due to the house edge in casinos, it's possible to have winning sessions, especially if you follow the optimal strategy.
Is card counting possible in online blackjack?
Card counting in online blackjack games is practically impossible due to the use of RNGs and automatic shuffling machines, which reshuffle the deck after every hand.
Is Bovada blackjack rigged?
Like BetOnline, Bovada is an offshore brand and one of the longest-standing online gambling sites in the US. It has also been accused of game rigging. Unverified claims from players, mostly borne out of frustration from losses, circulate on online forums but lack credible evidence.
What is the case with Infinite Blackjack being rigged?
Infinite Blackjack is an online blackjack game accommodating an unlimited number of players. Claims of rigging often refer to dealer hand signals potentially indicating hidden card values. However, such accusations often rely on speculation rather than solid proof. The majority of live casino games at legitimate online casinos are heavily regulated and closely monitored to ensure fair play.