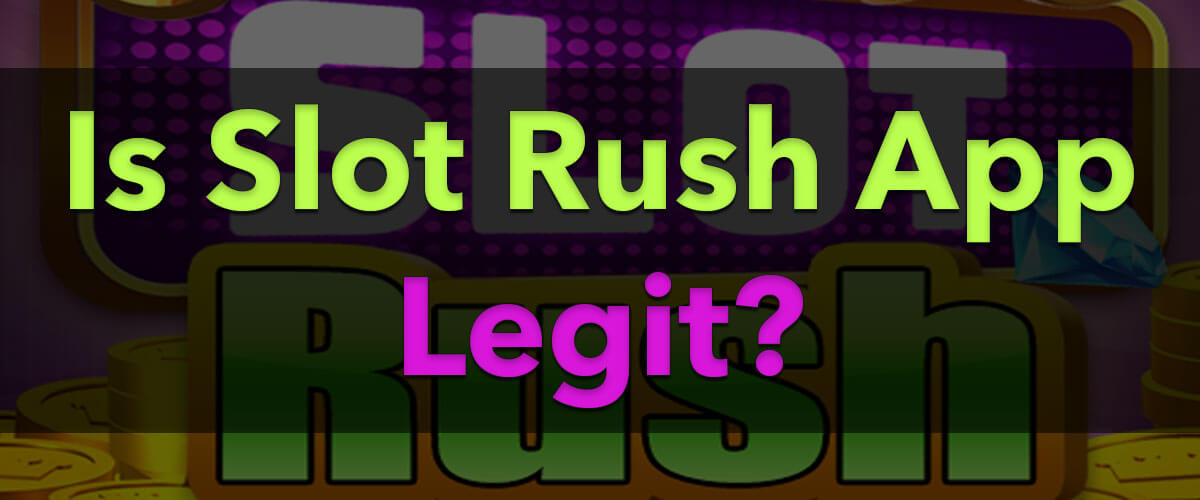 Slot Rush app sells itself as an online slot game that pays out real cash by playing without any in-app purchases. And currently, the app has more than 5 million active downloads on Google Play Store, making it a popular casino app. But does the deal sound too good to be true? We find out in this Slot Rush app review.
Firstly, can you get cash prizes by spinning reels in slot games? Yes, you can.
But can you get cash prizes from a slot without any deposit or a bonus? Unlikely.
We downloaded the app and ran several tests to see its legitimacy or if it was another scam paraded as a legit option for slot lovers. Part of the deals promised was a cashing out when you reach £240 (a figure around $300), collecting rewards in the form of exciting puzzle pieces, and redeeming mouth-watering gifts like a PS5, Nintendo Switch, or MacBook Pro, among others. And with everything not as good as it sounds, this comes as a red flag considering their source of revenue is only through video ads. It begs the question, how will they pay out everyone who meets the $300 threshold requirement for payout?
So, should you expect a payout? Or is Slot Rush legit? Read through our unbiased Slot Rush app review to find out if you can earn money or if it is part of other fake money games!
| ✅Pros | ❌Cons |
| --- | --- |
| Licensed by UKGC | The withdrawal threshold is high |
| Free to download | No proof of payment from players |
| A mobile-friendly app | The app is categorized under 'early access.' |
| Available in the US, UK, and Canada | No customer support |
US players who want to play free online casino games and win cash prizes can do so at legit sweepstakes casinos. The following links are how you can begin playing from all US states, and you can read our reviews if unsure how these American-made social casinos with prizes work:
What is the Slot Rush App?
Here is a summary of what the Slot Rush app:
📱Slot Rush App
📛Product Name
Slot Rush - Spin for huuuge win (Early Access)
🧑‍💻Developer
Mersumtapo
📅Launched
2019
🏋️‍♂️App Size
60MB
💵Cost
Free
💲Payout Threshold
£240 (about $300)
⭐Reviews
None
❓Recommended?
No
As stated, the Slot Rush app is a free slot game that claims to give you an avenue to win prizes and claim expensive prizes by playing for free. The slot machine does not use real-money deposits but will activate the gaming sessions through its in-game currency, gold coins.
But one thing comes out as another red flag. In all its 'might' it supposedly gives out to the public, there is no single review of the Slot Rush app on Google Play Store since it is placed under the 'Early Access' category. For a platform claiming to be a cash app, this is one of the sections that they would gladly let out to the public to confirm their authenticity.
But again, it could be why the app has 5+ million downloads since there is no credible review system for the users to read and find out if it is legit or a fake slot title.
How The Slot Rush App Works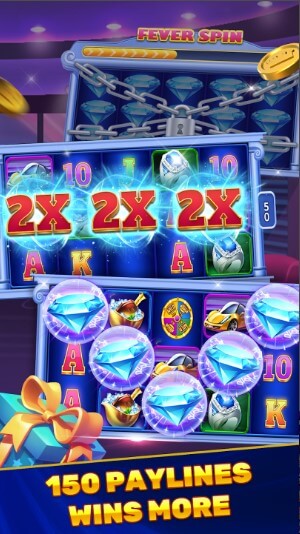 So, how does Slot Rush work? Since it is an app, the first step is to download and install the app. The download process is similar to many other Android apps. You need to visit the Google Play Store, search for the 'Slot Rush – Spin for Huuuge' app, and hit the 'download' button to complete the download, with installation happening automatically.
Interesting to note that, unlike other alternative mobile apps that may restrict their availability to specific jurisdictions, the Slot Rush app is available globally. Still, access is restricted to US, UK, and Canadian residents above 16 years.
The incentive? There is no purchase requirement to join, play Slot Rush, or win any cash prize or reward.
How to Play the Mobile Game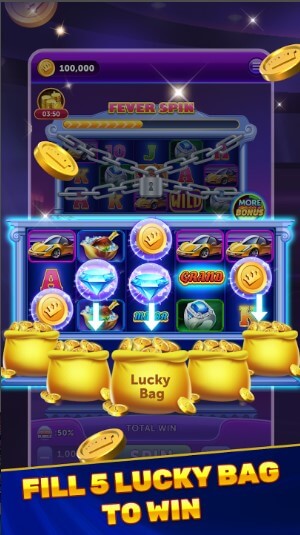 After downloading and installing the app, the next step is playing Slot Rush. One unique aspect of the five-reel slot machine is that forming a winning combination from the same symbols does not influence how you get the supposed cash rewards. Instead, you activate a reward when the slot machine lets out bubbles. This also comes out as a red flag, considering it's unclear how you trigger the reward bubbles, and some may feel outdone by the app.
Once you launch the game, it will be easy to play, with gameplay similar to other slot games. The app gives free 38,000 gold coins to use while playing the game. The task will now be to select the number of coins you need to place your bet. The minimum bet will require 10,000 coins, allowing you to play one of the sections of the slot game. The machine has three sections, requiring a maximum bet of 45,000 coins to activate all sections. As you would expect, more coins translate to higher rewards.
The next step after selecting your coins will be to hit the 'Spin' button to start the session. Once the spinning stops and you are lucky, the machine lets out the reward bubbles to collect in your lucky bag. After you fill all your five lucky bags, you will collect rewards ranging from cash prizes, puzzle pieces, and gadgets like PS5.
Slot Rush Free Rewards and Bonuses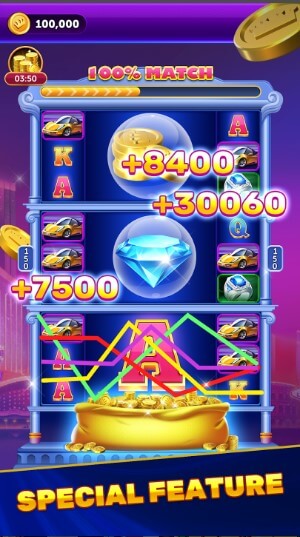 Are there options to get free rewards like coins or bonuses? Supposedly, there are.
The slot has an option of winning more bubbles through the 'more bubble' option that will have you watching sponsored videos to get bubbles for the subsequent few spins.
On the other hand, the slot allows you to boost your earnings and get a 100% match on the slot through the 'more bonus' feature.
And how do you collect coins once you deplete them? Head to the 'collect' button at the top and click it to watch the sponsored videos.
A 'Daily Bonus' feature also awards 10,000 coins every three minutes daily. The highlight is that you will have the option to double the coins by watching an ad.
Finally, the app lets you win bonus dollars by referring a friend to install the app. Slot Rush claims to reward you with a £9.6 bonus (about $12) for each friend who installs the game.
While other mobile slot apps would host tailored bonuses, like deposit bonuses, for new and existing users, reload bonuses, cashback offers, and VIP bonuses after making real-money game app deposits, it is impossible in the Slot Rush app since no deposits are involved.
Slot Rush Real Money Payments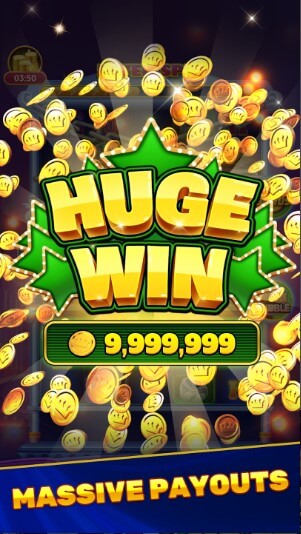 Now to the elephant in the room. As stated, the minimum cashout threshold is set at £240 (about $300), and you need to get to this point to withdraw money. But is it false advertising? Yes, it is!
You will not win real cash rewards on this platform. It is a simulation game that should be played for fun since you will not win cash or withdraw money. Those who have played Slot Rush can testify to this, and so can we.
Looking at the withdrawal page where you are supposed to put in a withdrawal request, the first red flag is the misspelled word 'WITHDRAWL.' This is unlike other apps offering slot games or any other legitimate game app. Or maybe if they allowed publishing reviews, this would be something raised by a keen player and have it rectified if it was just any other genuine error.
A quick look at the online forums for players who have hit the Mersumtapo payout threshold will show frustrated players who never had payment proof. Well, even with the scam that it is, Slot Rush goes ahead to provide the following payment methods for those who supposedly get to the $300 mark and wish to withdraw money:
Cash App
Alipay
Banco Inter
Paytm
Line Pay
Nubank
SBER
Coinbase
Tez
The payout period? The Slot Rush app claims that the developer pays Android users who earn above £240 within 2-15 business days. After our Slot Rush app review, we can confidently say that the wait will be a tedious process with no end!
With 1,000 puzzles, you can also redeem an Amazon gift card valued at £240, or about $300.
Who Owns Slot Rush and Does it Pay Out?
Slot Rush is owned by Mersumtapo, a company that doubles as the developer. A quick lookup of the company shows little information about it, which would be a red flag to some. However, the Slot Rush app has its license issued by the UK Gambling Commission, which is a highlight amidst all the red flags. Still, we cannot 100% verify their license is active, which seems unlikely based on our review findings.
To the other question, does Slot Rush pay? Simply put, you will waste your time expecting a payout from this platform. Once you start playing, consider it a recreational activity, not a platform for making money. We will look at why we believe this app does not pay out besides the negative reviews you will find in one or two online forums.
Slot Rush Player Reviews
As stated, Slots Rush is still in the 'early access' stage, restricting players from publishing reviews. This is one red flag to identify potential scam gaming apps since they ensure no review can be found to enlighten others who wish to download in the hope of making money. So, what's left is for interested parties to check for alternative forums that publish reviews for the apps.
One such forum is Reddit, where more than 23 comments were available when writing this Slot Rush app review. From the reviews, you can see that the slot game does not pay out, with most players complaining of staying in the 'withdrawal queue' for months, and after getting to their turn, they cannot get a payout. Others put it out plainly that it is a scam game that is only meant to benefit the developer by having you watch videos and all the ads to make them money instead.
Similar reviews have been submitted by players on Quora, further reinforcing the illegitimate status of Slot Rush.
Is Slot Rush a Scam?
From our review, Slot Rush is a scam and is in no way developed to make you collect cash, whether small or big money. There are several reasons we believe it is another scam. They include the following:
The app is still in the early access stage.
Unlike other slot games, the game has no information on forming winning combinations and is hideous on how to trigger the bubbles.
The minimum payout threshold is high.
There doesn't exist any legitimate payment proof of a player receiving the payment.
The cash rewards and exclusive gifts are unrealistic.
Even while you may get to the £240 minimum threshold, the game requires you to spin 20 times further to verify that you are a human, and even those who have done it, are still unable to get a dime.
Legit Alternatives to Slot Rush
It is unlikely that you will ever come across a legit slot machine offering cash and more rewards like gadgets from when you start playing with no real money deposits or other bonuses. The only platforms that come close to what the Slot Rush app purports to be are the sweepstakes gambling sites that are legal in the US.
You can make a decent amount from playing sweepstakes with no deposits. You are awarded gold coins, the in-game currency, with free sweeps coins added to the package. Once you start playing and meet the threshold set, you can withdraw real-money prizes. Some popular legit sweepstakes include WOW Vegas, Fortune Coins, Golden Hearts Games, and Pulsz Casino.
FAQ's
Is Slot Rush game real or fake?
Slot Rush is a fake game you cannot rely on to make extra cash. You can play the game a million times and meet the withdrawal threshold, but you cannot withdraw through your cash app, line pay, or any other method you want to use. The app is still in the early access category, meaning you cannot find reviews, which also adds to the fact that Slot Rush is fake. Finally, no player review in other online forums indicates success in withdrawing funds.
Can you win money playing at Slot Rush?
Slot Rush claims you can get gift rewards and extra cash when you reach the £240 withdrawal threshold. However, even as the app updates the balance for each win, there is no review from a player who successfully withdrew the money they had supposedly won even after meeting all other set instructions.
Does Slot Rush pay real money?
Slot Rush advertises itself as a slot game that pays real money after a player accumulates a minimum of £240. However, those who have met the requirement and completed other additional instructions have not received money or the gifts advertised.
Are there real money game apps?
There are plenty of real money apps available. The difference is that deposits or bonuses will be involved for the players to get paid in real money. However, it is unlikely to find a legit game app that pays cash prizes and other gifts without any deposit or bonuses claimed.
What to do if Slot Rush isn't paying out?
Slot Rush is licensed by the UK Gambling Commission, which would offer a platform for players to lodge a class action lawsuit should they feel aggrieved or short-done. However, there are no records of any formal complaint made to the regulator by players in the UK. Those in the US can consider legit game apps operating under the sweepstakes model to avoid such scenarios, since Slot Rush does not cut it as a legal platform.
Can I use Slot Rush from a desktop?
No. Slot Rush is an app designed specifically for Android users. Therefore, iOS users cannot access the game, and so are players wishing to play the game on a desktop.
How to contact Slot Rush?
No contact option is offered to players who wish to contact Slot Rush, which adds to the legitimacy and credibility questions. There is no email, live chat, or phone support option available to the users.
Does Slot Rush support PayPal?
Slot Rush lists PayPal as an option to use while looking to get paid. However, there isn't any credible review of a person who received money from Slot Rush through PayPal or any other payment method.