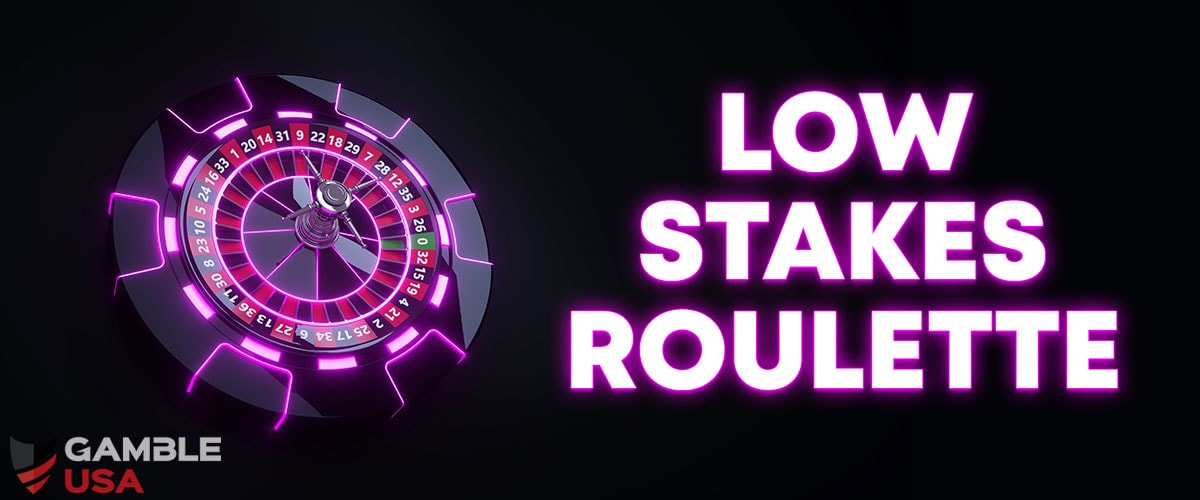 It's no secret that many casino players choose roulette as their favorite table game, and it's easy to understand why. The game has been around for ages, has multiple variations, is very easy to understand, and is very rewarding to win.
However, one issue roulette players face is most land-based casinos only come with high-stakes roulette games, which makes them off-limits for those with lower bankrolls.
That's where online casinos come in, offering plenty of low-stakes roulette games if you're on a smaller budget or don't want to risk a large amount of money. And the best part is you don't miss out on any features or payouts if you choose to play low-limit roulette games!
Keep reading our low-stakes roulette guide to find out the best low-limit roulette games, what strategies you can utilize to come out on top, and the steps you need to follow to play low-stakes roulette today!
Roulette Bets Explained
The best thing about online roulette is it features tons of different bets you can choose from, each with its own risk and payout. Roulette bets are separated into two broad categories, each with a few types of bets you can wager on.
Outside Bets
Outside bets are the go-to option for novice roulette players, as well as those who just want to place a simple, low-risk bet on roulette. You'll find these bets on the side of the table, below the roulette numbers, and they include:
Red/Black – The number one pick for most beginners and anyone who wants to avoid betting on numbers. All you do is pick between the two colors, and if a number with your color lands, you double up your money.
Even/Odd – This is one of the simplest number bets you can place. You just wager if the number that hits is even or odd and earn the same payout as red or black. Keep in mind that neither the 0 (zero) nor the 00 (double zero) count as even or odd numbers.
High/Low – Another very simple number wager where you bet on either the low numbers (1-18) or the high numbers (19-36). If you guess correctly, you double your money. Again, neither of the zeros count as a high or low number.
Dozens – Since the roulette wheel consists of 36 numbers, it's split into three dozens. You can choose to bet on the first dozen (1-12), the second dozen (13-24), or the third dozen (25-36). If one of your numbers hits, you'll earn a 2:1 payout.
Columns – Similar to dozens, the roulette betting table is also split into three columns. The first one includes numbers such as 1, 4, 7, all the way to 34. The second one contains the numbers from 2 to 35, while the third features numbers from 3 to 36. All three columns come with the same 2 to 1 payout.
Inside Bets
Inside bets are great if you want to wager on specific numbers or are looking for a high-risk, high-reward strategy. You can place several different inside bets on the center of the roulette table, including:
Straight – The straight-up or single bet is the simplest of them all; you just place your chips on the number you want to wager, and if it hits, you earn a large 35:1 payout.
Split – The split or double number bet includes two numbers next to each other, either in the same row or same column, and gives out 17:1 on your money. Just remember that these split numbers are usually not very close on the roulette wheel.
Street – The street or row bet features three consecutive numbers, all in the same row. You'll need to place your chips at the line before the first number on the row, and you'll enjoy an 11:1 payout if one of the three numbers hits.
Corner – Taking it up a notch, corner bets, also known as square bets, include four numbers from the same square on the roulette table. If you want to place a corner bet on 1, 2, 4, and 5, place your chips on the center of the square they form and earn an 8:1 payout if you win.
Line – The line bet is a six-number wager that includes numbers from two consecutive rows on the roulette table. To place a line bet, you put chips before the first numbers of the two rows and in the middle of the line that connects them. Line bets come with a decent 5:1 payout.
Five-number – Also known as a basket bet, this roulette bet is exclusive to American roulette, as it includes the 0 and 00 numbers, along with 1, 2, and 3. Keep in mind this bet only comes with a 6:1 payout, which makes it a very bad value compared to others.
Call Bets
The final type of roulette bet you'll find at European or French variations of high and low-stakes roulette games are call bets. They're named like this because they are announced or "called" rather than placing chips on the table and are split into four different families:
Voisins du Zero or Neighbors of Zero are the numbers between 22 and 25, which are on the top half of the roulette wheel near the 0 pocket.
Jeu Zero or Zero Game is a set of numbers, ranging from 12 to 15, within the Neighbors of Zero, that are the closest ones to 0.
Tiers du Cylindre or Third of the Wheel is a collection of numbers between 27 and 33, which comprise the bottom third of the roulette wheel.
Orphelins or the Orphans are the remaining numbers between the Tiers and Voisins. Specifically, they are the numbers between 17 to 6 and 1 to 9.
What is Considered a Low Bet on Roulette?
Outside bets like the low bet or high bet, where you wager on numbers between 1-18 or 19-36, respectively, are particularly popular among players at all roulette tables. But when it comes to low-stakes roulette games, inside bets, such as the straight-up bet, split bet, or street bet, are way more popular as they offer much larger payouts.
So, what exactly constitutes a low-stakes roulette game? In general, most online casinos will offer plenty of roulette games with a minimum bet of below $1, which is considered a low bet. You'll even find many roulette games with a minimum bet of $0.50, $0.20, or even $0.10, which are great low-bet options for all types of players.
Keep in mind that these low-stakes roulette tables are usually only available in online casinos,  as land-based ones usually have games with higher stakes to help maintain their upkeep costs and large profits.
Types of Low-Stakes Roulette Games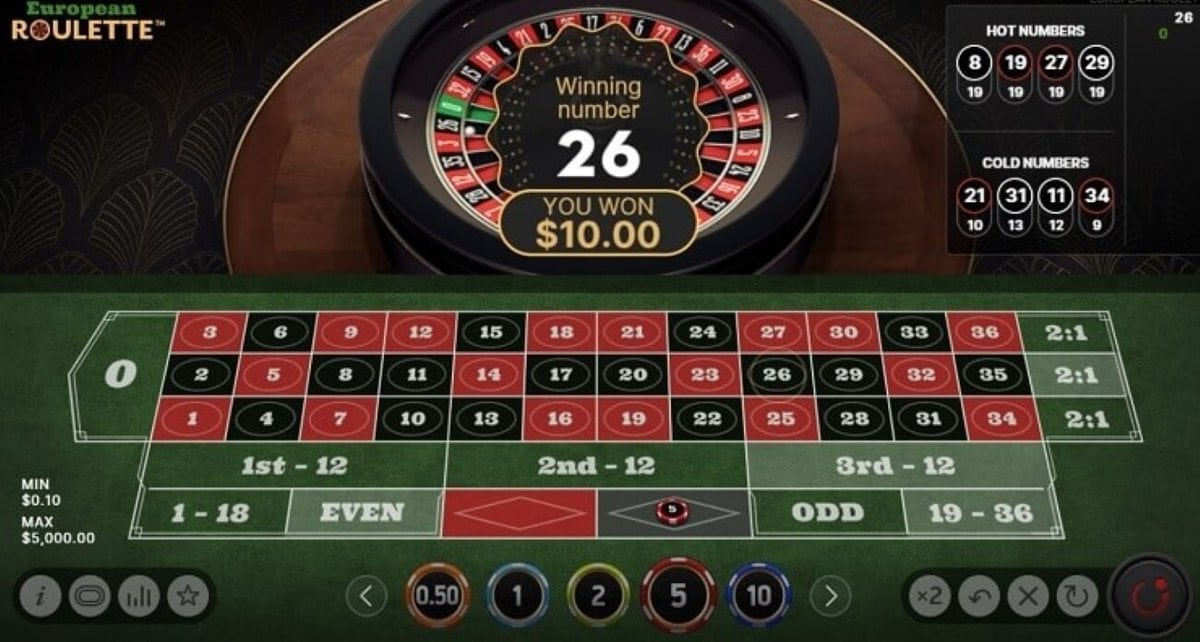 In general, you can find two different types of low-stakes roulette games in almost all online casinos. These are:
RNG Roulette Games: RNG roulette, also known as

video roulette

, is a single-player game where everything is handled by computer software using a Random Number Generator (RNG) and a virtual roulette wheel.
Live Roulette Games: Live casino roulette emulates the traditional casino experience best, as it features real dealers spinning the wheel, throwing the ball, and announcing the payouts.
There's also a hybrid version of roulette, which features a live dealer and real wheel, but a computer handles ball collecting and throwing. You can find several roulette variations like this from popular providers, such as Auto Roulette by Evolution Gaming or Quantum Roulette by Playtech.
If you're looking for low-stakes roulette games in particular, your best option is to go for RNG games, as they tend to have lower minimum bets due to not having as high operational costs as live dealer games.
In fact, the lowest-stake roulette game available is an RNG roulette variant called Penny Roulette (1p Roulette) by Playtech. As the name suggests, the game can be played for as low as one penny, which is equal to $0.01.
Nevertheless, if you prefer the feeling of real dealer roulette games, there are plenty of live low-stakes roulette variants, such as Lightning Roulette by Evolution Gaming, which features a minimum bet of $0.20.
Top Low Stakes Live Roulette Games
While live casino games may seem intimidating for new players, there are plenty of low-stakes roulette games with live dealers you can enjoy without breaking the bank.
| 🎲Game | 💵Min Bet | 💰Max Bet | 🧑‍💻Software Provider |
| --- | --- | --- | --- |
| Azure Roulette | 0.1 | 5,000 | Pragmatic Play |
| Lightning Auto Roulette | 0.1 | 10,000 | Evolution Gaming |
| PowerUP Roulette | 0.1 | 5,000 | Pragmatic Play |
| Live Dealer Auto Roulette | 0.1 | 5,000 | Evolution Gaming |
| Live Absolute White Roulette | 0.1 | 1,000 | Absolute Live Gaming |
| American Roulette | 0.2 | 5,000 | Evolution Gaming |
| Live Mega Fire Blaze Roulette | 0.2 | 3,000 | Playtech |
| European Roulette | 0.5 | 5,000 | Evolution Gaming |
| Speed Roulette | 0.5 | 8,000 | Evolution Gaming |
| Immersive Roulette | 1 | 10,000 | Evolution Gaming |
Live low-stakes roulette games have become extremely popular as they best resemble a traditional casino setting with a real wheel and live dealers. Plus, with games like Live Mega Fire Blaze Roulette and Lightning Roulette, you have the chance to win additional multipliers on your payouts.
There are also games like Speed Roulette and Auto Roulette, which make each spin much faster if you want to play even more rounds. You can find all these low-stakes roulette games in online casinos throughout the US, including popular platforms such as DraftKings Casino, FanDuel Casino, and BetMGM Casino.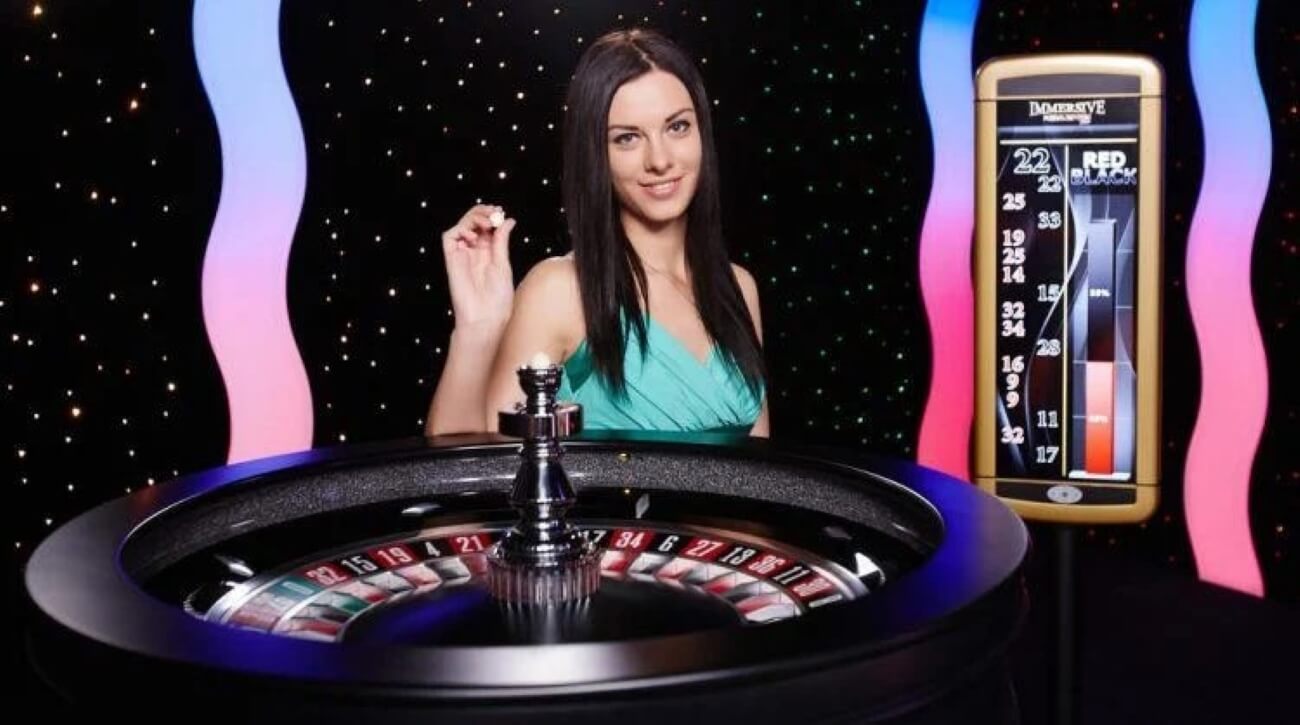 Best Low Stakes RNG Roulette Games
If you prefer to play standard RNG roulette games, you'll find plenty of low-stakes roulette variants across all online casinos.
| 🎲Game | 💵Min Bet | 💰Max Bet | 🧑‍💻Software Provider |
| --- | --- | --- | --- |
| Penny Roulette | 0.01 | 10,000 | Playtech |
| First Person Roulette | 0.1 | 10,000 | Evolution Gaming |
| Mega Fire Blaze Roulette | 0.1 | 5,000 | Playtech |
| American Roulette | 0.1 | 5,000 | NetEnt |
| Blazing 7s Roulette | 0.1 | 5,000 | SG Digital |
| 1000 Diamond Bet Roulette | 0.1 | 10,000 | Playtech |
| First Person Lightning Roulette | 0.1 | 10,000 | Evolution Gaming |
Similar to live roulette games, you can find plenty of these RNG low-stakes roulette games at casino providers like BetMGM and Draftkings. Video roulette games are perfect for those who want to play at their own pace or don't care about interactions with live dealers.
The good thing about RNG roulette games is the variety they provide, as plenty of them have bonus features. For example, at 1000 Diamond Bet Roulette, you have a chance to win a 1000x jackpot to go along with your winnings.
Low Versus High-Risk Roulette Bets
So far, we've talked about low-bet roulette games, where you don't need to risk large amounts to play. But there's a big difference between low-stakes roulette games and low-risk roulette bets. The latter refers to bet types, which have a higher chance of winning but also come with lower payouts.
Outside bets are the safest bet types you can place on a roulette table, as they cover large portions of the wheel and come with some decent payouts.
| 🎲Bet Type | 💵Payouts | 🤞Chance to Win |
| --- | --- | --- |
| Red/Black | 1:1 | 48.65% |
| Even/Odd | 1:1 | 48.65% |
| High/Low | 1:1 | 48.65% |
| Dozen | 2:1 | 32.43% |
| Column | 2:1 | 32.43% |
On the other hand, inside bets are usually much higher in terms of risk since you're wagering on individual numbers. But they can also be more profitable if you hit a long winning streak.
| 🎲Bet Type | 💵Payouts | 🤞Chance to Win |
| --- | --- | --- |
| Straight | 35:1 | 2.70% |
| Split | 17:1 | 5.41% |
| Street | 11:1 | 8.11% |
| Corner | 8:1 | 10.81% |
| Six Line | 5:1 | 16.22% |
Keep in mind that all these probabilities to win are calculated using the classic European Roulette as a reference. That's because American Roulette has the additional double zero, which lowers your overall chances to win and makes it an inferior value and higher risk game.
Best Low-Risk Roulette Strategies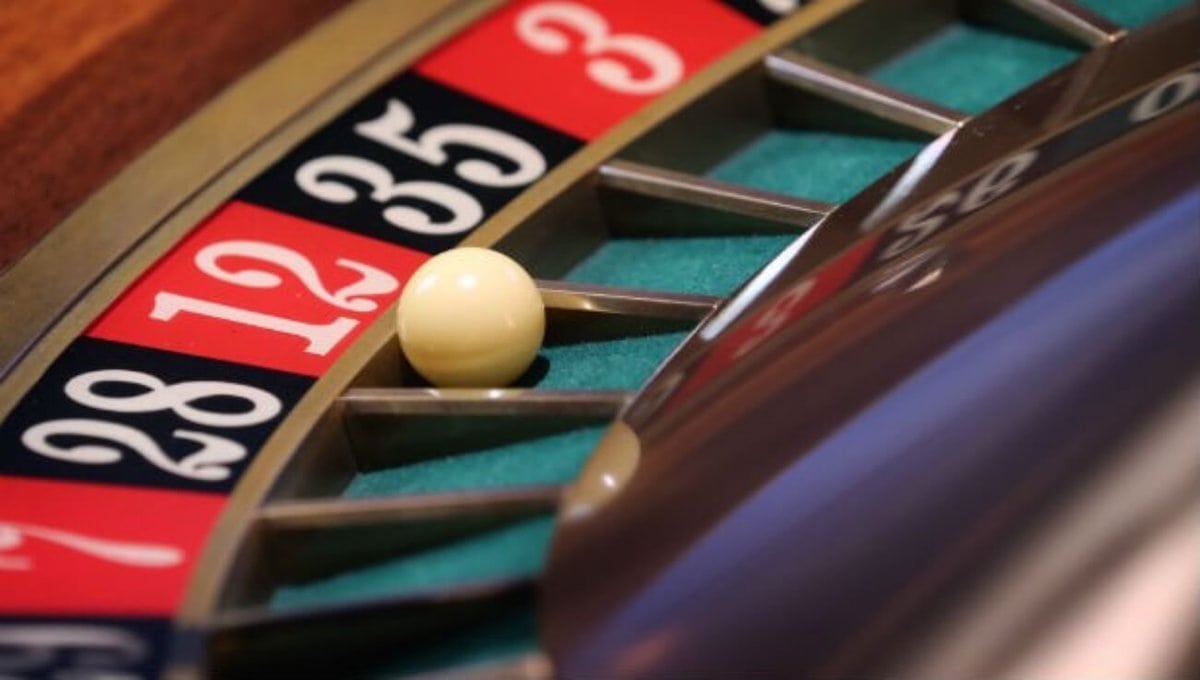 There are plenty of roulette strategies and betting systems out there, depending on the risk level you're willing to take. Below, you can find some of the most popular ones, but remember that they work best on the European roulette variant, which has a house edge of just 2.7%.
Martingale Strategy
The Martingale is arguably the most popular low-risk roulette strategy and is pretty simple to understand. You start playing with a standard bet size, and if you win, you repeat the same bet. If you lose, you double your bet until you win.
This strategy works best with larger bankrolls and on roulette bets with close to even odds, such as red/black, high/low, or even/odd numbers.
Piquemouche Roulette Strategy
The Piquemouche strategy is very similar to the Martingale, but your bet size changes after three consecutive losses. For example, if you start with a $0.1 bet and lose three consecutive rounds, you double to $0.2. If you lose three times in a row again, you move to $0.4, and so on.
This betting strategy is easier to execute as it doesn't have such a high variance. But, on the flip side, it doesn't allow you to recuperate all your losses like the Martingale does.
Fibonacci Betting System
The Fibonacci betting system is based on a sequence developed by the famous mathematician with the same name. If you use the Fibonacci system, each bet should be the sum of the previous two bets. If you lose, you move to the next term, and if you win, you go back two terms. When you put the numbers together, it looks like this:
0, 1, 1, 2, 3, 5, 8, 13, 21, 34, 55, 89, etc.
If you don't run into any significant losing streaks, the Fibonacci system should keep you around your starting balance with a relatively low risk.
D'Alembert Betting Strategy
The D'Alembert betting strategy is a safe and low-risk way to maintain your roulette bankroll and even increase it if you run a good winning streak. All you need to do is decide on a standard bet size, also known as a unit, which you'll use for this system.
Each time you lose, you increase your bet by one unit, and each time you win, you decrease it by one unit. For instance, if you start with a unit of $0.5, losing bets would see the bet increase to $1, $1.5, $2, etc. If one of these bets wins, you lower your bet by $0.5 until you reach your starting bet.
Oscar's Grind
The Oscar's Grind is a betting strategy developed for gambling games like roulette and splits your wagers into betting cycles to make 1 unit of profit in each cycle. For the Oscar's Grind to work, you need to bet on even odds, such as red or black.
You start out by wagering 1 unit, and if your bet loses, you continue with the same bet size. If your bet wins, you increase it by 1 unit. You repeat this process until you make 1 unit of profit, which ends the betting cycle, and you start again with 1 unit.
Steps to Play Low Stakes Roulette Games Online
Playing online low-stakes roulette games has become much easier due to the many online casinos available. Here's a step-by-step guide to help you sign up for an online casino account and start playing:
Choose your preferred online casino platform and visit their website or download their mobile app
Click the "Sign Up" button and fill in any necessary personal information, including your full name, birthday, and home address
Go through any mandatory verification steps to ensure your account is fully functional and ready to start playing
After that, you'll need to top up your account by making your first deposit. Don't forget to utilize any bonuses or promotions the casino has for new roulette players, which will help you get more funds to play with.
To deposit your money, navigate to the Cashier page and choose your preferred payment method. Most online casinos will allow you to deposit using one of the following methods:
Credit Card
Debit Card
Bank Transfer
E-Wallets (Skrill, PayPal)
PayPal
Cash at Cage
You'll usually need to deposit a minimum of $10 to take advantage of any welcome bonuses, but some casinos may allow you to make a $5 deposit. Once you've chosen your preferred payment option, fill in any information necessary, input the amount you want to deposit, and complete the transaction.
When your account is ready and topped up, head to the Casino or Live Casino section and search for your favorite low-stakes roulette games. Make sure to pick a low bet size, and you're ready to place your bets and spin the wheel!
Roulette Bonuses to Raise the Stakes
If you're a low-stakes roulette player, the best way to earn more money to play with and not risk a lot is through online casino bonuses and promos. Both new and existing low-stakes roulette players get access to several casino promotions, including:
Welcome Package – New players often get a welcome package that includes a bonus on their first deposit, as well as some free money or chips to use on any roulette games they want.
Reload Bonus – Reload bonuses allow existing players to gain some additional funds when they top up their accounts. These promos usually give out 25% to 50% of your deposit amount, and you can get them on a monthly or even weekly basis.
Bonus Tokens – Sometimes, you may earn some bonus tokens if you wager a certain amount of money on a specific roulette game. You can use these bonus tokens to play additional rounds for free without risking your money.
Pros & Cons
Low-stakes roulette games come with several benefits for both new and experienced players, but also some drawbacks you should be aware of:
| ✅Pros | ❌Cons |
| --- | --- |
| You're not risking a lot of money | Most live roulette games are off-limits due to high minimum bets |
| You can try out several strategies with minimal risk | Payouts in low-stakes roulette games aren't the best |
| Perfect for beginners who want to try out the game | Some casino bonuses require big deposits or large minimum bets to utilize |
| You can gain plenty of bonus funds to play with through casino promos | |
Key Takeaways
Overall, low-stakes roulette can be one of the best casino games to play, especially for novice players who just want to dip their toes into the game without risking a fortune. Plus, it's great if you just want to play roulette for fun without the anxiety of placing large bets.
You'll miss out on a few aspects of the game compared to high rollers, but you'll definitely have a good time as long as you choose the right games to play and use one of the best low-risk roulette strategies.