Gamble USA strives to improve your online gambling experience. We aim to help you play safely, make informed decisions when gambling, and increase your betting knowledge through our guides.
We adhere to strict editorial integrity; our content may contain links to products from our licensed & legal US partners.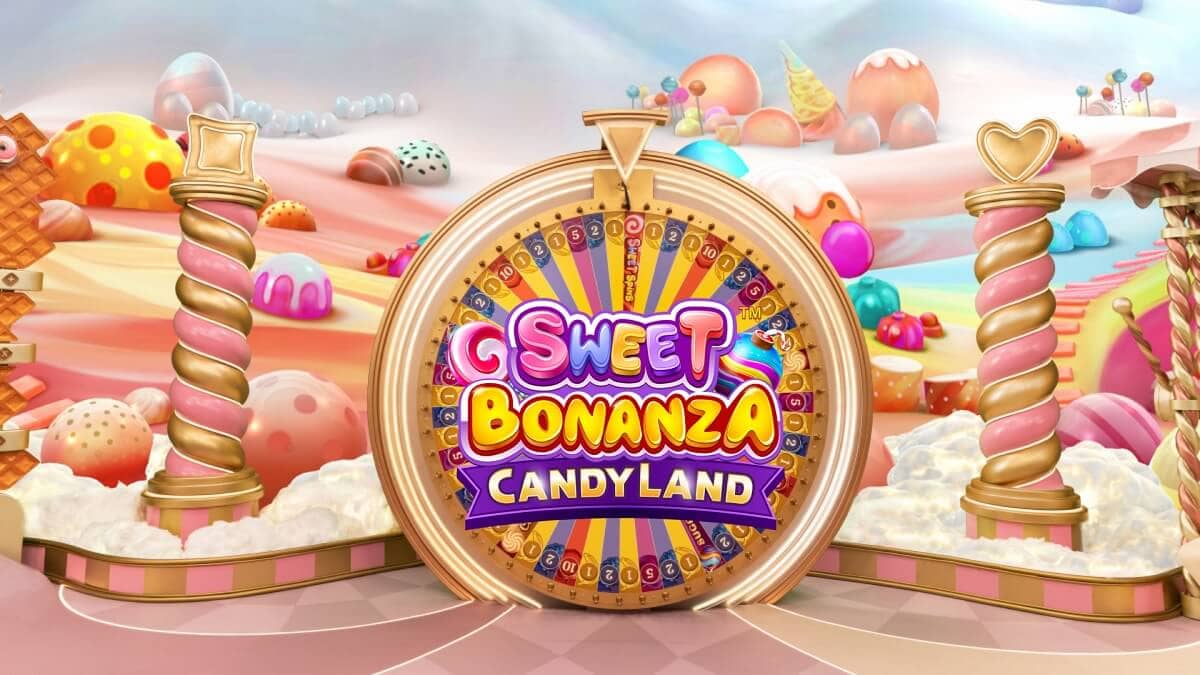 Sweet Bonanza CandyLand by Pragmatic Play is a new live casino game show that takes you back to the magical and candy-filled world of Candyland. It's a new Pragmatic release that blends the slot's exciting features with a TV show, although the candy theme is based on their popular online slot Sweet Bonanza.
Pragmatic Play made the gaming experience even more appealing by letting you chat with a real person with their live casino version, giving you the feeling of being part of the action. On the other hand, Sweet Bonanza CandyLand competes mechanically with games like Adventures Beyond Wonderland and Crazy Time. It also has two thrilling bonus games, Sweet Spins, and Candy Drop Bonus, that will please both casino players and slot fans.
The house edge here is 3.52%, with a minimum bet of $0.20 and a maximum bet of $3,000. It is also playable on PC and mobile devices and is Pragmatic Play's most inventive entertainment creation. You can spin the Sweet Bonanza Wheel at our best-recommended casinos in the US to win one of the exciting two bonus games or the Sugar Bomb Multiplier, which offers a maximum win of up to 20,000x the bet.
Best Sweet Bonanza CandyLand Casinos in the US
Our editor's picks to play Sweet Bonanza CandyLand are highlighted above. Players can click to join any of these sites and start playing the live dealer game today. Powered by Pragmatic Play and other top software developers, you can be rest assured that you will not experience any dull moment at sites like DraftKings Casino and Party Casino. Using the links to signup is also the best way to claim a no deposit casino bonus or a 100% welcome deposit bonus for Sweet Bonanza CandyLand.
What is Sweet Bonanza CandyLand Live Wheel Game?
Sweet Bonanza CandyLand is a live dealer casino game released in 2021 by Pragmatic Play. They have created a live gaming experience with increasing creativity by combining their popular Sweet Bonanza slot game with a money wheel aspect. The game's design is based on candies, and you'll be greeted with a fantastic live casino experience. Pragmatic Play designed a unique gaming experience by combining physical elements with virtual 3D effects that add depth to the game.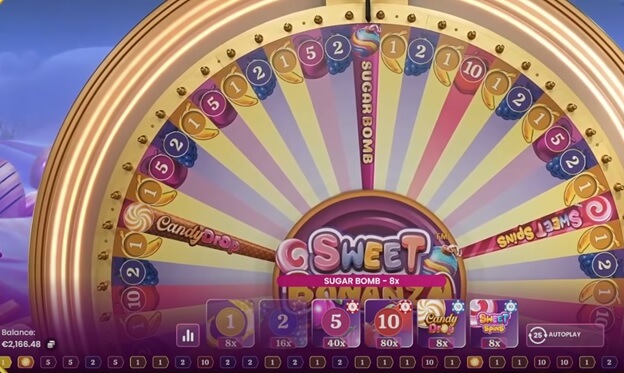 The rules are simple for playing Sweet Bonanza CandyLand live as it takes place in front of a colorful wheel. The host spins the wheel to determine one of six prizes when the betting round ends. The goal is to correctly predict a winning number segment that pays out a bet multiplier equal to that segment's value. Also, while the game's central focus is a big wheel of fortune with 54 sections, the high rewards are located in the wheel's nine unique segments. If the appropriate conditions are met, these segments trigger separate bonus features such as Candy Drop, Sweet Spins, and Sugar Bomb, which may pay up to 20,000x.
How to Play Sweet Bonanza in US
When you have decided to play Sweet Bonanza CandyLand live casino game, you'll see that the money wheel is divided into 54 different colored sections. The numbers 1, 2, 5, and 10 are featured on most of them, although two have a Sugar Bomb symbol, two have Candy Drop symbols, and one has a Sweet Spins symbol.
To begin playing Pragmatic Sweet Bonanza CandyLand, place a bet on your favorite number or a combination of numbers. You may also wager on special segments such as Sweet Spins and Candy Drop. Pick one of the coin values shown beneath the betting positions, and place a stake on your desired bet spot. The Bet on All button will make a single bet on all bet spots with the same value. There's also the Sugar Bomb feature, but it's impossible to bet on it.
After a certain amount of time, the betting round is closed, and the game begins. The game host then spins the wheel, and you win if the pointer lands on the section you bet on. If you get a correct number, you will receive a prize equal to its worth, which means you might win up to 10x your bet. The bonus round is triggered when the wheel lands on one of the special segments.
Furthermore, clicking 'Stats' shows up the results of up to 500 previous rounds for those who prefer to guess the future based on past events. Bet Limits, Payouts, and a Game Information Indicator showing how much time is left to make bets are included in this section. You can also use the Autoplay feature to automatically place the same stake for a set number of spins.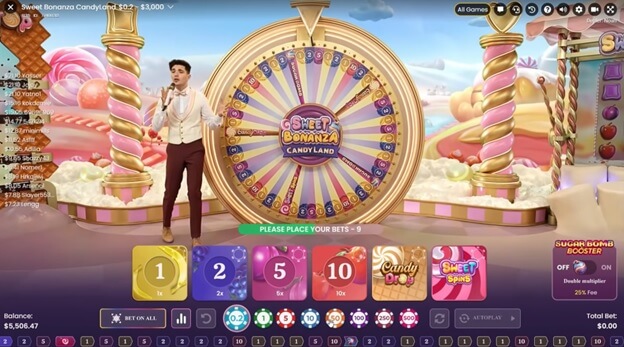 Sweet Bonanza CandyLand Paytable and Odds
When you play Sweet Bonanza CandyLand live, the best payouts come from the different bonus games. It is tough to manage unless everything falls into place flawlessly. However, if you are lucky enough to collect the max win, which is an incredible 20,000x your stake, you will be in for a real treat.
Regular winnings are awarded when the wheel stops on one of four numbers: one, two, five, or ten. Each number's payout is equivalent to its value:
The number one pays 1:1 and appears on 22-wheel segments.
The number 2 pays 2:1 and appears on 15 of the wheel's segments.
The number five pays out at 5:1 and appears on 7 of the wheel's segments.
The number ten pays out at 10:1 and appears on four of the wheel's segments.
Bonus segments in Sweet Bonanza CandyLand lead to the exciting bonus game, which we go over in depth below. Depending on the type of bet, these special features might provide additional winnings by multiplying your initial stake.
Sweet Bonanza CandyLand Special Features
There are three bonus features in the Sweet Bonanza CandyLand live game that might reward you with big wins, but it's crucial to note that you can only bet on two bonus games. These bonus features include Sweet Spins, Candy Drop, and Sugar Bomb and are all enjoyable, and we'll go through them all here:
Sugar Bomb Multiplier
If the wheel lands on the Sugar Bomb segment, it will expose a random multiplier ranging from 2x to 10x. The game host then spins the mega wheel again, and when it lands, the winnings are increased by the multiplier value. Your initial stake is kept for this respin. Additionally, you can activate the Sugar Bomb Booster from the user interface. Sugar Bomb Booster boosts the total stake by 25% and, when activated, doubles the rewarded multiplier when the wheel stops on the Sugar Bomb segment. You cannot gamble on the Sugar Bomb section.
Sweet Spins
Sweet Spins is one of two different bonus games on which you can place wagers. If you bet on Sweet Spins and the wheel stops here, you will be sent to a slot machine similar to Sweet Bonanza with a 6×5 game grid. You are greeted with ten free spins where eight or more of the same symbol on the reels forms a winning combination. The Tumble feature is then started, which removes all of the winning symbols, and new symbols fall to fill the empty positions.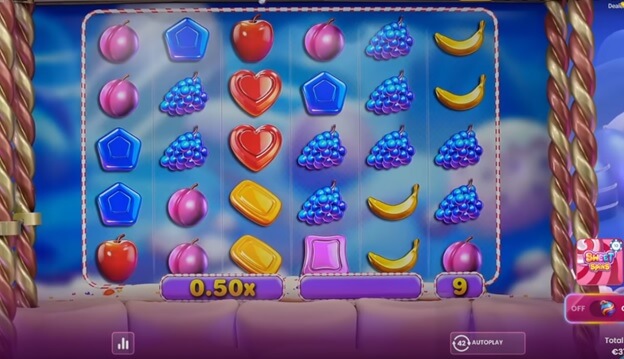 It continues as long as new wins are generated, and during the free spins, you can even land on a sugar bomb symbol in this bonus game, which multiplies the prize by 2x to 100x. There is also a lollipop scatter that gives five extra Sweet Spins when three of them appear.
Candy Drop
If the wheel lands the Candy Drop symbol, all players who gambled on it will enter the bonus round. To begin, players select one of three candies, each of which begins with a 1x multiplier. The Candy Drop bonus game transports gamers to an RNG-powered maze, where colored candy begins at the top and gently drops down. Before reaching the bottom, each candy goes through four numbers and multipliers. Ultimately, these multipliers and numbers are combined to determine your award.
Bubble Surprise is a new betting option that Pragmatic Play has recently added to the wheel. A little reel spin occurs when you hit it, and the outcome determines the prize. A 5x, 10x, or 25x payout and triggering Candy Drop or Sweet Spins are possibilities in the Bubble Surprise bonus game round.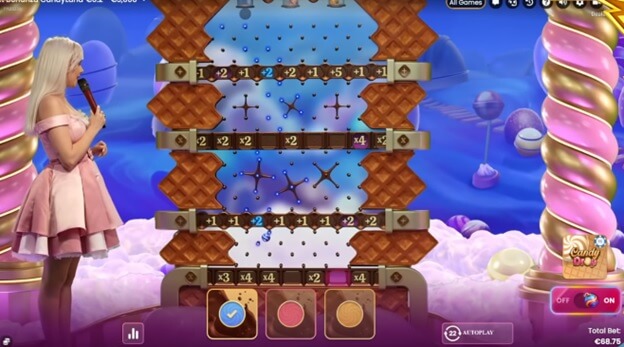 Sweet Bonanza CandyLand Stats: House Edge & RTP
By default, the Sweet Bonanza CandyLand RTP is 96.48%, but it can decrease as low as 91.15%, depending on the betting strategy employed. It has a higher RTP than usual slot percentages, with the highest value of 96.48 percent being the theoretical maximum. It means that the game offers a house edge of 3.52%.
The term "house edge" is frequently used while discussing casino games. It indicates that, in the long run, the casino expects to win that proportion of your bet every time you gamble. Sweet Bonanza CandyLand has a higher RTP than comparable live games, such as Evolution Crazy Time, which has an RTP ranging from 94.41 to 96.08 percent.
Sweet Bonanza CandyLand Strategy & Tips to Play
You might be wondering if there is a Sweet Bonanza CandyLand strategy that you can use to maximize your winnings. And, to be honest, no one can promise whether you will win or lose in this game because it is, after all, a game of chance. However, you might improve your chances by playing in a specific style.
Firstly, the ideal Sweet Bonanza CandyLand strategy is carefully managing your bankroll. While aiming for bonus rounds, you need to keep your bankroll as steady as possible. The most thrilling strategy in this game is to gamble responsibly on bonus features and win them every time they occur. Also, checking the history tab on a routine basis will indicate the typical payouts in real time.
The Low-Risk betting strategy is based on maintaining the balance while waiting for a big win from the bonus games. It is best suited for calm players with much patience. You can also always wager enough on number one to cover some of your bonus bets, potentially reducing your losses.
Is Sweet Bonanza CandyLand Rigged?
Considering the software provider and the company's reputation, we can conclude that this live game is scam-free and fair. Pragmatic Play is a well-known developer whose live games are frequently found on online casino sites. The firm has won many awards for its games and continues to impress.
As a result, Sweet Bonanza CandyLand is a fair game with a live and RNG aspect. A live dealer presents the main game, but the bonus rounds are determined by an RNG, which means there are no live elements. The wheel is inspected regularly to ensure that it is balanced and that the rotation speeds are within the specified margin. The RNG system is also adequately tested and verified by a professional agency on behalf of the licensing organization in charge of approving the game. Additionally, a comprehensive record of results is kept, which can be verified to guarantee that the numbers are randomly chosen and that the game is not rigged. Licensing by numerous jurisdictions further reinforce that games by Pragmatic Play are safe to play.
Play Sweet Bonanza CandyLand Online Today!
We have enjoyed a vintage gaming experience in Sweet Bonanza CandyLand live, where Pragmatic Play has opted to bring this slot idea to the live casino industry. It has a great environment that they have created, with the theme being uplifting and the scenery creating a perfect vibe. The game hosts dress suitably for the theme and keep things interesting during the spins. You may start scoring festive wins when you play a bonus game round with multipliers and free spins thrown in for good measure. This game features a massive potential max win, and the RTP is also within a reasonable range.
Overall, Sweet Bonanza CandyLand is a live casino game where you spin a wheel based on the famous video slot Sweet Bonanza. This time, you have a chance to get a max win of up to 20,000x your stake while playing on the Sweet Bonanza wheel. So, join one of our recommended online casinos and play this unique Pragmatic Play title. The good news is there is a wide selection of casinos where you can play Sweet Bonanza for real money in USA.
Sweet Bonanza CandyLand FAQs
Can I play Sweet Bonanza CandyLand on a mobile app?
Of course. You can play Sweet Bonanza live using one of our recommended casino apps with error-free touch controllers. It works with all modern devices without any problems, including PCs, smartphones, and tablets running Samsung, Windows, iOS, or Android casino platforms.
Is Sweet Bonanza CandyLand available at any licensed US online casino?
The Sweet Bonanza CandyLand slot is available in five US states at our top online casino sites. Check out the top casino list for this live game we provided for you at the top of the review, and don't forget to claim a free casino signup bonus to get your session off on the right foot. Inspect them and choose the best casino for your preferences.
Can I play Sweet Bonanza CandyLand for free?
Unfortunately, you can't play Sweet Bonanza CandyLand for free because no demo version is available. As with any live dealer game, you won't be able to try out the game before investing real money to gamble, unless through a $10 no deposit or $20 instant play bonus.
What is the Sweet Bonanza CandyLand house edge?
The basic bets all have a 96.48% RTP, meaning Sweet Bonanza CandyLand's house edge is 3.52%, which is low for the genre. On the other hand, special features are likely to have lower RTPs, with Pragmatic Play claiming a minimum of 91.15%.
How to win at Sweet Bonanza CandyLand?
It's a live casino game with a wheel where players can wager where the wheel will stop. You must choose the positions to gamble on, and if the pointer lands on them, you will be awarded the appropriate reward. Some wheel sections, such as Sugar Bomb, Candy Drop, and Sweet Spins, are designated for bonus rounds.
Who is the developer of Sweet Bonanza CandyLand?
Pragmatic Play created the Sweet Bonanza CandyLand which is based on their renowned slot machine of the same name. Pragmatic Play is a well-known casino game developer who designed some of the most popular games in numerous online casinos worldwide. With this game, they once again showed why they are one of the top software developers in the world.