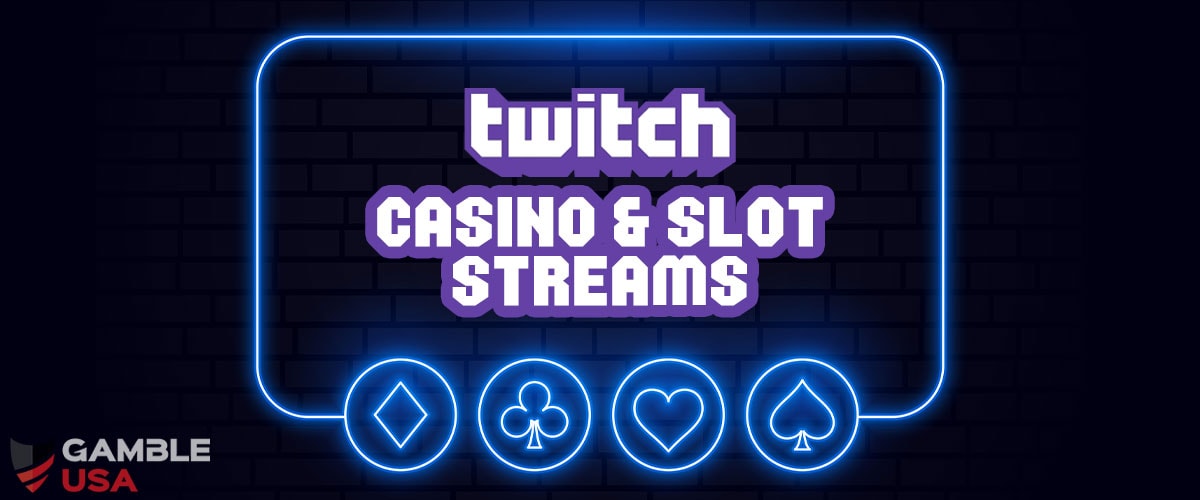 You can find hundreds of different categories on Twitch with most of them centering on gaming. Some of the most popular titles include League of Legends, Valorant, Counter-Strike, World of Warcraft, and Fortnite.
However, did you know that there is also a thriving slots category where Twitch streamers showcase different video slots and try to get the biggest jackpot payouts or figure out if there are any strategies associated with the games? This category is hugely popular and at the time of writing this, there were 25,000+ people watching live slots streamers – and that's nowhere near peak viewership.
The history of Twitch casino slot streams has not always been smooth sailing though and there have been numerous scandals and issues that have threatened to derail this category.
If you want to learn more about Twitch slots streaming, I give a comprehensive overview below about the current gambling policy, prohibited content, well-known scandals, and what you can expect from the streamers below – enjoy!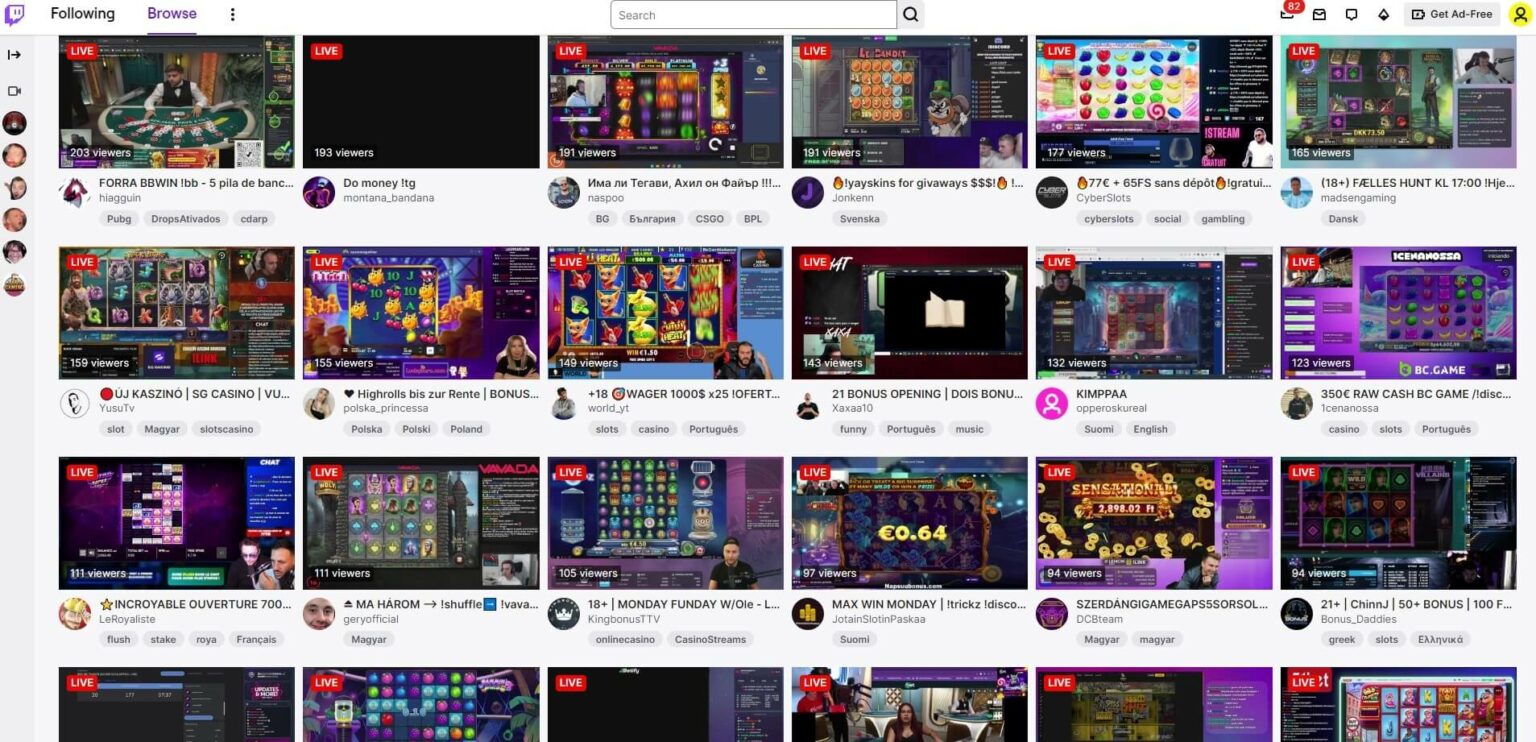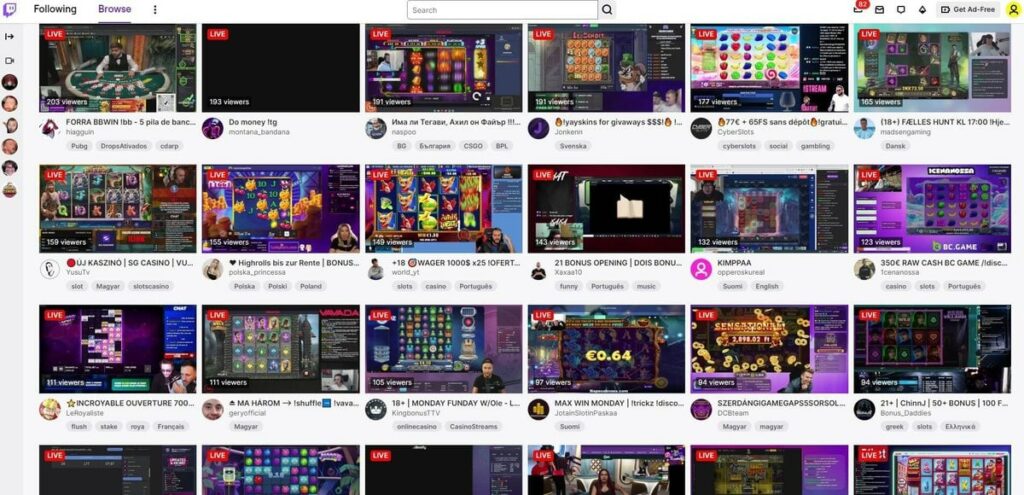 Twitch Gambling Ban Update 2023
Until October 2022, the Twitch gambling policy and guidelines were relatively lax and this is what caused the various scams and rise in unscrupulous streamer actions. Below I discuss the Sliker scandal which was the main factor for the October 2022 update, but for now, you can see the current Twitch gambling policy below.
Twitch Gambling Policy
One of the main changes is that streamers can no longer share affiliate codes or links to websites that contain slots, dice games, or roulette. This was a major way that slot streamers would earn money as they would get affiliate commissions by recommending online casinos to their viewers.
It's important to note the select game types of roulette, slots, and dice games which theoretically mean that affiliate codes can still be shared for sites containing other games like Blackjack and Baccarat. However, most online casinos containing card games like blackjack will 99% of the time have slots and roulette anyway so they will still be ruled out.
Banned Online Casinos on Twitch:
Stake.com
Rollbit.com
Duelbits.com
Roobet.com
Blaze.com
Gamdom.com
The above sites cannot have their games streamed on Twitch or be mentioned in the chat by the streamers. Twitch has done this as they deem the platforms to be potentially dangerous. They state potential issues like the use of VPNs, safety systems, and the lack of a US gambling license.
The above ban also includes free social versions of online casinos. While these platforms and the use of affiliate links or codes are prohibited, Twitch does not prohibit streamers from streaming platforms concentrated on sports betting, fantasy sports, and poker. All of the related rules can be found in the official Twitch community guidelines in the Additional Gaming Content Guidelines.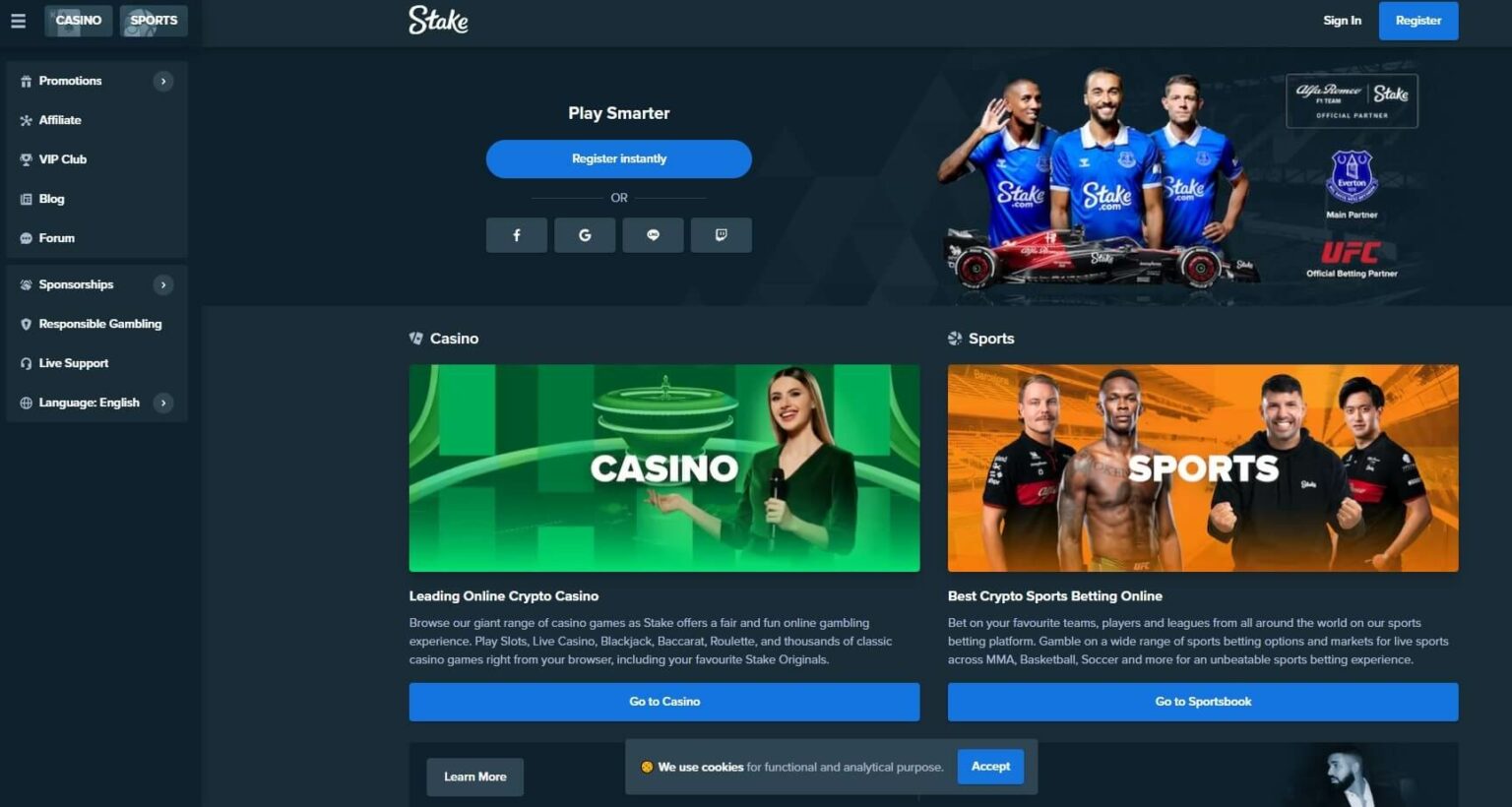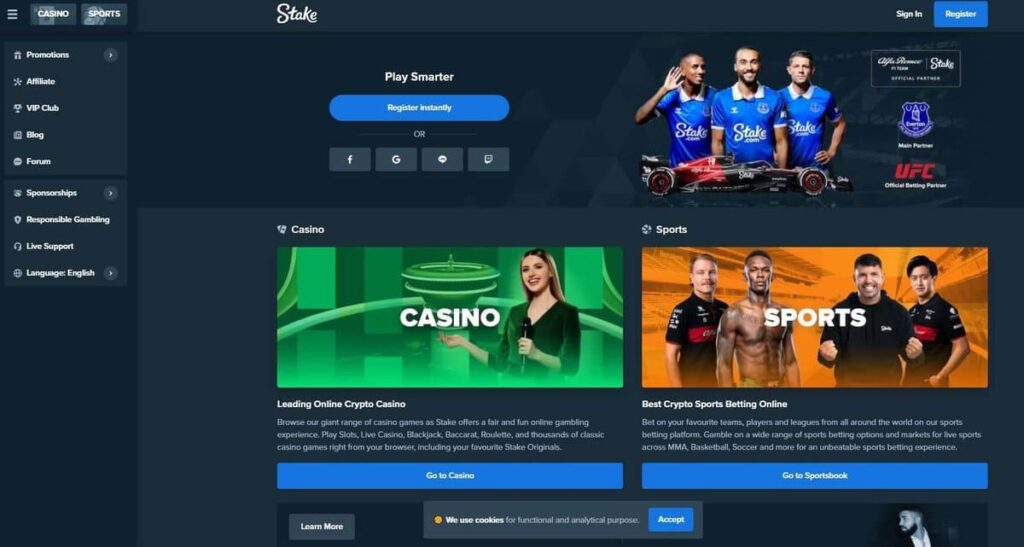 Does Twitch Allow Casino Streams?
In short, yes. Casino streams are allowed on Twitch provided the streamers comply with the Twitch Community Guidelines.
As stated above, the guidelines include the prohibition of advertising affiliate links for sites that feature slots, roulette, and dice games. After spending time watching a range of Twitch casino slot streams I found that these rules often appeared to be ignored.
I found plenty of streamers who use creative ways to get around the guidelines. For example, many streams contained promotional images beneath their gameplay describing bonus offers from casinos without actually showing their affiliate link.
You can then see automated chat messages from bots they have programmed that share links to the streamer's own website or discord channel. And with a little digging, these websites and discord channels do indeed contain plenty of affiliate links! But technically there is nothing wrong here – the streamer is complying with the guidelines…. even if they are using a loophole!
Twitch Gambling Scandal
Things didn't change until a vast gambling scandal tarnished Twitch's reputation and highlighted the potential issues with Twitch casino slot streams and other gambling-related content.
Sliker Scandal – Scamming Streamers and Users to Fund an Addiction
The scandal centered around one of the largest gambling streamers, Abraham Mohammed, known as Sliker. Mohammed became addicted to gambling with loot boxes and other things on the popular eSports game Counterstrike: Global Offensive.
As his habit developed and turned into a real addiction, Sliker had to seek other means of gaining money to fuel his gambling and effectively scammed other Twitch streamers and viewers out of approximately $200,000.
People had no idea, but eventually, the guilt became too much and Sliker admitted during a livestream what he had done. Twitch obviously erupted and it became headline news and ultimately resulted in Twitch making its policy changes in the October 2022 update.
Other Twitch Slot Machines Stream Issues
Aside from the infamous Sliker scandal, there have been other instances of unscrupulous behavior on Twitch from gambling streamers. This was centered around the promotion of unlicensed offshore casinos by Twitch streamers which had the potential to scam users with unregulated practices and even rigged games.
There have also been rumors of Twitch streamers having secret partnerships with online casinos and not using their own money to play slots. Instead, they would receive funds from the casino, and in return, the streamer would be bringing in new customers for the platform. Popular slots streamers like Niknam have discussed this before and have even alluded to the fact that some streamers use fake balances to protect their own assets.
In 2020 during the Covid-19 pandemic, Twitch also regularly saw slot streams topping its fastest-growing channels chart and many people questioned this. Numbers were analyzed and it was deemed that organic growth of this magnitude wasn't possible and that some streamers were using bots to inflate their followers.
Is Twitch Moving Towards Banning Slot Streams?
The October 2022 guideline update was pretty major and it marked a stark change in Twitch's behavior towards slot streams. However, since then, no additional measures have been brought in.
All that's changed is that the original list of four prohibited casinos has been increased to six and this is one area that they do seem to be active. We can expect the list of prohibited casinos to increase over time as new unlicensed ones are found, but other than that, I don't expect Twitch to ban slot streams.
They are simply too popular and Twitch would be potentially reducing its website traffic, subscribers, viewership, and ultimately profit in the process.
Twitch gambling: Slots and Casino Streams
Despite the guideline update, Twitch slots are still popular but there are other platforms too like Kick which are taking a large percentage of the audience. At the peak of the Twitch slots phenomenon, the platform would regularly draw in 280,000 daily viewers whereas now the totals usually average at between 20-30,000.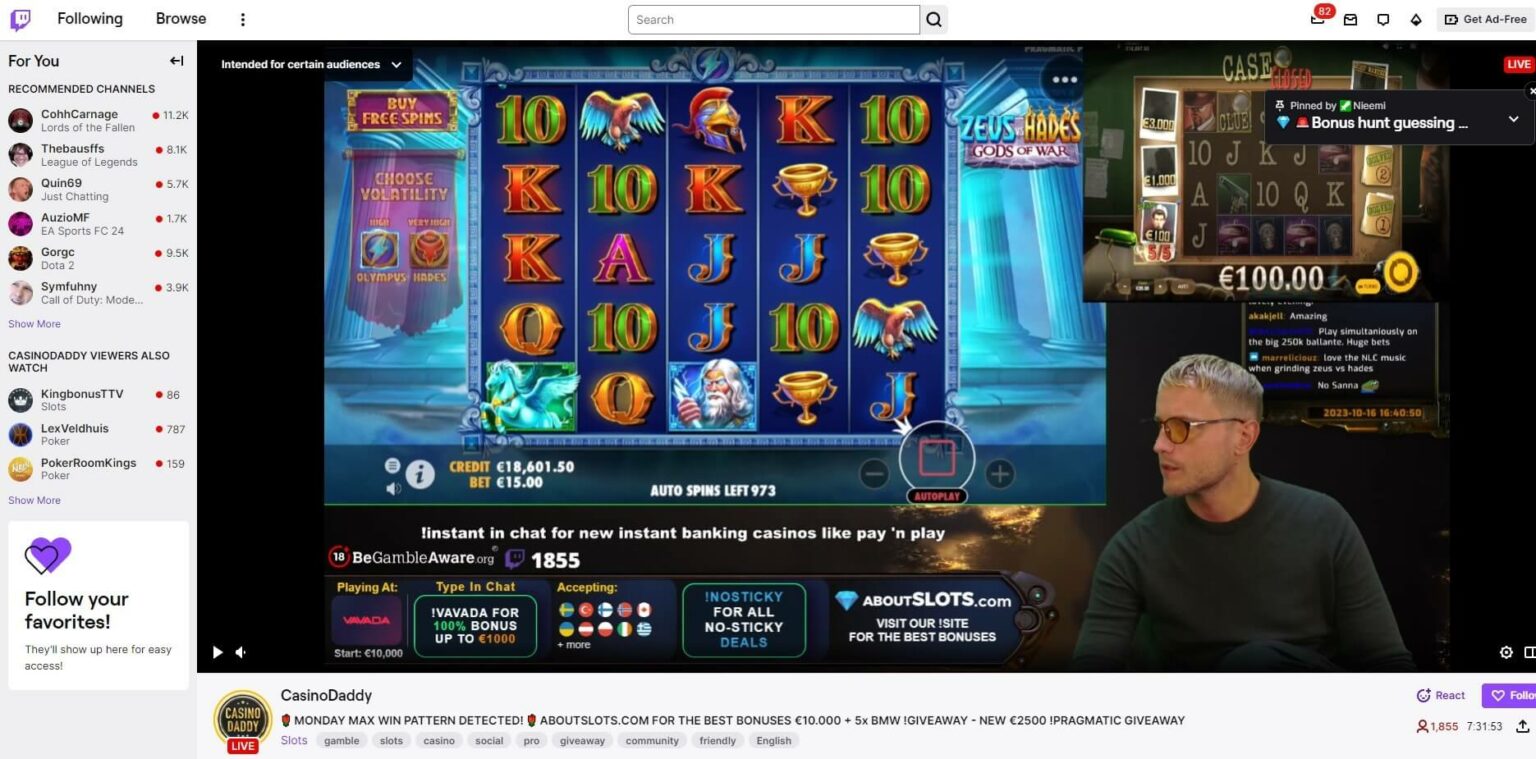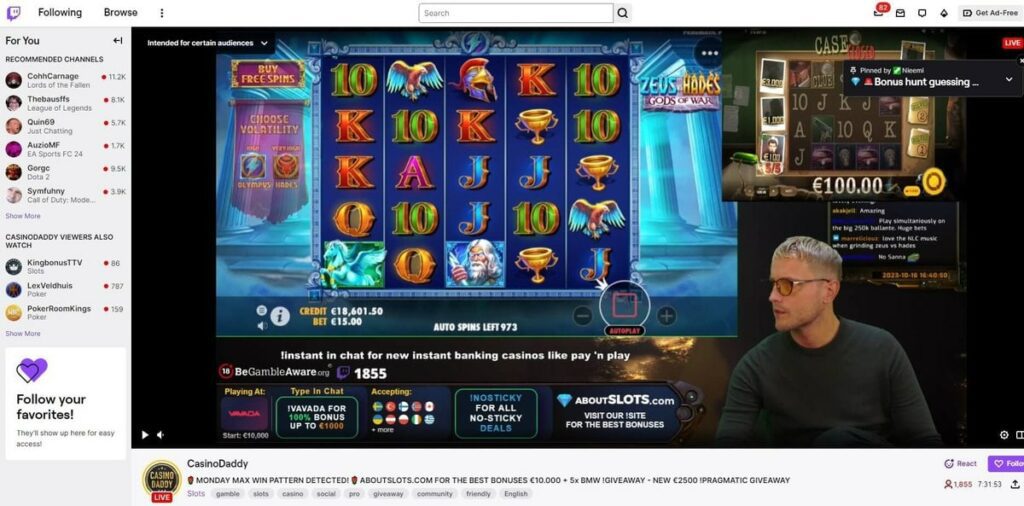 Most Popular Twitch Slots and Casino Streamers
There are hundreds of slot and casino streamers on Twitch but every so often there comes along an iconic streamer who gathers millions of followers and shines a spotlight on this gaming category. Below I have listed five of the most popular Twitch slots and casino streamers of all time.
Roshtein
Swedish slot streamer Roshtein is another legend in this industry and at his peak he had a huge viewership of 80,000 people. The Swedish streamer is known for his entertaining streams, aggressive playstyle, and willingness to place huge money on slot games that most of us mere mortals can't afford.
xQc
xQc is actually what's called a variety streamer and he doesn't stick to one type of game or subject. However, his slot streams have become the stuff of legend and due to his 11 million Twitch follower count, he is regarded as the most influential slot streamer on the platform.
Trainwreckstv
Most gambling enthusiasts and Twitch members have heard of the legendary Trainwreckstv. Tyler Faraz Niknam has been streaming slots and other games since 2015 and is one of the wealthiest slot streamers with an estimated personal wealth of $360 million. He is known for his frequent huge charitable donations and at his peak he drew in 80,000+ viewers.
Yassuo
Yassuo has been known to play League of Legends and Valorant but he rose to fame with his slots streams and is known for his high-roller play. On one epic stream, Yassuo won an incredible $750k from a slot game and his current follower count on Twitch stands at 2 million+.
Corrina Kopf
While the Twitch slot category is mainly dominated by men, Corrina Kopf is easily the most popular female content creator and combines stunning looks with fun streams and she consistently draws in 23,000 viewers per week. Before streaming slots, Kopf also played Fortnite and was incredibly popular on that game too.
Do Twitch Slots Streamers Earn Money?
The big question that everyone wants to know is whether Twitch slot streamers make money or not. Come on – do you really think these streamers would be spending thousands and sometimes tens of thousands at online casinos if they didn't?????
Of course they do! Admittedly, the Twitch streamers with a smaller following might not make as much money, but the most popular casino streamers of all time have made insane amounts of money. Income from their Twitch streams includes the following sources:
Partnership with Twitch that gives revenue based on views and followers.
Viewer donations
Sponsorships
Affiliate links with online casinos that lead to commission-based earnings
Payouts from the games
The underlying source of income is the revenue Twitch gives them from their stream views and contributions from their viewers. This is a standard 50/50 split but select premium content creators have an improved split of 70/30.
Viewer Donations
Aside from the standard revenue partnership with Twitch, viewers can of course make donations in the form of real money or bits where a set value of bits equates to a real money USD value. I think the current rate is something like 500 bits = $7.00 USD. For real money donations, streamers will have donation links or might have something like a Patreon that you can subscribe to.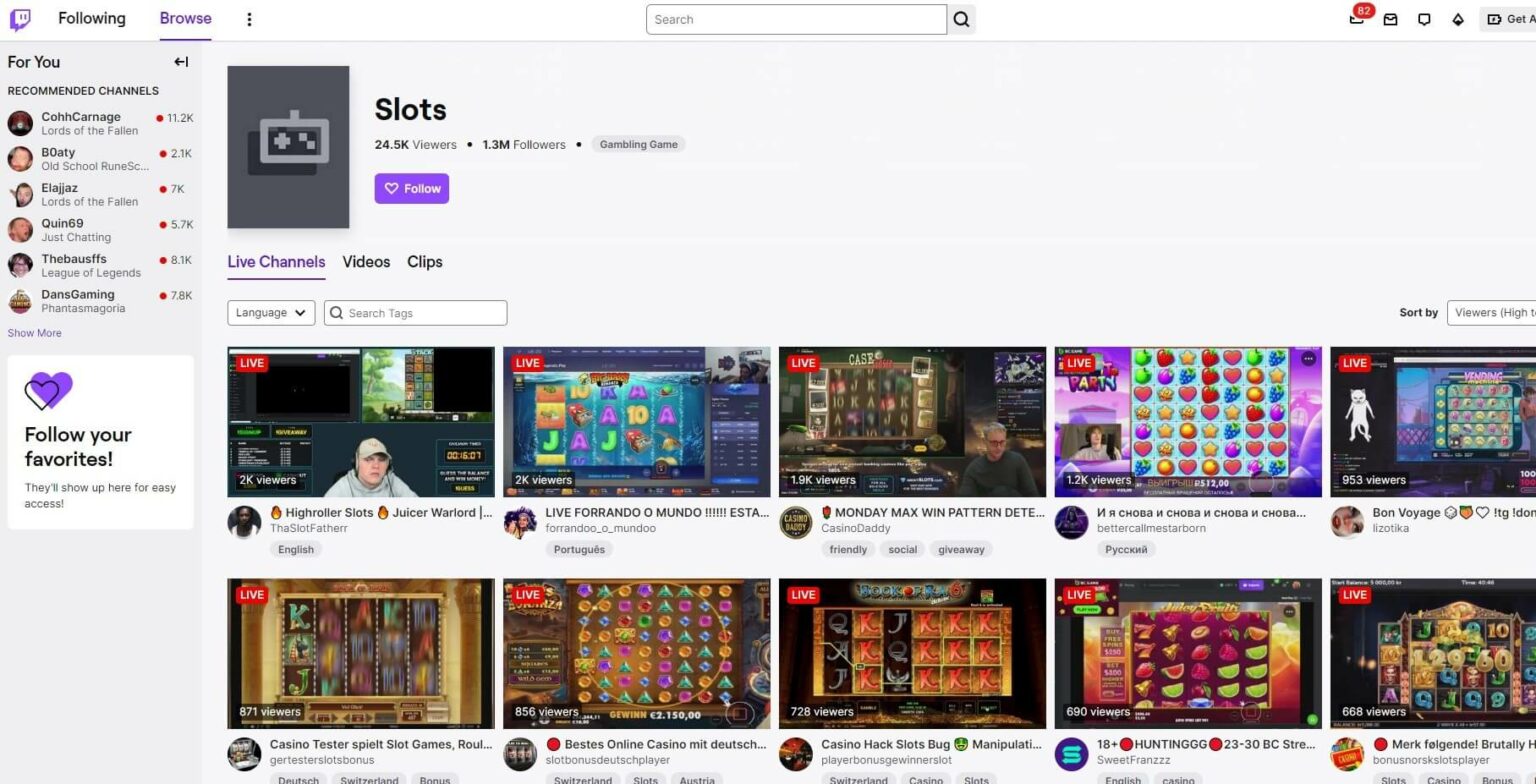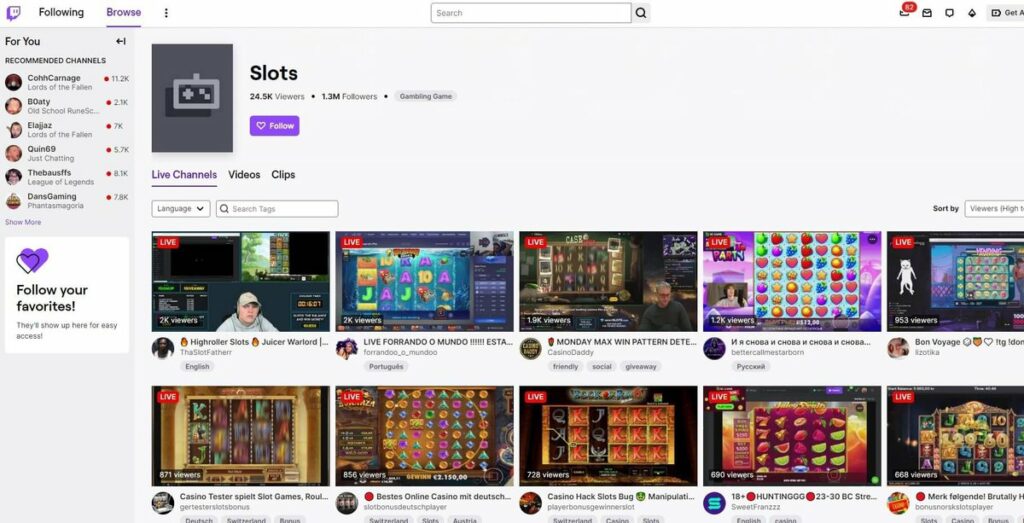 Sponsorships
The most popular Twitch casino streamers also have sponsorship deals and this could be with select online casinos or other products like energy drinks. Companies sponsor streamers as they gather millions of views and a huge following which all gives exposure to the company and its products.
Affiliate Links
In the online casino streaming industry, streamers can also make a boatload from affiliate links. This premise is simple – a viewer clicks on the streamer's affiliate link and uses it to sign up for an online casino. The streamer might then get either a flat fee or a percentage of the profit the casino makes from that new customer.
Playing the Casino Games
Lastly, the casino streamers are obviously playing slots and other casino games at which they can make money! This isn't as a secure revenue stream as the house always wins, but if you are gambling with affiliate money or funds from Twitch viewers, it doesn't matter as much.
How Much Money Do Twitch Slots Streamers Make?
While we want to know if Twitch slot streamers make money, we secretly want to know how much and it's a question mired in uncertainty, rumors, and unknowns. I can't say for sure how much these streamers earn from Twitch and other streaming platforms but the most popular content creators earn millions.
For example, Yassuo who was once one of the most-viewed slots streamers won $750k on a slot game during a streaming session. Additionally, while checking out different slot streamers to create this guide, I regularly saw people with account balances of $5000+ – that's just playing money and doesn't show their actual income or money they are saving.
The best possible example of the wealth of Twitch slot streamers, however, has to be Trainwreckstv and multiple sources report his net wealth to exceed $360 million!
Where do Twitch Streamers Play Slots Today?
Twitch maintains a popular slots streaming category and it regularly ranks highly compared to other games, and at peak hours it can be as high as No. 9 on their viewership list competing with popular video games like Fortnite.
While Twitch remains popular, many streamers have turned to other similar platforms including their main rival Kick. Indeed, Kick has drawn many of the top slot streamers including Roshtein, Magouille, ClassyBeef, Vita, and Corrina Kopf. Indeed, the viewership for the Kick's Slots category while I was writing this was 55,000+ – double that of Twitches.
Facebook Live is used for slot streaming too although it is nowhere near as popular as Twitch and Kick.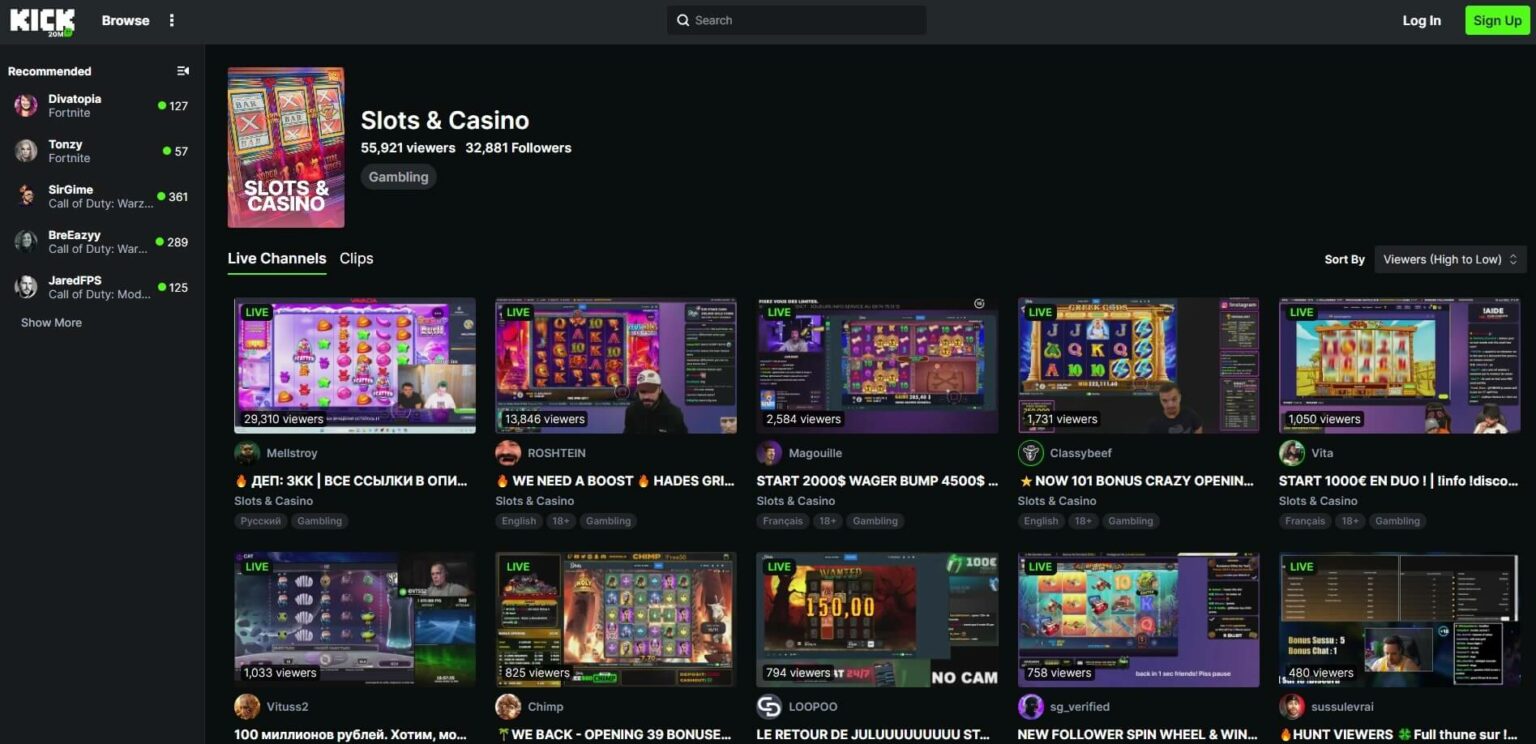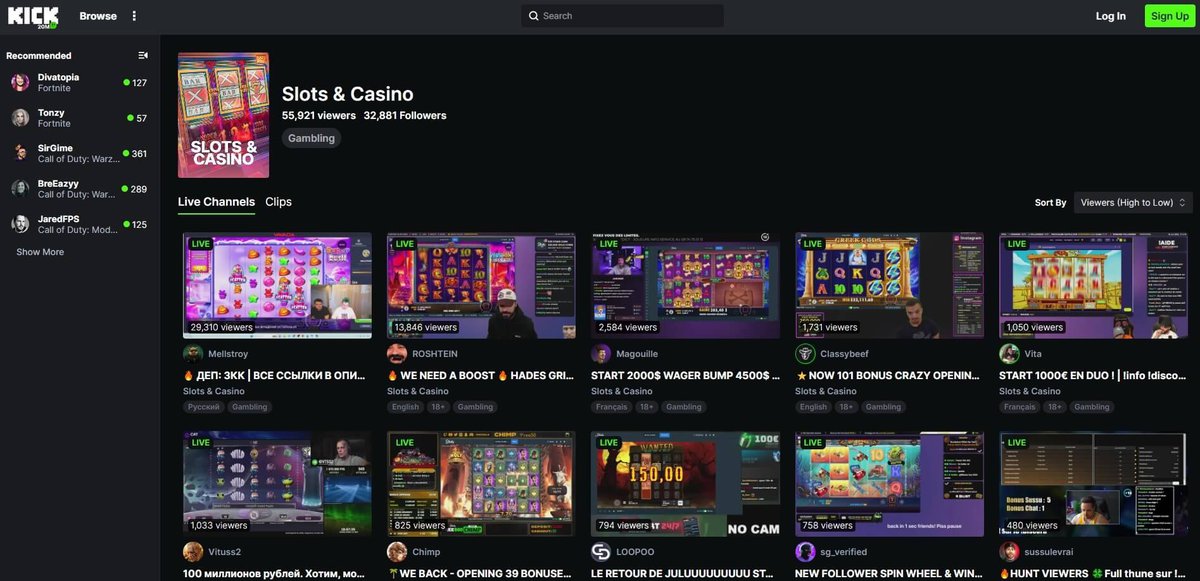 Most Streamed Online Casinos
Until the October 2022 guideline update, there was no surprise that the following casinos were the most popular on Twitch:
Stake.com
Rollbit.com
Duelbit.com
Rootbet.com
Blaze.com
Gamedom.com
Now, there is a more widespread variety as streamers had to find alternative online casinos that they could still partner with and make decent revenue from. Some popular casinos that Twitch streamers use today include Vavada Casino, Spin Genie, BC Game, and Slots Palace.
10,000 GC + 1 Stake Cash No Deposit Bonus
Only legal crypto gambling site in the US
Stellar range of slots, including Stake Originals
RNG and Provably Fair Games
10,000 GC + 1 Stake Cash No Deposit Bonus
Why Are People Watching Twitch Casino Slots Streams?
To outsiders, the concept of Twitch gambling streams might seem incredibly weird and bizarre. Why on Earth would you want to spend hours watching someone spin slot reels instead of heading to an online casino and trying to win money yourself?
This is compounded by the fact that oftentimes Twitch Casino slot streamers say nothing for 80% of the time, even when they win! So, you are, for the most part, literally watching someone else play slot games with no interaction.
Background Noise
The popularity is a result of many reasons that people often don't consider. Firstly, a lot of people simply like to have something "on in the background". I do this all the time with YouTube videos – I'm not paying attention to the video, but it gives a little background noise and stimulus. People, therefore, who enjoy online gambling may use Twitch casino slot streams as a type of background noise.
Third-Party Excitement
Secondly, even if you aren't playing slots yourself, you get a dopamine hit and a jolt of excitement if you see someone hitting that huge jackpot. It's just fun to watch, and if you want a break from spending your own money, what better way than to watch a Twitch streamer instead?
The Community Aspect
Lastly, many of the Twitch gambling streamers have tight and active communities. You get the same people tuning in on a regular basis to watch their favorite slots streamers and it's a way to make friends, chat with others, and be a part of something. Oftentimes the streamer will have a discord channel, website, or forum that people can join and this promotes even more community engagement and discussions.