Gamble USA strives to improve your online gambling experience. We aim to help you play safely, make informed decisions when gambling, and increase your betting knowledge through our guides.
We adhere to strict editorial integrity; our content may contain links to products from our licensed & legal US partners.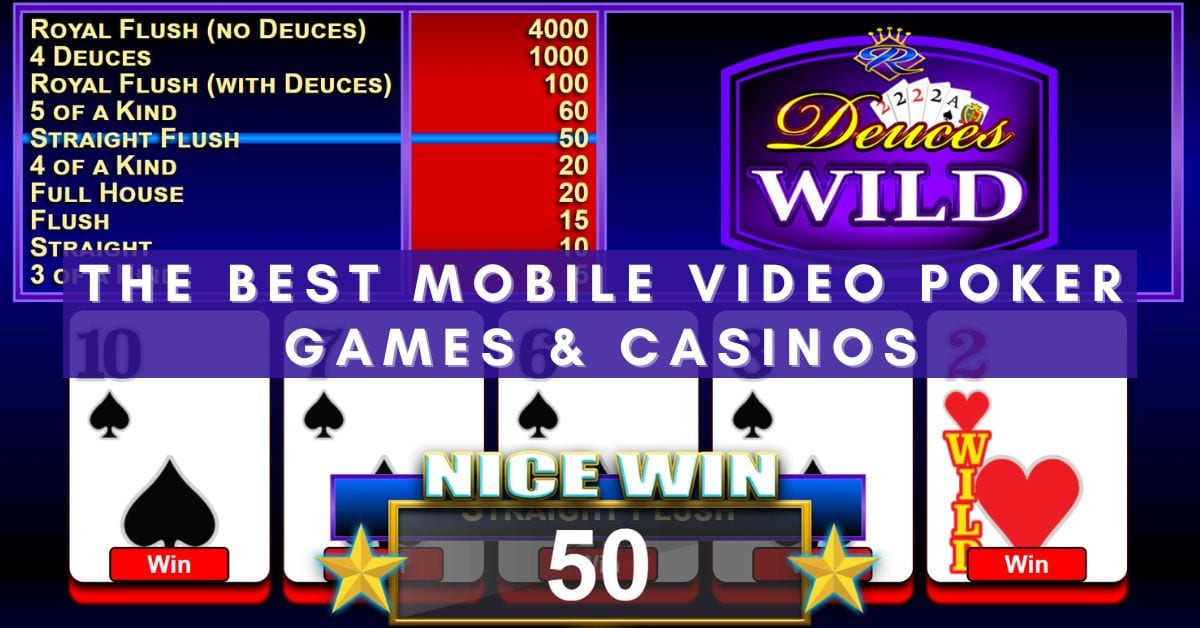 Video poker mobile apps are now better than ever. Games have advanced with emerging technologies, and online casinos offer several fun game variants for poker enthusiasts.
When the casino industry first introduced Video Poker, it was played on massive consoles with huge monitors and buttons to hold the cards. They still remain a popular game in land-based casinos as a game that requires more thought and knowledge than a standard slot. While the advent of the touch-screen has slightly improved the land-based versions, real advances have been seen online.
As time has passed, video poker has evolved and is now available to players through numerous smart devices. Mobile apps now dominate the gaming landscape, and video poker has adapted to become compatible with touch-screens so it can be played on iOS and Android devices.
Where to Play Video Poker on Your Mobile
Most top online casinos offer dedicated apps and ensure their website is fully mobile-compatible. This allows players to play classic casino games such as online slots, blackjack, and roulette on the go for real money. Moreover, software providers are continually developing new video poker games to keep players interested and engaged, with slight differences in the gameplay and overall volatility of the classic video poker game. Like video roulette, playing video poker is an enjoyable experience, and the best games are available at your fingertips.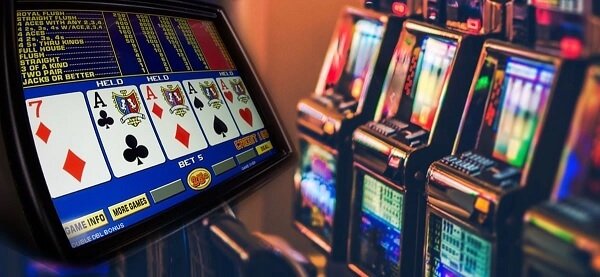 There are hundreds of different video poker variations, although most are based on the 5-card draw table poker. However, they feature additional bonuses and pay rates, more significant rewards for a max bet, and subtle differences in wilds such as Deuces Wild that make them different and unique. As the games are pretty straightforward with a low-house edge, video poker has become extremely popular for players worldwide who can play free video poker or for real money from their mobile. But always ensure you have a solid online poker strategy before playing.
Our playing guide shows you the complete list of online New Jersey casinos. Are you looking to play from Pennsylvania? Then we got you covered with our PA online casino guide.
How To Play Video Poker on Mobile
The good news for players who enjoy poker on the move is that video poker games transition easily to mobile devices. Those who typically play poker in land-based casinos will be familiar with the concept as they have already adopted touch-screen interfaces. New video poker games that are released are generally based on traditional video poker titles, which have been around for a long time. Players who are comfortable playing video poker in a physical casino will have no problems playing mobile video poker.
The most noticeable difference is that the screen of your mobile device or tablet is much smaller. The other noticeable difference is you will be using the touch screen rather than a mouse or buttons. The most popular variations on mobile devices include Deuces Wild, Double Bonus Poker, Jacks or Better, and loads of multi-hand variants.
Furthermore, players can choose from single or multi-hand versions of many games; this is at their discretion as it will depend on their experience and budget. Several progressive jackpots, wild card varieties, and bonus games are also available. For example, the Ultimate X Poker Triple Play from IGT offers three hands simultaneously, and multipliers are applied to the following hands. Not only this, it offers almost every single video poker variant in one machine, with all of the game variants provided in a menu once loaded.
Video poker games have been designed to shift easily from a desktop to your mobile. It doesn't matter if you have an iOS, Android, Windows, or even a BlackBerry, tablet, or desktop PC; real money video poker is accessible on all. The biggest consideration with any video poker machine is the payables and max win amount for a Royal Flush, with many machines offering an increased payback at the maximum bet settings.
Where Can You Play Real Money Video Poker on Mobile?
There are numerous video poker apps available; however, we advise playing for real money on a fully licensed casino, so the games are fair and transparent and regularly audited for fairness. All video poker games use RNG  (Random Number Generator) technology, so the results cannot be manipulated. A fully regulated online casino will ensure that all financial transactions are secure, so you don't need to worry when playing for real money.
A good video poker mobile app will have several games and genres to suit a wide variety of tastes. Some of the best real money mobile apps that have video poker games available include:
Most online casino sites will have mobile websites or apps with video poker games. The list above is the ones we feel offer the best gaming experience as they feature popular games such as Jacks or Better, Deuces Wild, and Joker Poker as well as being easy to use. Take the Golden Nugget casino as an example, they have over 15 separate Video Poker games, with several of these machines actually having multiple different game options available.
When searching for the best place to play video poker for real money on your mobile, make sure they have all of the variations you are looking for. We will mention it a few times in this article, but it is essential. An excellent online casino site or app should offer multi-hand formats and popular titles such as Jacks or Better and Deuces Wild.
Mobile Apps for Video Poker
Playing video poker games on mobile apps is convenient and straightforward. You only need to find a video poker game to download to your mobile device or get the app from the app store. This gives you instant access to your favorite video poker games straight from your mobile or tablet's home screen. There are many free apps in the Google Play Store and Apple app store that can be downloaded at no charge.
If you are an Android user, you may still need to play real money video poker games through your web browser, as the Google Play Store is in a transitional stage regarding gambling applications, some casinos have their apps available to download, whilst others still require you to download a specific APK file directly from them.
Mobile video poker can also be played on a wide range of dedicated free poker apps; however, most of these are only available on iOS devices. Luckily, there are a few video poker for Android apps available.
If you fall outside the eligible real money states, then there are still great options such as a superb range of Sweeps and Social casinos that offer numerous Video Poker games, such as the BetRivers Casino4Fun.
Best Video Poker Game to Play?
Many popular video poker titles are available, and many fans will disagree on which one is the best. The important thing is that a mobile app has enough variety to keep you occupied. When you log in to the mobile app you have chosen, you would expect to see Jacks or Better, Bonus Poker, Deuces Wild, and Joker Poker as these are among the most widely recognized video poker titles.
However, an excellent mobile app should also offer multiple variations so you can play games that suit your current mood. These could be multi-hand options or progressive slots. We also appreciate it when casinos provide free slots to test the waters before playing mobile video poker for real money. An excellent online casino USA should give players lots of options and promotions to keep them engaged.
The biggest decision facing a player with video poker regardless of game variation is whether or not to play at the Maximum bet. This is because it is one of the few games at online casinos where the amount being bet influences the paytable, with rewards from Royal Flush, in particular, being boosted for players playing at max bet.
Whilst a Royal Flush is a rare occurrence it is certainly worth considering playing at max bet always if possible, if a low coin denomination is allowed then the overall stake can still be quite low. Adopting this betting strategy means you are playing at the optimal level in terms of the Video Poker machine's RTP (Return to Player).
The RTP on Video Poker is superb even if you aren't playing at max bet, with one of the smallest house edges on any game offered by an online casino with an optimal playing strategy.
Jacks or Better Video Poker RTP
To give you an example, when playing the popular Jacks or Better video poker version, the maximum bet of 5 coins increases the overall RTP of the machine, this is mainly down to the increased paybacks of landing an elusive Royal Flush.
| Bet | RTP |
| --- | --- |
| 1-4 Coins Bet | 97.22% |
| Max Bet (5 Coins) | 98.45% |
Whilst these figures don't look too different with just over a 1% difference when considering wagering thousands of dollars on a machine, this 1% figure can actually make quite a big difference in terms of the money returned to the player. Both values are high with a small house edge, but given the option, it is always preferential to opt for the highest RTP value whether that is on slots or video poker.
Video Poker Training Apps
In this day and age, there is an app for everything. And yep, as you guessed it, there are video poker training apps. Because these apps are for play money, they are available to players in the US from the Google Play store. We have been using Video poker tutor on our iPhone (available from iTunes), and Video Poker training on our Galaxy (available from Google Play). Both of these training apps are very good fun to use and of course free to play and use.
These free video poker game apps are an excellent way to learn how to play online, before playing for real money and practicing the Poker games in Demo mode on the casinos sites. You don't need to have complete Poker knowledge to enjoy Video Poker, but certainly being aware of all of the different hands that pay and the optimal cards to hold each time is well worth learning.
Video Poker Mobile

FAQs
Are video poker apps safe?
Video Poker games and apps are perfectly safe as long as you play for real money at reputable casinos that are licensed and legal, such as those we have recommended in our guide.

There will be casino sites out there that will try and tempt you with offers but are unsafe, and your personal information may not be protected. Stick to the trusted casino websites, and you will have loads of fun playing the classics like Jacks or Better and Deuces Wild.
Are real money video poker apps the same as the casino versions?
Yes, the online or app versions of video poker are precisely the same as in any casino on the Las Vegas strip. Software providers will be the same for video poker games in land-based casinos and online such as the Ultimate X Poker Triple Play from IGT
Can I play video poker on my phone for free?
You can play Video Poker for free in various ways. The best online casino apps will have a free play/demo option to allow new players to test the games first. Or you can just register at the casino and play them all from a browser.

It is a fantastic way to try casino games and learn how everything works before playing for real money. Many New Jersey online video poker sites offer free games, with Golden Nugget casino offering 15 video poker variants.
Where can I get free video poker apps?
All of the casino apps listed in our guide are free to download and have a free play or demo mode option for Video Poker.
Is video poker better than online slots?
Regarding RTP (Return to Player), Video Poker is superior to online slots, provided you are playing with an optimal strategy.

In terms of maximum winning potential, the highest volatility slots offer maximum wins that dwarf the top pay possible on a video poker machine (Royal Flush at Max Bet).
Is there a strategy to video poker?
There are several strategies to employ, such as learning which cards are the optimal ones to hold with each hand dealt, as well as how features such as max bets influence the paytable and offer a superior overall RTP.