Chicago Bears at Green Bay Packers Betting Preview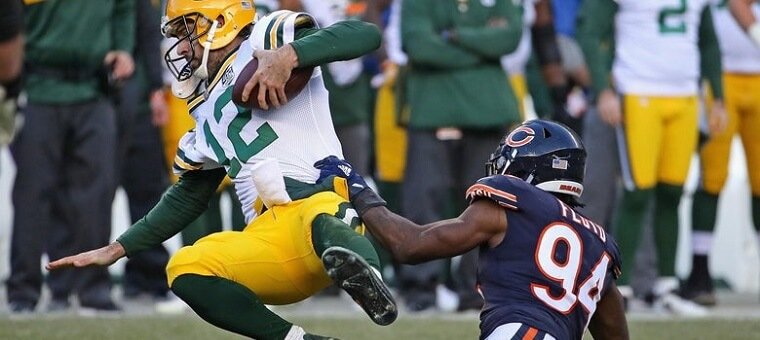 As the NFL gets into the final weeks of its regular season, teams are figuring out whether or not they are cut out for the playoffs.
Date: Sunday, December 15th, 2019
Time: 1:00pm
Location: Lambeau Field, Green Bay, Wisconsin
Watch: FOX

Odds provided by DraftKings Sportsbook – Sign up for a $200 free bet
A historic rivalry will be renewed this weekend, as the Chicago Bears will be on the road to take on the NFC North-leading Green Bay Packers.
The Bears are technically not yet eliminated from the Wild Card race, and they could do some serious damage to the Packers by sneaking off with a win.
In any case, we have all of the coverage here for you to preview this matchup and will help you determine your best bets for this contest.
Revitalized Bears Ready To Show Off Mitch
What a turnaround it has been for the Chicago Bears and their offense. With such a historic defense last season, a slight regression appeared to be expected.
The Bears' defense remained elite all season long, but their offense had been struggling with Mitch Trubisky at the helm.
Trubisky was even benched just a couple of weeks back but has found a new light. The Bears had a strong display on Thanksgiving against the Detroit Lions (who were missing Matthew Stafford) but validated that win with another Thursday night victory against the Dallas Cowboys.
Trubisky had everything on display against Dallas and found a way to finally use his legs after that element of his game had seemingly disappeared after being such a prominent feature last season.
Allen Robinson has been one of the most reliable receivers in the NFL and followed up strong performances in Weeks 12 and 13 with a multi-touchdown performance on Thursday night.
Everything seems to be clicking for the Bears after an abysmal mid-season slump, and they might be able to find their way back into the playoffs with a win against Green Bay.
Packers May Be The Worst Of Division Leaders
Green Bay started off its season with an impressive defensive display, and many wondered if this would mirror its 2010 Super Bowl season.
As the season went on, it was evident that the defense was not as strong as we originally believed but was still improved from last year.
Aaron Rodgers welcomed a new head coach this year in Matt LaFleur, and by all accounts, he has them playing just how they need to be. Rodgers has not been at an MVP level but has put together a beyond exceptional campaign so far.
Aaron Jones and the run game have been the recent revelation. After back-to-back weeks of letdown, Jones torched the Redskins last weekend for nearly 200 yards of offense and a touchdown.
I love what the Packers have been putting together, but it still seems like they tend to coast too much. Rodgers and the Packers tend to take two- or three-score leads in games, then let the opposing team climb back.
While there are a number of positives to draw on for this Packers team, it still feels like something is missing.
A sweep against the Bears would help cement their season and set them up for home games when the playoffs roll around.
Betting Preview
The Bears find themselves as the underdog in this game, as the Packers are favored at -4.
As good as the Bears have played all season long, there is nothing like traveling up to Lambeau in December and pulling off the victory, which seems unlikely.
I love Green Bay in this matchup, and I think it will step up in this game and prove to everyone why it is a top seed in the NFC.
Take Green Bay and lock in your bets before kickoff!
Check back for more Free NFL & NCAA Football picks and follow us on Twitter @Gamble_usa
Relevant news