Former NFL Star Chris Johnson becomes BetMGM Brand Ambassador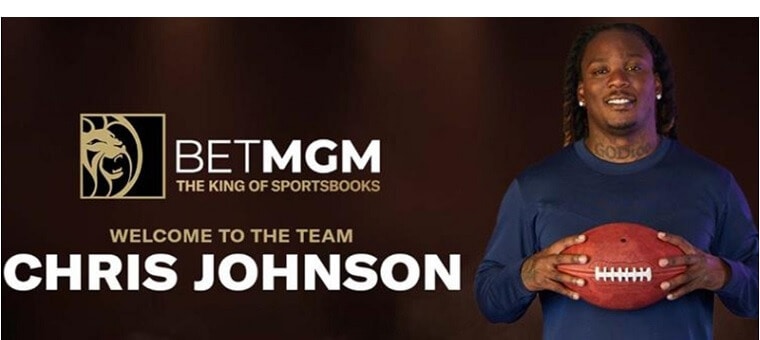 Former NFL RB Chris Johnson joins BetMGM as Brand Ambassador
A former star of the National Football League (NFL) has teamed up with gaming operator BetMGM. Chris Johnson, a former NFL Pro Bowl running back, becomes the newest addition to BetMGM's stable of brand ambassadors, the company revealed on Thursday. Johnson will be used in BetMGM Sportsbook's upcoming marketing campaigns, fan events, promotions, and social media content.
Johnson Excited to join BetMGM
Johnson said he is "excited to join the BetMGM team" and be involved with a new platform to "engage with CJ2K fans around the country." Johnson added that BetMGM is at the forefront of the recent movement around sports betting and said it is a "perfect fit for me to get involved in this rapidly growing industry."

21+. T&C Apply
21+. T&C Apply
Johnson was one of the NFL's top running backs during his 10-year career in the league. His moniker "CJ2K' comes from the 2009 season when he amassed an impressive 2,006 rushing yards for the Titans. He is one of just eight players in NFL history to reach the 2,000-yard mark.
BetMGM Chief Revenue Officer Matt Prevost said that Johnson "thrilled fans with his performance on the football field" every week during his career. Prevost added that as BetMGM looks to continue expanding Tennessee and Arizona, "Chris will play a key role" as they seek to provide exciting new experiences for their customers.
Johnson Joins Slate of BetMGM Brand Ambassadors
Since sports wagering has expanded across the US, BetMGM has continued to sign deals with well-known athletes to become brand ambassadors.
NHL legend Wayne Gretzky, former Michigan basketball star and NBA player Jalen Rose and NFL hall of famer Barry Sanders all joined as brand ambassadors this year. Additionally, Marshawn Lynch, another legendary former NFL running back, joined BetMGM in July. In October, former NBA All-Star Kevin Garnett signed with BetMGM.
All of the brand ambassadors are featured in the company's marketing campaigns as the company seeks to gain exposure throughout the United States.
BetMGM has made it a primary target to get brand ambassadors in locations where the sportsbook is available. Adding Johnson makes sense, with the sportsbook available in Arizona and Tennessee, both places Johnson played during his career.
Relevant news