College Football Playoff Set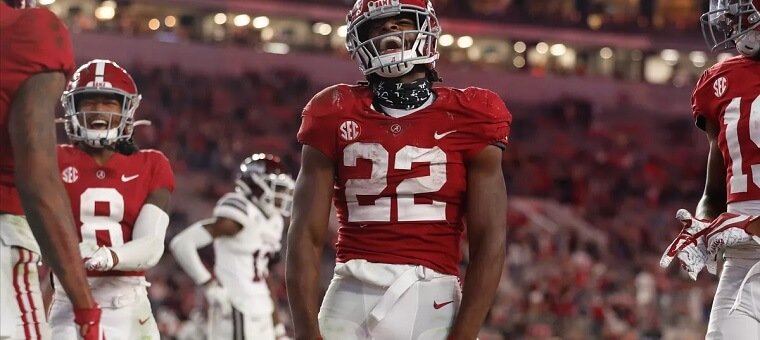 The College Football Playoff Committee revealed the final rankings on Sunday, and the same top four teams remained.
The Alabama Crimson Tide were the top overall seed, followed by Clemson, Ohio State, and Notre Dame.
There was some reshuffling of the seeds after what took place this weekend, but it wasn't enough for the Texas A&M Aggies or the Cincinnati Bearcats to jump into the top-four. The College Football Playoff Semifinals are set to take place on New Years Day.


21+. T&C Apply
21+. T&C Apply
Alabama and Notre Dame will play in the Rose Bowl Game presented by Capital One at 4:00 P.M. Eastern. Clemson and Ohio State will meet up in the All-State Sugar Bowl at 8:00 P.M. Eastern. Both games will be played on Jan. 1.
Same Bowl Game, New Site
The Rose Bowl Game will not be held in Pasadena, Calif., this year due to COVID-19 restrictions that would have kept family members from attending the game. Instead, the game will be played at AT&T Stadium in Arlington, Texas.
Alabama could have been sent to New Orleans for the semifinal game, but the College Football Playoff Committee wanted to give them a chance to play in front of more fans. Capacity at AT&T Stadium will allow for 16,500 fans, while the Sugar Bowl will have just 3,000 fans in attendance.
The Crimson Tide capped off an undefeated regular season with a win over Florida in the SEC Championship Game. Ohio State jumped up to the number three ranking after going undefeated and winning the Big Ten Championship Game.
Clemson defeated Notre Dame by 24 points to win the ACC Championship Game on Saturday, avenging a regular-season loss to Notre Dame. Both teams were still able to get into the College Football Playoff.
The College Football Championship Game is set for Jan. 11 at Hard Rock Stadium in Miami, Florida.
Army Left Out of Bowl Game
The Army Black Knights finished the 2020 season with a record of 9-2, but they do not have a bowl game on the schedule as of posting. Army was set to play in the Independence Bowl against a member of the Pac-12 Conference, but that game has now been canceled.
Several Pac-12 teams decided to opt-out of Bowl games this season, and other schools threatened to opt-out if they were chosen to take on Army. The Black Knights run the triple-option, and many schools did not want to have to prepare for that offense.
Head coach Jeff Monken was outspoken in the media on Sunday, calling the entire system "unjust and unfair." Monken did not blame the Independence Bowl officials but rather on leagues and schools that have decided to end their season.
Army has decided to stay on campus and continue to practice until Thursday if a team is forced to drop out of a bowl game due to COVID-19. If this happens, Monken and the Army coaching staff hope that the Black Knights would be chosen as a replacement.
Navy and Air Force will not participate in a bowl game this season, leaving these three storied programs on the sideline in the coming weeks.
Want to stay up to date on the latest legal sports betting news across the US? Then come and follow us over on Twitter @Gamble_usa.
Relevant news