Colorado Buffaloes at Oregon Ducks Betting Preview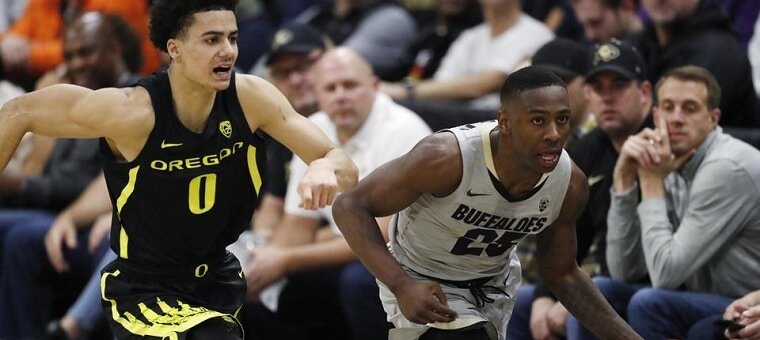 The two top dogs of the Pac-12 Conference will be going up against each other on Thursday night when the No. 16 Colorado Buffaloes take on the No. 17 Oregon Ducks in Oregon.
What has really stood out about this year's college basketball season is how great the Pac-12 play has been.
In recent years, the Pac-12 has kept one or maybe two teams relevant, but this year they have managed five or six in the national spotlight.
These two teams are first and second in the Pac-12 conference and really are the best teams that they have to offer.
With that being said, there is a whole lot to love in this matchup between these two, and it should be one of the most exciting games of the week.
We have got all of your coverage here, and we will give you a preview of the game and help you determine where to put your money. Let's break it down.
The team-oriented Colorado Buffaloes
Colorado has been consistent so far this season as one of the best teams in the country. I really love how their team gels together, and everybody knows their role.
What is the best thing about them is that they know who their best five players are. That means when crunch time hits, they know who they should be depending on.
This is important in all levels of basketball, and when you have leaders like McKinley Wright and Tyler Bey, it makes for a fierce squad that will be a tough out in March.
I really like Bey in this offense. As a guard, he is the leader in rebounds for the team. He is physical, aggressive, and really everything you could want from a player his size.
Nearly averaging a double-double, he is only a couple points per game behind Wright as the leading scorer for this squad.
These two, coupled with their impressive defensive numbers, are the reason that Colorado is a force to be reckoned with.
The star guard-play of the Oregon Ducks
While Colorado is very team-oriented, the Oregon Ducks have standout guards in all areas. Payton Pritchard and Chris Duarte are the two leaders of this team.
Even with those two leading the charge, they also have Will Richardson and Anthony Mathis behind them who pack their own kind of punch.
Strong guard play is one of the most important attributes for any basketball team, and knowing that you will always have strong guards out there at all times with these four make this team great.
The Ducks are explosive as an offensive unit and have been able to rip open leads against their opponents. These back-breaking runs are exactly what this team loves to use to win.
All four of those guards mentioned shoot above 37% from the three-point line, and at any point, those threes can wind up taking over a game.
Living and dying by the three is a tough call, though, and can sometimes spell disaster if the shots aren't falling.
Colorado is surely going to be fighting over all screens and playing up close to apply pressure and contest shots.
Betting Preview
These two teams are very different in their play styles, which should make this an incredibly fun game to watch and see how it plays out.
With all of that being said, I'm leaning towards Colorado in this game. It's a gut thing, and I just think the Buffaloes are too good to be slowed down.
Take Colorado in this game and lock them in at +4.5. It should be a close game and one of the most exciting games of the week, so be sure to tune in on Thursday night!
Come and follow us over on Twitter @Gamble_usa for more sports picks and previews.
Relevant news