Contact Sports Banned in Santa Clara County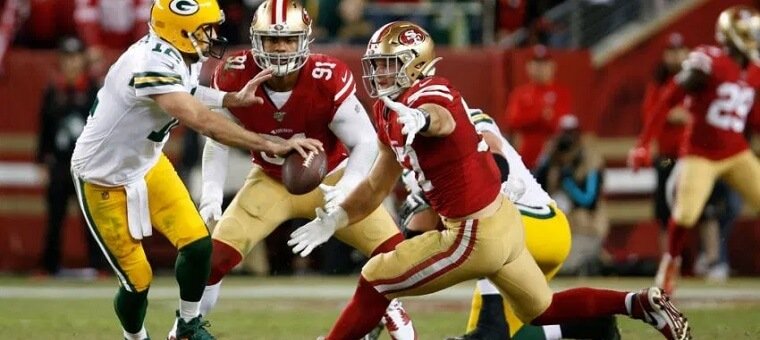 Santa Clara County is taking extreme measures to attempt to stop the spread of COVID-19, and this time it will affect professional and collegiate sports.
On Saturday, county officials announced a ban on all contact sports for at least three weeks.
The San Francisco 49ers play their home games at Levi's Stadium, located within the county. They are one of the most notable teams that will no longer have a home facility during this ban, and the county is not willing to waive this ban for the NFL franchise.
Impacts of the Ban
The ban begins on Monday, Nov. 30, and it also includes a 14-day quarantine period for anyone entering the county from more than 150 miles away. The entire state of California has been hit hard by COVID-19, but the Bay Area has seen the number of positive cases increase at a rapid pace of late.


21+. T&C Apply
21+. T&C Apply
Outdoor recreation and individual sporting events can continue throughout the county as long as social distancing is practiced. This is the first time in the United States that a ban on contact sports has been implemented at the collegiate and professional levels.
On Saturday, Santa Clara County announced 760 new cases of COVID-19, and 239 people were hospitalized with COVID-19 related symptoms. Both of these numbers were new records in the county, prompting officials to take additional steps to protect residents.
The San Jose Sharks of the National Hockey League also play home games in Santa Clara County, but they are not currently in season, and there has not been an announcement about when the NHL season will begin. Stanford and San Jose State football and basketball games will be affected by this ban, and both schools have been in contact with county health officials.
49ers Respond to Ban
The San Francisco 49ers have two home games scheduled over the next three weeks, and those games will have to be moved. The 49ers are scheduled to host the Buffalo Bills on Dec. 7 and the Washington Football Team on Dec. 13.
San Francisco will also have to find a new place to practice as they cannot use the practice facilities due to this ban either. The 49ers have been working with the NFL to develop contingency plans, and there were several possibilities discussed before the season began.
It appears as if the 49ers are looking for out of state options at this time, and both Arizona and Texas have been considered as alternate hosts. The Cardinals and Cowboys don't have any scheduling conflicts with the 49ers, which would make both stadiums suitable options.
The team is also having to decide where to hold all team activities for the next three weeks. Members of the 49ers front office have indicated that they would like to train close to home, but they might be forced to move the entire operation out of state.
49ers head coach Kyle Shanahan expressed his disappointment with how sudden this announcement came, but failed to give any more updates after the win over the Los Angeles Rams on Sunday.
Come and follow us over on Twitter @Gamble_usa for more legal sports betting news across the US.
Relevant news