Nebraska Cornhuskers vs. Indiana Hoosiers Betting Preview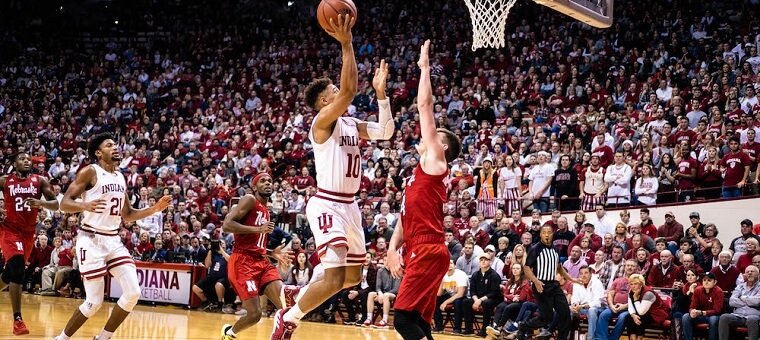 March is finally upon us, and that means conference tournaments are starting. The Big Ten Tournament kicks off Wednesday with two games, with one being the Nebraska Cornhuskers against the Indiana Hoosiers.
The beautiful thing about this tournament is that really anyone has a chance to win here. Ten teams from the Big Ten are currently projected to make the Big Dance, and most all of the teams share similar records.
With a win here, Indiana would be able to start its run at a conference championship, and it is most certainly capable of doing so.
Nebraska has been the worst team in the conference at a record of 7-24, but surprises could still be in store for us.
Let's break down the matchup between these two and make a prediction on who will advance.
The best defense … needs to be good defense?
To call it a rough year for this Nebraska program would be entirely underselling it. In a season where it seems like anyone could emerge as the top dog, Nebraska has been stuck at the bottom.
Surprisingly, their offense is pretty good, and they maintain a high level of pace and scoring amongst their roster.
Players like Haanif Cheatham can score at an incredibly high clip. Unfortunately, with the suspensions of guards Dachon Burke Jr. and Cam Mack last week, coach Fred Hoiberg has been forced to bring a couple of football players onto the team to fill out the roster.
The problem for their team comes on the defensive side of the ball. This Cornhuskers team gives up around 77 points per game, making them one of the worst defensive teams in the Big Ten.
Going up against the Hoosiers, they are going to have to find a way to put together some defensive stops to be consistent.
Indiana will slow them down in some instances, and Nebraska is going to have to find ways to play out of it.
A disappointing end to Indiana's season
After such a promising start to the year in the first half of their season, it is a shame that the Indiana Hoosiers fell off so hard.
They have been a part of some close games that they just could not finish them out. Whether that has to do with their coaching or player discipline remains to be seen.
They finished the season at a paltry 4-8 in their last 12 games. Losing that many games for Indiana means that it is forced to play on the first day of the Big Ten Tournament as the 10 seed.
The silver lining is they are still on the bubble to make the NCAA Tournament, so a couple of victories in the next few days could solidify them in the rankings.
Look out for Trayce Jackson-Davis to have a big game against Nebraska. The Cornhuskers are going to have a difficult time locking him down defensively.
Even amidst all of the disappointment in the last month, the Hoosiers still share similar records with most of the teams in the Big Ten. They have the potential to make some noise.
Betting Preview
Coming into this game on Wednesday, the Indiana Hoosiers are favored over the Nebraska Cornhuskers at -13.5.
Indiana is the better team in this game, and I think they will be able to get the job done without much trouble.
They will have to watch out for Cheatham and limit his scoring opportunities early to take him out of his rhythm.
In any case, I think Indiana will be just fine and start making its run into the gauntlet that is the Big Ten Tournament.
Take Indiana and lock in your bets before tip-off!
Follow us on Twitter @Gamble_usa for more big game previews and news. Make sure to check back for more free basketball picks and previews too!
Relevant news