Dallas Cowboys vs New England Patriots Betting Preview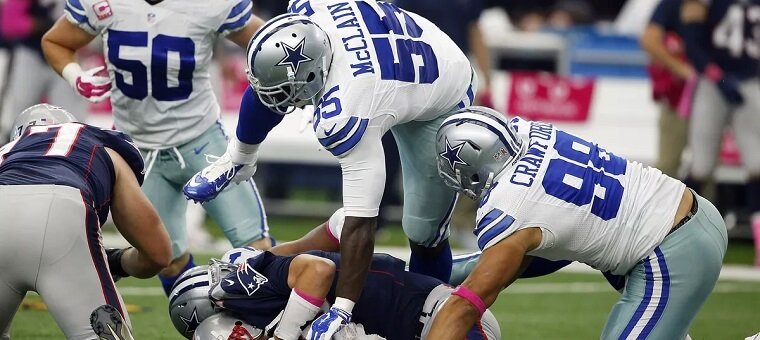 Another week goes down in the NFL season, and we are inching closer and closer to the playoffs.
Game time: Sunday, November 24th @ 4:25pm
The postseason is looking bright, with no clear-cut favorite in either conference that jumps out ahead of the pack. This will create the highest level of competition that we have seen in a while, and any of these teams at the top have a chance to come out with the Lombardi Trophy.
We will get a chance to see two of the top teams go head-to-head on Sunday afternoon. America's Team, the Dallas Cowboys, will be traveling to Foxboro to take on the New England Patriots.
The weather forecast for this game calls for a mix of rain and snow, so we will help you break down this matchup and figure out your best bets. This matchup has been tipped as one of the biggest games of the season for bettors to have a wager on, with millions being bet over the states.
Time For A Cowboys Signature Win?
The Cowboys have been one of the most head-scratching teams all season long. They started the year 3-0, albeit beating three of the worst teams in the NFL, and many were ready to crown Dak Prescott as the MVP and give him a monster contract extension.
Then they lost to New Orleans, Green Bay and the New York Jets, and experts figured they were going to miss the playoffs.
They have somewhat righted the ship since then, and they sit at a record of 6-4. Prescott has looked incredible this season, and the receiving corps of Amari Cooper, Michael Gallup and Randall Cobb has been lights out.
But what on earth is going on with the Cowboys' defense? They gave up 27 points to a Lions team that was starting Jeff Driskel at quarterback. Their biggest problem is getting stops, as opposing offenses have had their way with the Cowboys.
Ezekiel Elliott hasn't been in the conversation as one of the top backs this season, but I think this game in New England will be the one to get him going.
The poor weather will call for more rushing attempts, and Zeke should be prepared to get everything he can handle come Sunday.
Brady, Pats Still Get It Done
Tom Brady is 42 years old. Rob Gronkowski is retired. The New England offensive line has been beaten up. The Patriots are 9-1.
One of those sentences is not like the other, but there is always a way for Bill Belichick to get the job done and firmly solidify another winning season for New England.
Brady has looked like regression is imminent, or maybe he is saving it for the postseason, but either way, the Pats' offense has not been as explosive this season.
Their defense has been the story, but we watched them get lit up by the Ravens before their bye week, though Lamar Jackson has been doing that to everybody.
Right now, the biggest issue for the Patriots is their offensive line, as they have been missing two key members all season long, and it is causing Brady to get banged up more often.
They will have to protect their quarterback if they want a chance on Sunday.
Betting Preview
The Patriots are favored over America's Team at -6.5, and it makes sense as Foxboro is a tough place to go into and win in the cold.
This game will likely be ugly and low scoring, and I think that is exactly how the Patriots want to win. There should be no problem for the Pats to secure this victory, and I'm picking them to win.
Make sure you keep an eye on the weather before locking your bets before kickoff.
Be sure to check back for more Free NFL & NCAA Football picks and follow us on Twitter @Gamble_usa
Relevant news