UFC on ESPN: Brunson vs. Holland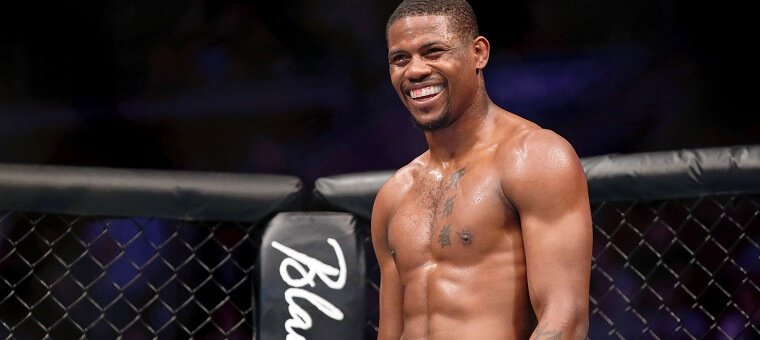 Last weekend's main event left a sour taste in the mouths of many fight fans around the globe, as the torrid bad luck of Leon Edwards continued when his fight against Belal Muhammad had to be stopped in the second round due to an unintentional eye poke by Edwards.
Thankfully, after a swift hospital visit and full check-over, the doctors have confirmed Belal will suffer no long-term effects of the unpleasant incident. Fight fans will be able to quickly put the memory behind them as this weekend hosts a barnburner of a match up, between two characters with no love lost!
This weekend sees rising fan favorite and arguably the most vocal contender since Nate Diaz return to the Octagon, Kevin Holland. 'Big mouth' as he was famously dubbed by UFC president Dana White after his non-stop chatter inside the cage during his stint on 'The ultimate fighter' is coming off his impressive finish of veteran Jacare Souza in a knockout of the year contender back in December of last year. Holland's latest scalp was one of the strings of wins he put together in that year, having equaled the record of most fights in a calendar year of five bouts, joint with Neil Magny and Roger Huerta.


21+. T&C Apply
21+. T&C Apply
His opponent, Derek Brunson, is also coming off a strong victory when he derailed the promising UFC start of Rona Rousey's training partner, Edmen Shahbazyan in August, but also claiming his third win in a row since losing to current Middleweight champion Israel Adesanya. Ironically, Brunson had lost the previous fight before that match to Hollands latest Win, Souza by knockout, which we're certain 'Big mouth' will be sure to remind Derek of in the build-up to this fight.
Impressive win streaks collide
Both fighters have gone on record to state that they don't like each other after having spoken privately via DM's, in which Holland felt the more established fight of Brunson was talking down to him, being the fresher face in the UFC. Holland has then publicly campaigned to fight Brunson and not holding back when critique his style:
"I want to beat [Derek Brunson] up because I don't like the way he strikes. It just looks awkward. It's like a disrespect to striking. It's sad that he's knocked out strikers before with that weird striking."
Holland will want to play to his strengths by keeping the fight in a striking distance as he knows Brunson has strong wrestling, but also carries powerful hands, having knocked out 10 of his past 13 opponents. Should he not be able to stop the takedown attempts, Kevin won't be in immediate trouble, as if the fight were to go to the ground, he can fall back on his black belt level of BJJ from distinct practitioner and head coach Travis Lutter.
What comes next will be big
Both fighters will obviously be hoping to walk away with the victory on Saturday night, but even though it's a compelling matchup, what lies ahead for the winner is equally as intriguing. The middleweight division is currently awash with talent and uncertainty. Israel Adesanya's unsuccessful attempt to capture a second belt at UFC 259 means he will return to this shark tank to battle the contenders and hold onto his title. Those contenders are all currently matched up well in the rankings, as #4 Darren Till faces #5 Marvin Vettori on the 10th of April, meaning the victor of Holland vs Brunson will likely move up to face #3 Jared Cannonier, as #1 Robert Whittaker is tied to face #2 Paulo Costa a week later on April 17th. If someone were to pull out of these matches due to injury, it would be a prime move for the victor to slot into the rankings and move once fight closes to title contention.
Read more on UFC on our UFC Picks page
With both fighters on solid win streaks and implementing different styles, it isn't easy to pick a clear favorite for this fight, but given his youth and his advanced striking, we're picking Holland to win on Saturday as we just think that may be the difference to edge past Brunson in what will surely be a tough fight for both combatants.
For more legal casino and sports betting news across the US, follow us on twitter @Gamble_usa for the latest news and offers.
Relevant news