Detroit Lions at Chicago Bears Betting Preview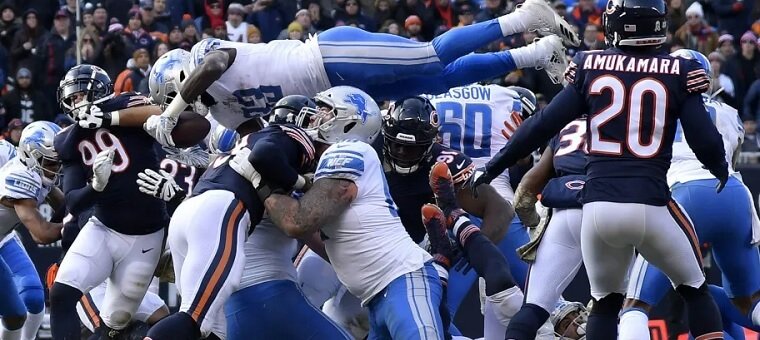 We are officially halfway through the NFL season. Teams are finally falling out of favor, and we only have one remaining unbeaten team.
Game time: Sunday, November 10th @ 1:00pm
The NFC North has been one of the most competitive divisions all season, boasting two of the leaders in the NFC in the Green Bay Packers and Minnesota Vikings. We will be talking about the other two teams, though, as the Detroit Lions head to Soldier Field on Sunday to take on the Chicago Bears.
This game could turn into a whole lot of ugly, as each of these teams is 1-4 in their last five games. There is the slimmest of chances that either of these teams will make the postseason, but this game is a classic loser-leaves-town matchup.
At any rate, we will break down the game for you and help you determine where you should be placing your bets.
DraftKings –
A Tale Of Two Seasons
The Lions might have had the most head-scratching start to the season. They played the Cardinals in Week 1, and the game ended in a tie. They then won their next two games and were sitting at a record of 2-0-1.
Their defense was looking strong, but all of a sudden, they proceeded to drop four of their next five games and are in third place in their division and towards the bottom of the NFC.
Matthew Stafford is not the one to blame in this instance, as he has been pretty great so far this season. He has thrown 19 touchdowns with only five interceptions, and his play has sparked some near comebacks for the Lions this season.
Where they really suffer is their run game, as they have been rotating running backs all season (mostly due to injury), and they have yet to establish a clear three-down back that they like. Kerryon Johnson was playing well, rushing for 308 yards on the season, but he suffered a knee injury a couple of weeks ago that required surgery, and he's been lost for the season.
This Lions team is scrappy, and that can't be discounted when it comes to the NFL. They may not have the best record, but they are one of those teams where they have the upside to be in any game against any opponent.
From Super Bowl Contenders To Last Place
How the tables have turned in the city of Chicago. Their miracle season of 12-4 last year seems like it was ages ago.
Their defense has lost its fight, and Mitch Trubisky has been abhorrent at quarterback. The promising young prospect has turned into one of the laughingstocks of the NFL.
There has not been a whole lot to like about this Chicago team. Their defense still possesses some of the best blue-chippers in the league, but it has not managed to make up for the lack of offense that the Bears bring to the table.
The Chicago run game has been serviceable, but losing Jordan Howard appears to be a much bigger blow than anyone originally anticipated, and rookie David Montgomery has a growth period that many people were not expecting.
The Bears are losing hope, and they could be in for some big changes if they lose this game at home.
Betting Preview
As bad as it has looked for Chicago, they still get to be favored in this game at home at -2.5. I honestly think if Trubisky plays the whole game, they won't stand a chance.
The Lions are just as shaky on the other side, but I think Stafford will be able to lead the charge and squeak out a win on Sunday. Take Detroit in this matchup, but I would be nervous about putting money on anybody.
Be sure to check back for more Free NFL & NCAA Football picks and follow us on Twitter @Gamble_usa

Get Up To $500 In Bet Credits
New customers only. Make a qualifying deposit (min $10), place bets to deposit value, once they are settled, matched amoun...
Relevant news