Ding Ding Ding Casino
Gamble USA strives to improve your online gambling experience. We aim to help you play safely, make informed decisions when gambling, and increase your betting knowledge through our guides.
We adhere to strict editorial integrity; our content may contain links to products from our licensed & legal US partners.

Ding Ding Ding Casino welcomes you with half a mill of Gold Coins and 5 Free Sweeps Coins in your back pocket and games that provide the best of both worlds: online social gambling with 'excitement boosters' like level traversal, challenges, and tournaments borrowed from traditional gaming.
Mobile betting is up, social casinos are thriving, and gamification is the hottest gambling trend in town. Ding Ding Ding Casino has it all. Tick, tick, and tick.
About Ding Ding Ding Casino
Ding Ding Ding Casino is a sweepstakes casino with cash prizes that require no deposit when you create an account or gamble online – yep, unbelievable as it is, the experience is entirely free.
Ding Ding Ding Casino Information
🎰Type of Casino
Digital Sweepstakes Casino
🎲Games
30+ Slots
Bingo
🟡Virtual Currencies
Gold Coins (GC)
Sweepstakes Coins (SC): 1SC = $1
❌Excluded States
Washington, Idaho, Nevada, Illinois
🎁No Deposit Sign-Up & Welcome Bonus
500,000 Gold Coins + 5 Sweeps Coins
💳Payment Methods
Deposit: Visa or Mastercard
Redeem: Bank Transfers or Gift Cards
Fun Fact: The name Ding Ding Ding Casino was inspired by the sound coins make when dropping in the slot's tray (ding ding ding).
How It Works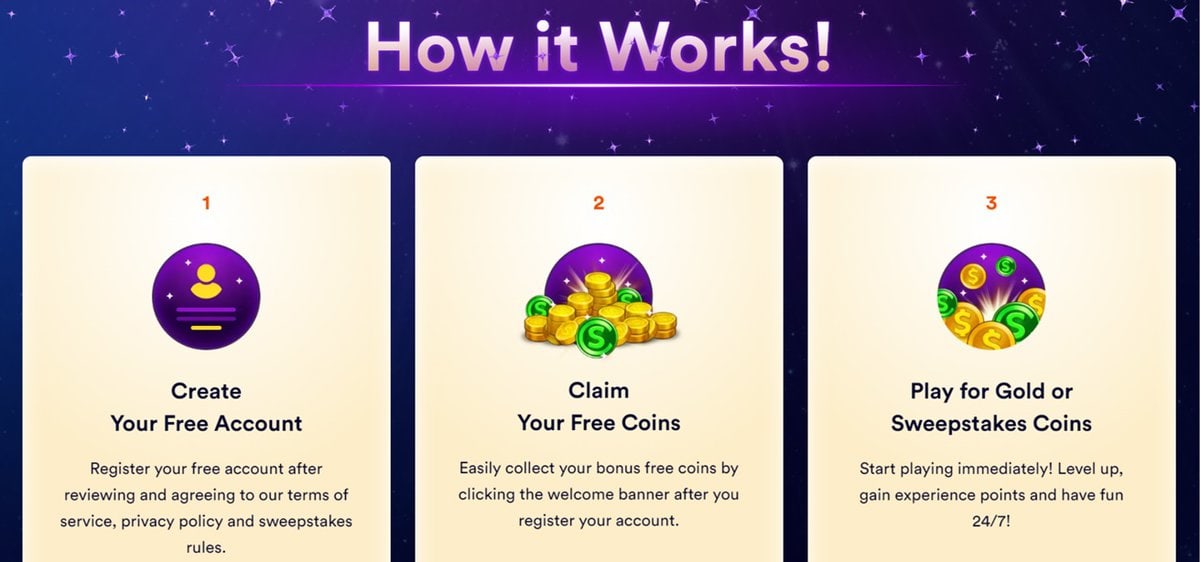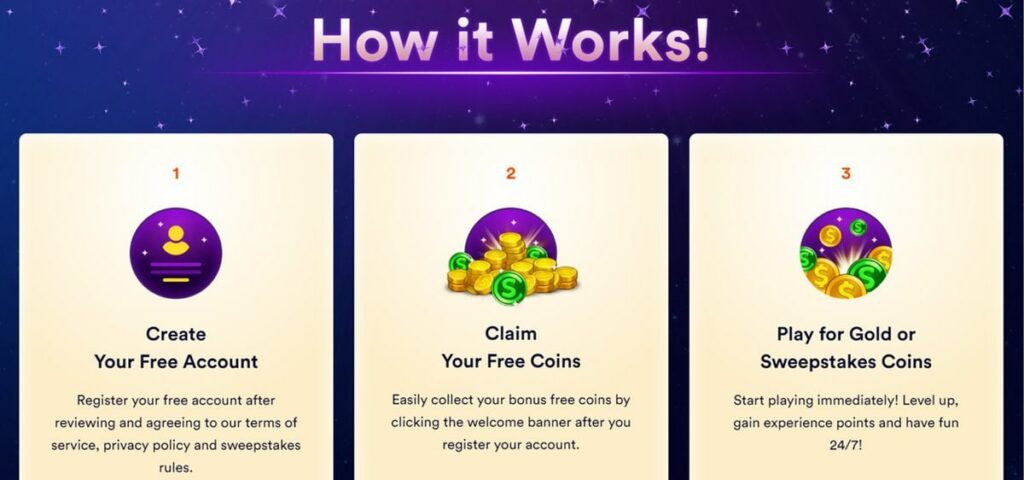 It only takes three easy steps to play 24/7 on Ding Ding Ding. First step: Create a free account. Next, collect free coins and start playing for Gold or Sweepstakes Coins.
Ding Ding Ding Virtual Currencies
Since money makes the world go round, let's first have a look at Ding Ding Ding's two virtual currencies: Gold Coins and Sweepstakes Coins.
🪙Gold Coins
Gold Coins is a free or 'fun' virtual currency with zero monetary value. You can play hard, win big, or empty your Gold Coin-wallet with a single spin because no real money is involved. Players simply refill their Gold Coins stash by logging in and collecting daily rewards or purchasing in-game offers.
🔵Sweeps Coins
The second currency supported by Ding Ding Ding Casino is promotional bonus coins called Sweepstakes Coins or Sweeps Coins for short. Sweeps Coins have a monetary value linked to the dollar at an exchange rate of 1SC = $1.
You can never purchase Sweeps Coins directly; you will always receive them as a promotional bundle. Sweeps Coins are the only currency redeemable for real money prizes after 1x play-through.
Top Tip #1 A 1x play-through requirement means you must bet your Bonus Sweeps Coins at least once before cashing out.
Power-ups

Players really start to experience Ding Ding Ding's gamification when it comes to power-ups. Power-ups are boosters for impatient players – like yours truly – to extend gameplay or expedite progress.
A heads up: Unlike traditional online casinos, at Ding Ding Ding, you don't get access to all the games right away when you join. You start with 5 games; you must first play slots to 'earn' experience points, which will unlock the rest of the games. Advancement is based on time spent on gameplay. If you need speed, you can utilize premium gaming currencies called power-ups.
Power-ups come in a tidy bundle of three: Gems, XP Boosts, and Level Boosts.
Blue Gems: Blue Gems are diamond-shaped power-ups you can purchase to re-roll Bingo. A bingo re-roll means you can continue playing by restarting the game.
XP – Boosts: When purchasing Blue Gems, you automatically receive XP Boosts to extend your hours of gameplay with a multiple, which in turn unlocks more games at a faster rate.
Level Boosts: The same goes for Level Boosts. Once you have purchased Blue Gems, you receive the third power-up to expedite progress between levels, unlocking bigger player bounties. XP Boosts and Level Boosts are also available as part of promotional Gold Coin offers.
Ding Ding Ding Sweepstakes Casino Registration
Creating a free Ding Ding Ding account is super easy.
Keep in mind there are two verification processes. The first is an account registration verification, for which you must provide a name, a verification email, phone and date of birth – you are good to go in minutes.
The second is a KYC (Know Your Customer) verification, which you must complete before redeeming your Sweeps Coins for cash or gift cards.
Steps to create set up your account
Click the red REGISTER button in the right-hand corner to create your online account.
Fill in the registration form.
Accept the T&Cs by ticking the following three boxes:
I am 21+ years old and do not live in Nevada, Washington, Illinois, or Idaho.
I UNDERSTAND I can only register 1 account. I UNDERSTAND this website uses advanced AI software to VERIFY MY IDENTITY. I UNDERSTAND SUBMITTING FAKE/FALSE information will result in account suspension & loss of all gameplay giveaways. My Registration Information: Name, Email, Phone & DOB is 100% TRUE.
I would like to receive text messages and agree to Terms of Service, Privacy Policy & Sweepstakes Rules. Reply STOP to cancel, HELP for help. SMS & data rates may apply. Msg frequency varies and conditions by checking the boxes on the form.
Click the red VERIFY & REGISTER! You will receive a verification email. Please check your spam if you don't. Click the VERIFY button and start playing.
Remember, to redeem Sweeps Coins for cash or gift cards, you must undergo an additional KYC verification process.
Ding Ding Ding Mobile Play
Ding Ding Ding Casino does not have a dedicated app available from the App or Google Stores, but the website is mobile responsive. I only played Ding Ding Ding's games on my smartphone and had zero issues. Simply tilt your device sideways for the best view and performance.
Bonuses & Promotions

With sign-up, players get rewarded with a no-deposit and welcome sweeps bonus rolled in one. No promo code is needed. 500,000 Gold Coins + 5 Sweepstakes Coins is only the start of Ding Ding Ding's fantastic promotions.
Daily login rewards you with ongoing no-deposit bonuses. On lucky Day 7, you get 1,000,000 Gold Coins + 1 SC. In addition, players can claim bounties from challenges, tournaments, limited offers, and social media promotions. Einstein will struggle to keep up, so I have created a Bonus Bounty table.
🎁Bonus
🤑Bonus Value
How to Claim Bonus❓
Sign-up & Welcome Bonus
500,000 GC & 5 SC
Create a free account to claim the No-deposit bonus.
Pay-to-Play Bonuses
3,000,000 GC + 6 SC for $2.99 (+100%)
35,000,000 GC + 30 SC for $24.99 (+20%)
150,000,000 GC + 100 SC for $89.99 (+10%)
Purchase from $2.99 and receive up to 100% more Bonus Sweeps Coins.
Daily Rewards
Day 1: 20,000 GC + 1 SC
Day 2: 50,000 GC + 1 SC
Day 3: 75,000 GC + 1 SC
Day 4: 100,000 GC + 1 SC
Day 5: 250,000 GC + 1 SC
Day 6: 500,000 GC + 1 SC
Day 7: 1,000,000 GC + 1 SC
Claim by logging in seven days in a row. Must click the Daily Rewards button to redeem.
Daily Challenges
30 Free Spins
35,000 GC + 0.5 SC
Optional daily challenges for free rewards. Must click the Challenges button to participate.
Progress Bonus
Reflected as a level and number of unlocked games
The blue bar will indicate how far you need to progress to the next level.
*Calculated automatically based on gameplay.
Limited Time Offers
70,000,000 + 50 SC for $49.99
Pay-to-play options that are only available for a limited time
Lucky Piggy Bank
Progressive free Gold Coins + Sweeps Coins
Break open for $2.99. Click the Lucky Piggy Bank button.
*Calculated automatically based on gameplay.
Ding Ding Ding Sweepstakes Casino Website & UX
Site and gaming graphics were top priorities for Ding Ding Ding's creator, Living Pixels Studio. The website boasts a lush look that reminds me of the movie Jewel of the Nile – all action, adventure, and glamor.
Ding Ding Ding Design & Site Navigation
In contrast to the colorful and complex graphics, navigation on Ding Ding Ding's homepage is surprisingly easy and efficient. Your bifold wallet and experience level are clearly displayed in the top bar.
Games are stacked in neat rows, each displaying a promo banner with the number of players online playing the game and the latest big win.
In-game purchases can be made by clicking the two visible buttons at the bottom of the homepage: SALE! or SPECIAL OFFERS. The buttons shift to the top during gameplay.
Ding Ding Ding User Experience

Features like Pet Farm, Daily Tournaments, and Challenges are all fun level-up elements borrowed from gaming that enrich the Ding Ding Ding player experience.
Getting around is really easy, and the graphics are… I could talk a lot about Ding Ding Ding's unique art style, but ultimately, you should really experience the excitement for yourself.

The only negative user experience is the lengthy time it takes to load games. Ding Ding Ding addresses this issue in its FAQs. They mentioned that their games have lots of graphics and complexity, but they are actively working on making them faster to download. In other words, be patient for now.
Ding Ding Ding Sweepstakes Games
Ding Ding Ding is a sweepstakes casino, and as such, all games are free, with the slight unique twist that players are only granted access to five slot games when creating an account. To access the rest of the games, players must level up by either playing regularly or flashing some cash for power-ups.
Games on Ding Ding Ding are bespoke titles designed in-house by Living Pixels Studio: Bingo and 30+ video slots with features like re-spins, bonus spins, bonus games, and retriggered bonus games.
Winning Potential
Discussing winning potential on Ding Ding Ding is a sticky issue for me. Volatility and RTP need to be clearly stated on pay tables – if it is, I couldn't find them. This is a subjective opinion, but the slots felt like low volatility with small and frequent wins.
I have yet to unlock all the games, so this opinion may be updated.
Slots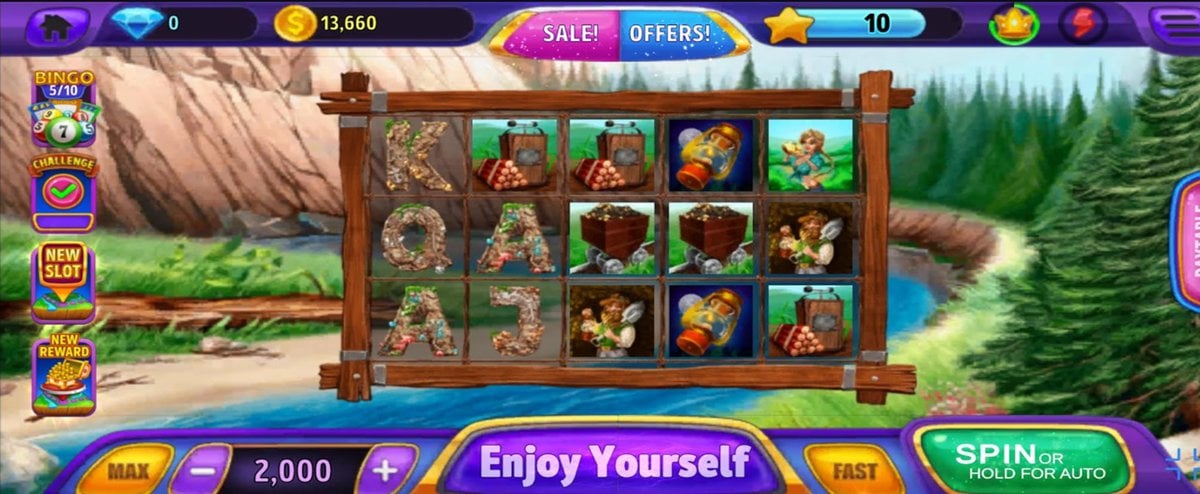 Promotions and bonuses on Ding Ding Ding are insane, and I kicked off with a bulging wallet of 500,000 Gold Coins. I pocketed consistent wins during my first game and doubled my Sweeps Coins. The graphics, soundscapes, and extra features, especially my Lucky Piggy Bank (wish I had one in real life!), were great fun.
The collection isn't massive, but since all games are powered in-house – you will need to stick here if you enjoy them. Some of the top slots at Ding Ding Ding include:
Life of Minis
Crazy Monkeys
Leprechaun Pot
Lucky Piggy
Savannah
Bingo Games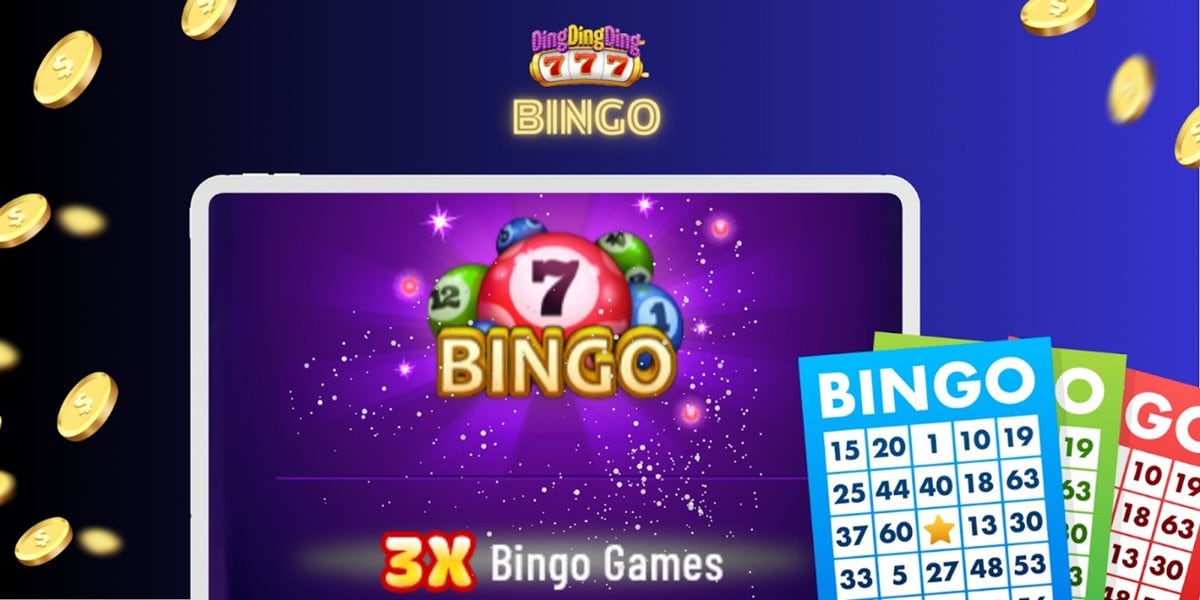 With Bingo surging in popularity, Ding Ding Ding is bang on target by offering this on their gaming menu as a 'game dessert'; players must first play the free slots and earn ten bingo balls to unlock Bingo.
Cheat sheet: Purchasing ten blue gems will also work if you are in a hurry to play. I am sure you know my choice. After all, diamonds are a girl's best friend.
Virtual Coins Purchases and Redemptions
Ding Ding Ding Casino combines fun with generosity, offering players daily free coins. You can buy extra Gold Coins using your Visa or Mastercard for an enhanced experience with maximum bets and a stuffed game wallet. Currently, Ding Ding Ding only accepts these two cards for payment.
If you have been winning consistently and wish to cash out, here are some handy tips on how to redeem your Sweeps Coins:
Bonus Sweeps Coins are not redeemable; only Sweeps Coins you play and win are redeemable for real prizes.
The minimum amount redeemable is winnings of 50 Sweeps Coins.
To redeem your Sweeps Coins, you must first complete a second verification. The KYC verification will open when you click the green REDEEM button for the first time. The KYC verification requires a valid ID and proof of address and is done at once.
Sweeps Coins can be redeemed for gift cards or cash, which will be transferred directly into your verified bank account. This process may take up to 14 days to process.
Daily Redemption Limit: $2,000.
Monthly Redemption Limit: $12,500. Winnings over $12,500 will not be redeemed or carried over to the next month and will be considered forfeited.
Monthly Redemption Limit for Florida & New York: $2,000. Winnings over $2,000 will not be redeemed or carried over to the next month and will be considered forfeited for New York or Florida residents.
These last two terms are quite tricky and make us question the legitimacy of Ding Ding Ding Casino.
Customer Support
Ding Ding Ding Casino has a comprehensive FAQ. Make this your first port call if you have any questions.
Email and phone support are on standby if you are still struggling. Contact customer support from Monday – Friday, 9am to 6pm, at support@dingdingding.com. You can also phone 1.800.971.0734 to chat with a real person.
There is a bit of a hoo-hah that customer support is unavailable 24/7. I prefer to look at the glass half full; I received a reply within two hours after emailing customer support. Five brownie points from me and a thank you for the fantastic service.
Is Ding Ding Ding Legit?
Fortunately, yes! Ding Ding Ding is a legitimate social casino based in the US and does not require a gambling license. Still need to adhere to all legal requirements for sweepstakes, which are the following:
Purchases should be optional (thus the regular promos).
Winners of promotions must be chosen at random.
The second requirement is meaningful for fairness since it ensures all games on Ding Ding Ding utilize a Random Number Generator (RNG).
More Sweepstakes Sites Like Ding Ding Ding
I am sure it is no secret by now that I love Ding Ding Ding, but if you are not getting the feels I have created a list of other sweepstakes casinos similar to it. Check them out here:
Our Verdict & Ratings
I give Ding Ding Ding seven out of ten. Hear me out.
Living Pixel Studios dedicated time and energy to the most important aspects of a successful online casino, namely site design and graphics. All future enhancements will benefit from this strong groundwork. Sure, there are some apparent niggles, but nothing that cannot be refined over time.
The biggest challenge is successfully combining online gambling and gaming elements so that both die-hard gambling fans and die-hard gaming fans enjoy the experience.
Based on this, I am subtracting the following points:
-1 No Live Players Chat. Creating a server on Discord is free, so there is no excuse here.
-1 No information on slot volatility & RTP.
-1 No jackpots.
7/10. Ding Ding Ding Casino is part of a new breed of gaming platforms. The future is golden. Ring in the fun!
FAQs
Is Ding Ding Ding Casino safe?
Yes, the platform has an extensive Privacy Policy that explains how player information is collected, controlled, and shared with subsidiaries, affiliates, sponsors, partners, and advertisers. In addition, the Terms of Use govern players' use of the Living Pixels Service and any content submitted to their platform.
How can I redeem winnings at Ding Ding Ding?
Players can redeem winnings of 50 Sweeps Coins or more by clicking the green REDEEM button. If it is your first redemption, you must complete an additional KYC verification with a legal ID and proof of address. Sweeps Coins can be redeemed for gift cards or cash via a direct bank transfer. The process may take up to 14 days. The daily redemption limit is $2,000, and the monthly redemption limit is $12,500. Players from Florida and New York are capped at $2,000.
Which states restrict access to Ding Ding Ding Sweepstakes Casino?
As a sweepstakes casino, Ding Ding Ding is not prohibited by gambling laws and is OPEN to legal residents of the United States of America who are 21 years or older and living in AL, AK, AZ, AR, CA, CO, CT, DE, FL, GA, HI, IN, IA, KS, KY, LA, ME, MD, MA, MI, MN, MS, MO, MT, NE, NH, NJ, NM, NY, NC, ND, OH, OK, OR, PA, RI, SC, SD, TN, TX, UT, VT, VI, WV, WI and WY.

Players from four states are restricted: Illinois, Idaho, Nevada and Washington.
Can I play for free at Ding Ding Ding?
Yes, absolutely. Ding Ding Ding is a social or sweepstakes casino. Players sign up for free and claim free virtual coins from various bonuses and promotions. Players do have the option to purchase pay-to-play offers to enhance their gaming experience.
What games are available at Ding Ding Ding?
The game library at Ding Ding Ding provides casino-style online games, including 30+ exclusive slots, Bingo and Pet Farm.

Claim 5 Free SC + 500,000 GC Bonus
Get Bonus