DraftKings Horse Racing in Collaboration with Churchill Downs Inc.
Gamble USA strives to improve your online gambling experience. We aim to help you play safely, make informed decisions when gambling, and increase your betting knowledge through our guides.
We adhere to strict editorial integrity; our content may contain links to products from our licensed & legal US partners.
For those who love DraftKings, and betting on the ponies, you now have a match made in heaven, as DK recently announced a multi-year deal with one of the most iconic racing venues in the world.
With racing fans already focused on the upcoming Triple Crown, this partnership comes at the right time. The first leg of The Triple Crown is the Kentucky Derby (The Run For The Roses) on 6th May 2023, with the fillies' equivalent, The Kentucky Oaks, taking place the day before.
And who can forget some of last year's marquee horse racing moments, including Rich Strike, winning the first leg of the Triple Crown as an 80/1 longshot?
We also had Flightline providing several marquee horse racing moments by ending his career unbeaten when winning the Breeders Cup Classic in November.
The partnership between DraftKings sports betting and Churchill Downs Inc will bring tote and pari-mutuel betting facilities to DraftKings users, allowing them to bet and take advantage of the pools generated nationwide.
This partnership also allows Draftkings to compete with FanuDuel. This new solution will introduce pari-mutuel horse wagering via their new DK Horse product.
Does DraftKings Have Horse Racing?
With the announcement of the partnership, there will be a new addition to the DraftKings product suite, and the name is DK Horse.
Both parties are now busy integrating the ADW software and technology from Twinspires, which should make this venture immediately profitable as DraftKings introduces its significant base of sports betting customers to this new racehorse betting product.
ADW (Advanced Deposit Wagering) will bring benefits to both parties. Churchill Downs will now get additional exposure as a DraftKings introduction, as they say, "the quality of our online sports betting customers to CDI." At the same time, DraftKings will be supported with additional horse racing content owned by CDI.
The launch plan will mean that DraftKings will provide racing betting in more than twenty US states. It allows them to acquire new horse-wagering customers during marquee horse racing events like the Kentucky Derby, Kentucky Oaks, Preakness Stakes, and the final leg of the Triple Crown, The Belmont Stakes, which is held in June.
We can expect the platform to provide a wide range of exciting bonus offers and promotions for horseplayers as an addition to their existing sports betting offer.
Kentucky Derby Betting on DraftKings
The Derby, sometimes referred to as "the most exciting two minutes in sport," will now be available to DraftKings when they integrate DK Horse into their full product suite.
This platform will be a different brand from the sports and fantasy betting products, and users will have individual wallets for betting on sports and horses.
By using the online offering through TwinSpires, users will be able to engage with pari-mutuel wagering on the Derby, including win place and show bets.
You'll also be able to place across-the-board wagers and exotics wagers like exactas, trifectas, and superfectas, as well as high-paying Pick 4 and Pick 5 pool bets.
Preakness Stakes Horse Racing
The second leg of the Triple Crown is the Preakness and is run at a distance of one and three-sixteenths of a mile. This year's renewal will take place on Saturday, 20th May 2023, and the runners will try to follow in the hoofprints of last year's gate-to-wire winner, Early Voting.
The Preakness is always one of the biggest betting races of the year, and customers of the DraftKings Sportsbook will now be able to place their wagers on DK Horse.
The new solution will introduce horse racing bets and offer pari-mutuel wagering to existing customers of the sportsbook.
As the product evolves, we will have to wait and see if they will offer other markets, such as Preakness Stakes futures and prop bets.
DraftKings Belmont Stakes Horse Racing Betting
It is not yet clear if DraftKings will be able to offer betting on this year's Belmont, the final leg of The American Triple Crown.
Through their partnership with Churchill Downs Incorporated, they will be able to access additional racing content, but we will have to wait until the launch to see if that will include coverage of this race.
With the Belmont Stakes taking place in June, they have time to get the new branded racing product in front of new potential customers, and in theory, this should be a venture that is immediately profitable for both sides.
Being able to provide advance deposit wagering is a huge step forward for DraftKings and will enable them to acquire new customers efficiently.
Alternative Horse Racing and Kentucky Derby Betting Sites
Betting on the ponies has been part of American sports culture for many years. Who could ever forget the duel between little Seabiscuit and the giant War Admiral at Pimlico in 1938?
A race that was part of the amazing movie Seabiscuit starring Toby McGuire, Jeff Bridges, Elizabeth Banks, Chris Cooper, and of course, legendary American jockey Gary Stevens who received plaudits for his acting in the movie.
But back to business. We still await the launch of the DraftKings horse racing product, so where can horseplayers bet on the Derby until DK Horse goes live? Below are our top horse wagering apps.
TwinSpires
TwinSpires, named after the famous duel spires of the Churchill Downs grandstand, is a leading player in horse racing content and betting in the US.
Although Twinspires is a US company and part of Churchill Downs Incorporated, they go way further by offering race meet betting from UK, Ireland, Australia, New Zealand, Hong Kong, and even harness/trotting Racing from Sweden.
Existing customers of DraftKings can sign up for a $200 welcome bonus by using the promo code BET200.
Horseplayers get a great welcome offer and can participate in their Derby Prep competition, where two lucky winners will win VIP packages for the 2023 Run For The Roses.
And if those two offers were not enough, check out Trifecta Tuesdays with a 15% bonus on winning trifectas and the Thursday Leaderboard comp with a cool $2,500 up for grabs.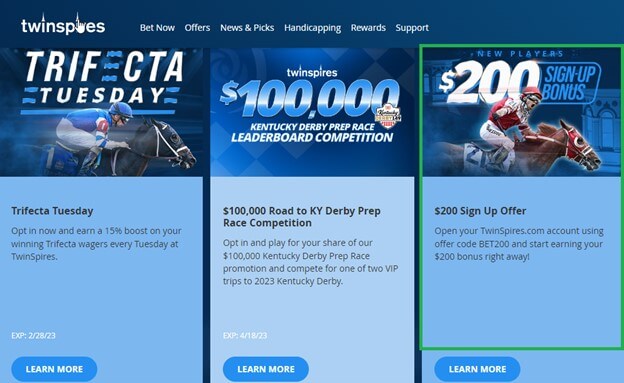 You can see the main $200 Sign Up Offer highlighted in green above.
DRF
Expert handicappers and horseplayers will know DRF already. They are arguably the leading betting news and form website, being unmatched in US horse racing. They provide their main past performances product, Formulator PP's, via subscription.
Many may not know that they now have their own betting product, DRF Bets, which covers similar markets to TwinSpires, plus racing coverage from France and Japan.
You can sign up for a $200 matched deposit bonus using the promo code STAKES, and when you do, you'll receive 10 free Formulator PP's with a value of $49.50 as a horse racing bonus.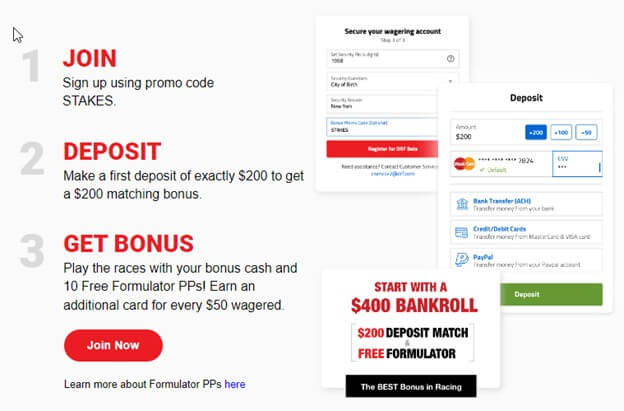 Definitely a great site for the serious horseplayers and handicappers.
TVG
TVG is another big US player that provides advance deposit wagering and allows customers to bet on horse races. They were recently merged with FanDuel to create FanDuel TV.
The TVG brand is still a very prominent one in the US and they are one of the biggest horse racing wagering platforms and also provide a wide range of content and promotions to customers.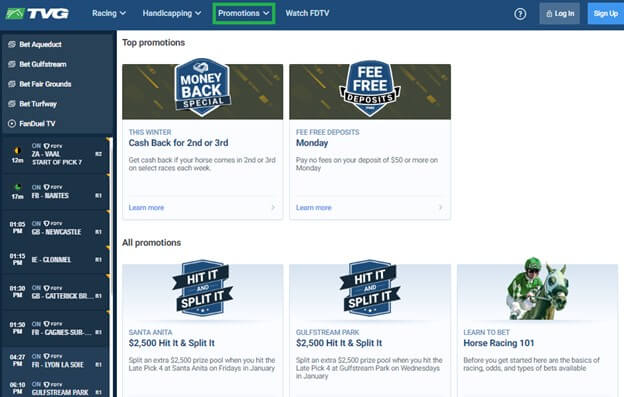 See above a small selection of the excellent promotions from TVG. You can find even more by selecting the "Promotions" link you see highlighted in the image above.
FanDuel vs. DraftKings Horse Race Betting
FanDuel got the jump on DraftKings after they merged with TVG, but DraftKings has come out of the corner fighting. With the opportunity to collaborate with Churchill Downs, they can now get top-quality horse racing content, pictures, and data feeds for DK Horse.
FanDuel went big last year and spent millions of dollars on sponsorship and advertising at the Breeders Cup. Now, DraftKings has the opportunity to do similar with the tie-up with Churchill Downs, allowing them to acquire new customers efficiently during marquee events like the Derby and Oaks.
2023 will see plenty of battles between these two powerhouses of the sports betting industry.
In racing terminology, FanDuel has broken well from the gate and is on the speed, but although DraftKings might have bobbled from the gate, they are now stalking their rival down the backstretch.
Let's see what happens when they enter the home stretch and set down for the battle to the wire. You can see the FanDuel Horse Racing promo code details here.
Will DraftKings Live Stream Horse Racing Events?
The simple answer is YES because they collaborate with Churchill Downs, who can provide Draftkings and deliver live streams of all Racing from that venue.
It means their customers can engage with pari-mutuel betting on those events and others. Churchill Downs has content agreements with other racetracks, so the full offer from DraftKings will be great news for their customers.
FAQ's
On which channels can I watch Racing Live?
Race fans can watch live Racing on FanDuel TV, Twinspires, TVG, and DRF if logged into your account on those sites.

You can also watch some of the big race meets on NBC, ESPN, and Fox Sports.

And if these do not work for you, try checking out the YouTube channels of the individual racetracks. Not all, but many, stream the races live on their YouTube channels.
Can you bet on the Kentucky Derby on DraftKings?
You cannot bet on the Derby with DraftKings, but that will change once DK Horse is launched, and betting will become available on race day through their new advance deposit wagering technology.
Does BetMGM support Pari-Mutuel horse wagering and sports betting?
BetMGM mainly focuses on sports but does offer betting for racing fans in certain states, including Florida, Louisiana, and Ohio. Betting is only available via the BetMGM mobile app.
What benefits will Draftkings see from the new DK Horse betting platform?
The new platform will provide advance deposit wagering and allow Draftkings to introduce their significant base to pari-mutuel horse wagering for the first time. It will enable users to bet efficiently during marquee horse meetings.

TBA
Get Bonus