DraftKings Signs Deal with MMA PFL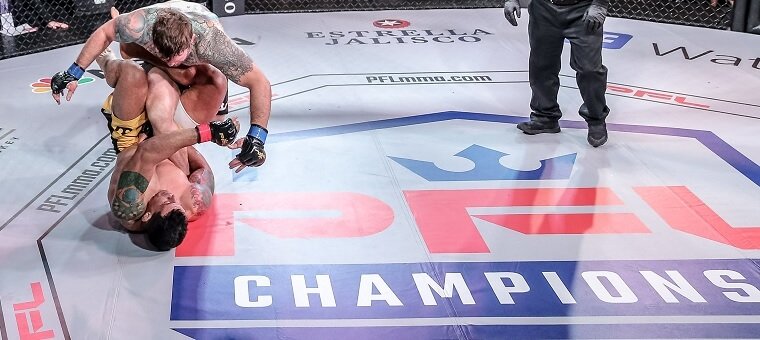 DraftKings has agreed to a new multi-year deal with MMA Professional Fighters League
The Professional Fighters League (PFL) has revealed it has signed a multi-year deal with DraftKings. The partnership means the sports betting giant will become the "Official Sportsbook and Daily Fantasy Partner" of the mixed martial arts league. The PFL MMA 2021 season begins this Friday (23 April) in a primetime slot on ESPN networks and streaming platforms. According to a press release, betting on PFL fights via DraftKings will be open to players across the country, subject to regulatory approvals.
Getting underway on Friday, the PFL's six upcoming regular-season events will occur in a special bubble, which has been created at Ocean Casino Resort in Atlantic City. The main event on Friday's card is a lightweight fight between Anthony Pettis and Clay Collard.


21+. T&C Apply
21+. T&C Apply
This deal is the second significant MMA agreement for DraftKings, which has been signed in the last couple of months. In March, DraftKings and UFC announced a similar deal which means DraftKings is now the UFC's first "Official Sportsbook ". The deal has been valued at $350 million in cash and marketing. The PFL was established in 2018 and now says it is the second-biggest MMA company in the world.
PFL Uses new Technology
PFL utilizes SmartCage technology, claiming it is the first in combat sports to capture and record real-time fighter data and analytics, according to a press release. This data is integrated into each broadcast and also used across the league's digital and social channels. Some of the metrics used include fighter tracking, kick speed, caloric burn, heart rate, and punch speed.
The data means bettors will have access to innovative prop bets. For example, a bettor will be able to wager on whether a fighter will land a punch that exceeds a specific limit.
Peter Murray, chief executive of the PFL, said they are "thrilled" to confirm a deal with DraftKings. He said they aim to deliver a "premium and unique betting and gaming experience" to the passionate MMA fans across the United States. Murray added that due to the nature of the PFA's "win-and-advance season format" combined with the SmartCage technology data, there would be "unmatched prop bets and gaming opportunities" available. Murray confirmed the league will begin this Friday on ESPN2, ESPN+, and ESPN Deportes.
DraftKings to offer Live Odds
Live odds will be accessible via each event broadcast across ESPN networks and streaming platforms. The press release also stated they will be available during PFL's pre-fight show. Additionally, DraftKings will offer cash prizes together with PFL-branded pools tied to the league's regular season and playoffs.
Ezra Kucharz, chief business officer of DraftKings, said they are "excited to further our relationship with the Professional Fighters League." Kucharz described the fanbase of MMA as "young, loyal, passionate, and engaged" and said the PFL offers an "innovative product." Kucharz added that this deal is "monumental for combat sports."
As part of the agreement, DraftKings logos will be displayed in and around the cage. The company also gains exclusive rights to use PFL logos and "official partner" branding for advertising. Moving forward, both the PFL and DraftKings will work together on themed content across their platforms.
This is one of many deals that DraftKings sportsbook are pulling in, last year they join with the Chicago Cubs, and with three NBA teams. They sure are making a big attempt to gain exposure across a range of sports.
Want to stay up to date on the latest legal sports betting news across the US? Then come and follow us over on Twitter @Gamble_usa.
Relevant news