DraftKings Sportsbook app now live in Iowa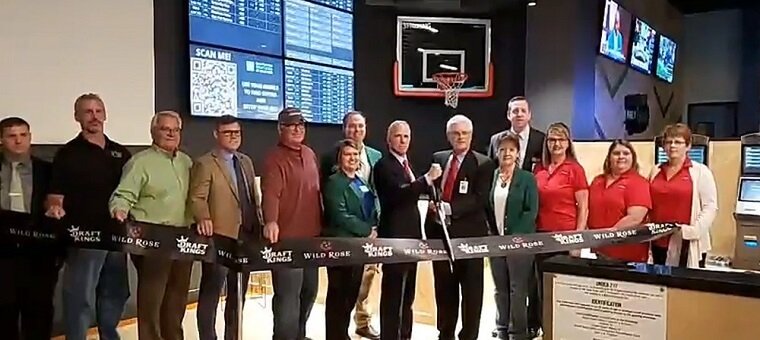 DraftKings continues their sweep of the US as they go live in Iowa after a partnership with three Wild Rose Casinos.
One of the leading sports betting operators, DraftKings, has officially launched its mobile betting app in Iowa, which will allow anyone inside state lines aged 21 and over to place bets on their favorite teams and sporting events after they have registered in person at any of the three Wild Rose casinos. The launch of the app ensures players will now be able to bet on the go and have easy access to engage with the sports and events they enjoy. This comes after the opening of three brick-and-mortar sportsbooks at casino locations in Jefferson, Clinton, and Emmetsburg in October, which are powered by DraftKings. Want to know how to download the app? Check out our full review for the DraftKings Sportsbook app – for mobile Android & iOS
Making progress
Some may say it is about time that DraftKings has made their move, when you consider several other casinos and sports providers have been in the market for at least five months, earning the trust of players and establishing themselves in that time. Furthermore, there is also the part of the Iowa law passed in 2019 that mandates that anyone wanting to use a mobile wagering app must first set foot in the casino administering the app before its activation. That will remain in place until Jan. 1, 2021. So, it may be tricky to convince serious big-time players to make the trip to the casinos for these potential options.
DraftKings co-founder and North American President Matt Kalish says this doesn't matter, and that he is excited to see them enter its sixth state for mobile betting. "DraftKings has seen steady fan engagement in Iowa during the last few months at our three Wild Rose sportsbooks across the state, and we couldn't be more excited to provide customers with our state-of-the-art mobile sports-betting platform". He thinks the launch of their sportsbook app will capture the imagination of fans and believes it will be well received across the state "We have worked diligently to perfect our sportsbook product since it launched in 2018 and starting today, we're proud to offer Iowans a safe and responsible place to wager on sports – one that can be accessed conveniently from the palm of their hands."
What is available?
Bettors will be able to place wagers on all major US sports such as the NFL and college football, baseball, golf, hockey, basketball, horse racing, and more. "We believe DraftKings is offering the best mobile app yet to Iowa sports betting enthusiasts," commented Tom Timmons, president, and COO of Wild Rose. "Since we opened the sportsbooks, we have been deluged with requests for this app. We are happy to offer it now, with the NCAA basketball tournament just around the corner."
Each state has its own distinctions when it comes to betting and gambling and an important factor to note in Iowa is that sportsbooks are not permitted to accept player proposition wagers involving a university or college. This also extends to any opponents in games or competition with Iowa schools. However, pre-match and in-game wagering on Iowa schools and their opponents is permitted.
For a limited time, DraftKings is offering new customers a sign-up bonus of up to $1,000 (£775/€926). Customers will be able to download the app via iOS and Android or online. Join up now at sportsbook.draftkings.com to get hold of this amazing welcome bonus.
Come and follow us over on Twitter @Gamble_usa for more legal sports betting news across the US.
Relevant news