FanDuel Faceoff App
Gamble USA strives to improve your online gambling experience. We aim to help you play safely, make informed decisions when gambling, and increase your betting knowledge through our guides.
We adhere to strict editorial integrity; our content may contain links to products from our licensed & legal US partners.
If you're looking for a fun and exciting way to wager money against other users to potentially win big on different games, then let me introduce you to the FanDuel Faceoff app. The Faceoff app launched on March 31st 2022 and has since become very popular in the 30 states where it's currently available to play for real money.
The Faceoff app is different from any other kind of betting and is nothing like a casino or NFL sportsbook betting because it's up to you to win, not any teams or just by luck. It has several different skill-based games for users to play that range from sports based to Wheel of Fortune or a game similar to Scrabble!
If you'd like to know more about the FanDuel Faceoff App, read the guide below for an overview of the app's ins and outs, including how to sign up for an account, the games available and how to play them, the deposit bonus that comes with it, and much more!
FanDuel Faceoff App First Deposit Bonus
While the Faceoff app doesn't have as nice of a welcome bonus as the FanDuel Sportsbook, it does have a welcome bonus of $10 in bonus cash if you deposit at least $10! It's not as lucrative of a business, so the bonus is smaller; however, it is subject to change, and the more players join, the more likely it is to go up!
All you have to do to get the deposit bonus is download the Faceoff app by going to the Apple App Store and downloading the app, then creating an account (more on that below) and making a deposit! No promo codes are required, just use our page links to create an account.
FanDuel Faceoff Legal States
Unlike the FanDuel Sportsbook, the Faceoff app is available in 30 states (to play for real money, it can be played for free anywhere), while the former is available in only 16. The Faceoff app is also unavailable in some FanDuel sports betting states, including Connecticut, Louisiana, Iowa, Michigan, New Jersey, Pennsylvania, Tennessee, and West Virginia.
The Faceoff app is available in the following states:
Alabama
Alaska
Oregon
California
Florida
Kentucky
Maine
Massachusetts
Minnesota
Nebraska
New Hampshire
New Mexico
North Carolina
North Dakota
Oklahoma
Rhode Island
Texas
Utah
Vermont
Wisconsin
FanDuel Faceoff Overview
The Faceoff app's overall experience is fun, straightforward, and easy to use. Users of the app can enjoy several different skill-based games and can play for free or use real money as long as they are over 18 (must be over the age of 21 in Massachusetts and 19 in Alabama).
It only takes a few seconds to sign up for an account, and if you already have a FanDuel account, you will just need to sign in! Once you're signed in you will be able to play seven different games while going head-to-head against another player for either real money or for free.
Downloading FanDuel Faceoff iOS App
Downloading the FanDuel Faceoff app is very easy and only takes a few minutes between the process and the download. Unfortunately, there isn't currently an app available for Android users on the Google Play Store; however, FanDuel has it in the works. If you'd like more information on the Android app, click here and fill out your email address in the box (pictured below) to get updates on when it will be available!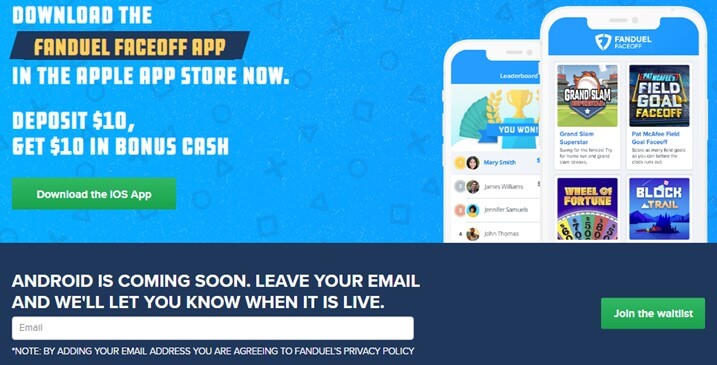 To download it on iOS, go to the Apple App Store, search for "FanDuel Faceoff" in the search bar, and look for the app pictured below (it should be the first result). Once you're on the app's page, click "get," and the download will begin!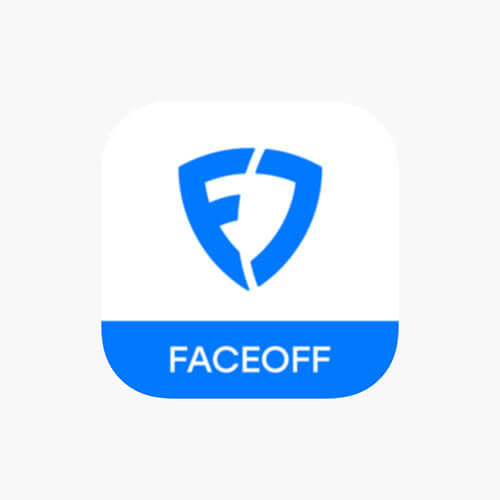 You will need a minimum iOS of 14.0 and at least 410 megabytes of storage on your phone to download the app to your iPhone or iPod Touch.
FanDuel Faceoff App Registration
As I mentioned above, if you already have an existing FanDuel account, you won't need to sign up for a new one and can just sign in using the one you currently have. If you don't have any form of FanDuel account, you will need to create one, which will take a few minutes of your time and some personal details to verify your identity to complete.
To begin the registration process, open the app and select "Join FanDuel and create an account" from the homepage at the bottom of the screen in a blue box. After you click the button, you will be redirected to the first step of the registration process, which is to enter your email address and decide on a username and password (passwords must be a minimum of eight characters and have at least one capital letter and one number).
The next step requires more delicate information; however, there is no need to be wary of entering this information because FanDuel's licensing requires them to protect your information and refrain from selling your data. This section will require you to enter your full name, phone number, home address, last four digits of your Social Security Number, and date of birth.
After entering and confirming this information, you will be all set with your new FanDuel account! Remember, making multiple accounts is forbidden, so if you already have one and can't remember the password, contact customer support immediately to resolve that issue.
FanDuel Faceoff Games
| Game | Type | Rating (1-5) | Difficulty (1-5) |
| --- | --- | --- | --- |
| 🎲Grand Slam Superstar | Sports | 4 | 2 |
| 🎲Scrabble Cubes | Word | 4.5 | 4 |
| 🎲Wheel of Fortune | Puzzle | 3.5 | 3 |
| 🎲Pat Mcafee's Field Goal Faceoff | Sports | 5 | 3 |
| 🎲Puzzle Pyramid | Puzzle | 3.5 | 2.5 |
| 🎲Block Trail | Strategy | 3 | 2 |
| 🎲King's Crossing | Strategy | 2.5 | 4 |
FanDuel Faceoff has several different kinds of skill-based games that include games that are based on sports to games that are based on popular games like Scrabble and Wheel of Fortune. There are seven different games in total, and each one can be played for real money (through entry fees) or for free if you just want to practice!
Grand Slam Superstar
Grand Slam Superstar is one of the most popular games on the Faceoff app and is extremely popular among baseball fans and mobile game fans alike.
It features a 1v1 home run derby where the goal is to score as many runs as possible in the allotted time or until you get five outs! To score a point, you will need to hit either a base hit (single, double, or triple) or a homerun; however, if you get an out, you will lose a point. The user does not receive an aim meter but must time the hit based on the pitch to earn points for participating.
Rather than using an aim meter, the timing needle moves left across the screen, and the direction of the hit is based on how well it was timed. If the timing was early, you pulled the ball and hit it right of center field, and vice versa for if it's late (it will go left of center). The aim of the hit matters because the goal is to hit signs at the top of the screen (pictured below) that feature types of hits!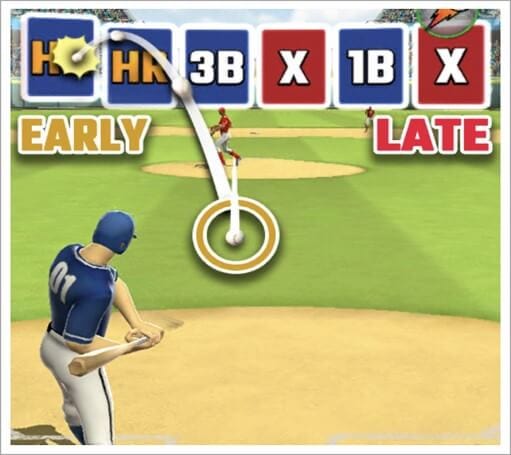 Some power-ups can help improve gameplay and earn you more points per hit. The following are all power-ups featured in Grand Slam Superstar:
Home Blast

changes all signs to homerun

Base Loader

adds a runner to every base

Score Burst

x2 score on the following hit

Time Booster
Scrabble Cubes
Scrabble Cubes is an enjoyable game similar to its namesake and requires users to pick letters from a cube made of several smaller cubes with letters on each side, like a dice (see picture below). The letters you choose must touch each other, so you will not be able to choose any letters on the cube when making a word of three letters or more.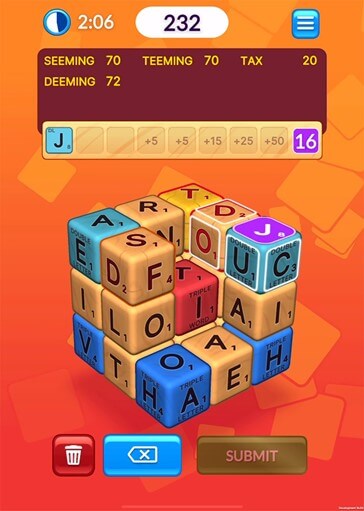 Users can earn more points by making a larger word that's more than three letters and receiving a point bonus based on how many letters the word contains. Three letters is the only length of a word that doesn't receive a bonus, and the bonus will range from 5 for four letters to 100 for eight letters.
Similar to the actual game of scrabble, each letter has a different point value, so the more complex letters (i.e., letters like q and x) accompanied by a larger word length will yield the most points! You can also rotate the cube to create larger words; the letters just need to be touching.
Wheel of Fortune
The FanDuel Wheel of Fortune Faceoff game is very similar to its namesake, so if you're familiar with the show, you probably already know how to play it. The gameplay is divided into two rounds, including the main round and a bonus round, similar to the show.
Users will need to spin the wheel and guess a letter based on the prompt and letters on the screen (pictured below) and are also able to buy vowels, which cost 250 points. You will have seven turns to solve the puzzle, and your turn will end when you guess a letter incorrectly, or you run out of time on the clock.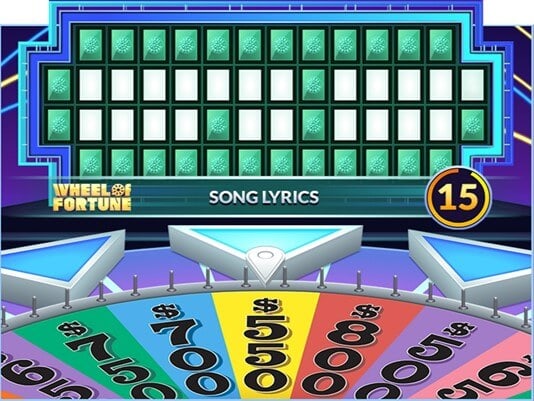 You will receive points based on the number of letters in the puzzle and the value the wheel landed on, which means if you land on the $800 wedge and guess "G," you will receive 800 points for each G in the puzzle.
The bonus round starts with the letters "R, S, T, L, N, E" already on the board, and you will get to choose from three other consonants and one vowel. Unlike the main round, there will be no wheel spinning, and you will only win bonus cash ($1,000) if you solve the puzzle correctly.
Pat Mcafee's Field Goal Faceoff
Now for my favorite game, Pat Mcafee's Field Goal Faceoff, which pits users against each other to see how many field goals you can make in the allotted time. The kick power meter is based on how far you slide the football back with your finger, which increases the speed of the entire aim meter (more power means a faster aim meter).
Each field goal will not simply reset but will be from a different spot on the field with different wind speeds, which will need to be accounted for in your aiming (pictured below). To aim, drag the ball left or right and get as close to the middle as possible, which will be green on the meter.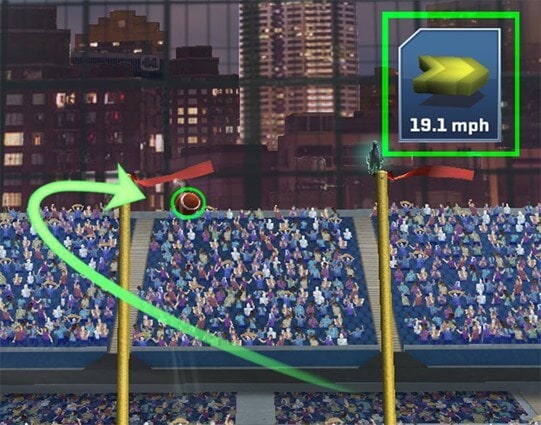 The number of points you score is directly related to how many kicks you launch to the back of the net. It will also pull from the types of power-ups and the length of streak you go on, so don't miss it!
The eight different power-ups you may receive are all listed below:
Slow Aim
Double Points

Receive double points on the next field goal

Golden Ball

Makes it through the goalpost regardless of aim

Wide Posts

The field goal posts become wider

No Wind

The wind turns off, which means you only need to aim in one direction

Clock

Additional time added to the game clock

Additional Kicks
Clean Strikes

Clear strikes from your miss column
Puzzle Pyramid
Puzzle Pyramid is a game where you match two different stones together that are next to each other by either tapping or dragging the two stones together. The stones are matched based on color and whether or not they fulfill the entire shape (pictured below).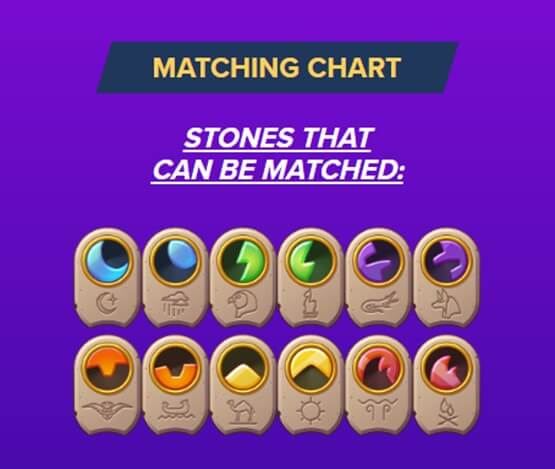 The goal is to clear the entire pyramid quickly within four minutes. If no more matches are available, click the pile, and three more stones will be added to the pyramid to help potential matches. Some boards are unsolvable, so you need to click the "end" button if you run out of stones and matches.
The highest score wins, and users will receive a streak bonus for each consecutive match made and a bonus for the time left by completion!
Block Trail
The Block Trail game is similar to Tetris because users will receive a random shape and need to fill out a complete row or column. The game continues until either the clock runs out or there are no more moves that can be made.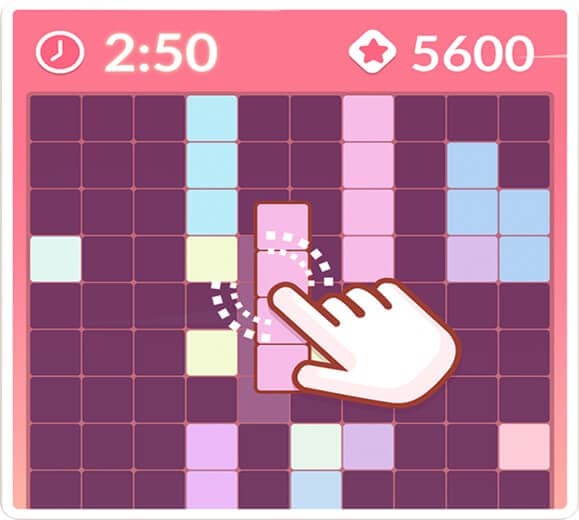 Points are scored by clearing rows or columns, and players earn more points for the number of lines/columns cleared simultaneously. Players will also earn more points if they keep a streak, which is the best way to rack up points!
King's Crossing
King's Crossing is a different game where the user must move the King to the throne by moving around the rest of the board to make a path for the King. Pieces move just like they would on a chessboard (although the King can move twice), and the game always starts with two open squares on the board to allow you different options for moving the pieces.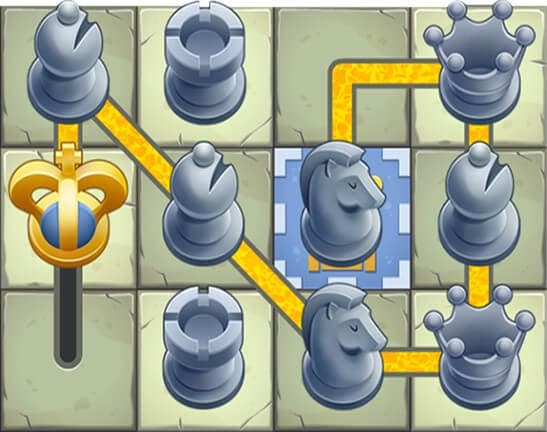 The faster you move the King to the throne, the more points you will get as well as a bonus for the number of moves made, incentivizing fewer moves. If the King moves twice in one turn, the player will receive a double move bonus and points for every tile the King moves on.
FanDuel Faceoff Skill Matching and Opponents
Every time you play one of the different games on the Faceoff app, your score will be logged into your account, which will determine your overall skill level. This skill level is how you will find other opponents to play against; therefore, you will always be playing against other players at the same level so that you won't lose to players much better than you every single time.
The skill-based matchmaking ensures that each player, especially those using real money, is matched up fairly to ensure the competitive nature of the games!
Rules & Scoring
Each game on the Faceoff app has different rules and ways to score; however, the name of the game is to score as many points as possible. No matter your game, you will always need to get a higher score to beat your opponent!
FanDuel Faceoff Banking Methods
The Faceoff app has a few different ways to deposit cash into your account, although less than the FanDuel Sportsbook app. They have five different payment methods that can be used, and they are all effortless to add to your account.
The Faceoff app allows users to use their PayPal account, credit cards, prepaid cards, debit cards, and online bank transfers to add money to their accounts. Deposits will be posted instantly; however, withdrawals take up to 3-5 business days and can only be done through an online bank transfer, Play+ prepaid card, or PayPal.
Can you win real money at FanDuel Faceoff games?
Yes! Users of the Faceoff app can choose to play for money or for free by selecting the type of gameplay they'd like to play. Players essentially bet their entry fees and compete for them in head-to-head competitions for their cash prizes. While there are no regular sportsbook odds, there is a skill-based matchmaking system that allows users to play against other players of the same skill level.
Whoever wins the round when the time runs out is awarded the money, and their skill level goes up, meaning the next player they compete with will be better than the last. Remember, you need to be in one of the 30 legal states to compete for real money on the Faceoff app; if you're located in one of the other 20 non-legal states, you can only play for free.
FanDuel Faceoff App Not Working
There are a few different reasons why the FanDuel app wouldn't be working, and they all stem from technical difficulties with the app itself. One of the main reasons why the app wouldn't work is because of a poor internet connection, resulting in the inability to log in and/or get a match made, so always be sure that you have a strong internet connection when using the betting app.
Other reasons the app might not be working not working could be app maintenance, an issue with your individual app/phone, or because the servers are overloaded. If it is app maintenance, simply wait a bit and try again; however, if the servers are overloaded, you will want to contact the FanDuel group products customer support by going to the website and clicking on the "support" button at the bottom of the screen.
Having an issue with an app on your phone happens all the time (especially if you have an older phone), and the solution is straightforward. If your app just won't open, simply delete FanDuel and redownload it to fix this issue. If that doesn't work, your FanDuel account could be suspended and you should contact customer support.
Verdict
All in all, the Faceoff app is a fun and different experience you're not going to get from another sportsbook like DraftKings or PointsBet. It's one of the most unique forms of online betting that's out there because, unlike sports betting or gambling on an online casino, you're playing a literal game, and you're playing it against other people.
While it's great for online gambling, it's also a ton of fun to just practice and play for free because of its awesome skill-based games. It's also very competitive because of the matchmaking system that matches users to others of a similar skill level, which results in great competition between players!
FanDuel Faceoff FAQs
Where is FanDuel Faceoff available?
The Faceoff app is available to play for money in 30 states across the country and is looking to come to more as laws around the U.S. are changing to allow more forms of online betting. Faceoff is available in the following states:



Alabama


Alaska


Oregon


California


Colorado


Florida


Georgia


Illinois


Indiana


Kansas


Kentucky


Maine


Massachusetts


Minnesota


Mississippi


Nebraska


New Hampshire


New Mexico


New York


North Carolina


North Dakota


Ohio


Oklahoma


Rhode Island


Texas


Utah


Vermont


Virginia


Wisconsin


Wyoming


Is FanDuel Faceoff legal in California?
Yes! Faceoff and the daily fantasy sports apps are the only two FanDuel apps available in California, while the FanDuel Casino and sportsbook are not.
Are apps like FanDuel Faceoff legal in the U.S.?
Yes! The Faceoff app is 100% legal and safe in the United States and operates in legal states through licensing with local state government agencies. It's legal to play for fun in all 50 states; however, it's only available to play for money in 30 states.
What games are available to play on FanDuel Faceoff?
Several fun skill-based games on Faceoff allow users to play against another opponent. The following are all games that can be found on the Faceoff app:



Pat Mcafee's Field Goal Faceoff


Wheel of Fortune


Grand Slam Superstar


Scrabble Cubes


Puzzle Pyramid


Block Trail


King's Crossing


Is there a FanDuel Faceoff app for Android?
Unfortunately, there currently isn't a Faceoff app available for Android users; however, it is being developed and is coming very soon. If you have an Android phone or tablet, visit FanDuel and enter your email to receive more information on when it'll be available in the Google Play Store.

$10 Welcome Bonus For Minimum $10 Deposit
Get Bonus
21+. T&C Apply
21+. T&C Apply