FanDuel Casino launches standalone app for NJ players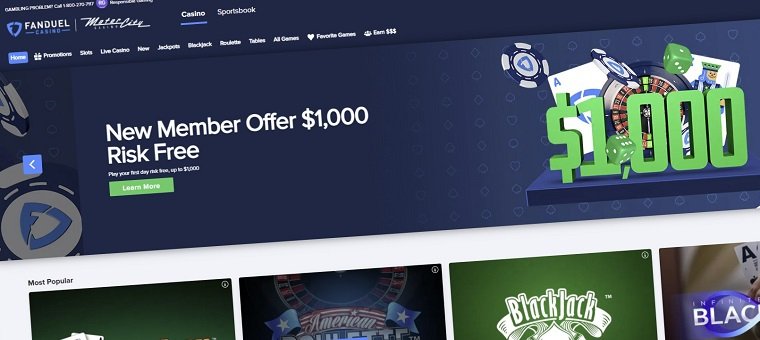 The premium gambling operator FanDuel has launched a new standalone casino app that is available to players in New Jersey.
Previously the app had been bundled alongside the FanDuel Sportsbook but now gets a chance to shine on its own. The new IOS, Android, and desktop application provides a "dedicated online experience" and is already making its mark on players.
The stand-alone app can run alongside the FanDuel sports app and the operator is offering players a chance to try out the games, thanks to a generous risk-free bonus of up to $1,000 at casino.fanduel.com.
FanDuel promised that "players will receive the same customer support, convenience, safety, and security that customers have come to expect from FanDuel while making it secure and simple for customers to cash out winnings." Initially, the app will only be available in NJ on its own, players can still use the FanDuel casino in Pennsylvania, Michigan, and West Virginia, just through the combined sportsbook app. The app will allow players access to the full suite of casino games, including FanDuel slots, live dealer games, jackpot slots, table games, and more.
FanDuel was hot on the heels of Australian-based PointsBet, releasing their app just days after PointsBet unveiled its own standalone casino product. It's evident that PointsBet is strong in the sports betting market but have little experience in the online casino world, unlike FanDuel who has been offering casino gaming for several years.
PointsBet is looking to cross-sell and make switching between their sportsbook and online casino games seamlessly, however, there is still a lot of work to do.

FanDuel's New Jersey Journey
When it comes to New Jersey, FanDuel has had a complicated journey to release the FanDuel online casino app. Initially, the company was not allowed to release one under its own brand as its land-based partner is the Meadowlands Racetrack. Under NJ law FanDuel could only release a sports betting app due to their relationship with the racetrack. Only Atlantic City casinos could originally obtain an online casino license.
This did not stop the forward-thinking FanDuel operator which is owned by British-Irish conglomerate Flutter, which also owns Paddy Power and Betfair, among other brands. Flutter secured a partnership with Golden Nugget AC to offer online casinos under the Betfair brand. The FanDuel Sportsbook app primarily offered an integrated Betfair-branded casino, but there have been several branding changes since then. The Betfair casino was never able to reach the heights of some of its competitors such as Caesars and Harrah's.
In January 2020 FanDuel launched its own casino product for the first time in Pennsylvania, firstly integrated into the sportsbook to be converted into a standalone product in June. Simultaneously the Betfair branding disappeared from the integrated app in NJ.
Flutter this year introduced the Stardust Casino brand which was used to replace the standalone Betfair Casino NJ app. The latest move is the launch of the standalone Fanduel Casino App on the same license.
The importance of these moves is that both FanDuel and Stardust apps (integrated and standalone) all share the same player accounts. So logins for either app are compatible with both platforms. The difference between each online casino app apart from branding and presentation is the game selection, which the company curates separately for each brand's respective audience.
FanDuel Casino Expansion Masks Flutter IPO progress.
Flutter was expected to be one of the latest organizations to split the US operations into an IPO this month. Although never confirmed that July was the go-ahead month for Flutter, it did say that the FanDuel IPO plans are proceeding. But 2 major issues have restricted them.
Firstly, FanDuel CEO Matt King resigned on the 12th of May. King has been attributed to focusing his work upon gaming opportunities for Fanatics, an eCommerce apparel company with a database of 80 million sports fans. Amy Howe has stepped in as interim manager until the company finds a permanent replacement.
The second major hold-up covered up by the FanDuel Casino expansion is Flutter's relationship with Fox. Flutter's media partner, Fox, was supposed to buy an 18.6% equity in FanDuel. However, Fox and Flutter have a disagreement on price which is being battled by the Judicial Arbitration and Mediation Services (JAMS) behind closed doors.
New Jersey Online Casinos Rising
The sports betting market is becoming less lucrative for operators compared to online casino games. Sports betting undoubtedly has a larger presence in the NJ media and with 90% taking place online and the rest occurring in the state's racetracks or at the 9 Atlantic city casinos, its online shift is evident.
However, operators in New Jersey won $107.1 million from online casino games compared to $71.3 million from sports betting. For the year, online casino revenue has been $634.2 million, compared to $368.3 million from sports betting. Among the reasons for this shift is that sports betting is more vulnerable to the occasional "bad beat" for the house when a large amount of action on one side of a wager goes in the consumers' favor.
The online sports betting and online casinos revenues combined in 2021 have accounted for nearly half of the gaming industry's total revenue, with brick-and-mortar casinos accounting for $1.1 billion in that span.
Online poker accounts for $14.9 million of the 2021 revenue. The rest of the online casino gaming numbers are not broken down by the state Division of Gaming Enforcement, but on the retail casino side, $805.3 million came from slot machines and $305.1 million came from table games.
Live Dealers hit Michigan
FanDuel Casino can now offer live dealer offerings in Michigan. Michigan Gaming Control Board authorized Evolution Gaming on July the 22nd to provide live dealer services. The full experience of the casino is at players' fingertips with Black Jack, Roulette, Baccarat, and other fan-favorite slots and casino games available in the state.
Online casinos have been live in Michigan for several months and have proven a welcome addition to the iGaming market in Michigan. There is not a lot of sports happening at the minute which has left operators scrambling for crumbs from players.
For more legal casino and sports betting news across the US, follow us on twitter @Gamble_usa for the latest news and offers.
Relevant news