Online Sports Betting is now live in Florida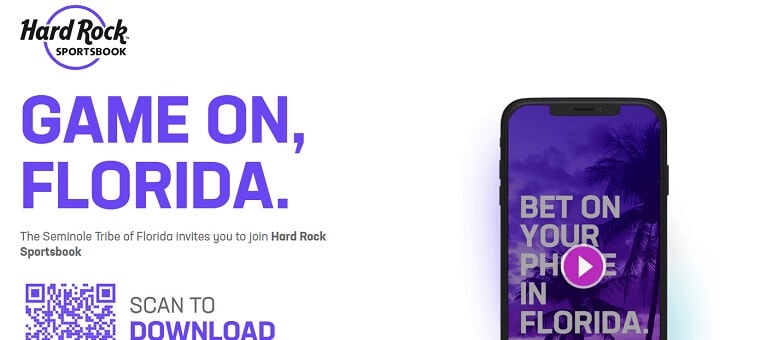 Online Sports Betting Arrives in Florida with Launch of Hard Rock App
The Hard Rock sportsbook launched on Monday, signaling the beginning of online sports betting in Florida. The sportsbook's webpage announced the news with a "Game on, Florida" message, encouraging residents to begin using their mobile devices to place bets. The move came somewhat out of the blue, with the Seminole Tribe flipping announcing the news at hardrocksportsbook.com.
The Seminole Tribe owns the Hard Rock Casino and has now made the move into official online sports wagering.

21+. T&C Apply
21+. T&C Apply
Five pari-mutuel sites in the Sunshine State have joined with the Seminole Tribe as they seek to bring sports wagering to the nation's third-most populous state. Florida sits behind California and Texas in the population stakes, and the launch of online betting in Florida is a significant landmark for the gambling industry in the U.S.
Florida Governor Ron DeSantis agreed to a gaming compact with the tribe in April to allow for sports wagering in the state at various locations. The caveat is all the bets must run through servers on tribal lands.
Florida sports betting was legalized on October 15, but the tribe was delayed in launching its sportsbooks.
In order to legally bet in Florida, you must be at least 21 years of age. Bets can be placed on collegiate and professional athletics. The tribe runs a total of six casinos in Florida.
Legal Obstacles Still Remain
Opponents of the compact have filed numerous cases, claiming that the deal violates both federal and state laws. A suit was filed by two Florida-based casinos in U.S. District Court in the District of Columbia, home to the Department of Interior. The DOI was required to sign off on the compact as it involves tribal lands. Deb Haaland, Secretary of Interior, officially signed off on the compact in August.
The case is due to be heard on Friday. Additionally, there is another case slated for Friday that is not attached to the DOI case. Others who are against the compact argue the agreement violates a 2018 statewide referendum which stated only voters, not the governor or lawmakers, could expand gambling services in the state.
Relevant news