Gamble USA strives to improve your online gambling experience. We aim to help you play safely, make informed decisions when gambling, and increase your betting knowledge through our guides.
We adhere to strict editorial integrity; our content may contain links to products from our licensed & legal US partners.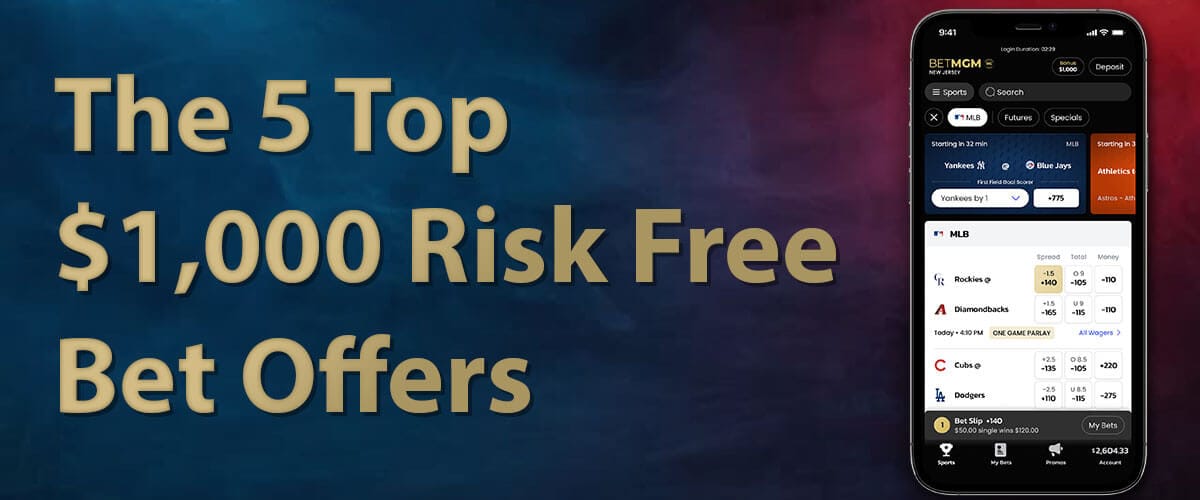 As competition heats up among US sportsbooks, operators are throwing more crazy promotions at players to get them to join over a rival. One of the best examples of these is a $1,000 Risk-Free Bet.
With the rise in popularity of online sports betting in the US, online sportsbooks offer several bonuses and promotions to encourage bettors to sign-up. These bonuses often appear in different formats like free play, but one of the most prominent is risk-free bets. If you are looking to kick off your online gambling experience or searching for a new operator, free bets are an excellent way to begin, especially when they can be worth a good chunk of change. Risk-free sportsbook bets vary in the amount they are worth. You will typically see online sportsbook sites offering sports bettors $500-risk-free bets to entice them to their platform. What could be better than a risk-free bet worth up to $500? How about a $1,000 risk free bet?
One of the most generous offers available is a $1,000 risk-free bet. Some sportsbooks may refer to their welcome bonus or ongoing promotions as different things, but essentially a risk-free bet and a free bet are the same. Using a risk-free bet worth up to $1,000 means if your first wager loses, the operator will refund you up to the value of $1,000. Betting sites offering 1000 risk-free bets are becoming more frequent.
This article covers how risk-free bets can differ, the most appealing $1,000 risk-free bet offers available and if they require sportsbook promo codes, and how to decide the best one for you.
Best $1,000 Risk-Free Bets
As we have mentioned, as well as providing standard promotions such as an odds boost or excellent live betting options, most online sportsbooks provide generous bonuses. For example, if you have a Barstool sportsbook promo code you can get your 1000 risk free bet to wager on events like the NBA playoff and the Champions League. We have listed the online sportsbooks below that offer fantastic wagering options in addition to a superb promo bonus of $1,000 in free bets.
Top 4 $1,000 Risk-Free Bets
#1 BetMGM Sportsbook – $1,000 Risk Free Bet
BetMGM is the sister company of MGM Resorts International, which has been a leading brand in the US gambling industry for over 30 years. In a joint venture with UK gambling operator GVC Holdings, they launched the BetMGM Sportsbook app in New Jersey in 2018 and have since gone on to launch in over 12 states. You can also use the $1000 free bet on the BetMGM app. In addition to daily odds boosts and a range of types of bets, such as parlay bets, new players can take advantage of a risk-free bet worth $1,000. See below for your BetMGM bonus code.
Use the BetMGM promo code GAMBLEUSA to get instant access to this generous offer. Just place your initial deposit as a new customer, and load up those wagers on the bet slip.
Claim now at betmgm.com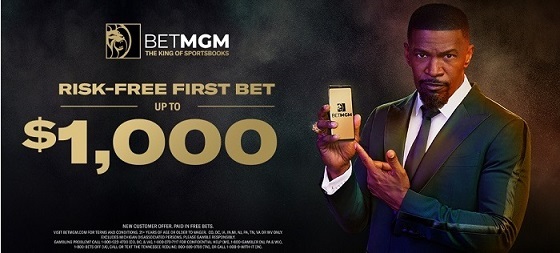 #2 DraftKings Sportsbook – $1,000 Risk-Free Bet
Like the FanDuel online sportsbook, DraftKings is among the most popular sports betting brands in the US. The company is known for its daily fantasy sports contests and now has an excellent DraftKings sportsbook app and online platform offering several betting options. If you like a niche sport, DraftKings has you covered with a wide range of betting markets from the NFL to table tennis. New players will be rewarded with a deposit bonus worth up to $1,000. As soon as you make your real money deposit, the operator will credit your account with $1,000. There may be some restrictions to be aware of. For example, the bonus may not be used for a same game parlay. However, it is still a fantastic offer for any sports bettor. There is no need to use a DraftKings Sportsbook Promo Code, just sign up and register an account to claim.
Claim now at sportsbook.draftkings.com
#3 FanDuel Sportsbook – $1,000 Risk-Free Bet
The FanDuel sportsbook app has grown to become one of the mark-leaders, and it isn't hard to see why. Anyone who signs up for a FanDuel sportsbook account can claim a FanDuel $1000 risk-free bet. Whether you are using FanDuel Illinois, FanDuel Arizona or FanDuel New York, you can use this bonus to bet on the Boston Celtics in the NBA finals or any other prominent sport. This bonus is reserved for new users and is one of the highest bonuses in the industry. The lack of playthrough requirements makes this offer so generous, and you can withdraw your winnings instantly if you wish. Use our links to claim this offer today with no FanDuel 1000 promo code needed.
If a FanDuel sportsbook promo code is ever required for this offer, we will update this page. Currently, there is no FanDuel promo code needed, and you also don't need to search for FanDuel $1000 risk-free bet Reddit to get your hands on this offer.
Claim now at fanduel.com/sportsbook

#4 PointsBet Sportsbook -$2,000 Risk-Free Bet Bonus
PointsBet is a name that has been etched into gambling in the US. The company started offering online sports betting in NJ and has since gone on to launch in over 7 states. New customers signing up to the book can claim a $2,000 matched risk-free bet when using the promo code GUSA. OK, so it's not a $1,000 bonus, it's even bigger! This means if you are an NBA fan, you can bet on the Golden State Warriors, New York Knicks, or even how many three-pointers you think Jayson Tatum will score.
Sign up is quick and easy and PointsBet covers a great range of markets and sports including football, baseball, basketball, ice hockey, and loads more.
Claim now at pointsbet.com
Free bets are fantastic for most purposes; however, any risk-free bet offered by licensed US Sportsbooks is not completely risk-free. Despite a lot of players believing the term 'risk-free' is too good to be true, some sports wagering options are better than others. How valuable a first bet that carries less risk depends on how you will be refunded if the bet loses. For example, if you register at the Barstool sportsbook and claim the Barstool risk-free bet, but the refund is given in increments as site credit rather than all at once, you may decide to place your sports wagers elsewhere.
Some punters prefer risk-free wagers over no deposit bonuses or matched deposit offers as it gives them a second chance if they lose on their initial bet and removes any pressure they may feel. It reassures people to see the bet value instantly refunded in their sportsbook account.
How does a $1,000 Risk-Free Bet work?
Several online sportsbooks offer risk-free bets as sign-up promotions. They are among the most popular bonus offers for bettors who are about to place their first sports wager in the US market. Essentially, they are opening sportsbook bonus offers to welcome new players. When a user places a sports bet and wins, they have won money that will be added to their account, with no strings attached. However, if the bet fails, the operator will refund the customer in the form of "bonus cash," site credit, or a "free bet to be for bets at the sportsbook.
Risk-free bets will appear in different amounts, usually ranging from $100 all the way up to $2,000 on various US sports betting sites. There will be terms and conditions attached to these offers, so you can't bet up, and there will also be playthrough requirements before you place your first wager.

Example of using a $1,000 Risk-Free Bet
Let's look at an example of using a risk-free bet. Your registration at a sportsbook has been verified, and you are ready to make your first deposit. You plan to bet on the Dallas Cowboys at -110. If the bet wins, you will get $955 (the original $500 bet plus the $455 in winnings) transferred to your account, which is eligible for withdrawal.
You might then decide to bet on the Bulls +5 at -110. If the wager wins, your account will show $500. You will not get the $500 stake from the "free bet" back as you would in the situation if the bet won and you had $955 in your account. This means by losing the Cowboys bet and winning the Bulls bet, in this example, you end up down $44.025 from your original deposit.
You will find that many betting sites will offer a bonus bet on significant sporting events such as the Super Bowl. Whether you have a bonus offer from BetMGM New Jersey or a deposit match offer, always read the terms and conditions before playing.
Strategy for $1,000 Risk-Free Bets
There is one way you can 'beat' these offers, so you are benefitting from a genuinely risk-free profit. To do this, you must do some research comparing the lines between different sportsbooks in the hope of finding an arbitrage situation where you can wager on both sides of the bet and guarantee that you will win.
These are difficult to find, but you may encounter another sports betting site offering a promotion or "odds boost" on an event or game that you can take advantage of if you do your research.
The best strategy for these types of offers can be broken down as the below:
Bet as much as the offer allows. In this case, $1,000 (if you feel comfortable wagering that amount).
Don't wager any more than the maximum when using the offer (make another bet if you wish to wager more).
Choose the type of bet you are using the offer on wisely. Even though it is risk-free, it is always nice to win.
Try something new and bet on something you wouldn't normally. There is no risk, so it's a good chance to branch out.
Use different operators. This way, you can claim several $1,000 risk-free bet offers.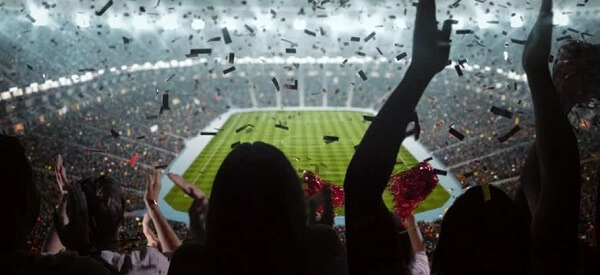 Choose more than one Risk-Free Betting Site
You might be choosing between BetMGM New York or FanDuel NY about where to play. However, when choosing between risk-free betting offers, you should select the site that offers the best odds on the bet that you are looking to place.
For example, if you wanted to bet on the Cincinnati Bengal's moneyline against the Los Angeles Rams in Super Bowl LVI, you should find the site with the most favorable odds. Some sportsbooks might have the Bengals at +450, while another site with a risk-free bonus may offer the Bengals at +500. If you wager $200 on the Bengals and they win, by using the book with the best odds, you will claim $1,000 instead of $900.
Additionally, another reason you should do some shopping when looking for the best risk-free offers is to place multiple risk-free bets in order to make the most of your edge from all of the risk-free betting promos. If you place multiple longshot risk-free bets, you will likely have a big win eventually.
How to sign up to claim Risk-Free Bets Online
How you register for a risk-free bet depends on the app. In general, the below steps apply to enable you to get a risk-free bet:
Create an account: To register for an account, you must enter some personal information. To verify your identity, an online sportsbook might need a photo of your ID.
Opt-In: Some sports betting apps require you to opt-in for your risk-free bet or welcome bonus.
Place your wager: Your first bet will be the bet that counts toward the risk-free bet promotion.
Claim your winnings: If you win, your account will be credited with the funds.
Use your free bet: If you lose, you will usually have seven days to use your free bet.
Withdraw: If you like using the app, always keep some money in it, but you can withdraw some of your winnings to use for other bonus bet offers.
Advantages of Risk-Free Betting
When you start your online betting journey, you will have lots of sports betting apps to choose from. The sports betting bonuses each app offers will be a crucial factor in choosing which site to join. Risk-free bets are among the most generous in the betting market, let's take a look at the benefits they provide.
Excellent for bets you feel good about
Sometimes, bettors find a wager that they feel really confident about that they stake more money than usual on. A $1,000 risk-free bet would be great in this case as your risk is mediated if you are betting more than usual.
Boost your bankroll
if you don't have much of a bankroll before placing your qualifying bet, wagering with a risk-free bet offer could significantly increase your bankroll. If your first bet wins, then you could have a large profit. If it loses, you could potentially win big on the free bet you get as part of the bonus.
Customer-friendly
Even if you are completely new to betting and haven't got a clue what a prop bet is, you can make money from risk-free bets because of the math involved. Online sports betting sites aren't expecting a short-term profit on risk-free bet promos. Sportsbooks offer risk-free bets as a way to get customers on their app to keep them engaged, so long-term you will give your money back to the sportsbook. As always, whether you are playing on the FanDuel Michigan site, FoxBET, or any other platform, whenever you come across a 1000 risk-free bet, always read the terms and conditions.
Where can I legally place Risk-Free Bets?
If you find a 1000 risk-free bet, it is vital that you are in a state where online sportsbooks are legal to operate. The current states with legal sports betting apps are below
Arizona
Colorado
Connecticut
Delaware
Illinois
Indiana
Iowa
Kansas
Louisiana
Maryland
Michigan
Mississippi
Nevada
New Jersey
New York
Ohio
Pennsylvania
Tennessee
Virginia
Washington D.C. (D.C)
West Virginia
Wyoming
You will find betting sites offering 1000 risk-free bets in the states above. Some sites, such as the BetMGM sportsbook or the Barstool sportsbook may require a bonus code to claim your offer.
Typically, you will be able to use your offer on most markets playing on sportsbooks in the above states. You can wager on an NFL week game, whether that be Monday Night Football or Thursday Night Football. All your favorite NFL teams, from the Denver Broncos to the Detroit Lions and the Philadelphia Eagles will have markets available on them.
Terms & Conditions
Bonuses at most online sportsbooks come with various wagering requirements and T&Cs for their risk-free bet offers. You must pay attention to the fine print before handing over cash to the site. Site credit and free bets come with expiry dates, so make sure you don't lose them before they expire. Ultimately, using a $1,000 risk-free bet is a fantastic way to begin your betting experience with a new operator. If you win, brilliant. If you lose your bet, you're covered.
What is Risk Free Matched Betting?
A lot of risk free bets offered by US sports betting sites are 'matches', which appear as deposit match bonuses or risk-free match bets. With a match bet offer, the sportsbook gives you the cash equivalent of your first deposit amount, with a maximum value set.
For example, the PlaySugarHouse sportsbook has a 100% deposit match worth up to $250. Consequently, if you deposit the maximum of $250 you will receive another $250 in your account.