Gamble USA strives to improve your online gambling experience. We aim to help you play safely, make informed decisions when gambling, and increase your betting knowledge through our guides.
We adhere to strict editorial integrity; our content may contain links to products from our licensed & legal US partners.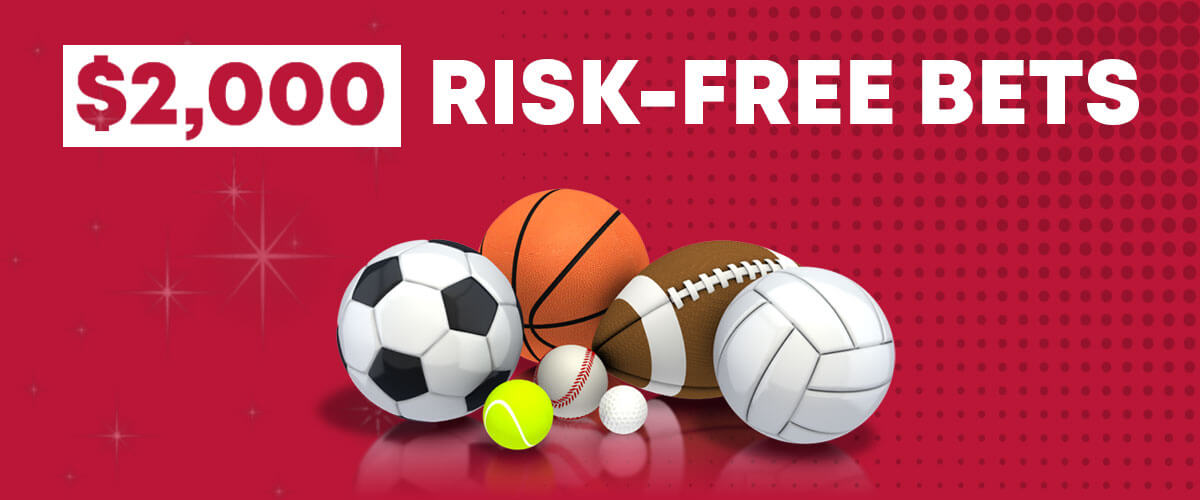 Even the best sports bettors don't always win, but sportsbooks have come up with a tempting way to ease the sting of losing. It's called risk-free bets.
All sportsbooks are continually seeking new customers and therefore go all-out to reel you in with attractive sounding sign-up bonuses. The best type of offer is the traditional welcome bonus that matches your initial deposit dollar for dollar, but good luck finding it. Unfortunately, traditional 100% deposit match bonuses for new customers at sports betting sites in the US have become as rare as items actually costing a dollar at dollar stores. Instead, the overwhelming majority of sportsbooks now offer their first-time bettors a risk-free bet.
This article will answer any questions you may have but have been afraid to ask about what a risk-free bet is and is not and which are the best offers of the bunch. Most importantly, are risk-free bets really risk-free, as they are hyped up to be, or is there more than meets the eye in the form of possible hidden costs?
Have you ever wondered why many sportsbooks will gladly set much higher maximum bets for these offers than for bonus money given as a deposit match? Risk-free bets up to $1,000 or even higher are common. One sportsbook, PointsBet, offers its new customers risk-free bets up to $2,000!
Promo Code: GUSA
5 x $50 Second Chance Bets
21+. T&C Apply
21+. T&C Apply
Promo code: GUSA
Multiple bet types
Huge range of sports & markets
Promo Code: GUSA
5 x $50 Second Chance Bets
21+. T&C Apply
21+. T&C Apply
How is this possible? Obviously, sportsbooks would not make these fantastic-sounding offers if they didn't benefit their own bottom line. In reality, most offers for risk-free bets, with a few exceptions, are of little or no benefit to the bettor but very good for the sportsbook. Later in this article, we will show you how to eliminate the risk associated with so-called "risk-free" betting. But be forewarned that using these methods successfully takes considerable skill.
What are Risk-Free Bets?
If you are a new customer signing up with an online sportsbook for the first time, shouldn't you receive bonus cash just for joining, depositing, and making a bet, win or lose? But when the bonus offer is a risk-free bet, unless you lose your opening bet, the sportsbook has nothing extra for you.
A risk-free bet works in a simple manner. You place your first bet and if you win it, the money is yours to keep. If your bet loses, the sportsbook will provide you the same amount to place another bet. If your second bet wins, the profit is yours to keep and the free bet value is voided.
Most players use risk-free bets to take risks, and the $2,000 risk-free bet provides a unique proposition – bet $2,000 on the odds of your choosing aiming sky high! But that's not all there is to risk-free bets.
Risk-Free Bets. vs. Other Sportsbook Offers for New Users
DraftKings Sportsbook lets you choose from several welcome offers. One of them is the type of offer that most online sportsbooks don't make anymore, a deposit match bonus up to $1,000. Apart from the high cap, what makes this offer great is that the bonus is not contingent on losing. You can also bet it on one game or multiple games, as you wish. What is not so great is that the deposit match is only for 20 percent, not 100 percent, and it comes with hefty wagering requirements. In order to get the maximum bonus of $1,000, you would need to deposit $5,000, which is a lot more than many sports bettors can afford. Alternatively, a bettor can start with a much smaller deposit such as $100, but then the bonus would be only $20.
bet365 Sportsbook has a better deal. All new users who deposit $10 or more only have to bet $1 – win or lose – to receive $200 as a site credit to use for free bets. Again, it is entirely up to the bettor whether to place the entire free bet on one game or divide it up. Unlike with a deposit match bonus, only the winnings from the free bets, not the cost of the bets, are cashable, but even so, this is a fantastic offer. Yes, a $200 bonus may seem small compared to a $1,000 bonus, but, in this case, anything you win with it is pure profit, and the only possible risk to your own bankroll is $1.00.
Why the term "Risk-Free" is a Misnomer
Risk-free bets are not the same as free bets because the sportsbook will only extend the offer if the qualifying bet loses. Then, depending on the online sportsbook, your "reward" will be either in the form of a site credit in the same amount to use as you choose or a single bet.  Either way, assuming the amount of money you are down initially also includes a surcharge or vig (typically 10% for football and basketball games) and your attempt to recoup is at the same odds, the best you can do is win most of your money back. You still won't break even, let alone make a profit.
For example, let's say you bet $1,000 on the Dallas Cowboys at -3 and lose. Then, for your second wager, but this time with the sportsbook's money, you pick the Philadelphia Eagles at -6 and win. Because you are not betting $1,000 to win $1,000 but $1,000 to win only $909 and you only get paid your winnings from the bet, not the cost of your bet, you are still down by $91. Of course, there is no guarantee that you will win your second bet. You could lose that too, and be down by $2000.
FanDuel No Sweat First Bet and BetRivers 2nd Chance Bet
Rather than use the term "risk-free bets" for these types of offers, FanDuel Sportsbook calls its offer for players making their first wager "No Sweat First Bet," and "BetRivers Sportsbook calls its offer for new players "2nd Chance Bet." These are more accurate descriptions that do not mislead the bettor into thinking that the offer is risk-free when it really isn't.
Does Any Legal Sportsbook Offer $2,000 Risk-Free Bet Value?
The upper limit on how large you can make your initial bet to receive a free bet or a site credit in the same amount from the sportsbook if the first bet loses varies with the individual sportsbook. But, to our knowledge, no legal sports betting site in the US has a higher risk-free bet ceiling than PointsBet Sportsbook.
The PointsBet new account offer is unique not only because no other online sportsbook matches its offer of up to $2,000 in risk-free bets, but also because it is based on the outcomes of two risk-free bets.
This offer is not available in every state that offers PointsBet Sportsbook. In addition, you have to use a special PointsBet promo code (see the next section) to access it.
First, you will be invited to make a traditional bet such as a point spread or moneyline bet with fixed odds. If that bet loses, you then get a second chance with another fixed odds bet in the same amount.
In addition, you can make another cash wager in the form of a PointsBet up to $1,500, and if the PointsBetting wager loses, you get a second chance with another PointsBet in the same amount.
The reason why the sportsbook is willing to cover a bigger amount with a PointsBet is that this type of wager is riskier. The actual amount you win or lose not only depends on the bet size but also on how many points the team you backed wins or loses by.
PointsBet $2,000 Risk-Free Bet Promo Code
If you simply log into the site, you might see a different welcome offer instead of this one. This is a special offer, and the only way to access it is with a valid PointsBet $2,000 risk-free bet promo code.
GUSA is the PointsBet $2,000 risk-free bet promo code that currently works, exclusive to users who sign-up through our page links.
The offer is not currently available in Louisiana or New York, but it is available at PointsBet Sportsbook in other states.
Alternatively, if you do not want to access this PointsBet promo code offer for two risk-free bets, PointsBet has another offer that you might even prefer for five risk-free bets up to $500.
Create a new PointsBet account using the promo code WELCOME. Place a fixed odds bet each day for five consecutive days. Each day that your first fixed odds cash bet loses, you will receive the full amount back up to $100 as a second chance free bet.
Promo Code: GUSA
5 x $50 Second Chance Bets
21+. T&C Apply
21+. T&C Apply
Promo code: GUSA
Multiple bet types
Huge range of sports & markets
Promo Code: GUSA
5 x $50 Second Chance Bets
21+. T&C Apply
21+. T&C Apply
How Does The $2,000 Risk-Free Bet Bonus Work?
Many US sportsbooks offer a risk-free first bet, but PointsBet is unique in not only offering all new players two risk-free bets but extending the offer for two very different types of bets.
In fact, PointsBet is the only licensed sportsbook in the country which accepts the exciting alternative to fixed odds betting known as PointsBetting. It makes sense that PointsBet Sportsbook has chosen to make this different betting format part of its welcome offer to introduce it to new users.
How Astute PointsBetting Can Give You More Bang for Your Buck Than Fixed Odds Bets
On fixed odds moneyline bets, your only concern is whether the team you select wins or loses outright. The margin of the win or loss is immaterial. On fixed odds point spread bets, the margin of victory or loss does matter but only insofar as whether the team you bet on won or lost to the point spread.
For example, in the NBA, if the Sixers are favored by 2 over the Bucks, as long as they win by 3 or more, they cover the spread and any bet on them is a winner and any bet against them is a loser. If they win by 20 points, the result for the bettor is no different than if they only win by 3 points.
However, with a PointsBet wager, every point counts. For every point by which your team beats the point spread, you win 1x your bet, and conversely, for every point by which your team loses to the point spread, you lose 1x your bet. In other words, the more you are right, the more you win, and the more you are wrong, the more you lose.
PointsBetting is a very exciting form of wagering, even for casual sports fans. But the downside is the extra risk. That's why getting a second chance if your first bet loses is a very attractive offer. If on your second chance, you are not only right but right by a bigger margin than you were wrong on your first bet, you will even wind up with a profit!
Restrictions and Rules with $2,000 Risk-Free Bets
This offer is unique to PointsBet Sportsbook and only open to new PointsBet account holders who have not claimed any other PointsBet promotions. Qualifying wagers can include either pregame or live betting in accepted betting markets, and no minimum odds requirements are specified.
However, the following types of wagers are excluded:
Free bets
Voided bets
Odds boosts
If your cash bet wins, pushes, or gets canceled, no free bet will be awarded. All free bets issued from this promotion are valid for seven days only.
You can use your free bets credits either on a single wager or on up to four equal size wagers. If you win, you are only paid the winnings, not the cost of the bet.
Strategies to Make Money with $2,000 Risk-Free Bet Offers
Risk-free bets are not designed to make a profit for anybody except the sportsbook offering them. Even though sports bettors who win their opening bet forfeit the offer, it is still the best outcome. You are ahead of the game from the get-go, and there is no better way than that to jumpstart your betting bankroll.
But let's say you lose your first bet instead and qualify for the risk-free bet offer. As we explained earlier, the best you can do with most of these offers is get most of your money back. It is virtually impossible with fixed odds risk-free bets to get all of your money back or make a profit. On the other hand, it is possible to make a profit with a risk-free PointsBetting offer, but there is no guarantee.
Two Winning Strategies
The only way to guarantee that you make a profit from a risk-free bet offer is to do the following. Open an account at a sportsbook offering risk-free bets to new customers and then look for another sportsbook offering boosted odds on the opposite side of the same game.
If you can bet the underdog at the new sportsbook and the favorite at the other sportsbook at the same odds, you are a guaranteed winner no matter what happens. And if your losing bet was at the sportsbook that you just joined, you get a free bet to boot!
However, these kinds of situations don't occur often. Also, if you want to bet the maximum amount possible to be eligible for the risk-free bet offer, the sportsbook offering the odds boost might not allow you to bet that much.
Alternatively, and with much less effort on your part, you can try the following approach. Make a qualifying point spread bet at the sportsbook you have just joined on a team you think has little chance of beating the spread. Then bet on the opposite side at the same betting line in reverse (i.e., +10 on the dog at the new sportsbook and -10 on the favorite at the other sportsbook).
The worst that can happen is that the team you thought had virtually no chance to beat the spread does beat the spread, but you are still only out the vig. But if your prediction is right and you lose your bet at the new sportsbook, even though you still lose the vig, you gain a free bet.
States Where This Bonus is Available
PointsBet is the only licensed sportsbook in the US where this bonus offer is currently available.
PointsBet Sportsbook is currently available in the following states:
However, there are at least two PointsBet sites – Louisiana and New York – where the $2,000 risk-free bets offer is not currently available.
PointsBet Sportsbook legal states are expected to open further soon, starting with several states this year. It remains to be seen whether or not their offers for new customers will include this bonus.
In any case, you will only be able to access this offer with a valid PointsBet promo code and even then, the offer may not be available indefinitely.
Are There Better Sports Betting Offers?
Yes, although these offers are rare, sports betting offers that award first-time users with a deposit match bonus equal to their first deposit or a free bet equal to their first cash bet, regardless of whether it wins or loses, are better.
Risk-free bet offers have two fundamental weaknesses. The first is that they do nothing whatsoever for sports bettors who win their first wager. The second shortcoming is that contrary to the hype, they are not risk-free. In most instances, if you lose your first bet, the best you can hope for is to get back most of it, and in the worst-case scenario, you lose the second chance bet, too.
The welcome offer we mentioned at bet365 Sportsbook where you bet one dollar of your own money and, win or lose, receive $200 in free bets is far superior. WynnBET Sportsbook also has an excellent welcome offer. Bet $100 or more on a single straight bet or parlay at odds of -120 or greater and, win or lose, receive both a $50 free sports bet and $50 as site credit to use in the casino.
Apart from the fact that neither of these offers is contingent on losing the initial cash bet, another great feature is that the initial cash wager is small enough so virtually anyone can handle it.
DraftKings Sportsbook is a betting site to keep checking frequently for the most opportune time to join because many of their special promotions are only available for a short time before they are discontinued and replaced by other promotions. Forget the skimpy 20% deposit match bonus for new customers and say yes to a much better welcome offer like the following.
Bet at least $5 on any pregame moneyline, and if you win, receive $150 in free bets!
This is an interesting twist on the risk-free bonus where instead of requiring you to lose your first bet to qualify, you have to win it. Then you can win your free bets, too. The sportsbook has nothing extra for you if you lose your first bet, but if you only lose $5, it is no big deal.
Hurry because DraftKings Sportsbook promo codes tend to change often. But even if you are too late, you can probably count on DraftKings to make another worthwhile offer.
What About The $5,000 Risk-Free Bets on DraftKings?
DraftKings and BetMGM were two of the three US operators playing around with their offers. It seems as now they are settled on the following:
DraftKings – 20% deposit match up to $1,000

BetMGM

– $1,000 risk-free bet
Rest betting sites offer low value free bets or risk-free bets stretching up to $500 and $1,000. The above three brands did, at some point, offer $2,500, $3,000, and even $5,000 risk-free bets to new players.
Such offers were higher than the currently top-notch $2,000 risk-free bet, but they are not available anymore.
Redeeming and Using A $2,000 Risk-Free Bet Offer
If you decide to redeem and use the PointsBet Sportsbook $2,000 risk-free bet offer or any other risk-free bet offer, make sure you fully understand all of the terms and conditions. If anything is not completely clear, contact customer support before you accept the offer and make your first real money wager.
If you are tempted to bet the maximum (i.e., $2,000) another thing to which you need to give serious thought is whether this is a wager that you can comfortably afford. Keep in mind, that these offers are not risk-free, and you could find yourself behind a significant sum of money. Even if you escape from the offer relatively unscathed, after betting $2,000, if that is many times your ordinary bet, are you going to be content to return to a much smaller size wager? Probably not.
After considering the above, getting the offer is as simple as visiting PointsBet from this page, registering a new sportsbook account, and entering the promo code GUSA when you first deposit.
Summary
Contrary to what the sportsbooks want you to believe, most introductory offers for so-called risk-free bets today are not good money-making propositions. Better bonus offers are available, especially those that include free bets that are not contingent on losing your initial wager first.
Most US bettors tend to prefer $2,000 risk-free bets simply because they like to risk much in order to get much. PointsBet is the only sports betting app where you can try this strategy today, but you should do so with care.