Looking to kick off your sports betting with a new operator? Then a $500 Risk-free bet provides bettors with the option to place a wager without having to risk losing any money.
Risk-free bets appear in several different formats, and although they are excellent for most purposes, any risk-free bet offered by licensed US Sportsbooks is not entirely risk-free. Despite many believing the term 'risk-free' is too good to be true, some sports bet options are better than others. How good a risk-free first bet typically comes down to how a losing wager will be refunded.
One of the most generous sports betting or online casino offers is a $500 free bet or a bet $500 risk-free. A risk free bet promotion is an excellent bonus for new and experienced bettors. Some sportsbooks may call their offers different things, but essentially a risk-free bet and a free bet are the same. Using a risk-free bet worth up to $500 means that if your first bet loses, the operator will refund you up to the value of $500. This is basically the same as a free $500 bet.
Some punters prefer risk-free bet offers over matched betting promotions because it gives them a second chance if the opening bet loses and removes any pressure they may feel. Sport is unpredictable by its nature, so having access to a free bet or deposit bonus can give you a second chance without losing money.
This page covers how risk-free bets can differ, the best 500 risk free-bet offers with sportsbook promo codes, and how to determine which are the best for you.
Risk Free-Bets Worth $500
Not all operators offer a 500 risk free bet. Some offer less, some offer more. Offers usually come in all shapes and sizes, but these sportsbooks listed below offer the best $500 risk-free bets:
WynnBET: New customers to WynnBET will receive a Risk-Free Bet of Up To $1,000. WynnBet is now available in New York, meaning New Yorkers can use the bonus money to wager on significant events like the Stanley Cup Final, the NBA finals or the Super Bowl.
Unibet Sports: Another operator offering $500 risk-free to all new customers is Unibet sportsbook. You can claim thits offer on Unibet PA, Unibet Virginia or on the online sportsbook in New Jersey. There is no Unibet promo code required to claim this offer. Click to open a Unibet account to qualify.
bet365 Sportsbook: Well known for offering excellent signup offers, all new players to bet365 sports can claim a $500 bonus – risk-free too! There is no bonus code required.
Betfred Sports: One of the newest sports betting operators to hit the US market, Join Betfred sportsbook and get a 500 risk-free bet offer.
FOX Bet: The FOX Bet sportsbook offers a $500 sign-up bonus with no Fox Bet promo code required. Players can use this offer on their favorite events, such as the NBA finals on teams like the Golden State Warriors and the Boston Celtics.
There are other well-known sportsbooks such as the Caesars sportsbook, PointsBet sportsbook, BetMGM sportsbook, and FanDuel sportsbook that offer generous sportsbook bonuses for any sports bettor who is eligible.
All of the above offers can be used via the regular desktop site or apps for those who prefer mobile wagering.
How Does a $500 Risk-Free Bet Work?
Numerous online sports betting sites offer risk-free bets as sign-up promotions. They are arguably the most popular bonus offer in the US market for bettors who are about to make their first sports bet. Essentially, they are first-time sportsbook bonus offers to give to new players. When a new customer places a sports wager, and it wins, they have won some money with no strings attached. However, if the bet loses, the sportsbook will give them their money back in the form of "bonus cash," site credit, or a "free bet to be for bets at the sportsbook. The amounts of free bets will typically be equivalent to a customer's first bet at the sportsbook.

Risk-free bets will come in different amounts, typically ranging from $100 all the way up to $2,000 on sports betting sites such as William Hill US. Some terms and conditions come with these offers, so you won't be able to bet up, and there will be requirements before you place your first bet.
There is no need to visit Atlantic City to use your risk free bet. Features such as live betting and live streaming are available at your fingertips on betting apps. Using mobile is a very popular betting option as you can wager on the move.
Example Of Using a $500 Risk-Free Bet
Let's take a look at an example. You have just signed up for the sportsbook of your choice and are ready to make your first deposit. You plan to wager on the Seahawks at -110. If you win, you will get $955 (the original $500 bet plus the $455 in winnings) added to your account, which will be available for withdrawal. The beneficial aspect of the bonus comes in if you lose. You won't have any money in your account but will have a $500 free bet to use. The free bet cannot be converted into real money.
You might then decide to bet on the Lakers +5 at -110. If the wager is successful, your account will show $500. You will not receive the $500 stake from the "free bet" back as you would in the scenario where the bet won, and you had $955 in your account. So by losing the Seahawks bet and winning the Lakers bet, in this example, you end up down $44.025 from your original deposit.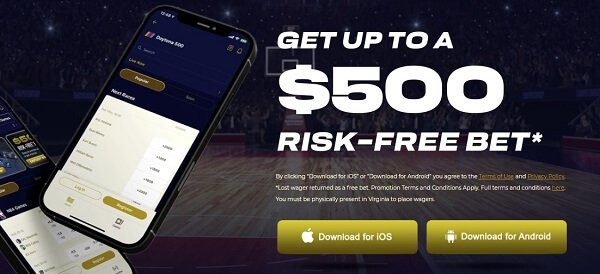 Strategy For 500 Risk-Free Bets
You can 'beat' these offers only one way, so you are getting a genuinely risk-free profit. To do this, you must carry out some research by comparing the lines between competing sportsbooks in the hope of finding an arbitrage situation where you can bet both sides of a wager and guarantee that you will win.
These are not easy to find, but you may find another sports betting site offering a promotion or "odds boost" on a game that you can take advantage of if you look hard enough.
For instance; Let's say you are a new customer at DraftKings Sportsbook and are about to place your first bet. You are also simultaneously looking around other sportsbooks for "booster" bets, and you discover a site that is "boosting" the 49ers moneyline spread game against the Packers. Instead of being -200 moneyline favorites, which is the 49ers at most sportsbooks, the boost comes into play and makes the 49ers +150 to win. However, at DraftKings, the Packers are also +150 to win. So now you decide to bet your $500 on the Packers at +150 at DraftKings, and then wager $500 on the 49ers at the boosted +150 odds. This makes it a truly risk-free bet.
If the Packers win, you have just collected $250 because the +150 bet ensured you made a nice $750 profit at this sportsbook. You may have lost a $500 49ers bet at the other sportsbook, but that is what made this wager risk-free; you couldn't lose.
So to sum up, if you are using a 500 free bet:
Bet as much as the risk-free bet allows. In this case, $500 (if you feel comfortable wagering that amount)
Don't bet any more than the maximum when claiming the offer (make another bet if you wish to wager more)
Choose your bet wisely. At the end of the day, it will be risk-free but it's always nice to win.
Bet on something you wouldn't normally. As the bet will be risk-free, it's a good chance to try a new market
Use a few operators. This way you can claim several 500 risk-free bet offers.
Terms & Conditions
Online sportsbooks offer various wagering requirements and T&Cs for their risk-free bet offers. It is vital you pay attention to the fine print before handing over cash to the website. Site credit and free bets come with expiry dates, so if you don't lose them within the stated timeframe, you will lose them. overall, using a 500 risk-free bet is a great way to kickstart your betting with a new online operator. If you win, all good. If you lose your bet, you're covered.