Green Bay Packers at New York Giants Betting Preview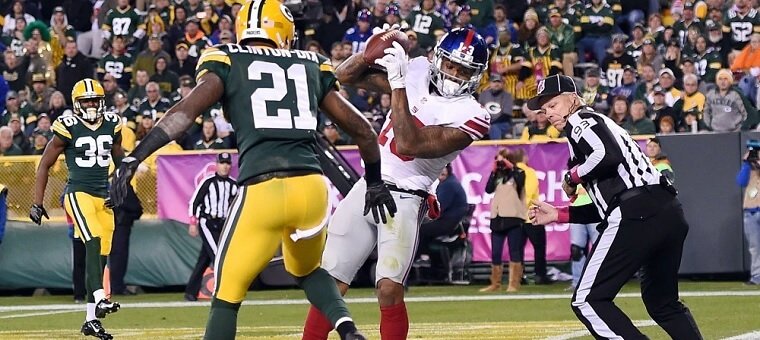 It is the week of Thanksgiving across the country, and that means one thing: football. It's rivalry weekend in college, and there are a number of great NFL games starting Thursday and going all through the weekend.
Game time: Sunday, November 12th @ 1:00pm
We just watched the Green Bay Packers get owned and dominated on Sunday night against the San Francisco 49ers, and this might have solidified the hierarchy in the NFC.
Be that as it may, Green Bay will get a chance to bounce back this next weekend against a far easier opponent in the New York Giants.
The Giants are reeling and are 2-9 on the season even after benching Eli Manning early on this season. Let's break down the matchup between the two teams.
What's Wrong With Saquon?
Last year, the Giants weren't very good, and they have not been able to turn that around this season. Their biggest bright spot was drafting running back Saquon Barkley and watching him flourish into a once-in-a-generation player.
The magic has been gone this year, granted Barkley sat out a couple of games due to injury, but even since his return, Barkley has failed to get going.
I love watching Barkley play, and any time he touches the ball, he has a chance to break away for an explosive touchdown. Something seems to be missing this season.
As far as rookie seasons go, Daniel Jones has definitely been above average in play. Many predicted him to flame out immediately as the experts were scratching their heads on draft night after the Giants' selection.
There aren't a whole lot of bright spots for the Giants, and they will have their work cut out for them with Green Bay coming into town.
The Packers Cannot Be A Super Bowl Contender
Green Bay has a great record, but it is an incomplete football team. We thought the Packers' defense was improved this year, but that might have been misleading after getting gashed by the 49ers.
Aaron Rodgers' play has been exceptional, but he hasn't been at the level that we are used to with him. The MVP form that is coming out of Russell Wilson and Lamar Jackson is exactly what the Packers are missing to be a legitimate title contender.
It's hard to count Rodgers out of anything, but the Packers are incomplete across the board. Their offensive line is injured again, and their (supposed to be) star receiver Davante Adams caught his first touchdown of the season on Sunday.
Adams has been injured, but the point still stands. Aaron Jones has been the most consistent player on either side of the ball, but even he was completely swallowed up by San Francisco's defense after getting behind early.
With all the gaping holes in this roster and an injured offensive line, it is hard to trust that Green Bay will be able to make much noise in the playoffs.
The Packers might even lose their first-round bye, as the 49ers now own the tiebreaker against them, and New Orleans has been a better team all season long.
Betting Preview
With all of the Packers' woes, the good news is they have a relatively easy schedule moving forward the rest of the way.
It starts this weekend with the Giants on the road, but they are almost full touchdown favorites in this game at -6.5.
The Giants have one chance in this game, and that is if Barkley can go crazy. If Barkley can open up easier passing lanes for Jones, there could be a potential upset in the works.
Still, I don't buy it, and I'm taking the Packers in this one. Lock it in!
Be sure to check back for more Free NFL & NCAA Football picks and why not follow us over on Twitter whilst your here@Gamble_usa
Relevant news