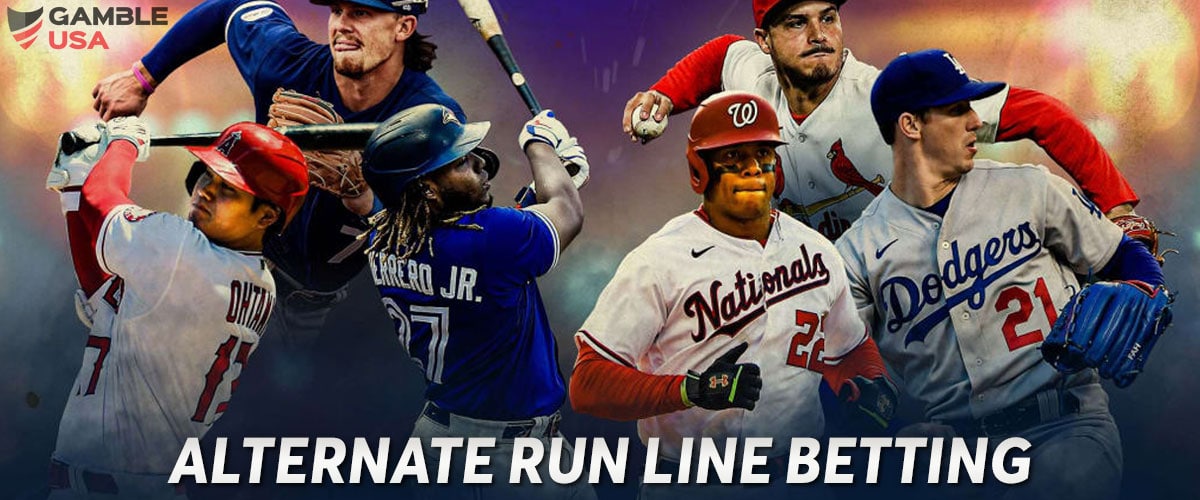 In the hunt for added value, many of America's most savviest bettors will explore alternate lines when looking to find their perfect MLB bet. And that's not the only sport where betting on alternate lines is a great idea.
See how this bet works below to correctly utilize it when the opportunity appears.
What is An Alternate Run Line in Betting?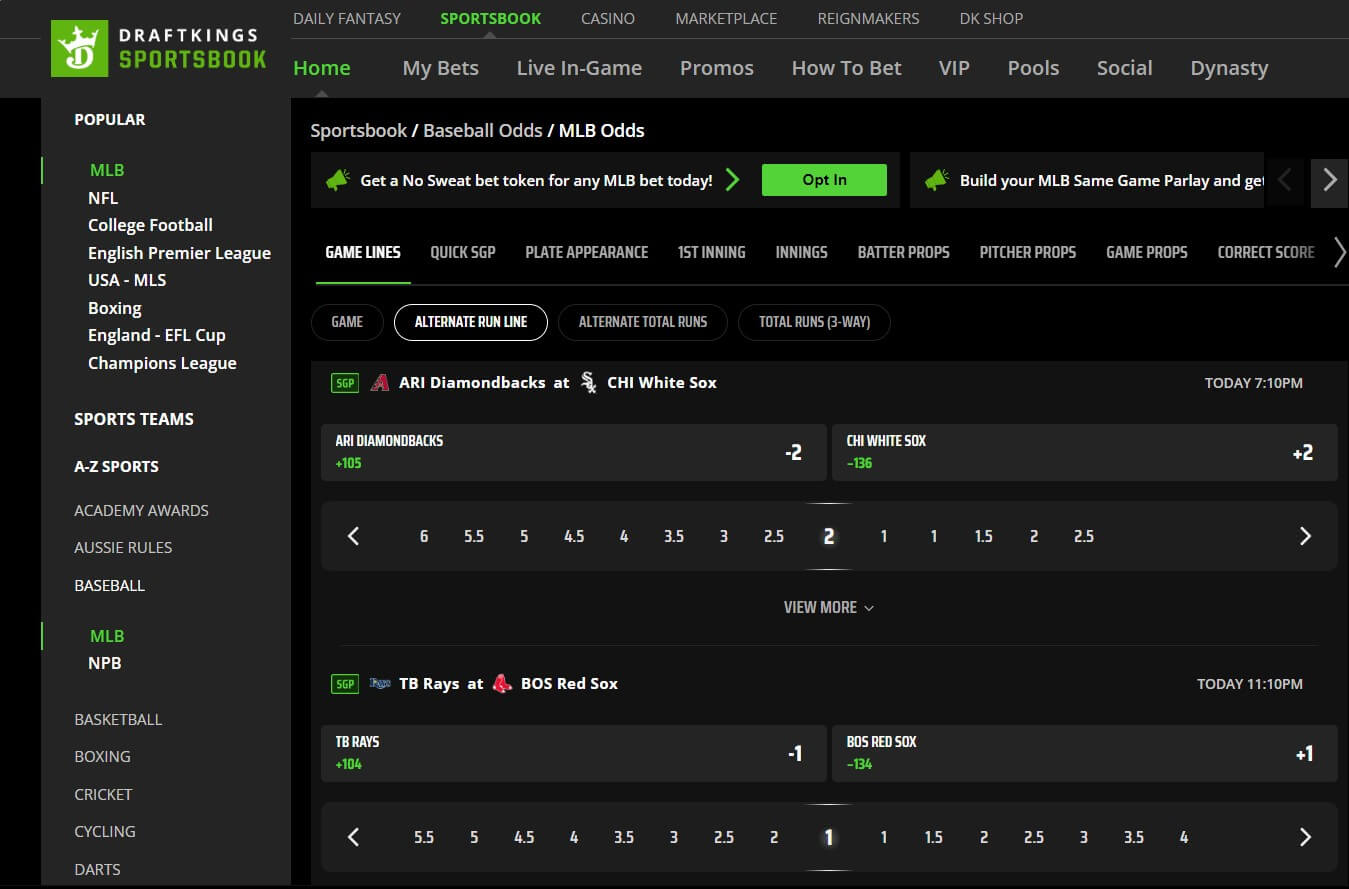 Commonly found across all of America's most popular sports – the NFL, NBA, MLB and NHL, an alternate line bet looks beyond the standard spread or run line that is immediately offered by sportsbooks.
In an alternate line bet, a bettor will look to back another point or run spread that differs from this main line. In most cases this bet will be placed at greater odds than the main line.
Alternate Run Line Football Betting Example
Let's assume the Kansas City Chiefs are playing the LA Chargers. As the favorites, the Chiefs will open the line as the favorites and may open on the main point spread as -3.5 favorites.
Whilst many may see that as an attractive bet, there will be some bettors who will believe that even greater value can be found, and will start looking at alternate spread options.
Sportsbooks such as DraftKings and FanDuel will offer a huge variety of different spread options for you to explore.
You may have great faith that Patrick Mahomes and his crew could go out there and put on a clinic. Rather than take the -3.5, you may feel that backing the Chiefs at -10.5 might be a better bet. Taking the Chiefs at -10.5, rather than the advertised -3.5, is a prime example of alternate point betting and would see the bettor net much bigger returns as opposed to backing the main line.
MLB Alternate Run Line Betting Example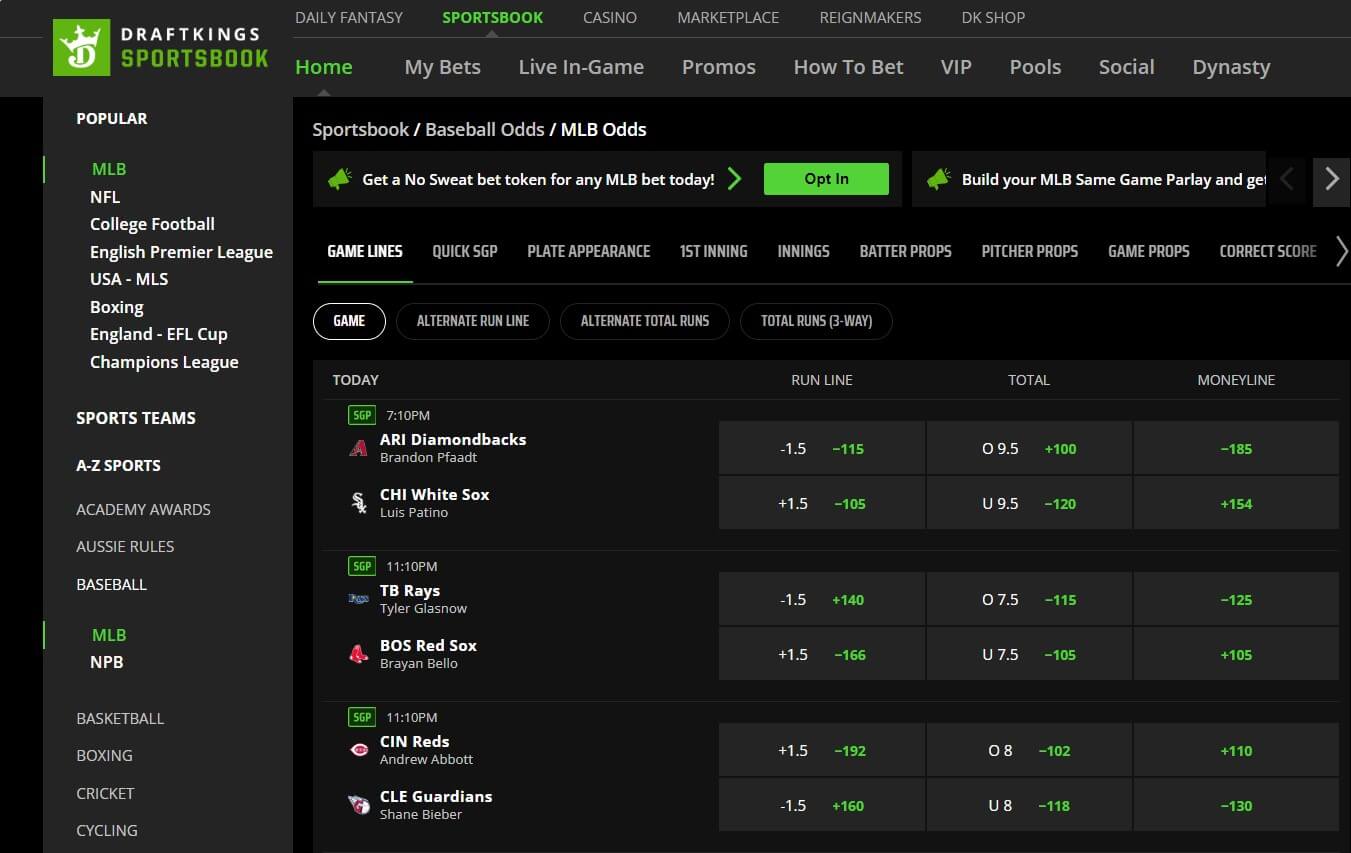 The same logic can be applied when looking to place an alternate run line in baseball.
Let's take an example of the Cincinnati Reds facing off against the Pittsburgh Pirates. The Reds are favored and open up on the main runline at -1.5. You may feel that the Reds may be able to win by a greater margin and therefore an attractive alternate line could be backing them at -3.5.
However, an alternate run line can also work in the opposite direction. You may feel that there could be better value than backing the Pirates at their opening line of +1.5. If you fancied them to actually win the game, you could back them on an alternate run line at -1 and receive much greater odds.
Alternate Run Line vs Baseball Run Line
When trying to distinguish between the alternate run line and the main run line that will appear across MLB betting matches, it's important to remember that one specific run line will be presented by sportsbooks.
This line is interpreted as the main line and if you are looking to find alternate lines you will have to do some browsing. Normally there is an alternate spread button that will accompany each baseball game. By clicking on this button, you should then be able to see all of the other potential alternative lines that you can bet on.
Alternate Run Line Betting Strategy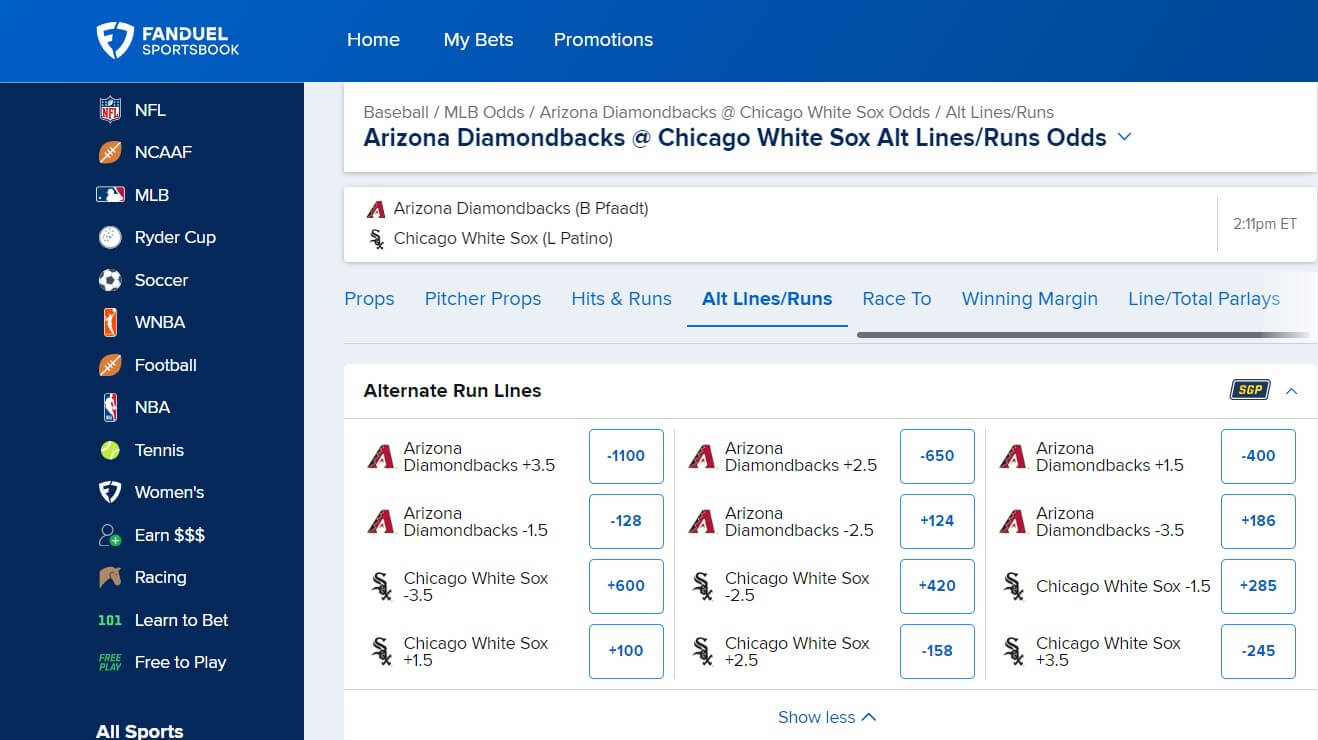 Betting on MLB games can often be hard, but there are different strategies that you could look to employ when looking to bet against a standard MLB run line.
One of the main strategies that bettors look for when assessing MLB run lines is whether they believe the underdog is under priced. If a bettor feels that a team at a +1.5 run line could actually win the game, or certainly make it closer than the majority of the betting public believe, this could be a great time to back an alternate line. By working the run spread in an opposite direction, some terrific value can be found and can often leave you experiencing some real value.
Data and Major League Baseball go hand in hand. Looking at data such as head to heads, or a pitcher's recent record could help you decide whether you should look for an alternative to the main betting line.
It could also be worth tracking your bets. If you place bets on a certain team or teams within a particular division, it might be worth seeing how often those teams cover against the spread. By seeing how successful a team is against a spread could help you greatly when looking at any alternative run lines.
Assessing the main run line. If you are a MLB connoisseur you may have a feeling about how a game may play out. There are occasions where a run line may open higher or lower than you originally believed. If you feel the sportsbook or betting public have got the line wrong, trust your gut and play the alternative.
How to Place an Alternate Run Line Bet Online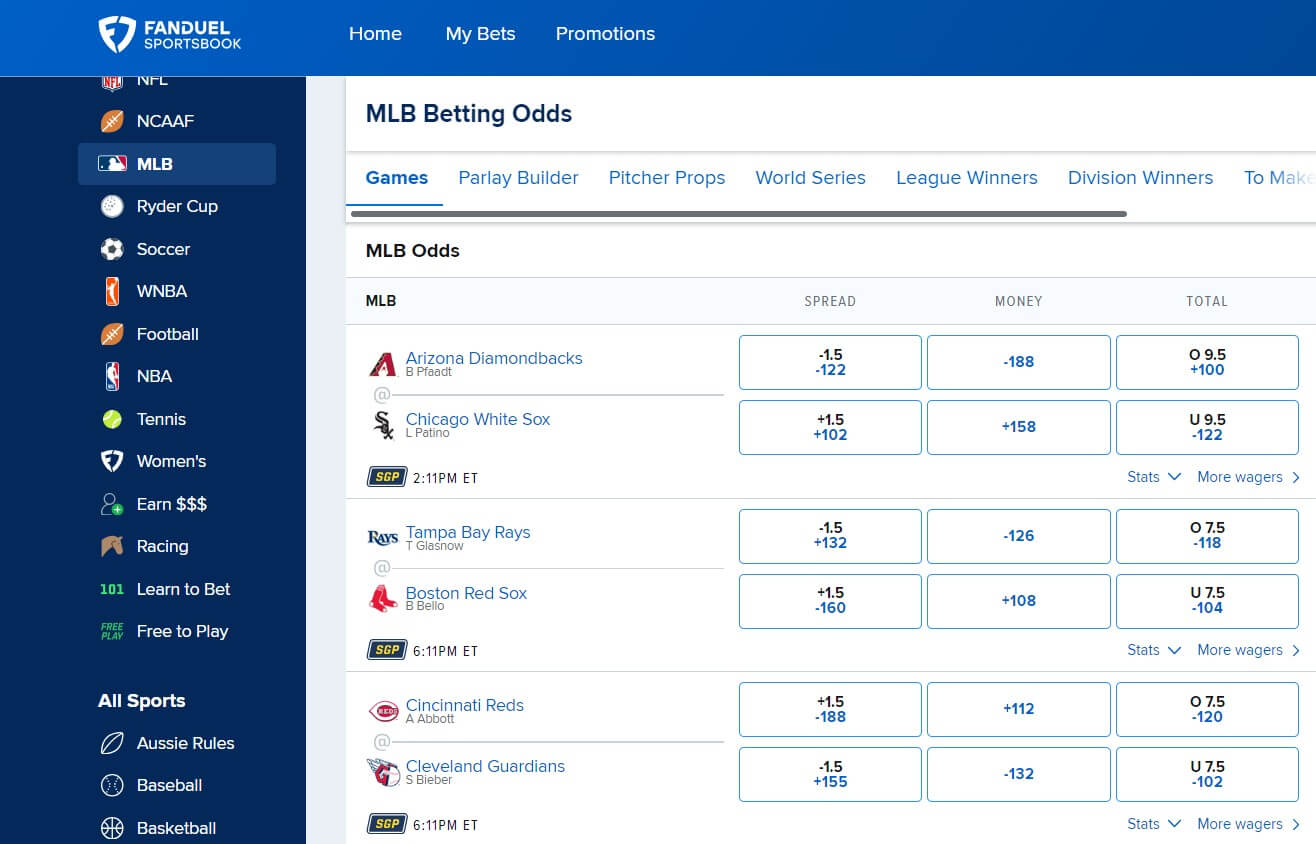 As we have already stated at the top of this guide, placing a bet on an alternate run line can be commonly placed across all of America's most popular sports. With alternate run lines increasing in popularity, both DraftKings and FanDuel make betting an alternative run line incredibly easy.
When finding your MLB or NFL game of choice, you will see one clear run line. If you don't feel that the main line is offering up some good value, located next to this main line should be an 'Alternate run line' or 'Alternate spread' button.
By clicking on this button, you should see a whole host of different run or point spread options. Often presented in a simple and engaging way, you can easily view and browse different spreads and see what prices they return. If one of these new alternate lines look desirable, you just need to click on the odds and the bet should be applied straight into your betting slip. It's really as easy as that!
Best Alternate Run Line Apps
The above list includes sportsbooks offering alternate run line bets on all popular American sports, including Baseball, Football, Basketball, and Hockey. The terminology for each market can vary from one betting app to the next but if you have read our guide you should be good to go.
Don't forget to use our links when signing up to add some insurance to your first attempt on alternate run line bets.
Alternate Run Line Calculator
New and sophisticated betting tools are being developed all of the time, and one tool that bettors often turn to are run line calculators.
A '-1 Run Calculator' is commonly applied across baseball and looks at calculating a team's outright odds and run line odds. By combining the odds and spreading your stake, the hope is that this will yield more profit.
Let's say you have $100 to stake and want to bet on the New York Yankees. The Yankees are priced at +145 on the -1.5 run line, and -120 on the moneyline. To create your own '-1 Run Line', you would wager on the moneyline to win the amount that you stake on the -1.5 Run line.
Simply put, to create the -1 line, you would wager $54 to win $45 on the moneyline at -120, and $45 on the -1.5 run line to win $65. This would result in you making a small profit across the lines.
If you are using a calculator, you just need to enter the run line and the alternative run line odds to get the exact values you must bet to end up with some profit.
Other Baseball Betting Guides
MLB betting is continuing to soar in popularity not just in America, but all over the world. With a whole plethora of bets able to be placed, there are some popular betting guides that you can explore to help you find the perfect baseball bet. Now that you understand how alternate run line bets work, you might want to learn more about: