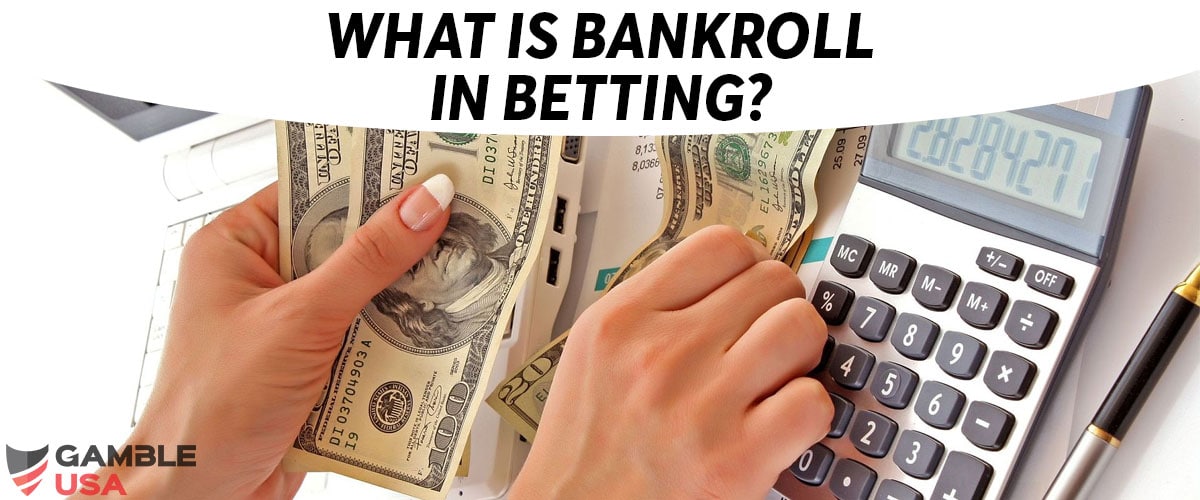 No matter the sport that you're betting on, bankroll management is one of the most important practices of any successful sports bettor. You need to have a strong grasp of a proper bankroll management strategy and use it to place all your bets.
If you're just getting started on the scene, you need to become familiar with the terms and learn how to make the most of your budget. For experienced sports bettors, the need for a bankroll management system is crucial for long-term profits as you minimize the risk of consistently betting.
Let's take a look at our expert breakdown.
What Is Bankroll Explained
Your bankroll is basically your sports betting budget.
The term can differ between professional sports bettors as some opt for a monthly bankroll management strategy while others would simply go with a large deposit and work with a percentage model until the funds have dried up.
No matter the way the word is used, the concept remains the same; it's the additional cash that you can afford to lose and deposit into your sports betting account.
Bankroll in Betting NFL Example
Let's imagine you're a new NFL bettor making your way into the online gambling scene. If you're committed to trying a few different bets on a few different games, then a larger initial deposit will always have higher rewards from the welcome bonus. If you don't have much to put into sports betting, you should just deposit the amount that you expect to use for the month ahead, let's say $1,000.
Now that you have your funds ready and available, you're going to have to do some calculations. Professional bettors usually place bets anywhere between 1% and 5% of their total bankroll. Since you're a newbie to the game, we'd recommend going to the lower side of that scale, so a 1% bet of $10. Check out the potential winnings below.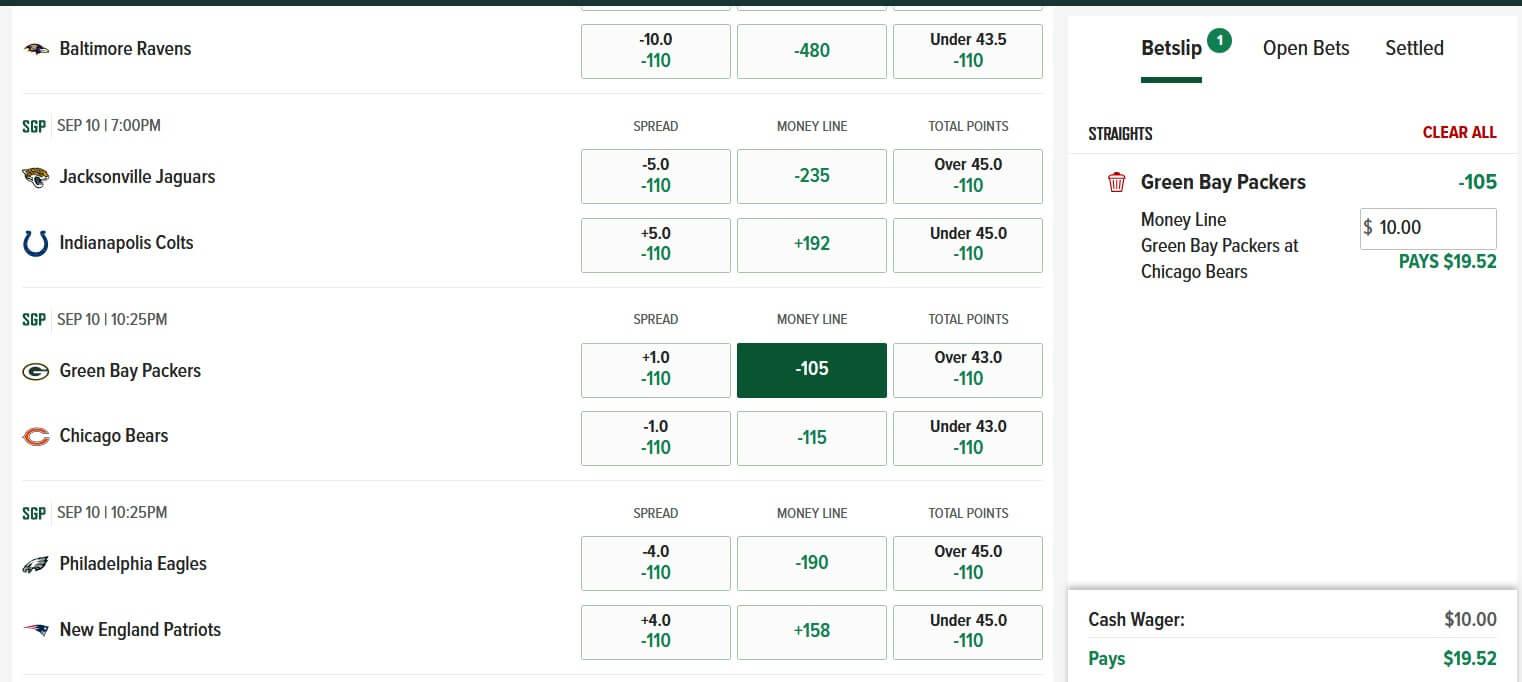 While it might not seem like a lot compared to your total bankroll, the $19.52 winnings will eventually rack up to allow even bigger bets to be placed. After 20 successful bets, you'd have won $220 profit but don't expect to be that lucky!
Proper bankroll management minimizes the risk on your total funds but it also means that your winnings will not be massive each time you bet.
Why Bankroll is Important in Betting
The reason all professionals use bankroll management is because of the dangers of gambling. The nature of the industry has and always will be addictive; it's very easy to think the next bet will be your big bet. If you're doing this with a large amount of money each time, it's going to eventually run out. By limiting your bets to the percentage model, you will need to be seriously unlucky to run out of funds.
Your wins will be small but over time your bankroll will increase and consequently, the bet amounts will increase too. This allows sports bets to eventually become profitable, even with a 51% win rate over time.
Calculating Your Betting Bankroll
It's a difficult decision to calculate your starting bankroll but it's important to have a limit set. Welcome bonuses usually cater to high rollers while others can't really afford to risk all of that money, so don't get drawn into the rewards unless you can afford it.
You need to take a look at your income and expenses each month to see just how much you can afford to lose.
By delaying your start by a month, you'll have solid figures to work with. Take a look at your budget and decide on a percentage of your additional cash that you'll deposit. We recommend an amount less than 50% of your additional cash so that you still have some wiggle room if it's a tight month.
What Your Bankroll Should Be In Sports Betting
No matter the amount you decide on, your bankroll should be enough to at least take advantage of the sportsbook welcome bonus. It's an offer you'll only get once.
You should also have enough so that those percentage bets can start showing some meaningful growth. Say you have $50 at the end of each month that's disposable income, by depositing a starting bankroll of $500, you'd have to lose 10 straight bets in a month before that additional $50 each month doesn't cover your losses.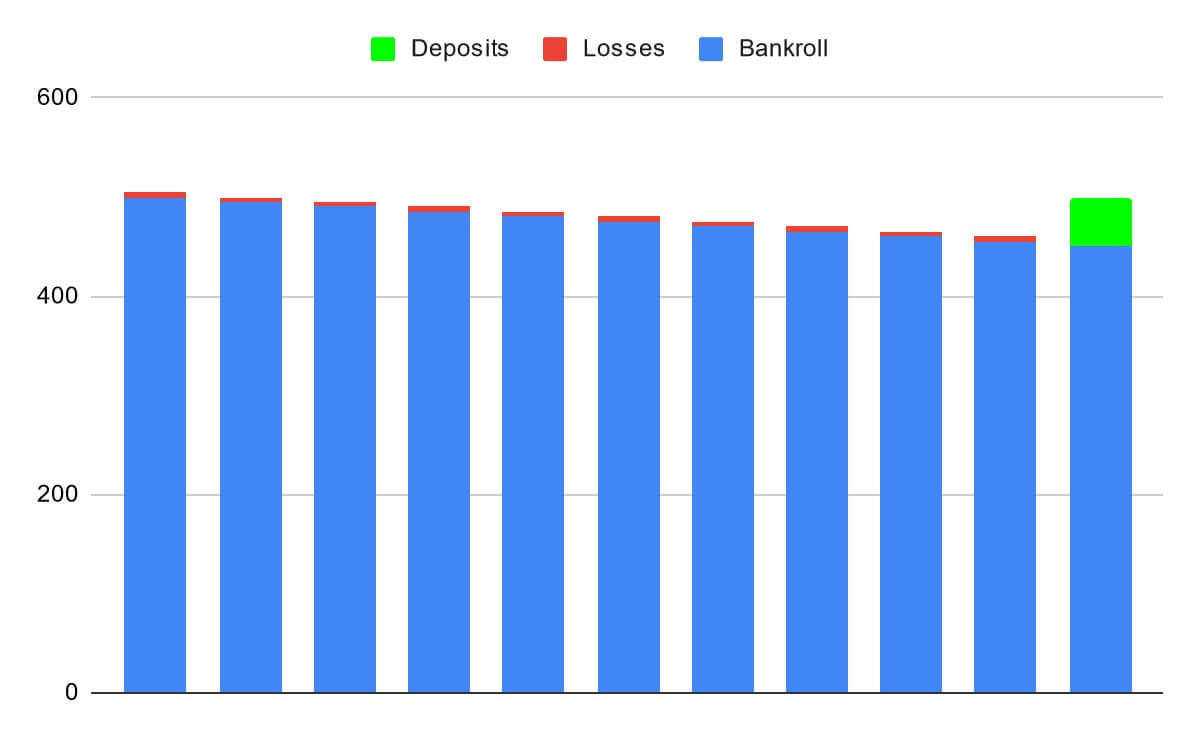 If you have a bit more to spare, then never go over the welcome bonus amount. Take full advantage of the offer and deposit any additional cash with another reputable sportsbook to also use their welcome promotion.
How Much Of Your Bankroll Should You Bet
To decide on what portion of your bankroll to bet each time, you need to adopt a sports betting strategy that focuses on the betting option you've chosen and a percentage-based bet size of your bankroll. Let's take the below options as an example.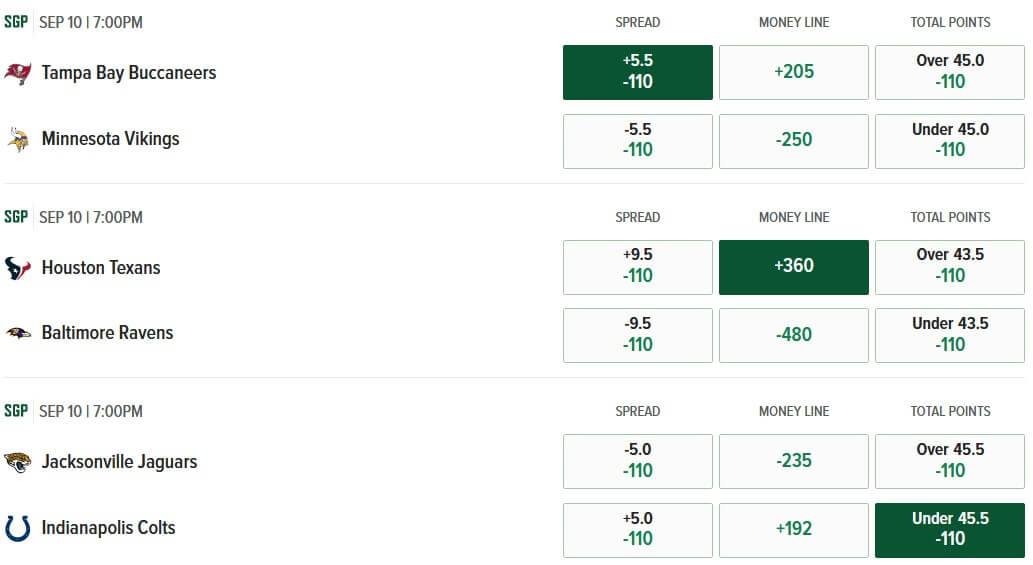 Two of the options have odds of -110 and a reasonable chance of winning. Here you can decide on your percentage amount, between 1% and 5% of your bankroll. Assuming you've deposited $1,000, let's settle on a bet of $20 on each, which could win $38.18 each as well.
The money line option between the Texans and Ravens is a bit of a longshot but you've got a good feeling about it. Don't play against the odds! Instead of your standard bet amount ($20), choose a smaller amount that would reward a standard bet's winnings. $8 would get you the same winnings as the other two bets and in the unfortunate event that the favorite wins, you haven't lost the standard bet amount.
Tips To Build Bankroll In Betting
There's no definite approach to sports betting bankroll management that's always going to have you on the up. You can only adopt some useful techniques to increase your chances of placing a winning bet.
Research the matches: Any gambler with a key bit of information will always have the upperhand against the opposition. Research the teams that are lining up to play and use your knowledge to identify key areas between the two. This will always give you an edge while you're sports betting.
Form a steady stream of specific information: While you're researching, you'll quickly come to realize that there are experts on the scene who have a solid opinion on team and player performance. Keep up to date with their predictions and if they are accurate, follow every source of information you can that's provided by these experts.

Look for value bets: A final tip to guide you would be the search for value bets. Sportsbook platforms differ significantly and you might find that a specific option has a better payout at one site than the others. Find your bet and then browse through all the platforms to see who's got the best deal for you.
Bankroll Management Tips and Strategies
With your account value steadily increasing, you're going to need some bankroll management strategies to ensure that you don't fall victim to the dangers of sports betting.
Place limits
Most sportsbook platforms allow their customers to limit their accounts in terms of deposits and spending. These options can be over any period of time that you choose and it just helps to eliminate the temptation of overspending. If your bankroll continues to grow, you can always change the limits at a later stage.
Set deposits and bet amounts
With your deposits limited, you're also going to have to define the amount you can deposit and how frequently you can afford to make them. This will always be a personal decision, just make sure that you're not using any cash that you need.
Stick to your standard bet percentage! Don't ever go over the 1% to 5% threshold, take your wins where you can but there's no use in the strategy if you're going to get drawn into overbetting now and then.
Betting Deposit and Withdrawal Basics
While you're interacting with the sportsbook platform, you'll find yourself visiting the payment portal page quite frequently. To manage your bankroll, try and make one deposit a month by using a method that has zero transaction fees.
You'll also want to limit your withdrawals to the point of necessity, you don't want to be paying those processing fees each time and you'll hopefully have an increasing bankroll which means an increasing bet size.
Typically all deposits are instant so you won't be missing out on upcoming bets. The least amount sportsbooks accept for deposits is $10, and the same tends to apply for withdrawals. To get started, you can use cards, bank accounts, eWallets, prepaid cards, and other options.
Conclusion
This brings us to the end of our sports betting bankroll management guide. You should have a solid understanding of what the term means and just how you can go about using your bankroll to place safe and calculated sports bets.
The concept has been around for ages and all professional sports bettors use it to minimize risk while still being able to make a steady profit. Use our tips and strategies to incorporate them into your game and practice the discipline of sticking to your limits. If all goes well, the betting system should pay off in the long term.