Gamble USA strives to improve your online gambling experience. We aim to help you play safely, make informed decisions when gambling, and increase your betting knowledge through our guides.
We adhere to strict editorial integrity; our content may contain links to products from our licensed & legal US partners.
FanDuel is one of the most well-known US sportsbook sites available. The FanDuel platform is now available in over 18 states, as sports betting continues to spread across the United States. However, if you are new to betting, you may wonder which types of bets are the best to make some money quickly.
Initially known for its daily fantasy football contests with tournament entries and multiple lineups alongside DraftKings sportsbook, FanDuel is now a fully-fledged sportsbook offering numerous different types of bets in addition to their fantasy sports options. You have probably noticed all of the FanDuel adverts and promos and thought, I want to get in on that action, but I have no idea what skill level is required or which type of wager to start with. Well, don't worry, as we've got you covered.
The best sites in the sports wagering industry offer several betting options incorporating all of the significant leagues, including the NFL, NBA, MLB, and NHL. There have never been more options for sports bettors, with the types of bets you can place more diverse than ever.
FanDuel ensures it provides its customers with all of the significant bet types, including some unique options for specific events. FanDuel offers excellent opportunities for new and existing customers alike. You can also win on the move by using the FanDuel sportsbook app and watching events unfold via the live streaming service.
However, before we get into live betting and other more advanced options, you might not know the basic bet types, and using your own money gambling might seem intimidating at first. So, let's take a dive into the many wagering options available at FanDuel, starting with the best options for beginners. Think of this as a comprehensive strategy guide for anybody looking to make some money long-term with the FanDuel sportsbook.
No Sweat First Bet Up To $1,000
21+. T&C Apply
21+. T&C Apply
Convenient banking
Massive choice of sports
Best FanDuel Bets for Beginners – Low-Risk
Whether you are using your risk-free bet to wager on the NFL or NBA, you want to give yourself a chance to win. This means choosing the FanDuel basic bet types for beginners as you ease yourself into the wagering experience. All of the types of wagers can seem enticing, but if you are just beginning your journey, the bets below are the ones you should focus on. If you have no idea how to set them, check out our guide on how to bet on FanDuel sportsbook, detailing the process step by step.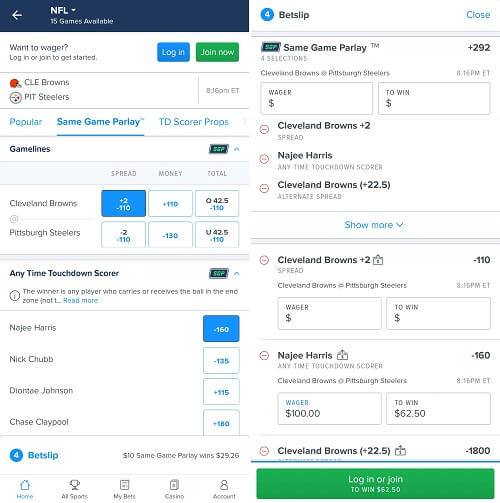 FanDuel Sportsbook Moneyline Bets
This is the most straightforward wager to make when getting started with any sport, especially the NFL and NBA. This is the best bet to ease you into the action and get you started on the FanDuel app. With a moneyline, you are betting on one side to win a contest. The most vital thing to understand is the plus/minus format, which conveys how much money you can win on the underdog with a $100 bet and how much you need to bet on the favorite to win $100.
Let's look at some NFL odds as an example. Say the Seattle Seahawks are playing the Detroit Lions, and the Seahawks are favorites with a FanDuel moneyline of -500. This means you must bet $500 to win $100 if the Seahawks win. Now let's say the Lions are the underdog at +350. This means you collect $350 for every $100 wagered. In any moneyline wager, the minus sign is how much it will cost you to win $100, while the plus sign is how much you win with a $100 bet.
The underdog will always have long odds, so you may be inclined to bet on them if you want a higher payout.
Game Total
These are also known as over/under. Game totals are fun to wager on because you either back for or against points, and there is no need to worry about which team is winning or how close the game is. However, although the risk is low, this can still be slightly more tricky than you might expect. Everybody wants to wager over. Naturally, we all want to see a game with lots of action and points as sports fans. With fantasy football so popular in the NFL, it can be easy to get tricked into thinking that all numbers are easy to achieve. For example, if you see a great QB like Tom Brady on the field, you will instantly think the total will go over.
However, there are numerous factors to consider when betting a FanDuel over/under and one of those factors is how well-known a team or player is. There will always be more happening on a game involving the Chiefs than there is on a game featuring the Jaguars. Sportsbooks take this into account when putting together their lines.
With that said, the total is still a fun, low-risk type of bet ideal for newbies as you are only predicting whether points will go above or below a certain line.
Futures
A futures bet does what it says on the tin: A bet on something coming up in the future. They are good for new players as they allow you to look into the future in the hopes of securing a large payout. Additionally, they are not complicated. For example, if you feel the Green Bay Packers will win the Super Bowl before the regular season even begins, simply place a futures bet on that outcome.
These bets are typically offered on big individual awards like the Heisman Trophy, season-long championships in major sports, or standalone events like the Masters.
Best Bets on FanDuel Sportsbook for Experienced Players – High Risk
You may be looking for more high-stakes wagers for those who consider themselves experienced bettors. Those bets where you make a game-time decision or want to bet on something that occurs well into the future are available. If you want to bet on niche markets such as special teams in the NFL or which team you predict will finish in the top half of their conference, those markets and bet types exist on FanDuel.
FanDuel Teaser Bets
Now things are getting slightly more complicated. You won't get great odds on teasers, but they will give you the opportunity to parlay with a higher chance of winning. When you tease a line, you are adding or subtracting points to or from an already existing line. Teasers are typically offered only on football and basketball.
The amount a player can tease varies by sportsbook, usually four and seven points for basketball and six and seven points maximum for football. The whole line for each game in the parlay is moved depending on the tease you have chosen.
Alternate Point Spreads
If you are confident you can beat the bookmaker and have experience with new online sportsbooks, this bet is ideal for you. Let's say you are betting on the NFL, and you feel you have a good read on a game. If this is the case, you may be ready to start venturing into creating your own lines. This is not straightforward and can be tricky to navigate, which is why it is a bet for experienced players and comes with an associated high risk.
Predicting a game isn't easy; we would all be rich if it were. However, if you see a favorite you feel really good about -4.5, then it won't hurt to nudge them up to –6.5 for better odds (for example, +110 instead of -110) without crossing through any key numbers.
FanDuel Prop Bets
Prop bets are fun wagers where you don't always have to bet on the final outcome of the game. However, informed and experienced bettors have an advantage with props, like the first player to score a touchdown in an NFL game. If you know how a team plays, you might be able to find value.
Other prop wagers straddle the line. You could have options to choose from, such as will a winning driver have a car number higher or lower than 15, or will a player make a hole-in-one?
There are also prop bets that are just there purely for fun, including Super Bowl bets such as what color Gatorade will be splashed on the winning coach. However, if you want to get into the nitty-gritty of player props, they require some knowledge and research, so they may be better for an experienced player. When setting such wagers, it is also good to know how FanDuel early cash-out works, as they can pay much even before they are settled.
Which are the best bets to make money on FanDuel?
Everybody wants to maximize the potential profits you can make from a single bet. There is no better feeling than finding out you have won hundreds of dollars from a five dollar bet. However, one type of wager, in particular, ensures you can earn a potentially massive payout if everything clicks. If you are successful with the following, the FanDuel withdrawal methods are the only other thing you should care about.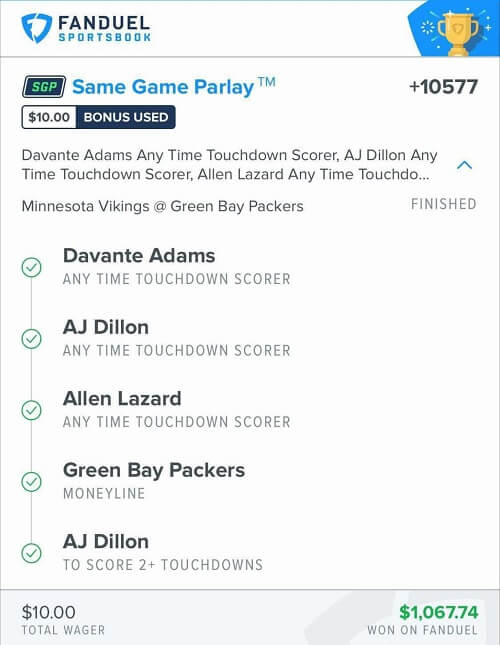 Parlays
FanDuel parlays combine all some of the bet types discussed above (moneyline, point spread, etc.) into one big wager. The more bets in a parlay betting app, the more money you could win. However, the kicker is that if one of those bets loses, they all lose.
Parlays can be extremely exciting, especially during events such as the March Madness NCAA tournament. Parlays, and same game parlays, can be comprised of as little as two bets (sometimes referred to as 'legs') or up to a dozen bets depending on the sportsbook you are using. A four-team parlay will pay out around 13-to-1, while a 10-team parlay around 640-to-1.
Most parlays are made up of mix spread, moneyline, and over/under bets. New bettors love them because they hold that attractive possibility of a huge possible payout. But, for most sports bettors, they are very hard to win. This is why more experienced players make them part of their overall betting strategy.
Another form of parlay wagering is a round-robin bet. These are typically two-team parlays with anywhere from three to ten teams involved. With more wagers in a round-robin, the bigger the component parlays can be. Ultimately, parlays are an enjoyable way of betting on lots of games, with the attraction being a potentially massive payout if all of the legs hit.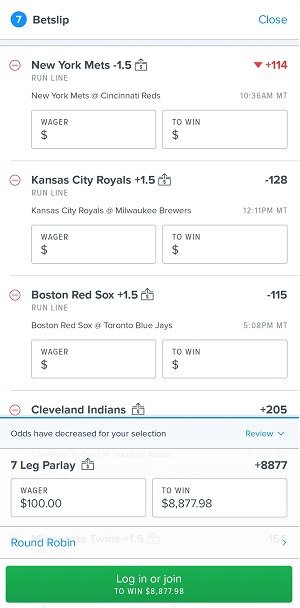 Futures
Futures are another type of wager where the payout can be substantial. The payouts on futures tend to be significant because you are betting on the outcome of something that is happening way into the future. This means lots of things can change and affect your bet.
For example, you may feel with Tom Brady as their quarterback; the Tampa Bay Buccaneers have a great chance to win the Super Bowl. Because of this, you place a futures bet on Tampa Bay to win the Super Bowl even before the regular season begins. The payout will be large from one single bet as things could change, like Tom Brady getting injured, which would massively reduce their chances of winning. So, these are risky bets but with the potential to make a lot of money.
My personal favorite bets on FanDuel
I am a big NFL fan and really enjoy sitting in on a Sunday, ready for a big slate of NFL matches. This is one of the reasons why parlays are my favorite type of bets. There is something really fun about betting on numerous teams who you think will win and combining them into one large wager.
Of course, they are unlikely to win as just one thing has to go wrong for the whole thing to fail. However, the potential payouts are huge, and it adds a lot of excitement when watching games you otherwise might not be interested in.
Some of my other favorite types of bets include:
Player Props
Live Betting
FanDuel Round Robins
Of course, this is subjective. Fortunately, FanDuel has plenty of bet types, so it caters to all tastes.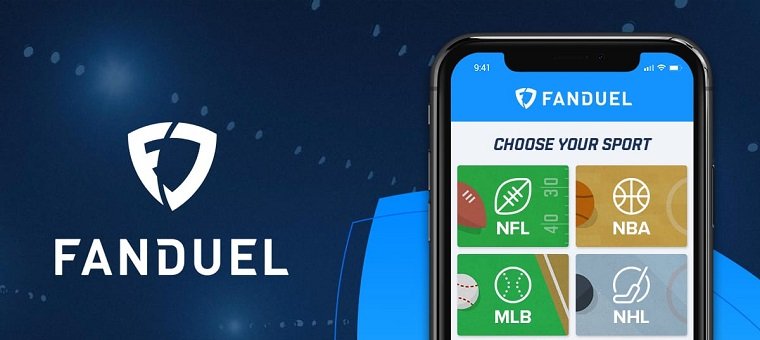 FanDuel bets insurance for new players
FanDuel's latest promo offer is insurance worth up to $1,000 in the form of site credit if your first real-money bet loses. This means if you bet $100 on the La Lakers to win, but they lose, the operator will issue a $100 site credit refund to use on another game.
This is an excellent offer for new players as it takes the pressure off that first bet and eases you in.
No Sweat First Bet Up To $1,000
21+. T&C Apply
21+. T&C Apply
Convenient banking
Massive choice of sports
Summary
FanDuel is an excellent sportsbook for new bettors who might be a little unsure of how to place bets or what each bet means. The platform provides plenty of information regarding odds, payouts, how to play, and more to give you that level of comfort as you begin your betting journey. They also have an amazing FanDuel sportsbook loyalty program that you can join too.
It is also a great site for experienced bettors. There is a wide range of bet types and markets to get your teeth into, meaning you will never be bored.
All of the bet types listed on this page are available on the FanDuel sportsbook in states where it is available. So, whether you are playing on the FanDuel New Jersey, FanDuel New York, FanDuel Maryland, or FanDuel West Virginia sites, you have all of these wagers available at your fingertips.
FAQs
What should I bet on FanDuel?
When it comes to the best bets on FanDuel, a lot depends on how much money you are willing to stake and your favorite sports. For example, if you know a lot about the NFL and are intrigued by the possibility of a large payout, a parlay on an NFL week of games would be ideal. However, if you know a lot about a certain team or player, a prop bet would be a good choice.
The great thing about FanDuel is there are so many markets for you to choose from. FanDuel NFL options include all Monday Night Football, Thursday Night Football, and Sunday Night Football prime-time games throughout the season. If you want a sports bet that targets a player in the World Series, you could submit a player prop on a specific player to score a home run.
From an odds boost to a same-game parlay or a straightforward moneyline wager, there are multiple options on the FanDuel app. Just make sure you are betting on a sport you have some knowledge of to increase your chance of success. Once your account has been verified, enter your promo code, claim your welcome bonus, and then get started.