Gamble USA strives to improve your online gambling experience. We aim to help you play safely, make informed decisions when gambling, and increase your betting knowledge through our guides.
We adhere to strict editorial integrity; our content may contain links to products from our licensed & legal US partners.
Many sports bettors in the United States have enjoyed sports betting sites since the change in federal legislation in 2018 allowed states to decide their individual online gambling laws. With several states reforming their laws to permit online sports betting, the industry has boomed and slowly turns to one of the largest gambling industries worldwide.
With the industry becoming so popular in the U.S., online sportsbooks have learned that betting market depth is a crucial aspect users look for in a sports betting service. Having tons of different top sports and professional leagues to bet on is vital to becoming one of the top-tier sportsbooks because people want to bet on everything they watch and enjoy!
If you're looking for more betting markets to place wagers on, let me introduce you to betting on European sports and teams for some fun midday action! The following guide will discuss the best E.U. sports to bet on and the different teams and events to look for!
Soccer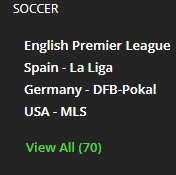 Anywhere outside of the United States, soccer is by far the most popular sport worldwide, including in Europe. European soccer is top-class and has some of the best leagues in the world, including The Premier League, The Bundesliga, and Serie A, which all contribute their respective powerhouse teams to The Champions League.
The Champions League is the best of the best, and European betting sites have reaped the rewards of the popularity of online betting from it for years now. Online bookmakers worldwide feature these Soccer sports betting markets because they're so popular with their online bettors in both the European and American betting markets.
Most European countries feature online gambling sites, and European bookmakers all tend to feature the most famous soccer leagues; however, an online sportsbook in the U.S. might not have them all.
Most online sports betting sites will feature the week's top matches with teams like F.C. Barcelona, PSG, Liverpool, Manchester City, Real Madrid, and Atletico Madrid. Still, only the best will offer more minor leagues like Liga MX or the English National League that features teams like Wrexham F.C.
Betting on several different teams lets you get a feel for the different leagues and find which one you enjoy most. Most European countries have soccer leagues, and the talent can be somewhat lopsided in certain ones, which makes it prime for parlay betting.
Horse Racing
Horse racing is an excellent form of sports betting that's historically loved across Europe, making it perfect for betting if you enjoy the sport and want to get into different races. Not to mention that it's in a different time zone, meaning that bettors can enjoy these races before the ones in the U.S. begin!
Racetracks like Aintree, Goodwood, and Longchamp are historic and featured on many horse betting sites and apps, allowing users to bet online on some of the oldest horse tracks in the world. Longchamp is known to be one of the best horse tracks in the world, leading to exceptional talent being hosted at the Prix de l'Arc de Triomphe, one of Europe's most esteemed racing events.
Tennis
The Association of Tennis Professionals (or ATP) is a worldwide organization with several of its top talents and tournaments across Europe. From the Roland-Garros (French Open) in Paris to Wimbledon in the U.K., European Tennis is some of the best in the world.
Most betting websites will feature these large tournaments similar to the more significant soccer leagues, but not all. The best online betting sites, like DraftKings and FanDuel, will have several sports betting options for Tennis and will feature most of the tournaments played across Europe weekly.
Tennis doesn't feature any teams because it is an individual or two-person sport; however, it does feature some of the most well-known names in sports history, with Rafael Nadal, Nikola Djokovic, and Serena Williams. If you're a tennis fan and understand the ins and outs of the game and players, tennis has great betting markets that should be taken advantage of and, in my opinion, are slightly easier to predict than team sports (with more than two athletes).
Golf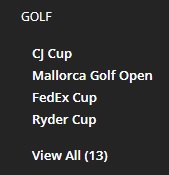 Golf is similar to Tennis because it is an individual sport outside special tournaments like the Presidents Cup. Similar to horse racing and soccer, golf also has a deep-rooted history throughout Europe that provides U.S. bettors with tons of different tournaments that can be found on almost every online betting site.
Almost all PGA golf tournaments will be featured on most online sports betting sites; however, the best Golf betting sites will feature exciting and fun wagers exclusive to golf, like who will win each group and who will win each day, whether that be overall or just the day. These types of sites allow users a unique betting experience by giving them several options for wagers to place.
As I mentioned above, the game of golf has a long history throughout Europe because it was initially created in Scotland, meaning several of the world's biggest tournaments are featured across the continent. For example, the Scottish Open and the Open de France are played at the Renaissance Club in North Berwick and the Le Golf National in Paris.
eSports
eSports are becoming more popular every day, and players are popping up worldwide as the industry continues to boom more and more every day with the rise of Twitch and other streaming services. With the industry being relatively new, not all online betting sites have it as an available betting option; however, more and more are adding it to keep up with requests from their bettors.
eSports has also grown across Europe (approximately 100 million people across Europe watch eSports) and features teams like Team Liquid and G2 eSports, two of the biggest teams in the world. Europe also features some of the biggest and best individual names in the eSports world, with Cory "Str8 Sick" Closs and Daniel "Tusk" Ruiz.
Similar to soccer betting, eSports betting can be gamified based on the different types of matchups across different games. If you follow a particular streamer you know has a particular weakness to another streamer you follow with a particular strength, it's easy to identify who will win the matchup.
Formula 1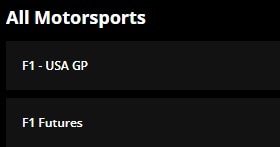 Formula 1 has become one of the most famous European sports in America after the Netflix series "Drive to Survive" hit the streaming platform, and audiences around the country fell in love with the drama within the sport. The series depicted the teams and drivers and the different rivalries that the sport offers, giving everyone a favorite team and racer.
Betting sites have recognized the increase in popularity and immediately decided to start offering more Formula 1 events on their platform, as it's now one of the country's most popular live betting events. Any sports betting site worth its salt will feature Formula 1 as a sport; however, it is less common than some of the other sports on this list.
Like many of the sports above, Formula 1's teams and drivers drive the popularity of the sport (no pun intended), and users can bet on either teams or individual drivers. Due to the fact that Formula 1 racing has many drivers in a single race, betting on an individual F1 driver can be somewhat risky, but you'll get great odds.
Formula 1 features teams of some of the biggest names in the auto industry, Mercedes, Ferrari, and McLaren. These teams have some of the best racers in Europe, with Lewis Hamilton and Daniel Ricciardo, while the energy drink Red Bull is another powerhouse team with a juggernaut of their own in Max Verstappen.
U.S. vs. European Betting Sites for Sports Betting
The sports betting sites in the U.S. are very similar to their European sports betting sites counterparts, with one specific difference: the way they present fixed odds betting. In contrast, the betting sites in the U.S. feature a +/- format, while European sports betting sites feature odds in the form of a single number to multiply your risk.
In many ways, the bookmakers across the country used the template set up for them by the best European betting sites that came before them. In fact, there's no better example of this than what happened between Caesars and William Hill, one of the most prominent sportsbooks in Europe. Caesars partnered with William Hill to combine their strengths and feature the William Hill software and betting site underneath a household name in America with Caesars.
Other betting sites in Europe have also converted into the U.S. market by getting licenses in legal betting states across the country. You may not know this, but sportsbooks like Betway, Betfred, Unibet, 888, and bet365 all began in Europe and have since become very well-known by sports bettors in the U.S.
Players looking to bet on Eu-facing sports might be better off betting on the above US sportsbooks, carrying local knowledge, better odds, and years of experience in these markets.