Gamble USA strives to improve your online gambling experience. We aim to help you play safely, make informed decisions when gambling, and increase your betting knowledge through our guides.
We adhere to strict editorial integrity; our content may contain links to products from our licensed & legal US partners.
If you're like me and have spent many Saturday mornings trying to find your favorite football games without knowing where to start, you know my pain. Football live streams in America are somewhat hard to find, but I've researched and figured out the best ways for fans to view their favorite live sports.
This guide will discuss;
The five

best sportsbooks

for live football betting
How to get the most money from these sportsbooks during sign-up
The ten best football streaming sites
Perks of sportsbooks that live stream sports
Reasons to watch

soccer

live online when you bet on it
And my favorite live football streaming betting site
Five of the Best Sportsbooks for Live Betting Football
Football fans know that football is a game of momentum where anything can happen. Live betting is for you if you know the sport and enjoy sports betting. Below is a list of five sportsbooks and betting apps that allow users to bet on live football matches, their features, and the best free bet promotion to use during sign-up.
DraftKings Sportsbook
Best football odds
Matchup history, team stats, and injury report provided
Live scores and game updates
The social aspect to look for and sharing bets
Great customer service
The DraftKings Sportsbook has excellent promotions, and sign-up offers as well! They run weekly promotions like odds boosts and challenges that earn free bets and provide a great sign-up bonus of a 20% match anytime for your initial deposit worth up to $1,000. It's the worst sign-up bonus on this list, but it's free money, which you can claim by clicking here.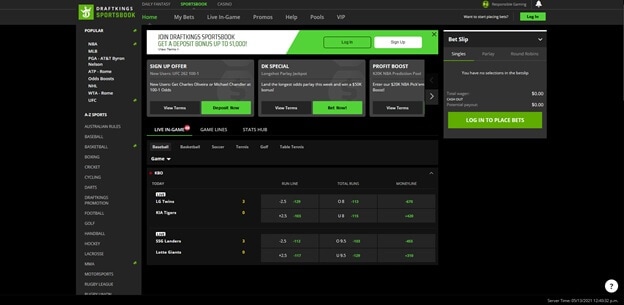 FanDuel Sportsbook
Best game prop bet options
It offers 83 different leagues to bet on
Live scores and game updates
Team stats and matchup history provided
Clean and organized user interface
FanDuel offers a pretty standard sign-up bonus for new users of a $1,000 risk-free bet when clicking this link to register. To use this, you must click the link, sign up, make a deposit, and make a minimum bet of $10 and if you lose, you'll be granted a free bet of the same amount!
BetMGM Sportsbook
Best player prop bet options
Offers live media updates and stats
It shows matchup stats and the history of each team's last five games
Parlay generator
BetMGM offers the same sign-up bonus as FanDuel with a risk-free bet of up to $1,000 on your first bet. Similarly, the bet has a $10 minimum and can be placed on any bet as long as it isn't being used with another promotion. To claim this sign-up offer, click here and follow the steps to register for an account.
Caesars Sportsbook
The most amount of soccer leagues to bet on
Offers live sports
Has live scores and betting

Caesars Watch and Bet live streaming service

available for football events
Offers prop bets and competitive odds (2nd best of the 5)
Caesars Sportsbook has a slightly better sign-up bonus than BetMGM and FanDuel in the form of a first bet on Caesars up to $1,250. To claim this offer, use promo code "GUSAFULL" or click the link here before signing up and making your first deposit!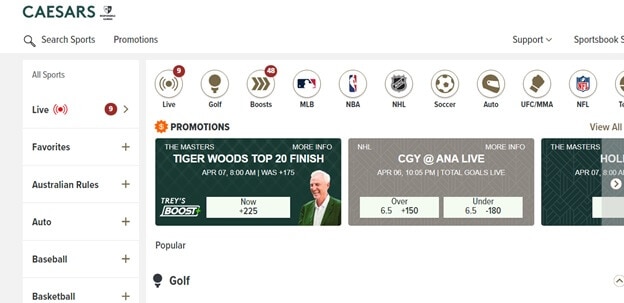 PointsBet Sportsbook
Best available stats in the app/on the website
Plenty of football bets
Live score updates
The best sign-up bonus of the websites mentioned
PointsBet has the best new user bonus out of the five on the list, worth up to quadruple that of BetMGM and FanDuel. With this promotion, they're putting their money where their mouth is, giving new players not one but two risk-free bets worth up to $2,000. This is the best offer I've seen from a sportsbook, and everyone should take advantage of it by using sportsbook promo code "GUSA" during sign-up (or by clicking the link here).
Top 10 Streaming Football Sites That Do Not Take Bets
Now that I've covered sportsbooks to bet on while live streaming sports events, let me give you my list of the ten best football streaming sites! Some are free sports streaming sites, some are behind a paywall but have high-quality live stream services, and some come in packages of popular streaming sites like Hulu and ESPN.
#1 ESPN+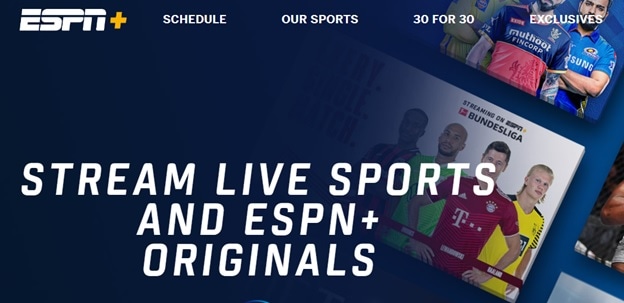 Ultra HD streaming quality
It offers almost every sport for live streaming
You can also watch replays of games
Selection of ESPN TV shows and 30 for 30 documentaries
No pop-ups
Subscription through Hulu and Disney+ or $6.99 a month
#2 VIP Box
Limited pop-ups
Offers 24 major sports
Free sports streaming site
HD streaming quality
One of the best free sports streaming sites
Features 16 different sports with live streams
Features other sports news shows and media
It also has a plethora of articles on different football clubs and sports teams
Ultra HD quality streaming site
Requires subscription of $19.63 per month
Great user interface with limited pop-up advertisements
12 different live sports streams
Various sports events from football and basketball to the UFC and handball
Completely free
Limited pop-ups
It offers nine major sports
Completely free
The home page shows all upcoming matches
More than average pop-ups
Has live streams of 10 different sports
Completely free
Offers a free sports streaming app
Has links to their Reddit, Twitter, their live chat, and their forum for users to share their experience
11 different sports streams
Several pop-ups
Limited games per sport, however, always has the best matches
Streams sometimes lag during highly watched games
12 total sports
#9 Facebook Watch (Facebook Live Streams)
One of the best connections
Limited lag/crashes
Limited games available
No pop-ups
Ultra HD streaming quality
One of the easiest to use free streaming websites
Football Live TV
Football only streaming site
11 different football leagues (including UEFA Champions League, Premier League, and Bundesliga)
Perks that come with Live Football Streaming Sportsbooks
The best thing about signing up to live football streaming sportsbooks is all of the perks that come with it. Football live streaming sites give better promotions and challenges to players betting on football than those not partnered with football leagues around the world.
Sportsbooks will have extra betting app bonuses for soccer fans during significant events like the Premier League final for Europa League or the World Cup for the international league. These bonuses will come in a free bet earned through various challenges. For example, BetMGM had a challenge where users could earn a $10 free bet by placing three different parlays (minimum of $10) on international soccer in a week.
Soccer fans should take advantage of these sportsbooks (the five listed above) for promotions, football news, and live stats. Many of these books have complete, up-to-date stats and updates about the team and players for bettors to use as a reference for when they bet. These stats and updates on live matches in the app or on the website's user interface help bettors educate themselves on the bet they're about to make. Use our football betting promo codes page as a guide to the latest offers and promotions. It even incorporates sportsbook promo codes by Reddit users for a holistic experience.
How to use Live Streaming for your Betting Strategy
Watching all the matches you bet on is incredibly important for any skilled bettor, especially if they're live betting. You can't rely only on stats (or, God forbid, complete randomness) to show you the whole picture of a game.
For example, if you only check the score to see that Chelsea is winning against Liverpool by one early in the game and you want to bet on Liverpool to come back and win, you might not have seen their best player get a red card in the first few minutes. It's also possible in the same scenario that Chelsea could have been dominating the entire game with a lot more shots and time on attack, meaning that making a bet on Liverpool might be futile.
In a football match, much like when betting on basketball, constant momentum swings impact the game heavily, and if you're not watching, you could miss them. This is crucial to live betting because if you're not using online live streaming services, then you're likely to make a bet at the wrong time. Odds for live bets are constantly changing and need to be taken at the right time to get the best return.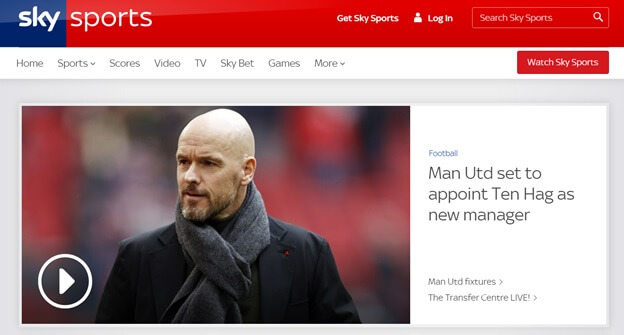 If you watch football online on one of the streaming sites above (or other sports streaming sites, for that matter), then it's essential to focus on taking your bet after an early run by the opposing team.
For example, in the scenario I laid out above, if you're watching and notice that Chelsea has been getting outplayed throughout the entire football match but got one lucky goal, the best time to make that bet would be right after Liverpool scored. This would result in the highest odds possible because the game has just swung in their favor, giving better payouts to bettors of the currently losing team.
Streaming sites are vital to a savvy bettor for many reasons, but none more than you need to keep up with the different sports you bet on. If you're not keeping up with football games, then stats will not be able to paint the complete picture, even if you're not live betting. You want to watch soccer live to get a feel for who's hot.
It's important to know who's having a great week or month, specifically for player prop bets. If you haven't been watching streaming sites, it's straightforward for you to miss critical details in play that might give context to whether or not a prop bet will hit. If you check the stats and see that Ronaldo has got an assist in seven of his last eight games, you might think it's a good idea to bet that he will get another one in his next game. However, if you watched the last game, you'd know that two of his best attackers were injured, leaving Ronaldo to pass to backups in his upcoming match.
Reliable sportsbooks with low vig for betting on soccer are perfect when you want to make that round robin bet work for you.
Our top-rated free live football streaming site
Out of all of the sites in my top 10, VIP Box has to be my favorite free football-streaming website. It always has my favorite football match and should be used by every football fan and every fan of live sports streaming in general.
VIP Box has all of my favorite sports, including basketball, football, American football, baseball, ice hockey, and many more! They offer the most sports out of any free streaming sites in my top 10 and work very similar to Reddit soccer streams.
If you're too young to have ever used the Reddit page's soccer streams, you might not understand what I'm talking about, so let me explain. From the VIP Box home page, you'll have an option to choose from any live events currently happening, then from a list of streams.
In my opinion, VIP Box is by far the best football streaming site on the internet right now, and football enthusiasts worldwide should start using it immediately. Between its little pop-ups and plethora of live sports, it's perfect for football games and your live streaming needs. When combined with the best betting apps for live betting listed, you are in for a treat.

Summary
Live streaming sites are critical for football enthusiasts who want to keep up with their favorite teams or bet on live sports. This list has some of the best football streaming sites on the internet accompanied by the best live football sportsbooks in the US that offer great bonuses during sign-up!
These sportsbooks have live stats, scores, and updates for football matches and other sports like American football, basketball, and baseball. Users can take advantage of these resources and football streaming sites to make great live bets on these sportsbooks for big payouts!
While I believe that ESPN+ is the best Football streaming site and comes with a ton of extras like television shows and documentaries on football and every sport I can think of, it is a subscription service and costs money. Go to VIP Box for football and 23 other sports in HD quality with limited pop-ups for people looking for the best free sports streaming site.