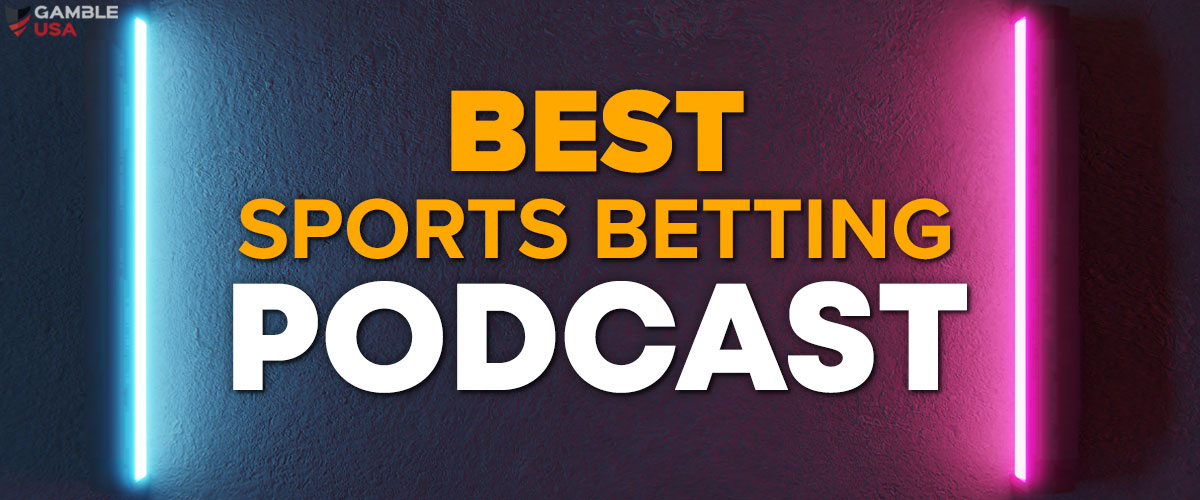 Betting podcasts can be a great source of information for any sports bettor. Show hosts team up with sports wagering experts to provide evaluations and insightful views into teams and players in engaging conversation through dedicated podcasts on Spotify, YouTube, Apple Podcasts, and similar platforms.
Podcasts are a medium on the rise, and there are thousands of them covering countless niche topics, including hundreds of sports-oriented shows. So, how do you pick the right one? This is where we step in.
After an extended discussion with our in-house sports betting industry experts, we composed a list of the 20 best betting podcasts for sports fans. Let's dive in.
---
🥇1. Bet the Board Podcast
Bet the Board is one of the top sports betting podcasts on Spotify and Apple Podcasts. It is the undisputed podcast destination for any football enthusiast. Hosts Todd Fuhrman and Payne forgo most major sports in favor of providing entertaining and focused analyses of NFL and college football throughout the season.
Fuhrman and Payne's broad-ranging talks cover topics on player and team form and performance, personnel changes, injuries, and pregame/postgame analysis, loaded with useful information for sports bettors. The podcast is available only during the football season, with a schedule that includes Monday night football talk, then college football discussions on Wednesdays, before wrapping up the week with a light Thursday night football chat.
---
🥈2. Daily Wager
Host Doug Kezirian offers top-level evaluations and sports betting tips directly from this companion show to ESPN's eponymous sports betting program. All highlights from the sports betting world are brought to you by professional bettors and sports pundits in this dynamic and highly entertaining podcast. The NFL, college football, MLB baseball, NBA and college basketball, and UFC are just a few of the sports covered by the program.
ESPN sports betting analyst Erin Dolan, football analyst Anita Mark, and ESPN 'Daily Wager' show host Tyler Fulghum are recurring guests who provide you with comprehensive sports betting analysis, previews, and postgame overviews. Part of the podcast includes the Daily Wager Extra episodes.
---
🥉3. The Daily Juice
The Daily Juice is not a podcast you want to miss. Award-winning sports talk host Matt Perrault offers Las Vegas betting perspective analysis, sports handicapping, free picks, and other insightful information from the sports betting industry.
In his signature quick-fire talk, the seasoned analyst and betting host of BettinPros provides quick overviews and evaluations covering NFL season odds analysis, college football betting, Major League Baseball, and the WNBA. The Daily Juice is a top-rated sports gambling podcast on Spotify and Apple Podcasts. You can follow his daily sports betting podcast on Stitcher, RadioPublic, PlayerFM, and Google Podcasts.
---
🎖️4. You Better You Bet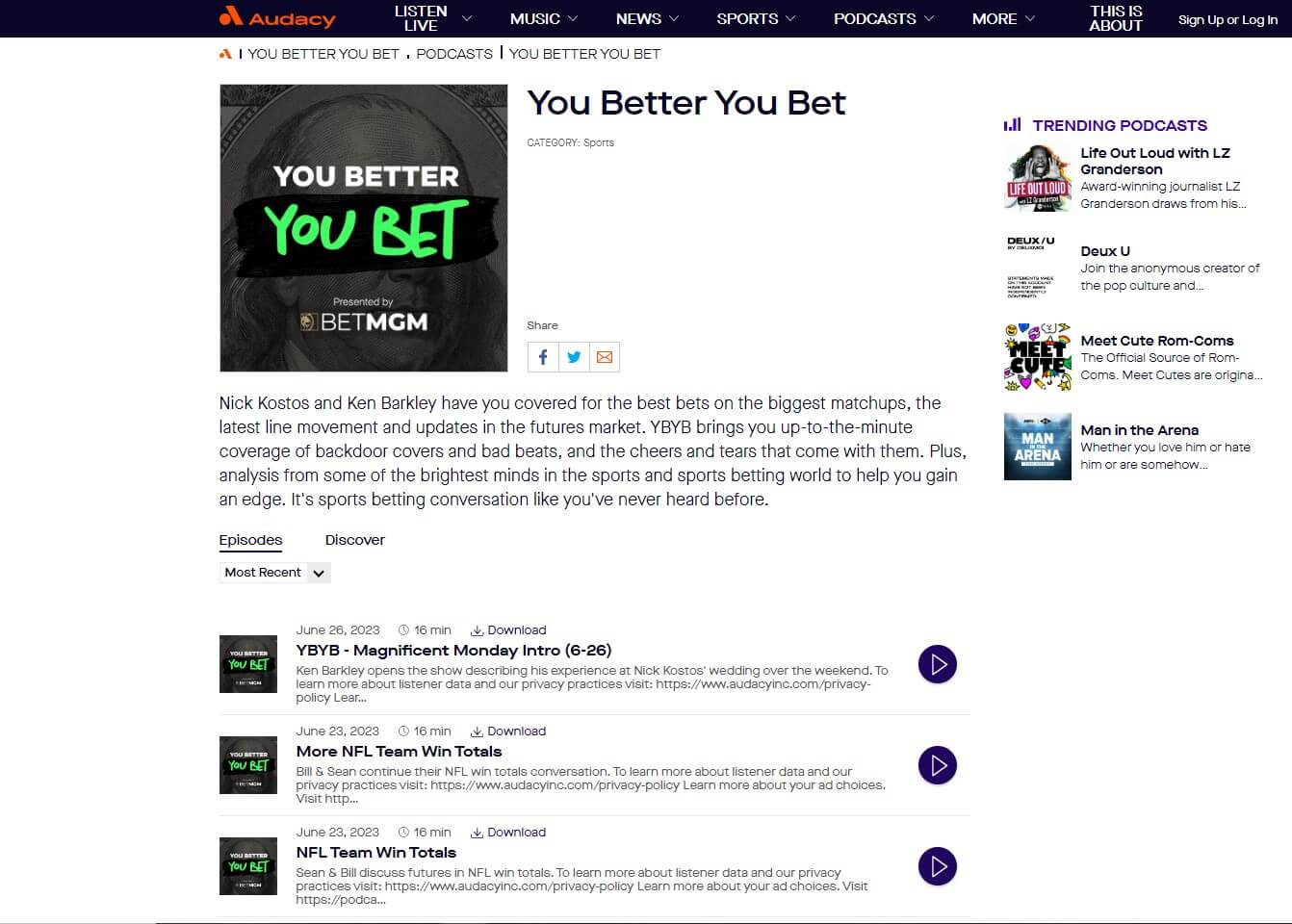 Nick Kostos and Ken Barkley, a.k.a. @LockyLockerson are here to give you the 4-1-1 on the latest betting lines and best bets from all major sports leagues across the board. The duo mixes humor with an analytical approach to betting, occasionally digressing into excited but friendly polemic but staying on-topic to provide a valuable sports gambling perspective.
The two clock in at 3 p.m. on weekdays till about 7 p.m. and from 11 a.m. to 1 p.m. (Eastern Time) on weekends on Twitch. Their BetMGM-sponsored YBYB episodes mainly touch on the NFL, NHL, and MLB and are also available on Apple Podcasts and Audacy.
---
🏅5. RJ Bell's Dream Preview
Top-rated PodcastApp and Apple Podcasts show 'RJ Bell's Dream Preview' brings you educated NFL picks week in and week out throughout the NFL season. Featuring host RJ Bell, you can get in on insightful discussions on NFL betting and college football lines from college football specialist Brad Powers and fellow professional sports bettor Steve Fezzik, alongside commentary from seasoned betting analysts Scott Seidenberg and MacKenzie Rivers. The program runs on Apple Podcasts, Spotify, PodastApp, and Player FM.
---
6. Even Money | NFL Gambling Podcast
Professional bettor Steve Fezzik and former NFL lineman-turned-analyst Ross Tucker join forces to give you a unique perspective of NFL football betting. A 7-year veteran of the NFL, Tucker has seamlessly segued into the world of sports media, bringing invaluable football evaluations for major sports news programs (College Football on CBS Sports) and now, on Even Money.
Complementing Tucker's knack for interpreting happenings on the NFL and college football scene is Fezzik's highly analytical approach to football betting. Alongside odds analysis on upcoming markets, the duo reflects on prior selections and their 'best bets' picks, rating and analyzing winning and losing bets from the NFL slate. You can follow their show on Apple Podcasts, YouTube, and RT Media.
---
7. 'Beating The Book' with Gill Alexander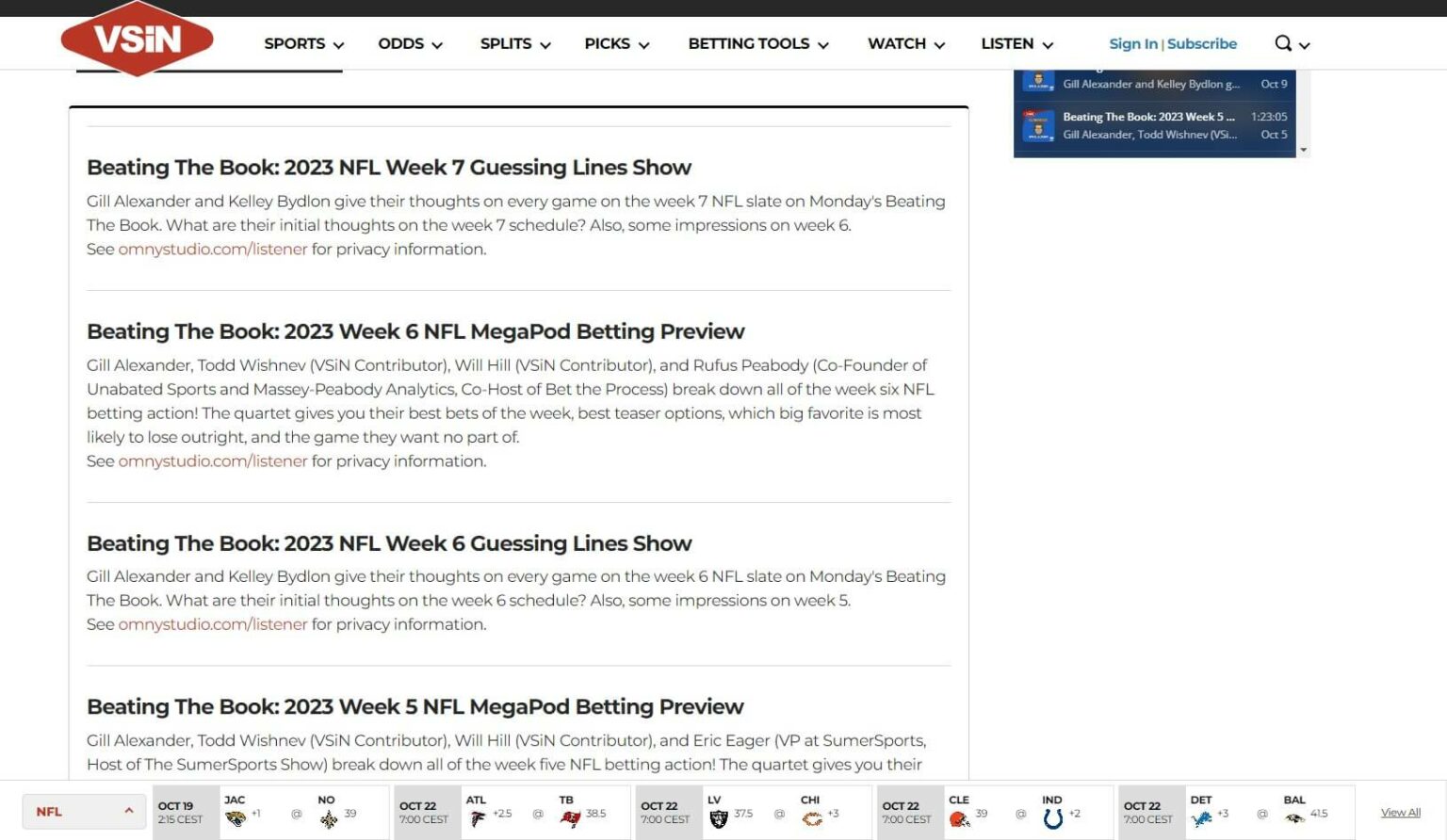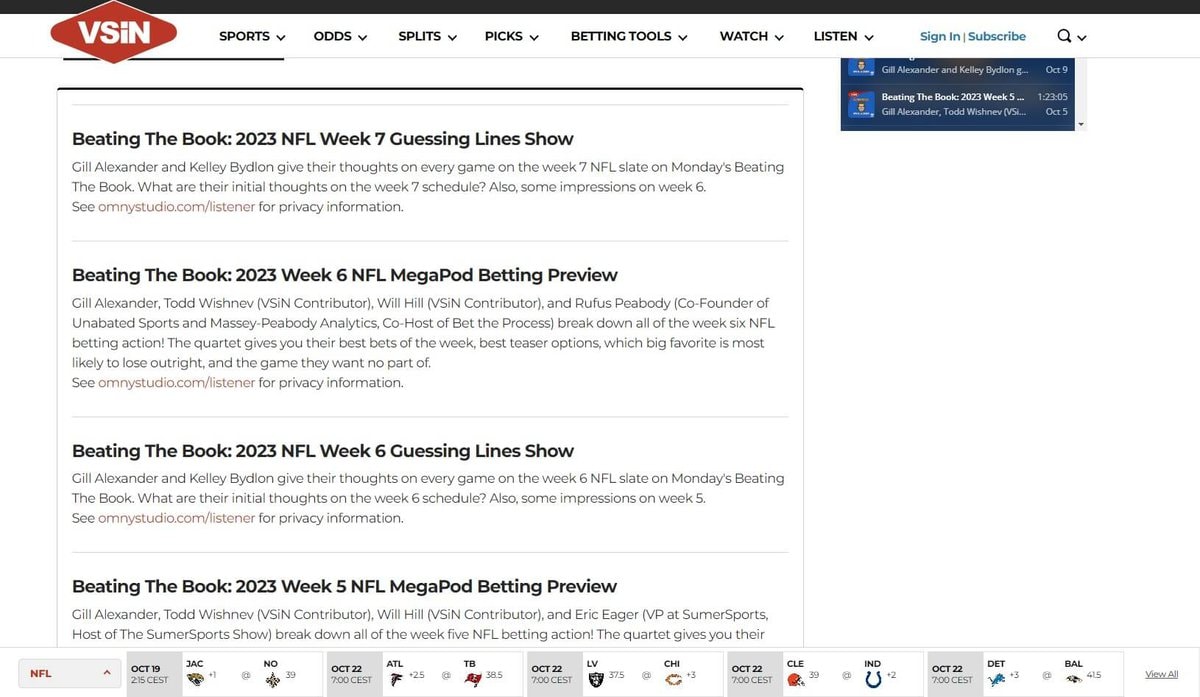 Gill Alexander has been a household name in radio and television for over 30 years. Now, he takes time out of his busy schedule to talk sports and sports handicapping on 'Beating the Book.' Gill covers NFL, NBA, NHL, horse racing, and college sports gambling, but the focal point of the show is MLB baseball.
The VSiN's "A Numbers Game" host has proven a real baseball betting whiz, employing sabermetrics gambling strategies to conduct baseball analyses, and is often joined by industry high-stakes handicappers to provide near-surgical predictions and estimations for serious bettors on all things MLB.
---
8. 'The Favorites' Podcast
Chad Millman – a noted figurehead in the sports betting scene- has for years created engaging sports news content on his popular platform, The Action Network. 'The Favorites' is the site's flagship betting podcast, presented by internationally renowned betting company bet365.
Alongside Millman is sports betting expert Simon Hunter. Together, the two delve into layered discussions on NFL stats, injuries, best bets, gambling previews, and recaps every week during the NFL season. It's in the interest of every sports bettor to tune into their weekly podcast to discover favorable tips and betting strategies on all NFL matchups.
---
9. 'Against All Odds' with Cousin Sal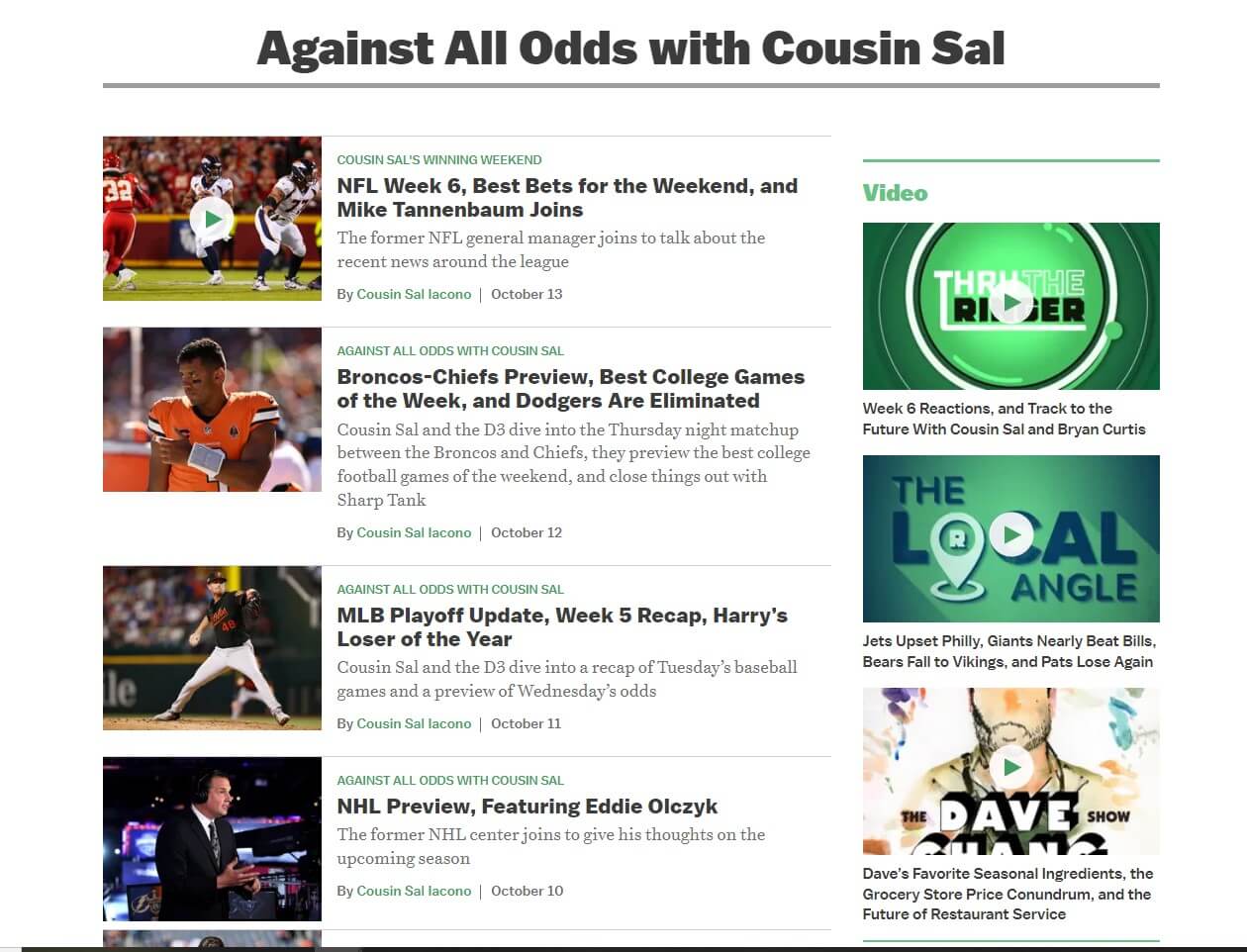 Part of The Ringer Podcast Network, 'Against All Odds' blends light-hearted humor with a surprisingly evaluative approach to sports betting. Yes, discussions on competitive hot dog eating are part of the show, but host 'Cousin' Sal Iacono and his eccentric guests have quality discussions, with more than a touch of humor, on NHL, NFL, NBA, boxing, and UFC betting. Uncensored sports betting opinions, brazen boasting of winning bets, and objective odds analysis are all integrated into this entertaining and informative podcast.
---
10. The Unabated Podcast
Daily fantasy sports, NFL game coverage and previews, and college football and basketball are just a few of the topics covered in this eclectic betting podcast. Host Thomas Viola, joined by professional sports bettors Rufus Peabody and betting analyst Captain Jack Andrews offers invaluable tips and inside information on intelligent sports gambling.
You can join their podcast on Apple Podcasts, YouTube, and Spotify to follow real-time odds on their live odds monitor across all major US sportsbooks. Coupled with entertaining discussions between professional bettors, The Unabated podcast should be a one-stop shop for anyone looking to add real value to their bets.
---
11. Sports Gambling Podcast Network (SGPN)
The Sports Gambling Podcast Network (SGPN) is the all-around hub for betting enthusiasts. The Sports Gambling Podcast (SGP) is the network's flagship program, hosted by Philly native and comedian Sean Green, and New York Giants fan with New Jersey roots Ryan Kramer. If you thought the dynamic between the two would be promising, you thought right.
The two bring decades of experience in the betting industry, adding an extra flair to their episodes with their distinctly exciting, oftentimes heated debates without holding back any punches, especially when the Giants and the Eagles are the subject matter. The lively podcasts cover virtually every sport, offering free picks, in-depth examinations, tips, and sports betting news covering the NFL, NHL, NBA, mixed martial arts, and more.
---
12. The Action Network Sports Betting Podcast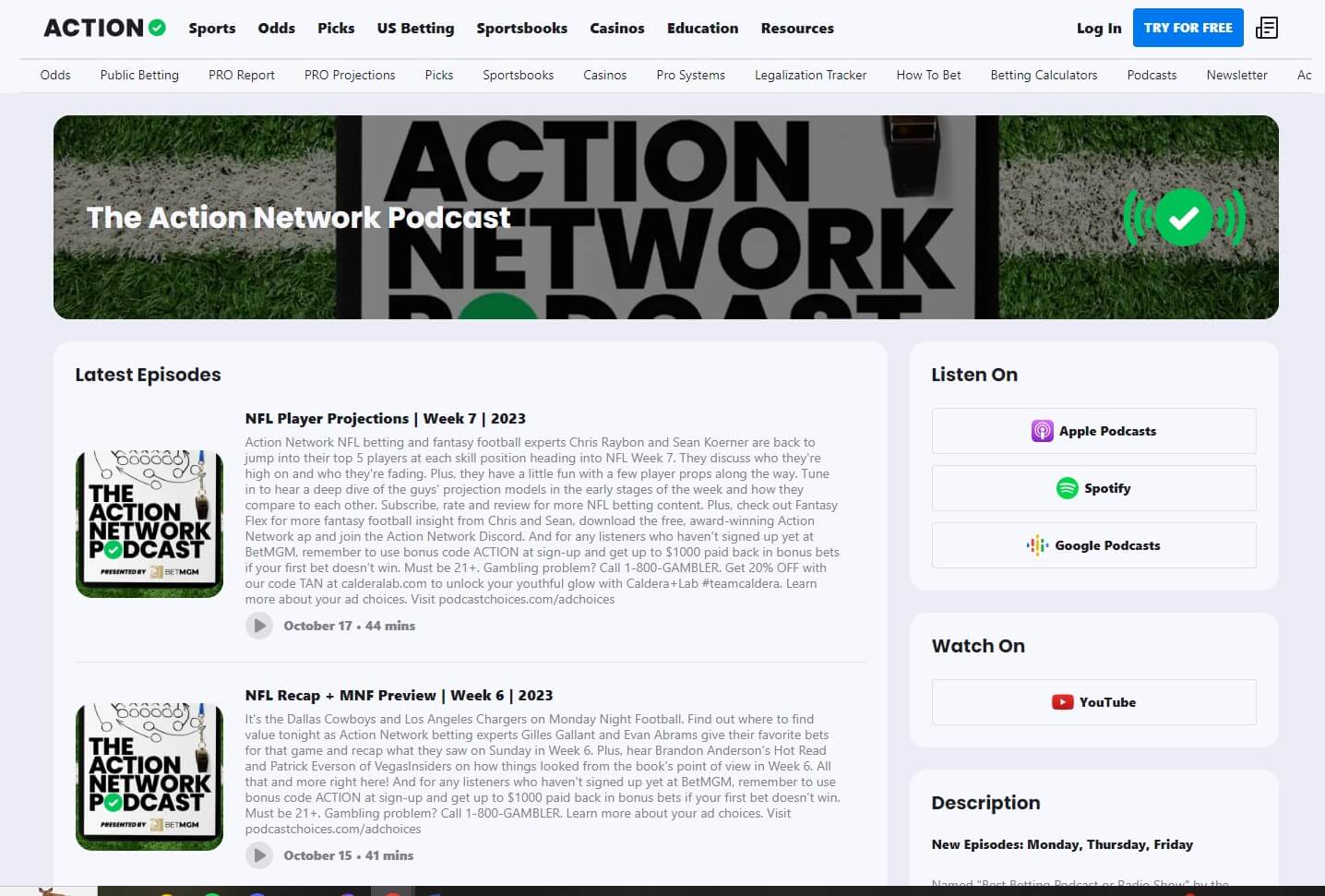 The Action Network is the go-to place for NFL fans. Period. Sports gambling experts, analytical gurus, and handicappers, alongside guests and NFL buffs from all walks of life – are here to present you with the most relevant NFL scoop all year round. From casual discussions, player projections, Monday night football previews, best bets, injuries, and other NFL betting content is dished daily throughout the season, but also after.
You can follow the Action Network Podcast's upcoming episodes or download existing ones on Stitcher, Apple Podcasts, and Spotify.
---
13. 'Be Better Bettors' with Spanky
If you want to let yourself go into the anecdotes and evaluations of a professional sports bettor from his point of view, 'Be Better Bettors' with Spanky is worth checking out. Spanky is a professional bettor who takes his craft seriously. You shouldn't expect casual, off-topic small talk and banter on irrelevant matters common for many sports betting podcasts.
Providing valuable tips and strategies, debunking betting fallacies, and engaging in constructive dialogue with insight from fellow bettors are the core elements of his podcasts. Spanky's 'Be Better Bettors' episodes can be found on Apple Podcasts, PlayerFM, and SoundCloud, among other platforms.
---
14. 'Hammer Dahn'
Pat McAfee's knack for sports commentary has been well-established. Now, the former wrestler-turned-college football analyst for ESPN is chewing the fat on the latest beat across all major US leagues and sporting events. From late-night game recaps and NFL, NHL, and MLB picks, alongside dedicated playoff picks, to casual sports-related discourse – Hammer Dahn provides a lot of value if you're looking for quick but intelligent betting picks.
The episodes are relatively brief, about 30 minutes apiece. You can follow them daily throughout the sporting season on YouTube, Spotify, and Apple Podcasts.
---
15. Covino & Rich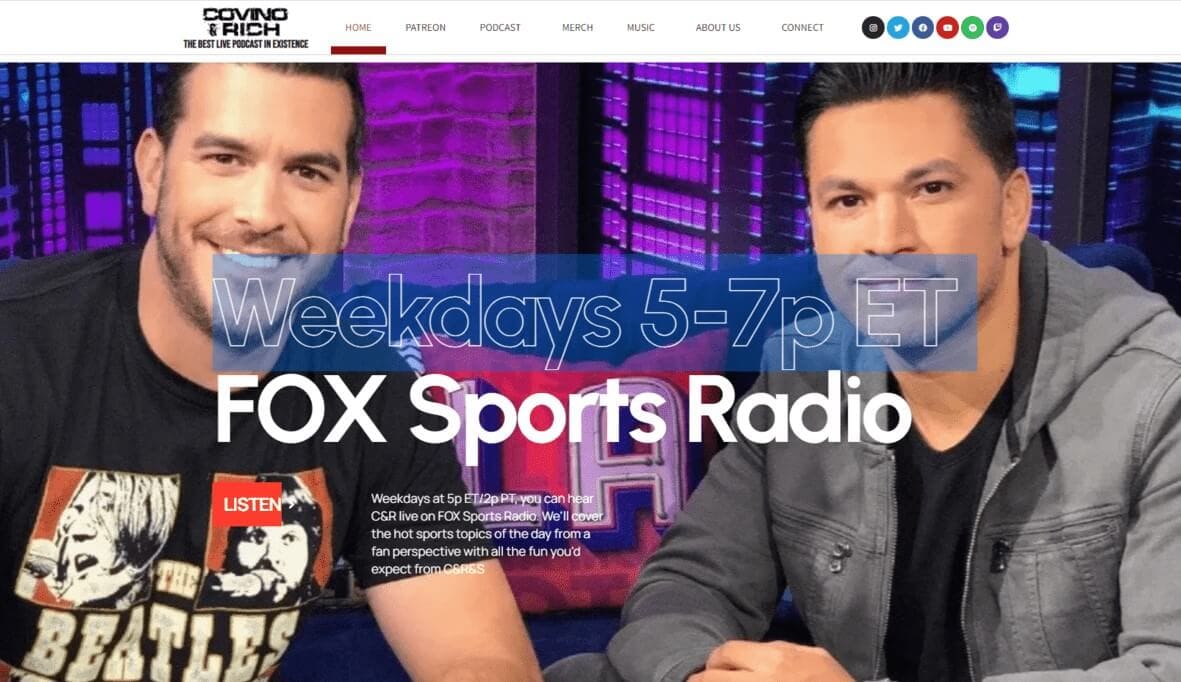 Running daily on Apple Podcasts, Spotify, and YouTube, among other podcast platforms, the 'Covino & Rich' podcast has been a staple sports talk show since 2004.
Originally, the show covered a range of topics other than sports as part of their original gig on SiriusXM but has transitioned into a top-rated sports gambling podcast, now broadcast on virtually all Fox Sports Radio stations. Their episodes are infused with casual but informative sports talk on NBA league games, MLB playoffs, and other weekly takeaways across the sporting landscape.
---
16. Sharp Angles
NFL betting analyst Warren Sharp sits down with prop betting specialist TA Cleveland and fantasy betting buff Rich Hribar to bring you informed discussions and forecasts on NFL lines. Most episodes are aimed toward weekly NFL coverage, betting picks, and analytical previews and are available all season long on Spotify, YouTube, Apple Podcasts, and more podcast broadcasting networks.
The duo also deep dives into the prior week's top performances, noteworthy NFL moments, and other highlights, based on which they make their top predictions on coming events.
---
17. Fantasy Football Happy Hour with Matthew Berry
We couldn't dedicate a guide on betting podcasts without citing at least one fantasy sports podcast.
Daily Fantasy talk show host Matthew Berry brings you a broad-stroke analysis of fantasy picks and offers tips on NBC's Fantasy Football Happy Hour and the companion show Fantasy Football Pregame. Perry's shows cover fantasy football from all angles, mainly centering on statistical sports betting information to help you make the most educated bets in daily fantasy football.
Fantasy Football Happy Hour is a daily fantasy sports gambling podcast that airs on YouTube, Apple Podcasts, Spotify, and, of course, NBC Sports.
---
18. The Sharp 600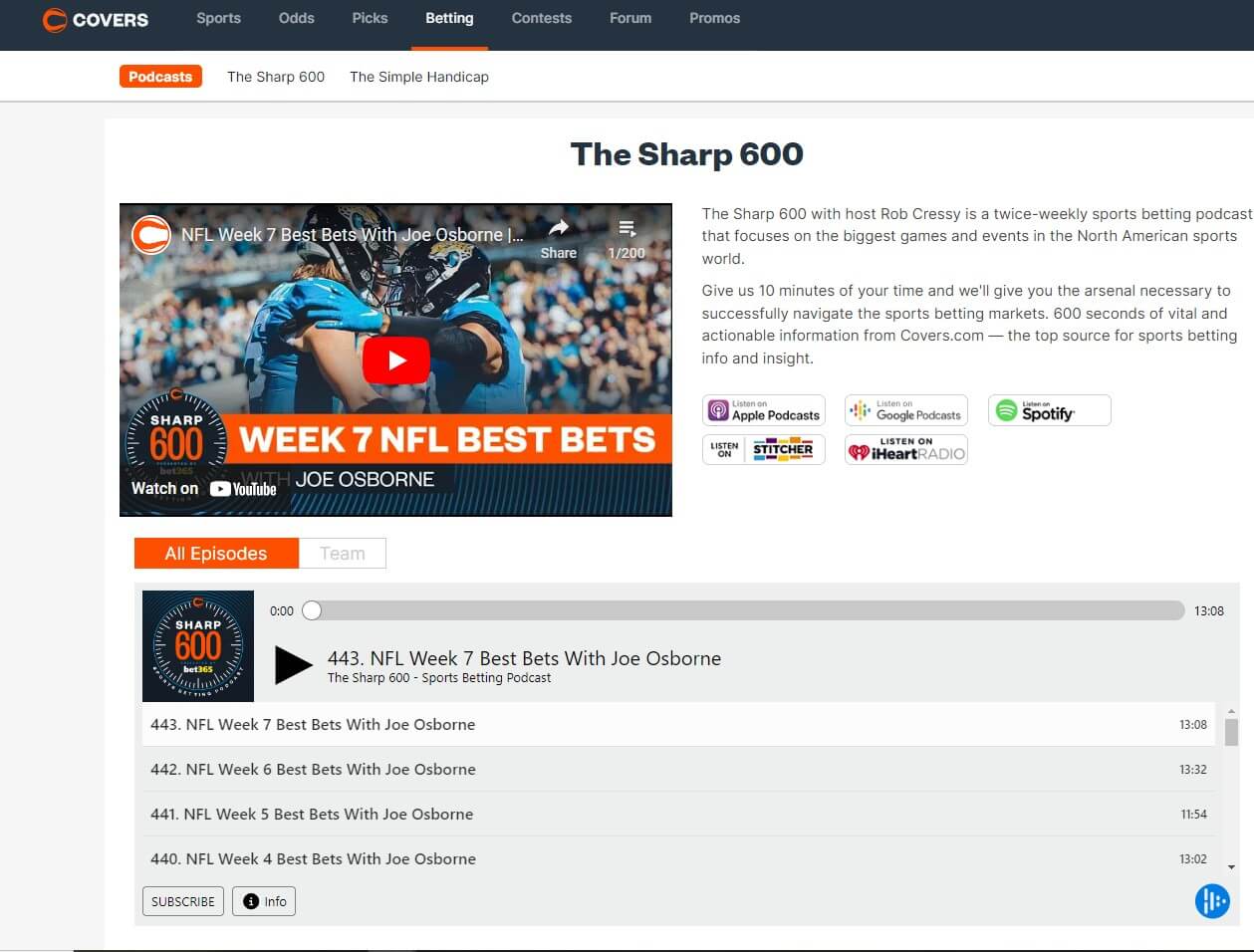 Most podcasts we reviewed air between 20 minutes to up to, and over an hour, on average. Packed with sports betting information? Yes! But a lot of valuable information can be lost among the light-hearted humor and off-topic talk. The Sharp 600 remedies this with 10-minute discussions dedicated entirely to picking the best lines and scooping the most relevant betting news from the world of sports.
Brought by Covers  – a betting-centered website – and bet365, you know you will pick up only relevant betting info. Within 600 seconds, host Jason Logan produces chiefly NFL content but also covers MLB, NBA, motorsports, and tennis.
---
19. Matchbook Betting Podcast
Tom Stanley and Daniel Hussey, alongside betting experts Jesse May and Aidan O'Sullivan, break down the week's top sporting action and provide you with informed tips and betting forecasts on upcoming matchups.
The Matchbook Betting podcast offers an expert view into the NFL while also closely looking into daily, weekly, and monthly events in horse racing and greyhound racing, among other sports. New and recurring experts join the hosts to provide fresh, outside-the-box opinions on sports gambling, game previews, match and racing overviews, and betting recommendations.
---
20. The Betting Predators
While The Betting Predators mostly talk NFL and college football, you know you get value for your time. NFL matchup prognosis, best bets, prop bet analysis, and other predictions are just a few of the subjects covered. Fantasy football predictions and MLB futures are frequently added to the mix.
During the regular NFL season, the podcast releases daily episodes, but things tend to slow down in the off-season. Among other platforms, the show airs on Apple Podcasts, Spotify, and CastBox.
---
What is the Best Sports Betting Podcast on Spotify?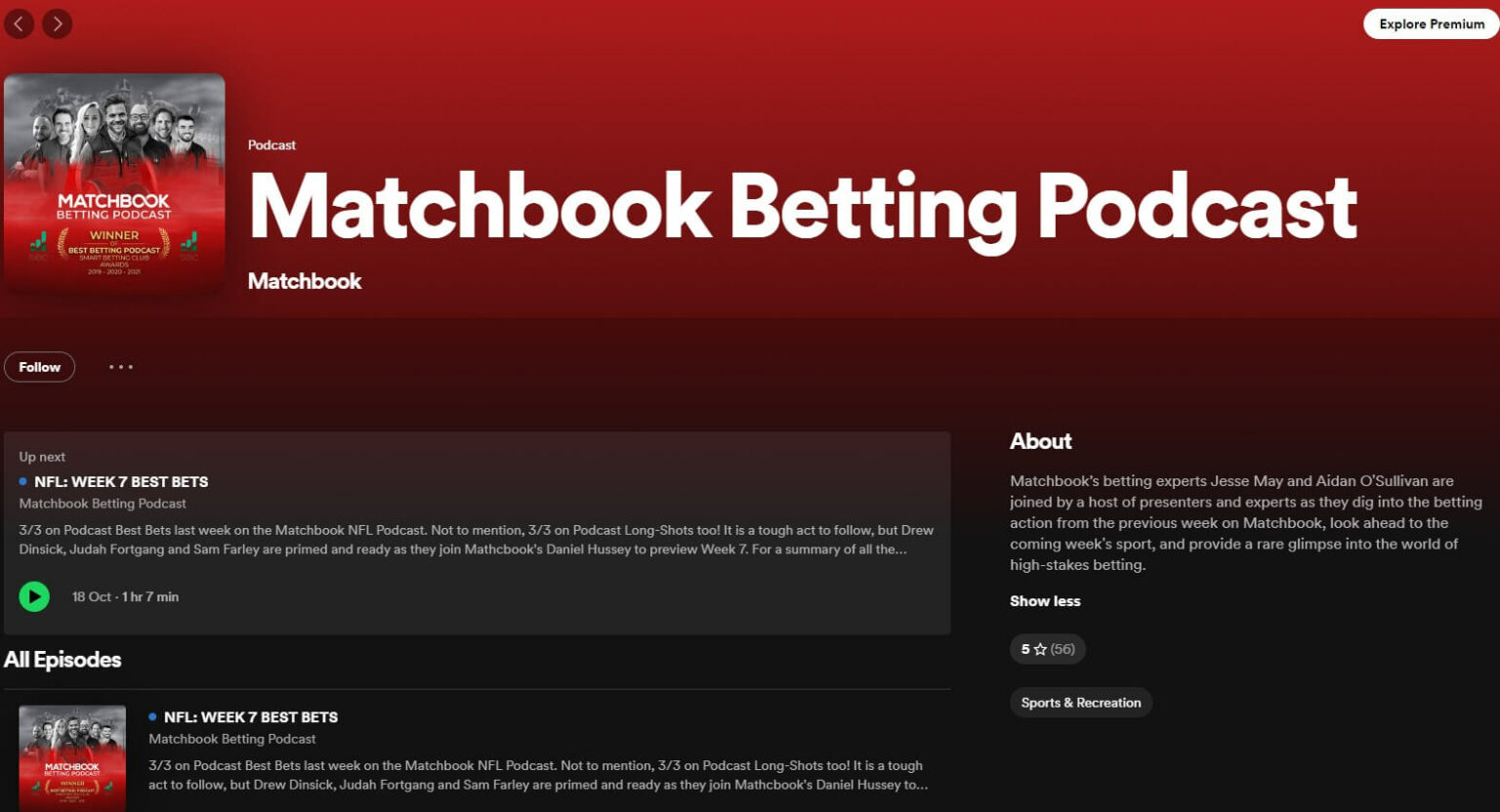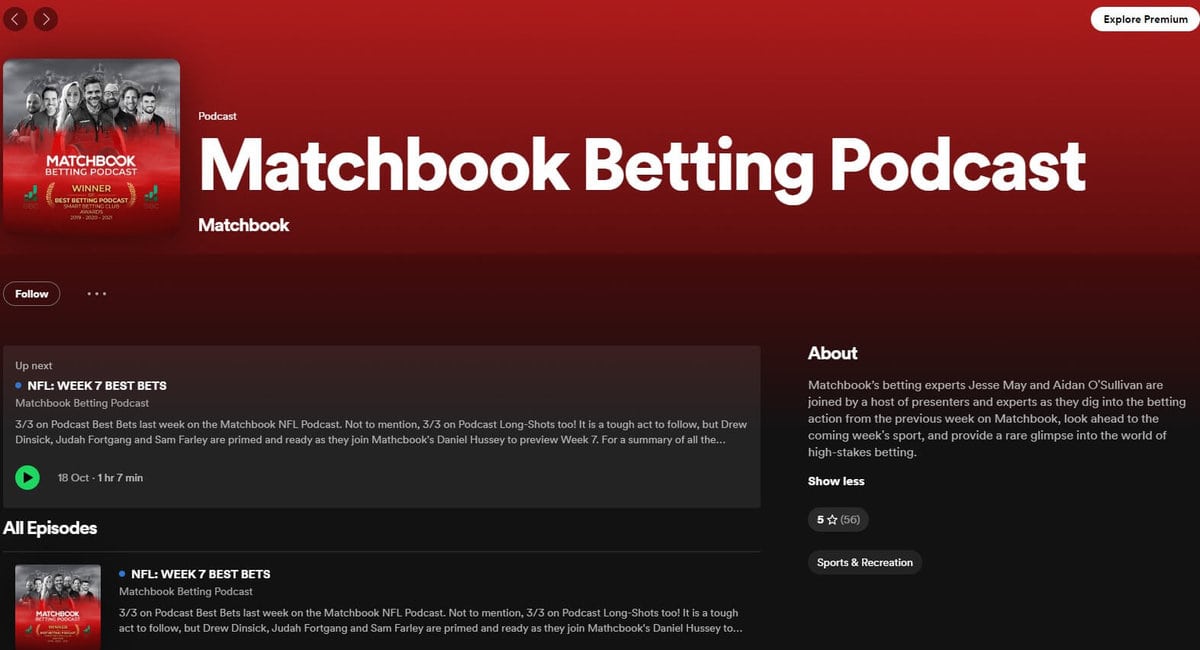 Almost every listed and unlisted betting podcast can be found on Spotify, so it really depends on where your interest in sports lies. After a brief consultation with our in-house experts, we decided on the Matchbook Betting Podcast as our top pick for Spotify listeners.
You can already browse dozens of Matchbook episodes dedicated to NFL and horse racing betting. Hosts May and O'Sullivan, alongside their betting expert guests, delve into all hot-button issues related to NFL and horse racing, but they don't stop there.
Fans of soccer can listen in on podcasts covering top-tier European soccer leagues, particularly England's Premier League. Former professional soccer player Adrian Clarke and betting expert Mark O'Haire are here to offer an inside look into team and player forms, injuries, and matchup previews.
---
Sports Betting Podcast Football Fans Shouldn't Miss
Our consensus is that The Action Network Podcast is arguably the best for NFL enthusiasts of every kind, including bettors. The show's focus is on everything NFL: news, betting tips, picks, analyzing odds and handicapping, and more.
The weekly podcasts offer curated content from NFL experts and analysts, offering weekly previews, Monday night football, weekly recaps, and key takeaways from the week before. TAN staff writer Brandon Anderson, Gilles Gallant, and other professional bettors and experts of the NFL join the hosts in making educated picks, monitoring line movement, and exploring the most valuable player props for the coming week.
All things considered, The Action Network is the best betting podcast for catching valuable NFL tips, strategies, and contextual NFL content. In addition to their regular docket, the episodes are supplemented with fantasy sports betting content and projections provided by fantasy betting guru Sean Koerner.
---
Must-Follow Podcast for Daily Sports Betting News
A quick look at the Sports Gambling Podcast Network's (SGPN) feed and you get a feeling you've finally found a platform for your daily scoop of sports betting news. The SGP is the network's flagship podcast, broadcasting episodes with relevant news from the sports betting community on Apple Podcasts, Spotify, YouTube, and the official SGPN website.
NBA and NFL drafts, inside information on player form, injuries, stats, betting forecasts, and fantasy football news from across the board are provided daily. While the NFL is the platform's main area of interest, they supply you with valuable news coverage on NASCAR, soccer, WNBA, NBA, NHL, golf, baseball, and fantasy betting.
Alongside the cited platforms where their episodes are broadcast, you can subscribe for the SGP newsletter to be consistently in the loop on the latest developments.
---
Best Podcast for Betting Picks and Predictions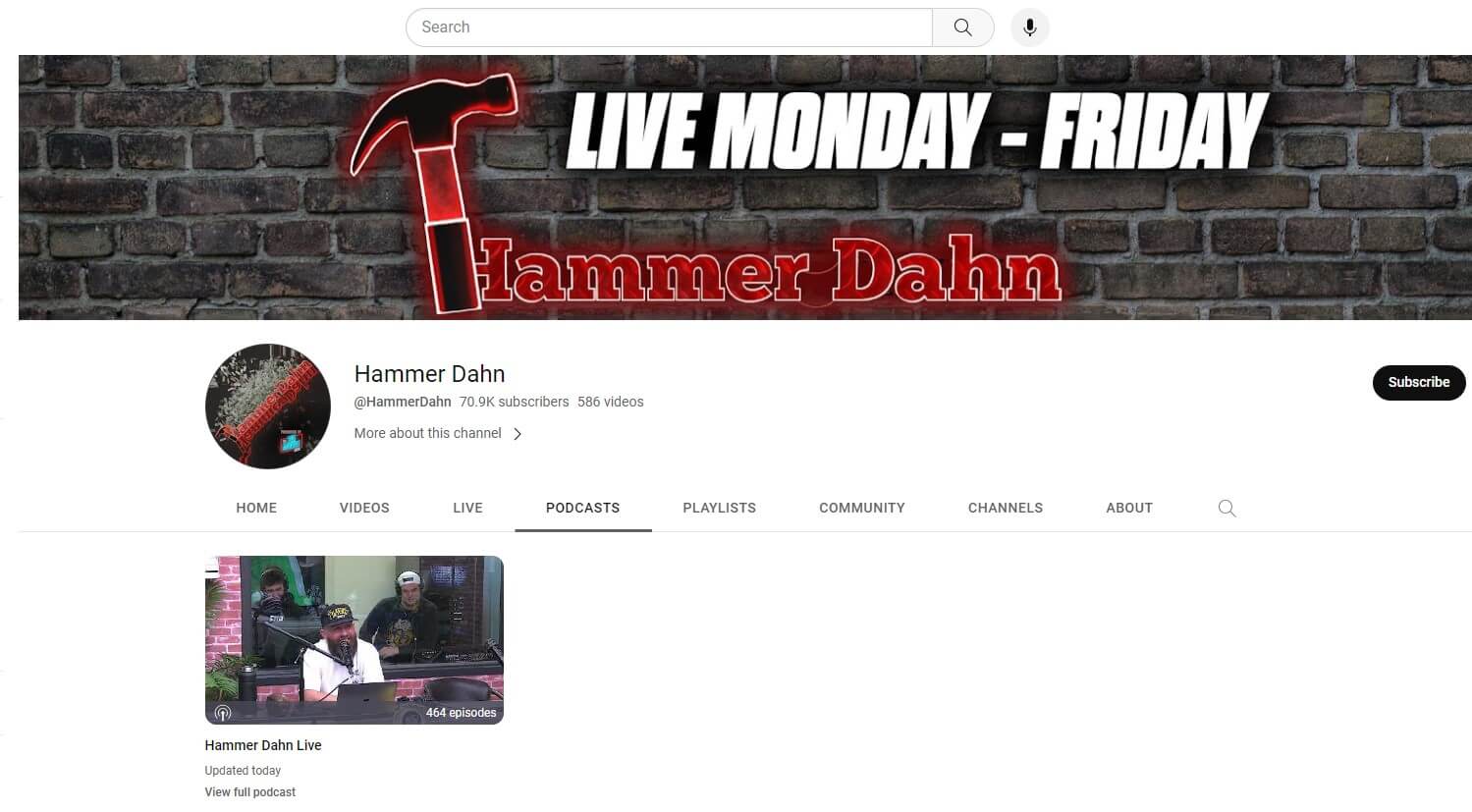 The main goal of following sports bedding podcasts is to learn to make more educated bets and fill in the gaps in your understanding of sports betting. Certain podcasts are more talk-oriented, while others are driven by humor mixed with betting analyses and tips. Some, like Hammer Dahn, fuse these elements, and more, to offer you inside information and examine the betting pathways of professional handicappers and expert bettors.
Hammer Dahn's episodes run for about 30 minutes each, and in that time, Grumpy, Digs, and the rest of the roster recap events and recap games from the past week while providing betting tips, key picks, and projections on league matchups, playoff games, and other events. The hosts and their guests cover nearly all major sports leagues, offering picks and prognostications on college sports, including the NFL, MLB, college football lines, NHL, tennis, and more.
Alongside YouTube, you can tune in or download Hammer Dahn episodes on Apple Podcasts and Spotify and find snippets with their top picks on their Twitter and Instagram pages.
---
Conclusion
No matter how much you think you know about sports betting and how much effort you put into research, there will always be gaps. Podcasts offer you a sort of shortcut to filling in those gaps while also laying the groundwork for you to make your own educated research and bets.
And the beauty of it is you can tune into as many shows as you please.
No one can stop you from following or subscribing to multiple podcasts at once, but time is money, and being economical in how you spend yours can pay dividends. At the end of the day, only you know what it is you want from your program, whether a casual listening experience or more value from the information you collect.
Certain podcasts provide a good balance between sports discourse, comedy, and an investigative-driven approach to sports betting, and those are the ones you want to be looking out for.