Gamble USA strives to improve your online gambling experience. We aim to help you play safely, make informed decisions when gambling, and increase your betting knowledge through our guides.
We adhere to strict editorial integrity; our content may contain links to products from our licensed & legal US partners.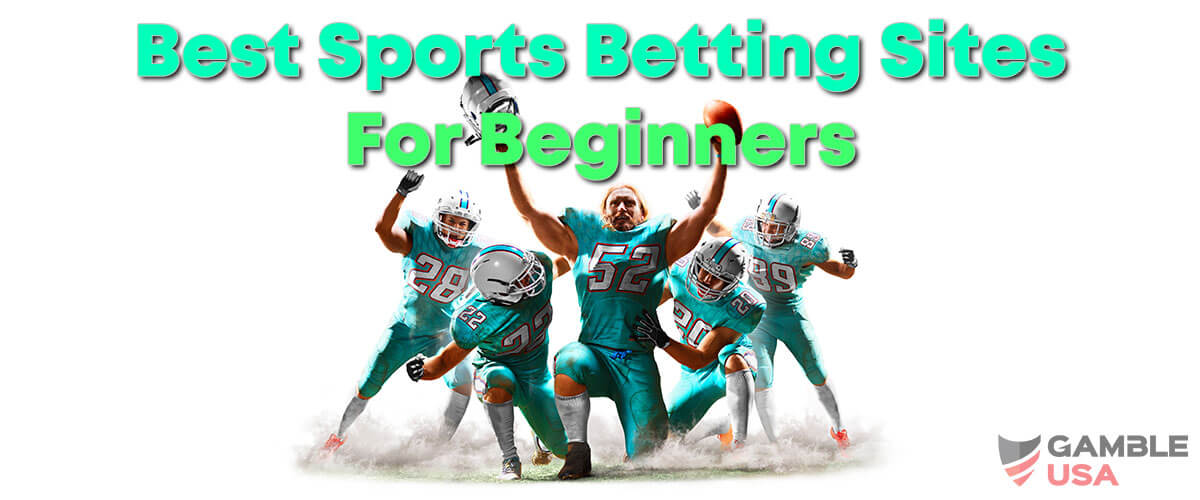 Although online sports betting is rapidly growing across the United States, it is still a relatively new industry. If you are looking to get into online betting and are not sure where to start, this guide to the best sports betting sites for beginners will tell you all you need to know.
Make no mistake about it, sports betting can be intimidating for beginners. The legal sports betting industry is full of jargon that may seem confusing for an amateur bettor. If you have never visited a sports betting site or are unfamiliar with the terminology used in online gambling, it can feel overwhelming.
Like most new concepts or ventures, you either sink or swim only. The stakes are high for sports bettors as you are playing for money. For that reason, it is a good idea to look for online sportsbooks and the best betting apps for beginners. The best online betting sites for beginners will provide detailed betting guides, helpful how-to tips, and other resources to help make the experience entertaining and profitable.
The challenging part is finding them. You need tools to find an excellent online sports betting site for amateurs, and in this sportsbooks guide, we give them to you. Here, we cover what to look for, what to avoid, the best sport to bet on, and if an online betting site is worth signing up for before making your first deposit.
This page provides lots of information and what to look out for when searching for the best betting sites for beginners. We take into account everything from the interface, welcome offers for new bettors, ease of use, and lots of other important factors.
Best Sportsbooks For Beginners
With so many sites flooding the sports betting market, it can be challenging to know where to start. We have listed some of the best online sportsbooks (all accept U.S. customers) that appreciate and recognize that an educated player is their best client. Additionally, these platforms are among the most reputable sports betting sites around.
#1. Caesars Sportsbook
You would expect a well-known name in the industry to offer all the bells and whistles and make their customers feel like a king or queen. That is precisely what you get at Caesars Sport. When it comes to sports betting for beginners, Caesars Sports is one of the best choices offering excellent betting odds, in-game wagering options, and a menu of some decent welcome sportsbook promo codes.
Additionally, an extensive menu of deposit offers and how-to betting advice is provided in the support area of the Caesars Sports web page. The book also offers a cooling-off period, where bettors enduring a run of bad luck can self-impose restrictions on their account for anywhere from 3-30 days.
The sportsbook also has a detailed section explaining what sports are available to bet on and what types of wagers are available.
Promo Code: GUSAFULL
Bet $50, Get $250
21+. T&C Apply
21+. T&C Apply
Promo Code: GUSAFULL
Massive welcome bet offer
Earn Caesars Rewards
Promo Code: GUSAFULL
Bet $50, Get $250
21+. T&C Apply
21+. T&C Apply
#2. BetMGM Sportsbook
Borgata powers the BetMGM online sportsbook, so you know it will be a top-quality platform. It has emerged from the back to become one of the market-leading online sportsbooks in the U.S. It has done this thanks to its fantastic welcome bonus, range of sports to bet on, and all of the types of bets you could ask for.
In addition to having one of the best online sports betting bonuses available, BetMGM is ideal for new bettors as everything on the site is explained in detail. A comprehensive FAQ section answers all of the most common questions among players, including how to use the BetMGM promo codes. Additionally, if you want to find out more information on any type of bet or sports market, it is just a click away.
Promo Code: GAMBLEUSA
Up To $1,500 In Bonus Bets
21+. T&C Apply
21+. T&C Apply
Promo Code: GAMBLEUSA
Super fast payouts
Live streaming
Promo Code: GAMBLEUSA
Up To $1,500 In Bonus Bets
21+. T&C Apply
21+. T&C Apply
#3. DraftKings Sportsbook
DraftKings Sportsbook is undoubtedly one of the best online sportsbooks for beginners in the U.S. The site began as a daily fantasy sports platform and has grown to be arguably the best online betting site in the country today. As the legal online sports betting industry grew, DraftKings expanded into the sportsbook business.
They have always paid special attention to newcomers. In their fantasy sports competitions, D.K. offered a beginner's level of competition for new players just dipping their toes in the water playing sports for money online.
In addition to the standard how-to bet on DraftKings explanations, the operator also provides a detailed look into the statistics of wagering at their site. They provide information on the percentage of wins by both experienced players and newcomers. They also encourage new players to take things slowly and learn how things work before diving into any significant wagering, as the DraftKings sportsbook promo code highlights.
Other notable options for new bettors include Barstool sportsbook and Fox Bet. Each betting option listed on this page also provide excellent sign up bonuses, meaning new players can get their bankroll off to a nice start. There is no bonus code required to claim the welcome bonuses offered by these sportsbooks.

#4. FanDuel Sportsbook
One of the best and most well-known sportsbooks in the United States, FanDuel is ideal for beginners. The company initially built its reputation on daily fantasy sports contests and have since built an excellent reputation with their range of different sports and unique betting features such as same game parlays.
You will find everything you would expect at a top sportsbook on FanDuel. They also provide an extensive sports betting how-to guide which goes into detail explaining how the different types of bets work, which is an excellent tool for new bettors.
Things to note for first-time sports bettors
There are some important factors you must be aware of before you jump into the world of online sports gambling. First, a lot of people would like to bet on their favorite sporting events but fear doing this would violate certain laws. In this case, always check if sports betting is legal in your state. There may be offshore betting sites that try and encourage you to sign up and bet, but you are not protected when using these platforms.
Always make sure you are betting in a state with a legal gambling industry at licensed sportsbooks. This means your personal and financial information is protected at all times.
In addition to the legality of sports betting sites, here are some other things to look out for when looking for the best sports betting site for you.
Promotions & Bonuses
The top sportsbooks for beginners will strive to attract new bettors and encourage them to place bets. They do this by offering generous welcome bonuses and offering frequent promotions. For example, you could sign up for a BetMGM sportsbook account today and be rewarded with a risk-free bet of up to $1,000 with your first deposit. Other sites regularly offer free bets as a way to attract you to their platform.
The best sports betting sites will have attractive sign up bonuses in addition to ongoing promotions.
Reputation
You want to sign up for books with a history in the sports betting industry. If a brand has been serving its customers for a long time, there is a good chance it has gained their loyalty by offering a high-quality, robust service. It is hard to ignore that kind of reputation, especially when you consider many sites launch and then quickly disappear in the gambling industry.
Range of sports to bet on
The best online sportsbook will provide a wide range of sports coverage, from common options such as football betting to more niche options like cycling . Although it is likely one of the four big leagues, the NFL, MLB, NBA and NHL will draw the most attention, having the opportunity to wager on numerous different sports, both domestic and international, is something a new sports bettor should consider. A lot of people will naturally wager on the Super Bowl, but then there may be others that would like to wager on an ordinary Premier League game.
Offering a deep coverage of sports markets is a good indicator of a well-rounded sports gambling site. Having variety is also adds excitement to your wagering experience, allowing you to bet on sports you may never have considered before and broadening your horizon. Additionally, when the football or basketball seasons have finished and you don't have a sport to bet on, looking for new sports means you have something to fill the void.
Discovering a betting site that offers numerous sports to bet on, and even eSports, will add another layer of excitement to your experience. It will also help new players become wiser bettors in terms of understanding odds and becoming accustomed to different types of betting markets.
Types of bets
You will quickly discover that every sports betting site has the most common bet types (Moneyline, Totals, Point Spread). However, not every sportsbook will offer the same variety in terms of the different bet types.
We recommend all bettors, whether new or experienced, to check the sportsbook for how detailed and extensive the coverage is for each sport, particularly the sports you are most interested in. For example, does the site offer significant live betting options in addition to the standard betting lines?
We would also be keen to see player props, game props, team props, specials for horse racing etc to really give bettors lots of options. These days it seems you can bet on almost anything, so you shouldn't choose a betting site that does not have an excellent range of betting markets.
Betting Features
The best online sports betting sites will have features that are easy to use for new players and help to provide an exciting gambling experience. Some of the particular features we think new bettors should look out for when choosing which site to join include:
Cash Out: Cash out is a feature that allows you to settle a bet early for it's value in real time before an event ends. Cashing out a wager early is a great way to lock in some profit if you are worried about how the game will unfold. It is a great feeling when you cash out early and have avoided the pain of losing cash in the last minute of a game. Cash out is also a great way to cut your losses if your wager is looking unlikely to win. Some players will always choose to see things through to the end, but it is very important to know when to walk away and just accept you must cut your losses.
Live Betting: Live betting is one of the most popular ways to wager on sports nowadays. Otherwise known as in-play betting, it give you the opportunity to wager on an event once it has already started. The odds constantly change based on what is happening in the game, so you can react in real time and quickly identify a trend and bet on it instantly. Because this has grown so popular, many industry experts believe operators will be judged by some bettors solely on their live betting offering.
Parlays/Bet Builders: Parlays or bet builders allow you to create your own, personalized bet. Parlays are a type of bet that let you combine several single-bets from different games which enhance your odds and create the potential for a large payout. Parlays have also evolved to now include same game parlays, which works the same way as a normal parlay except all of the wagers you combine are from the same game. Parlays are popular due to the amount of money you could win, but they are a high risk, high reward bet. Parlays are so popular now that many operators offer different forms of parlay insurance, boosted parlays and other parlay-related promos. However, always remember when placing a parlay wager that if one leg loses, the whole bet loses.
Customer Service
If you bet online long enough, you will inevitably encounter minor issues that need to be resolved. Even if the problem has come about through something you have done, it's important to have access to customer support reps at the book you are using who can help get things sorted. To that end, the customer service staff at a sportsbook should be responsive, professional, and knowledgeable.
Banking Options
One of the most critical aspects of online sports gambling is funding your accounts. Most bettors assume the best option to add funds to your account is via a credit card. However, your bank often declines these, which can slow the process and cause issues. The top sports betting sites will offer several funding options: PayPal, money transfers, prepaid cards, and more.
Best Betting App For Beginners
With the move to online gambling, sports betting apps have thrived and become the most popular way to bet. Mobile sports betting is so popular as it allows users to gamble on the move through innovative software. However, if you are new to sports betting, you may not know a legit betting app from a dodgy one. You may be wondering, which is the easiest betting app to use? Here, we will look at the best sports betting app for beginners and why they are excellent choices for new bettors.
DraftKings App
When you consider factors such as reliability, speed, and an easy-to-use interface, the DraftKings app immediately springs to mind. The brand has extensive experience in this betting industry and has designed an extremely customer-friendly app. The clean layout means beginners can navigate their way around with ease, ensuring this is one of the best betting app for beginners in the U.S.
Up To $1,000 Deposit Bonus
21+. T&C Apply
21+. T&C Apply
The best sportsbook
Amazing odds & offers
Awesome betting app
Up To $1,000 Deposit Bonus
21+. T&C Apply
21+. T&C Apply
FanDuel App
Alongside DraftKings, FanDuel sportsbook is one of the most well-known brands in the U.S. The company has dedicated a lot of time to improving its app over the last few years, and it shows. The interface makes the app stand out from its peers, and it looks at home on your device next to the likes of Instagram, Twitter, and TikTok. The great thing about using this app is you don't need to know a lot about sports betting to get around, which is ideal for beginners. Thanks to its intuitive design, it is simple to find what you are looking for; check out how to bet on FanDuel, for an overview of the platform and the sports betting types worth employing.
No Sweat First Bet Up To $1,000
21+. T&C Apply
21+. T&C Apply
Convenient banking
Massive choice of sports
No Sweat First Bet Up To $1,000
21+. T&C Apply
21+. T&C Apply
BetMGM Sportsbook App
The BetMGM app uses a standard mobile betting layout, with it being perfect for beginners as all of the day's promotions and most popular games are listed on the homepage. From there, you can quickly place bets on any featured game or use the to view the lines for your chosen sports. Mobile bettors can find the official app by visiting BetMGM.com from any Android or iOS phone.
Promo Code: GAMBLEUSA
Up To $1,500 In Bonus Bets
21+. T&C Apply
21+. T&C Apply
Promo Code: GAMBLEUSA
Super fast payouts
Live streaming
Promo Code: GAMBLEUSA
Up To $1,500 In Bonus Bets
21+. T&C Apply
21+. T&C Apply