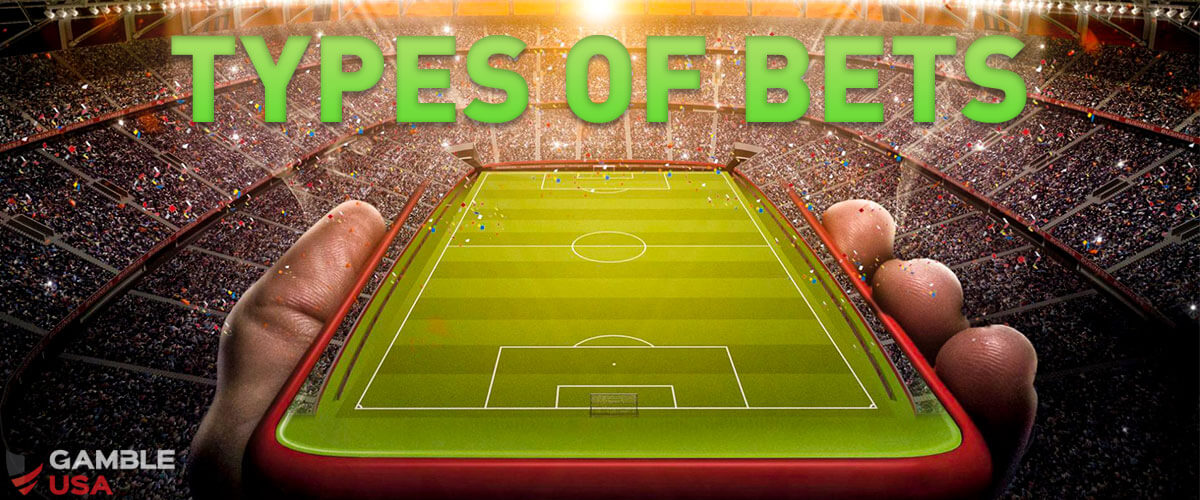 Sports betting has been gaining popularity ever since the US Supreme Court struck down the Professional and Amateur Sports Protection Act of 1992 (PASPA), which imposed a federal ban on all sports betting activities in the country. The new law allowed states to pass their own legislation regarding the legalization of betting on sports.
Almost all states have at least considered legalizing sports betting, and as of today, 35 states have legalized it in some form. The rules and laws differ in each state, but what they all have in common is that they offer hundreds of betting markets and many different betting types that you can wager on.
In this guide, we'll introduce you to the different bet types that you'll find across US sportsbooks, and provide some tips on where you can place these bets, which bet type is the best, and a summary of what each bet means.
---
What Are the Different Types of Bets?
There are dozens of different types of sports bets, with some of them being much more complex than others. We'll start with the most common and the simplest bets that you can place at US sportsbooks and still come out in profit.
| 💵Bet type: | ℹ Meaning: |
| --- | --- |
| Moneyline / Win bets | A bet in which you bet on which team will win the sporting event. |
| Point spread / Handicap bets | A type of bet where you're betting on the margin of victory or a loss in a sporting event. |
| Over/Under bets / Totals | You're betting whether the combined score of both participants in a sporting event will be over or under the projected number. |
| Alternate Point spread / Handicap bets | The betting line with the simple point spread levels the playing field between two teams. With alternate point spreads, you can pick the handicap or points boost you want to assign a team, and each line comes with different odds. |
| Alternate Totals/ Over/Under bets | You can bet over or under a line that is not the official one. Like alternate point spreads, each betting line has different odds for the over and under bets. |
| Parlays / Accumulators | A bet that includes multiple legs of bets. The odds of each leg are multiplied, and they all need to win for you to win the bet. |
| Futures / Outright win bets | A bet in which the bettor selects the outright winners of a competition well in advance of the event happening. |
| Proposition bets | A bet that's not tied to the result of the game, but other events that are happening in the game. |
| Teaser bets | A type of parlay bet in which you can move the point spreads of the legs to your advantage - which comes with the cost of lower odds. |
| Pleaser bets | Just like teasers, pleasers are similar to parlay bets, but you can move the point spreads to make it harder for you to win, but get better odds. |
| Round Robins / If bets / Reverse bets | These are complex bets with multiple wagers and selections. They're parlays in which different bets are tied conditionally to one another, and the next bet is directly connected to the previous one. |
| Permutation betting / Combined betting | It's another type of a parlay bet, but it includes multiple parlay bets combined into one. The wagers can be placed on different selections, and, in comparison to standard parlays, not all legs have to win for the bet to be a winning one. |
In the above table, you can see all the standard and some advanced bet types. Now, let's look at each bet in detail, and see how they can be applied into your betting strategy.
Moneyline Bets
Moneyline bets are bets on which player or team will win a single game. There are no conditions apart from picking the winner, so just how they win or by what margin is irrelevant.
In a moneyline bet, each team or athlete (in individual sports such as tennis) is assigned betting odds that indicate the potential payout for a correct wager. There are two-way or three-way moneyline bets, depending if there's a draw in the given sport.

When it comes to the odds, each American odds moneyline bet has a favorite and an underdog. Oddsmakers choose which team will be the favorite, and which team will be the underdog based on their recent performances, form, starting lineup list, injury list, home team advantage, etc.
The odds for the favorite are lower when compared to the underdog odds, and are usually displayed as a negative moneyline. For example, if the Los Angeles Lakers are playing the Golden State Warriors and the Warriors are the favorites, they might receive odds of -305. What this means is that you need to wager $305 to win $405, or be $100 in profit.
If the odds for the Lakers are +240, for example, it means that if you wager $100 on the Warriors, you'll receive a payout of $340 if your bet wins – with $240 in profit.
Other forms of moneyline exist too, such as 1st quarter 3 way moneyline, which is only applicable in sports that are a) split into quarters b) can end in a draw.
Point Spread Bets
Point spreads, popularly known as spread betting or handicap betting, is a form of sports betting in which the bettor wagers on the margin of victory in a sporting contest. This type of betting aims to eliminate the favorite and underdog and create an even playing field for both participants in the event.
For example, if the NY Mets are playing against CIN Reds, and the Mets are the favorites in the matchup, the point spread, called a runline in baseball, may be -1.5 for the Mets. This means that the Mets must win the game by two or more runs for you to win the bet.


The point spread odds are usually placed right next to the moneyline odds, and the favorite is indicated with a negative number, while the underdog is represented with a positive number. Since the handicap makes the playing field more even with point spread betting, the odds are usually lower for the underdog, and higher for the favorite.
Essentially, with handicap bets, you should consider the margin of victory instead of picking who will win the contest. Point spread bets add a level of excitement and keep bettors on the edge of their seats until the final whistle. A sub-variant of point spreads are so-called PK or Pick'Em bets, which basically represents a zero point spread, with no apparent favorites in the matchup.
Alternate Point Spreads
The standard point spread gives the underdogs a boost and the favorites a point reduction, to essentially bring a balance to the two teams. The odds are usually -110 or thereabouts, which means that there is a 50-50 chance of either team winning. With alternate spreads, you can shift the betting line, to increase the odds and risk, or shorten the odds and decrease the risk. Predicting betting lines is hugely popular in the states, and successful alternate point spread bettors can make buckets of money with winning lines.
Over/Under (Totals bet)
Over/under is a popular type of bet that focuses on the combined score of both teams rather than the winner. With this type of bet, you don't have to predict which team will win the contest, nor care about the margin of victory. Instead, you're wagering on whether the final score will be over or under the number set by the sportsbook.
Let's take NBA wagers for example. The Denver Nuggets are playing at Phoenix Suns, and the sportsbook sets the over/under at 226 points. This means that if you bet on over, both teams should score a combined of 227 points or more for you to win the bet. If you bet on under, the final combined score should be below 226 points for you to win the bet.


In over/under bets, the sportsbook sets a number that's usually a half-point to avoid a push, and the bettor should predict if the final score will be over or under that. If the final score is the exact number that was set by the sportsbook, 226 in our case, the bet is considered a push and the bettor will get a full refund of their wager.
Alternate Total Points
Alternate totals offer even more betting lines, so you do not need to stick with the official total points line. This way, you can shoot for longer odds, by betting over a higher line or betting under a lower line. Of course, you can always go for the less risky approach, namely by picking a higher line and betting under, or picking a lower line and betting over.
Prop Bets
Prop bets or proposition bets are special bets that don't focus on the result of the game, but on all the other things that are happening during a match. For example, you can place a prop bet on how many points Nikola Jokic will score in game 6. The sportsbook might provide an over/under prop bet, and you can choose whether the player will score over or under that number. These bets are called player props.


There are also team props, in which you can bet on something that the team might do. For example, in a soccer match between Manchester United and Liverpool, you can bet which team will receive more corners or yellow cards.
Due to the nature of prop betting, sportsbooks often offer dozens of prop bets for a single matchup. However, some states prohibit placing prop bets on college sports.
Futures Bets
As the name suggests, futures bets focus on events that will take place in the distant future. That's relatively speaking, of course, but with these bets, you can bet on which team will win the league for example, or which team will make the playoffs.
When it comes to NFL wagers, you can place a futures bet on which team will win the next Super Bowl. The odds for futures bets depend on the team's form, roster, schedule, injury list, etc. At the moment, Kansas City Chiefs are the favorites to win the Super Bowl with odds of +600, followed by the Philadelphia Eagles with odds of +800, and the San Francisco 49ers with odds of +800.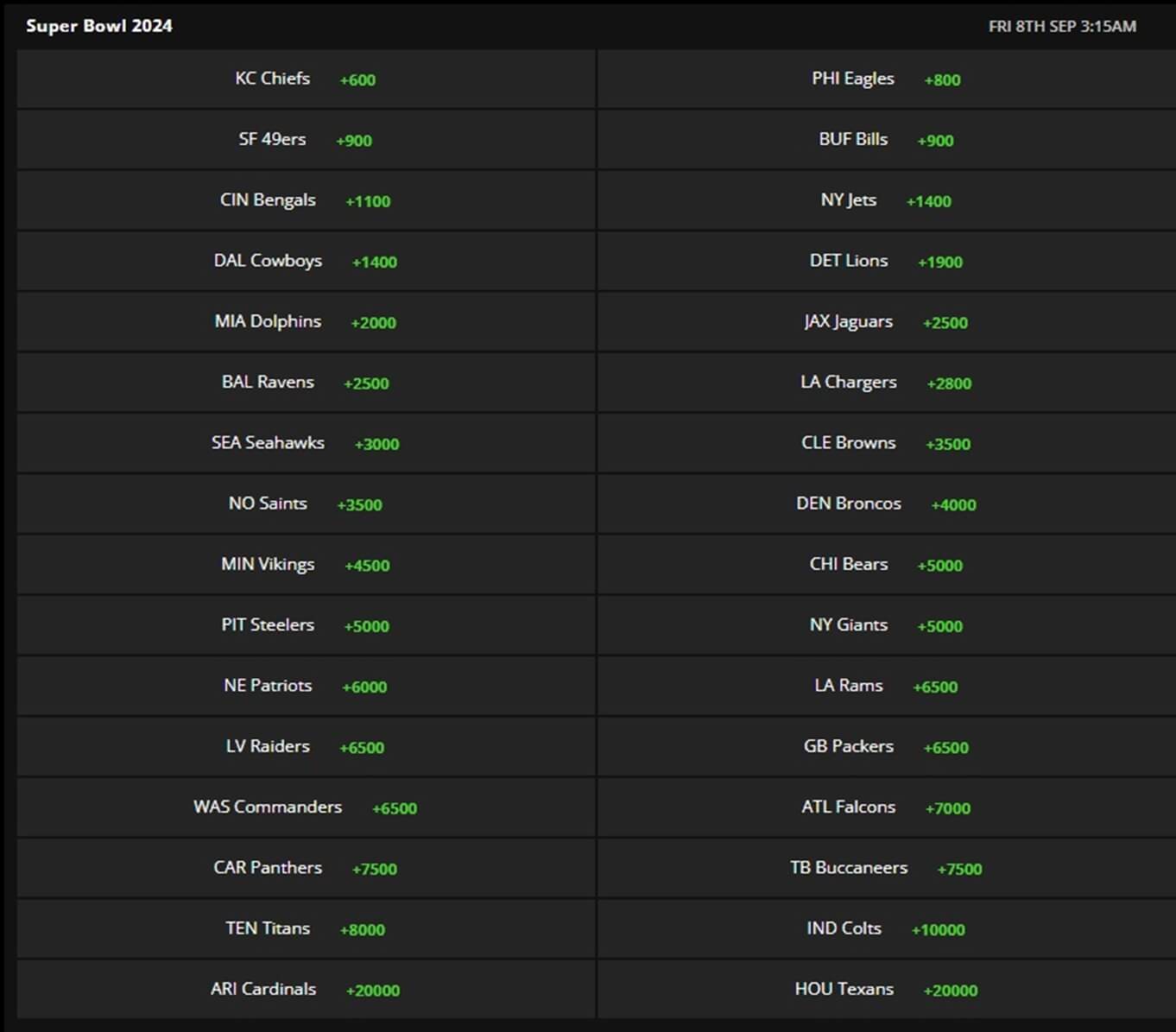 As you can see, the odds for futures bets are usually high because it's hard to predict which team will win before the season starts. However, the odds are not fixed, and they'll change when the season starts.
Parlay Bets
A parlay bet, or an accumulator bet, is a type of bet in which sports bettors combine multiple betting lines into a single betting slip. For example, you can place a moneyline bet that the Nuggets will win against the Suns, and bet on the Knicks vs Heat game to go over.
Parlay bets usually have much higher potential payouts, but you must win all the bets in the betting slip for you to win the parlay. With these bets, you're not limited to only one betting type, league, or a sport. For example, you can combine moneyline boxing wagers with MLB wagers, NHL wagers, and tennis wagers in the same parlay.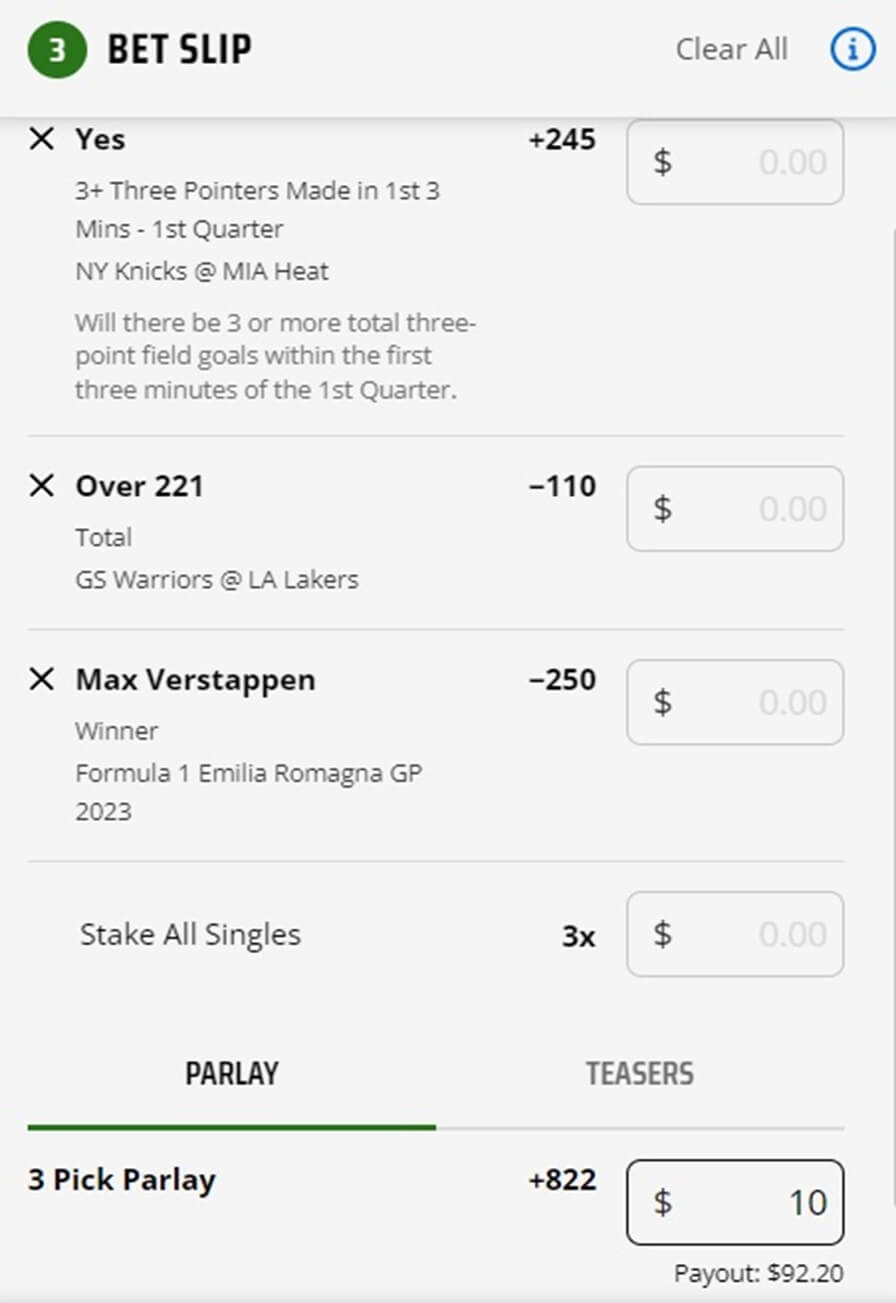 The odds of each leg are multiplied, so the potential payout is massive. Although most online sportsbooks will calculate the potential payout of a parlay automatically, you can calculate them manually by converting American odds to decimal odds. Then, multiply all the bets in the parlay together, and then multiply that number by the bet amount.
Same-game parlays have become a popular betting type in the US as well, and it's offered by many sportsbooks. As the name suggests, you can place different bets for the same event and combine them in a parlay. For example, you can place a moneyline bet that Inter will win against Milan in the Champions League, and place an over 2.5 goals bet for the same match. Round-robins are another variation of parlay betting adding some safety to this wager.
Live Betting
As the name suggests, live betting means that you can bet on an event after it has started. This is not a separate type of bet, and you can usually place the same bets that you can with standard betting, such as moneylines, point spreads, and over/unders, but there are some interesting betting types that apply to live betting only.
For example, you can bet on which team will have the next possession, or which player will win the next point in tennis wagers. Live betting can also be a useful betting strategy tool when practicing hedge betting or cover bets, as the odds are changing in real-time.
Teaser and Pleaser Bets
These bets are similar to parlays in many ways, with some key differences. With teaser and pleaser bets, you can place a parlay at reduced or increased odds by manipulating the spread. Commonly, you can find teasers of +6, +6.5 and +7 at sportsbooks that offer this type of bet. Of course, there are some betting sites that have even more options for teaser bettors.
With teaser bets, you must pick at least two teams to wager on. This means that, just like with parlays, if one leg of the teaser bet loses, the whole bet is lost.
---
Where You Can Place These Bets
More than a dozen sportsbooks take the bet types we covered above. The sportsbooks we highlighted above are all completely legal, though not all of them operate in every state where betting is legal. Each sportsbook has its own features, loyalty program, and promotions that you can take advantage of as a bettor. Below, we will go into more detail on each one.
Bet365
Bet $1, Get $365 In Bonus Bets
21+. T&C Apply
21+. T&C Apply
Easy and fast banking options
Huge welcome bonus bet
Bet $1, Get $365 In Bonus Bets
21+. T&C Apply
21+. T&C Apply
If you are looking for a sportsbook where you can explore one of the broadest selections of betting markets for sporting events from all over the globe, then look no further than Bet365.
Whether you like to stay on the safe side and play with the Bet365 bonus bets or you want to indulge in high-stakes action, Bet365 offers you an endless selection of betting types. From classic moneyline bets to point spread bets, totals, and futures, to some of the most exotic prop bets you will ever see, Bet365 has enough betting types to fulfill every sports betting desire.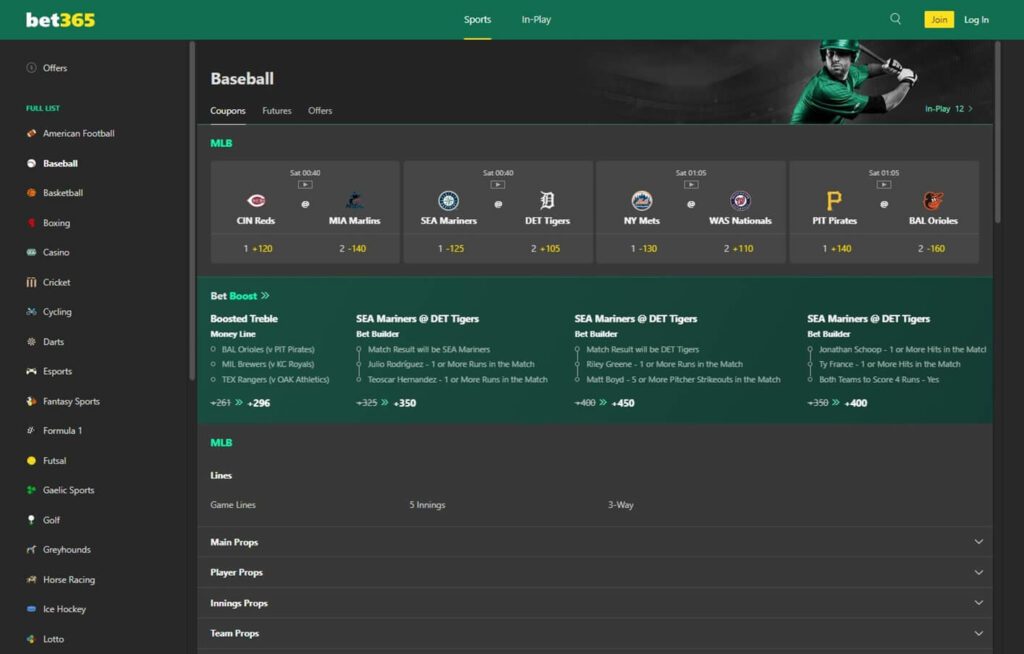 DraftKings
Up To $1,000 Deposit Bonus
21+. T&C Apply
21+. T&C Apply
The best sportsbook
Amazing odds & offers
Awesome betting app
Up To $1,000 Deposit Bonus
21+. T&C Apply
21+. T&C Apply
Whether you are into the basic betting types or you are someone who wants to dive into the deep betting waters by exploring more niche betting markets, choosing DraftKings as your sportsbook is always a good move.
What started in 2012 as a daily fantasy sports platform quickly became a go-to place for millions of sports bettors. Besides the highly-sophisticated mobile app and the generous welcome offer, one of the crucial reasons behind DraftKings' success is the catalog of betting types.
Whether you like to place player prop bets during the NBA Playoffs, try your luck with some NFL futures, or explore the variety of prop bets for the hottest UFC bouts, DraftKings allows you to be just a few clicks away from thousands of exciting betting types.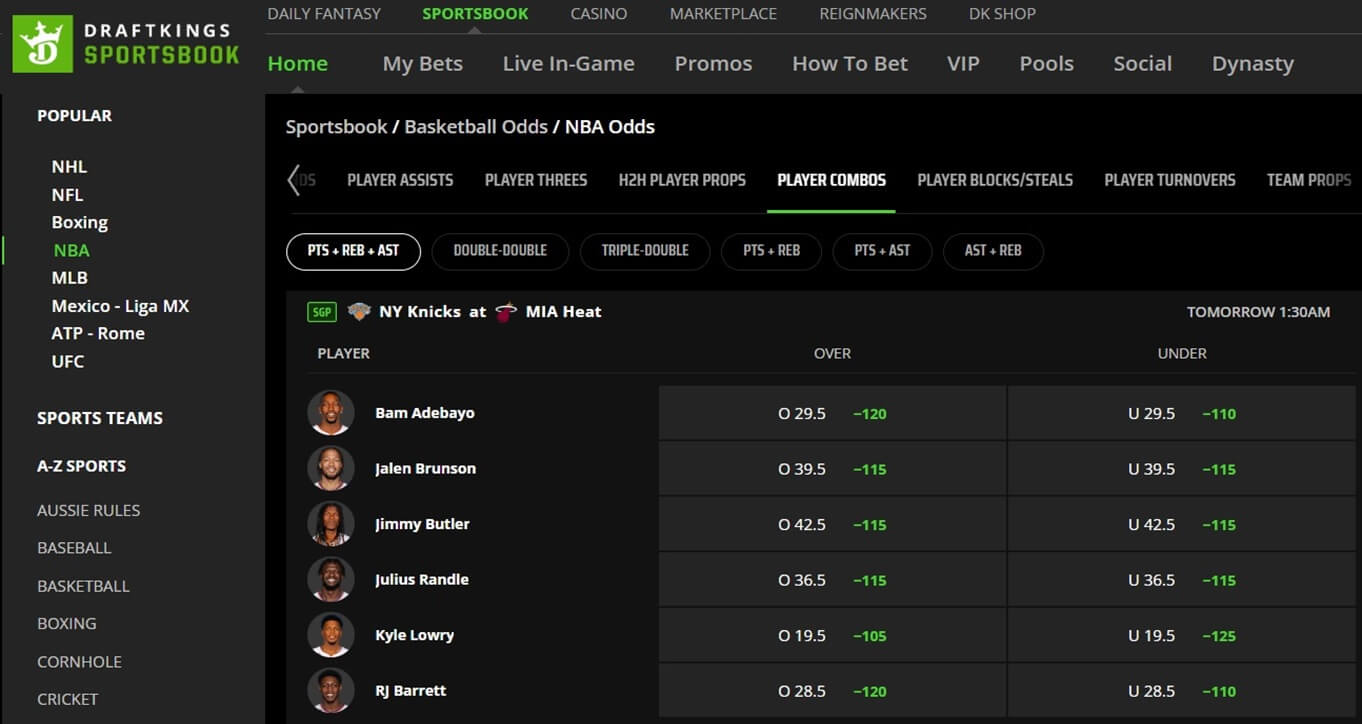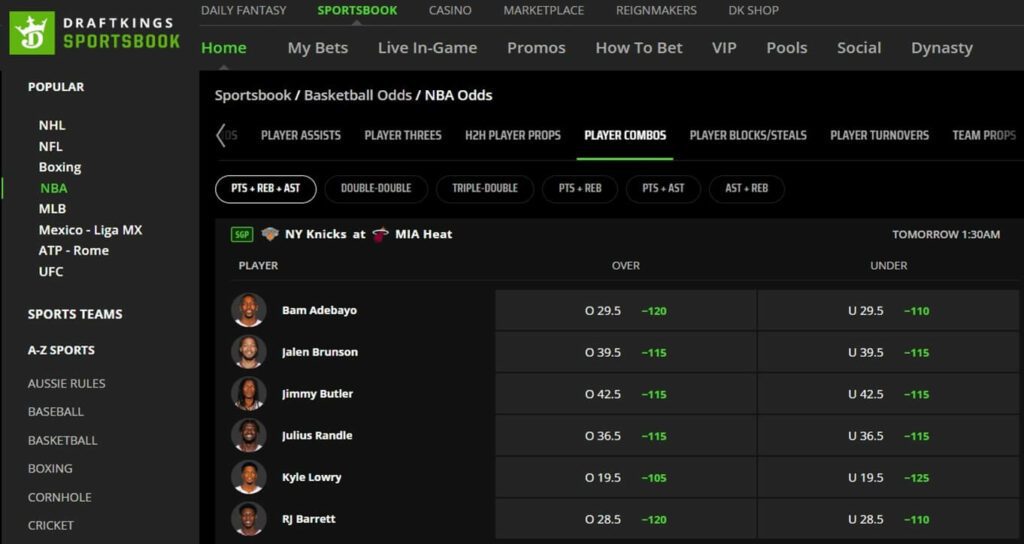 BetMGM
Promo Code: GAMBLEUSA
Up To $1,500 In Bonus Bets
21+. T&C Apply
21+. T&C Apply
Promo Code: GAMBLEUSA
Super fast payouts
Live streaming
Promo Code: GAMBLEUSA
Up To $1,500 In Bonus Bets
21+. T&C Apply
21+. T&C Apply
Choosing one of the most highly-reputable brands in the entire industry as your sports betting haven is always a good idea, especially if that brand has a well-designed and easy-to-use platform where you can find some of the most competitive odds on the market.
Whether you are into cycling, darts, or snooker, or you want to keep things simple and stick with the major league sports, betting at BetMGM means getting access to myriad betting types for what seems like a never-ending list full of various sporting events.
If you sign up for a BetMGM Sports account and deposit at least $10, you will get a chance to choose from a wide selection of betting markets, including moneyline bets, over/under bets, spreads, team props, players props, game props and many more.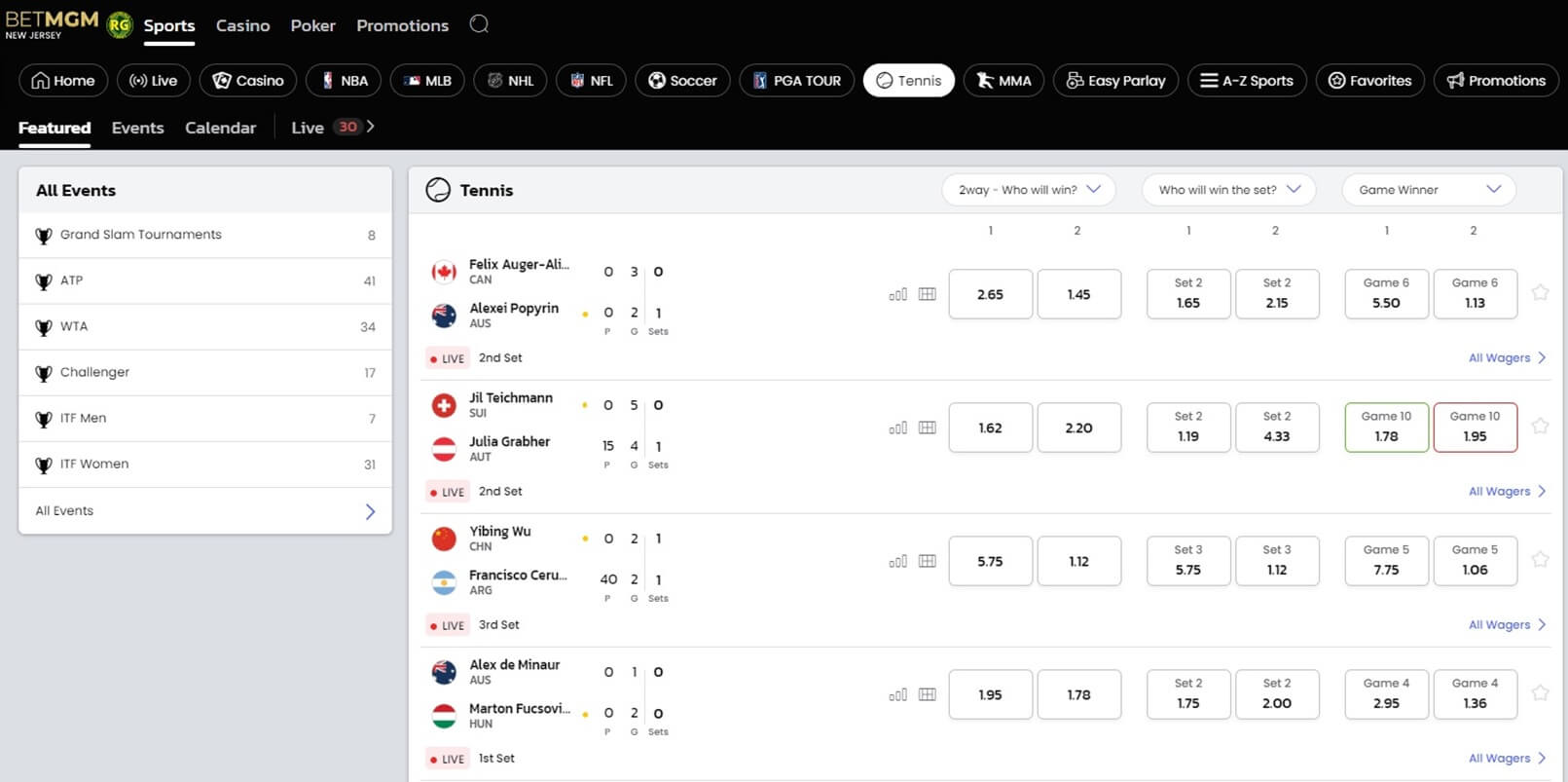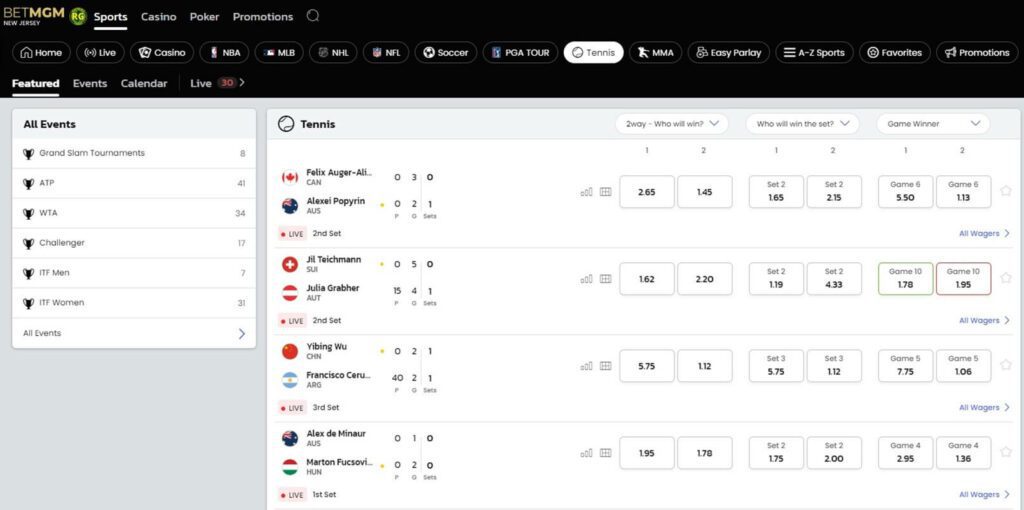 FanDuel
Bet $5, Get $150 In Bonus Bets
21+. T&C Apply
21+. T&C Apply
Convenient banking
Massive choice of sports
Bet $5, Get $150 In Bonus Bets
21+. T&C Apply
21+. T&C Apply
If you are looking for a sportsbook that can jump-start your sports betting journey with an enticing welcome offer, head over to FanDuel, where the well-known No Sweat First Bet FanDuel bonus can help you get off to a winning start with your betting predictions.
FanDuel is available in over 18 states across the country, and it's the platform where you can effortlessly bet on all your favorite sports in hundreds of different ways, thanks to the highly-intuitive mobile app with an abundance of features.
Novice bettors at FanDuel can easily find all the most common betting types as moneylines, spread bets, and totals. Meanwhile, the more experienced bettors can dive into the infinite pool of team and player props for sporting events from all over the planet.
So, whether you want to place a future bet on King James and his cavalry conquering the West or make things spicy and bet on the method of the first basket during the finals, FanDuel has all it takes to keep your betting spirits up high.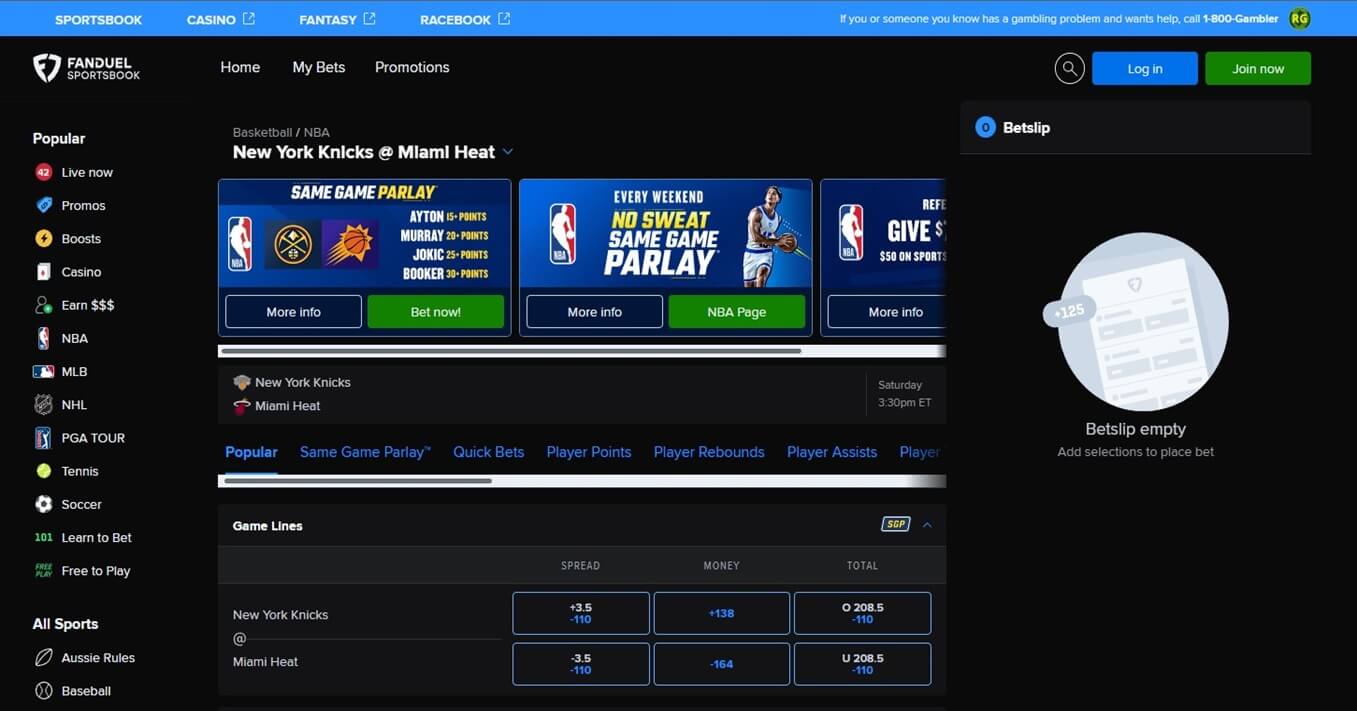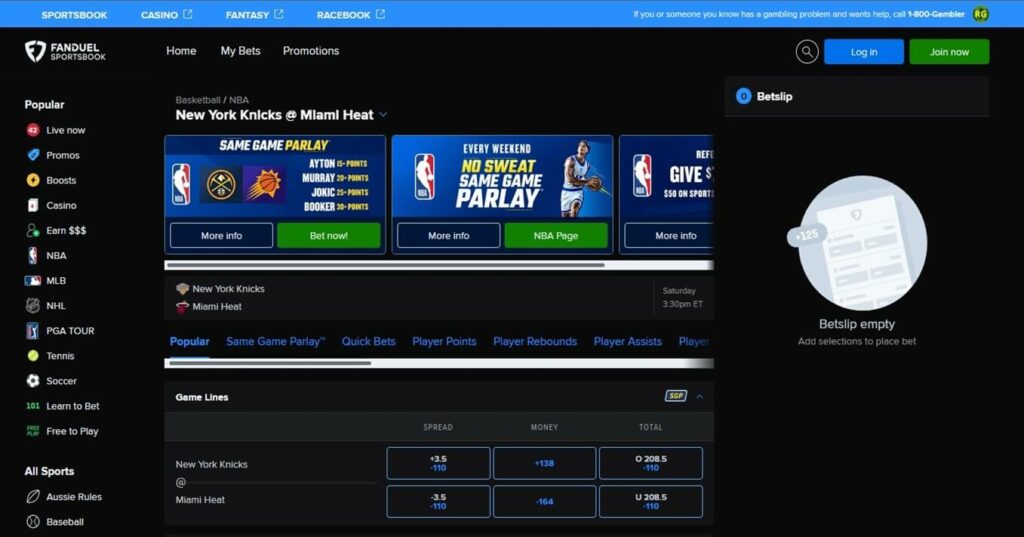 Caesars
Promo Code: GUSA1000
$1,000 First Bet on Caesars
21+. T&C Apply
21+. T&C Apply
Promo Code: GUSA1000
Massive welcome bet offer
Earn Caesars Rewards
Promo Code: GUSA1000
$1,000 First Bet on Caesars
21+. T&C Apply
21+. T&C Apply
While the mobile app and the desktop platform don't offer many of the shiny features some of the apps of other competitors do, Caesars is a highly-reputable brand with a sportsbook that provides bettors with a wide variety of betting types.
Bettors at Caesars have access to all the popular betting types people can find in any of the top-rated online sportsbooks. On top of that, there is also a dynamic roster of promotions offering numerous lucrative opportunities and a rewards program through which bettors earn reward credits based on the potential profit of their bets.
Before indulging in the wide selection of betting types for countless sporting events, new bettors should check out the generous Caesars promo offer for newcomers, and all the fantastic promotions they can expect from then on with the Caesars Rewards program.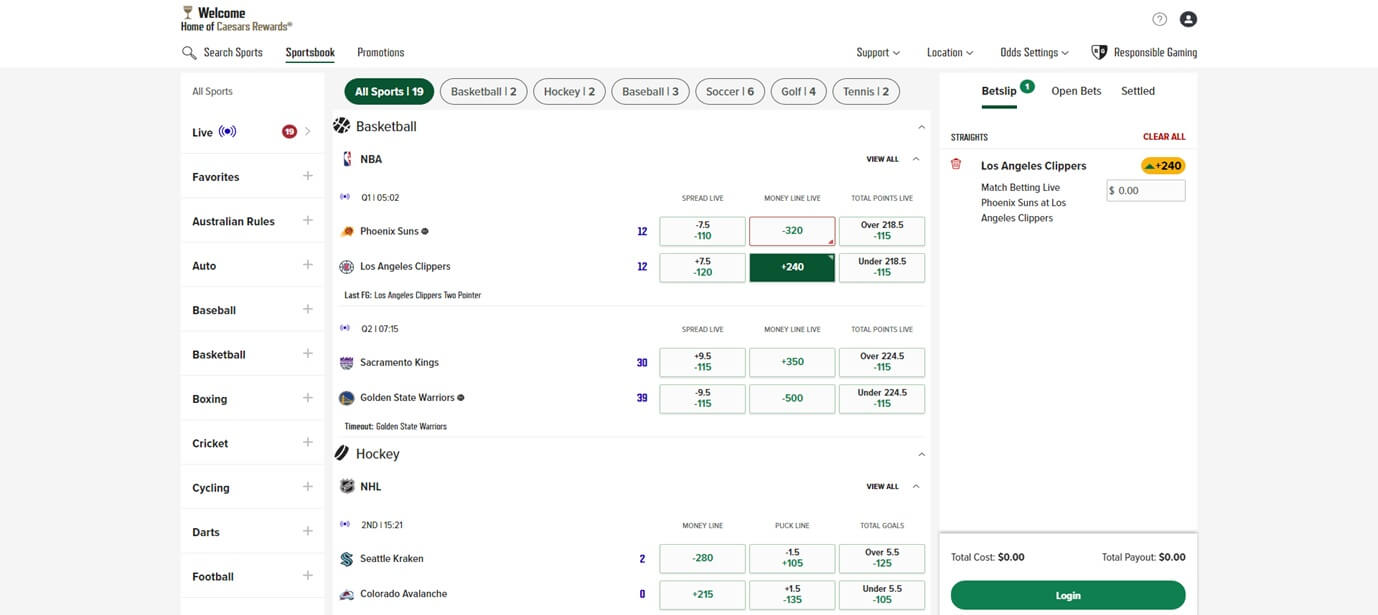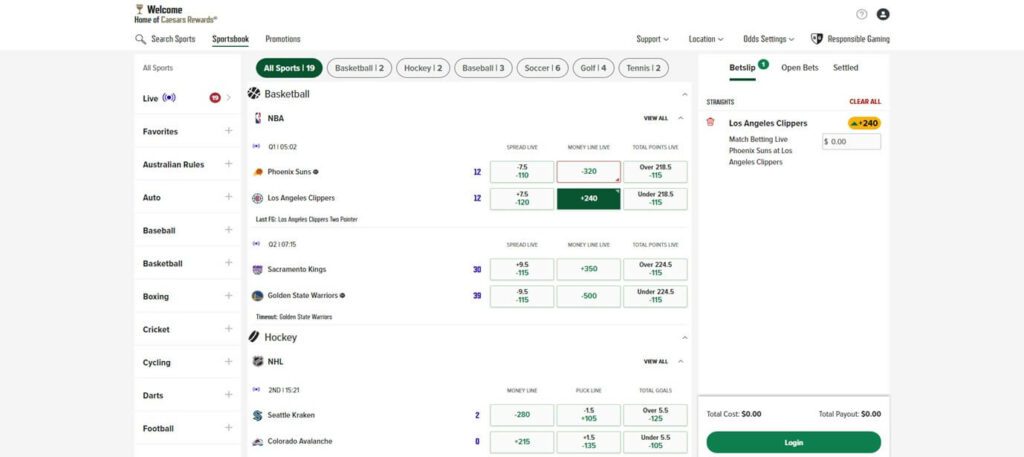 ---
What Type of Bet is Most Profitable?
Finding the most profitable bet is no easy task. College football is considered the most profitable sport to bet on, but that doesn't mean that you should only place moneyline bets on college football.
Instead, we suggest focusing on a sport that you know and follow closely. For example, if you're an NBA fan, you'll likely know what to expect from a matchup. If the Celtics are playing against the 76ers, you should consider the strengths and weaknesses of each team and place your bet accordingly. Or, you can bet on over/under if you think that it will be a high or low scoring game.
Moreover, parlay bets can bring the highest profit, but they're hard to win – and they become increasingly harder with every new leg that you add to the betting slip. For example, if you place a parlay with 10 legs, you might get odds that count in the thousands, but you'll have to win every leg in the parlay for the bet to win.
---
Best Bet Types for Beginner Bettors
If you're at the beginning of your sports betting journey, we suggest starting with simple bets that are easy to understand and won't break the bank. If you received insurance bet stakes or bet credits from the sportsbook you registered on, they usually come with specific terms and requirements and are often only eligible for specific betting types.
The best place to start is with the standard three bets:
moneyline
point spreads
totals bets
Don't overcomplicate your wagers and only bet on teams that you know or have done your research on. You can also experiment with parlay bets, combining two or three selections.


When you feel comfortable enough, you can move onto some more advanced betting strategies.
---
Best Bet Types for Seasoned Bettors
The best legal US sportsbooks are always looking for attractive propositions to offer their customers. If you are already familiar with the standard markets, player props, game props and futures and want to up your game a bit, then you should try some of the following bets:
Round Robin Bets
Quarters/Halves/Periods
Teasers/Pleasers
Quick Live Bets (flash bets)
Alternate spreads/totals
Flash bets are basically live betting markets that relate to the next few minutes of action, or what will happen next in a game. Same game parlays are combination bets that can be placed on the same game. You need to be wary of the latter, as not all types of same game bets can be combined into an SGP.
Round robins are really advanced system  bets, and they can be extremely useful. You will need a slightly larger budget to place those system bets, and the cover they provide tends to be much better when you pick selections with odds of +200 or more.
A lot of bettors will opt for bets on halves or quarters. There is a lot of statistical information that you can check out which helps with these kinds of bets, and if you also factor in the option to make live bets on the current period or the next, then you can really take advantage of the bets.
---
Other Things to Know Before Betting Online
Besides the bet types, there are other things that you should know before you make your first bet online.
Bet Legally
The legalization of online betting is spreading across the US like dominoes. Though this does not mean that every site you find online is legal. There are some sites out there that are not recognized in the US; most of which are offshore sites that are registered in Curacao, Malta, or another gaming jurisdiction. It is better to avoid these sites completely, as there is no guarantee that they will pay you out, and many have sketchy reputations.
Our legal US betting sites are all safe to play at, with professional customer support and bank-level security that ensures your data and banking details are safe.
Understand Juice
To stay in business, sportsbooks need to take a small cut when they provide their bets. This is called juice or vig and is basically a slight house edge. You will not really feel the pinch though, as online sportsbooks have far lower maintenance and running fees as compared with land-based sportsbooks.
However, as a sports bettor, you will always want to find the best deal. At GambleUSA, we regularly check the odds offered at different sportsbooks, and bring the betting sites with the lowest juice to your attention.
Anything Can Happen
The golden rule of sports betting, online or otherwise, is that sometimes you will win and sometimes you will not. It is all part of the game, and so you should always be prepared for the possibility that your bet loses. Therefore, it is best to stick to a budget and, at our legal sportsbooks, you also have a plethora of responsible gambling tools to control how much you spend. We highly recommend you set your limits when creating your online betting account, and then you will never spend more money than you can afford to lose.