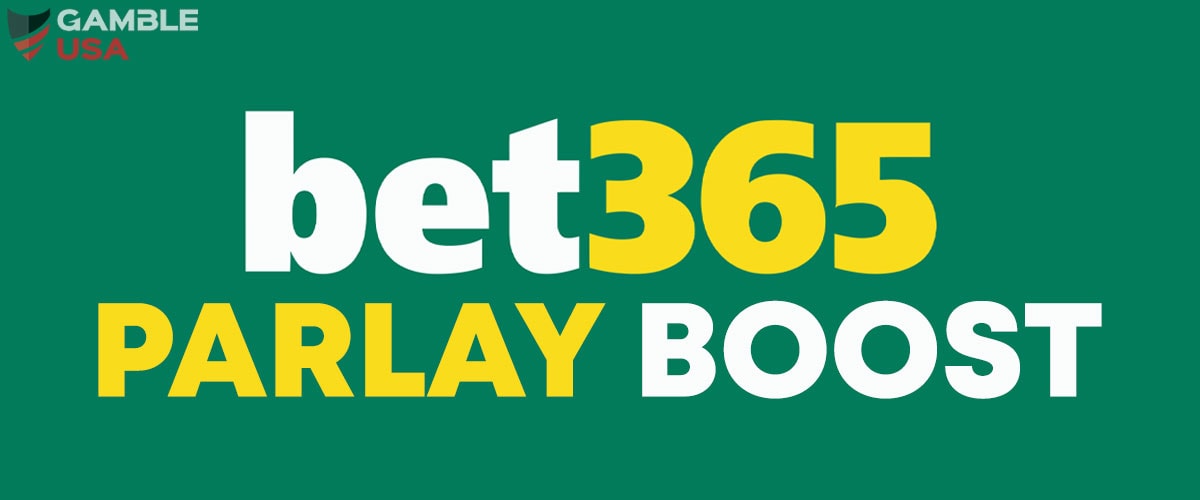 bet365 bettors can latch onto the up to 70% boost promo awarded on successful parlays. All you do is place a pre game parlay of two or more selections from approved leagues such as the NFL and NBA.
Both new bet365 account holders and existing customers are eligible for this generous promo. You can claim it today and make the most of your betting feats.
What is the Parlay Boost Promo on bet365?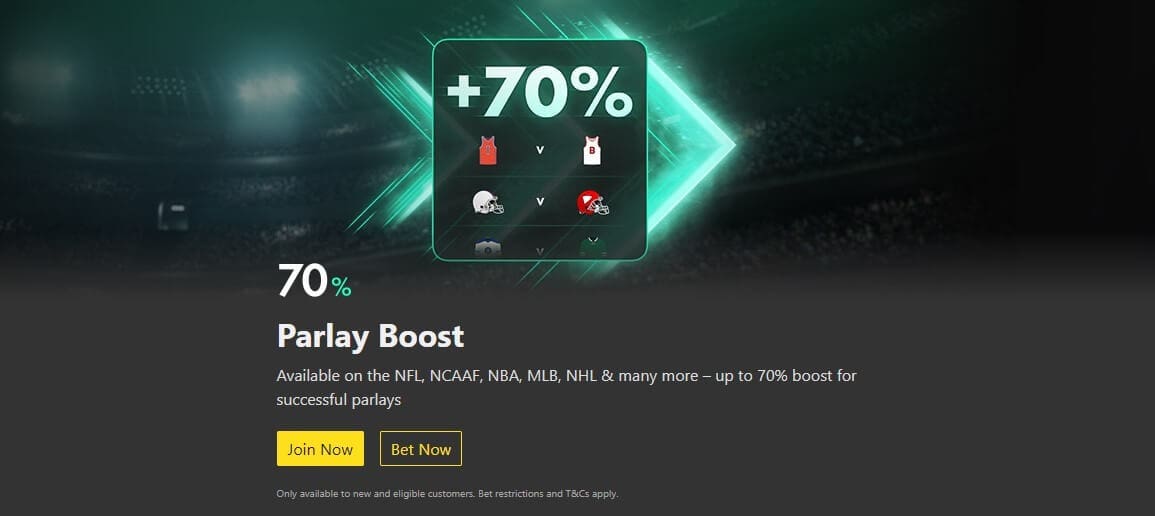 Parlay bets are a common phenomenon in the sports betting arena. Instead of placing one selection, bettors combine multiple wagers on different sporting events into a single bet. The idea is to increase your potential payout. But there's a catch; all individual legs in the parlay must win for the bet to be successful. As you can imagine, this makes it a risky wager, considering that receiving the bonus relies on multiple outcomes. But the significantly high returns if all your wagers line up are undeniable.
Bet $1, Get $365 In Bonus Bets
21+. T&C Apply
21+. T&C Apply
Easy and fast banking options
Huge welcome bonus bet
bet365 takes the parlay bet concept to another level by adding an up to 70% boost on your winnings if the parlay succeeds. The percentage boost offered on your parlay wins ranges from 5% to 70%, depending on the number of teams on your bet slip, with two being the minimum. Even so, $100,000 is the maximum boost you can receive and nothing more. The boost is paid as cash and added to your withdrawable balance, so you can cash it right away.
How the bet365 Parlay Boosts Work
The bet365 Parlay Boost promo is quite straightforward. Eligible users must place pre-game parlay wagers on the approved markets as shown below.
| Markets | Leagues |
| --- | --- |
| Spread/RunLine/Puck Line, Game Total, 1st Half Spread, 1st Half Totals, 2nd Half Spread | NFL, CFL, NCAAF, NBA, WNBA, NCAAB |
| 2nd Half Totals | NFL, NCAAF, CFL, NBA, WNBA, NCAAB |
| Run in the 1st Inning | MLB, Japan NPB, Korea KBO |
| To Win Fight, Fight Outcome | MMA |
As mentioned, your payouts depend on the number of legs in your parlay as summarized below.
| Bet Type | Percentage Boost |
| --- | --- |
| 2 legs | 5% |
| 3 legs | 10% |
| 4 legs | 15% |
| 5 legs | 20% |
| 6 legs | 25% |
| 7 legs | 30% |
| 8 legs | 35% |
| 9 legs | 40% |
| 10 legs | 45% |
| 11 legs | 50% |
| 12 legs | 55% |
| 13 legs | 60% |
| 14 legs and up | 70% |
For example, if you wager $200 on a 7-leg parlay with +650 odds, your winnings should be $1,300, plus your original stake. With this promo, however, you also get an extra 30% in cash on your $1,300 payout. So, instead of $1,500, the total withdrawable amount becomes $1,890. The highest amount you can get as bonus cash here is $100,000, which is a lot. Be sure not to use free bets or other bonuses in your parlays, though, as they don't qualify.
Are Parlay Boosts Exclusive to bet365?
Parlay boosts aren't exclusive to bet365 sportsbook, but does this betting app do it better than its peers? It certainly supersedes Caesar's 33% Profit Boost in a couple of ways. For one, the Caesar promo is only open to NFL games, while bet365's Parlay Boost applies to several leagues. Secondly, the 33% boost is a far cry from bet365's up to 70% offer.
BetMGM also has a 33% multi sport parlay boost going on. Just like with bet365, you can build your parlays on several sports, including college football with this offer. The only downside is the fixed 33% boost, which pales in comparison to bet365's 70% boost. BetRivers currently has a same game parlay promo on NHL games and no multi sport offer.
That said, we'd say bet365 is hogging the limelight with a broad range of bonuses. Another equally good promo on the site is the welcome bonus, where your first $1 wager qualifies for a $200 bonus bet.
Pros and Cons of Parlay Boosts
The bet365 Parlay Boost is quite desirable, but has its shortcomings, as shown below:
✅Pros
High payouts: If all your wagers win, the payouts are massive.
Easy to claim: Claiming the bet365 Parlay Boost promo is easy on the sportsbook's user friendly interface and can be done following a few simple steps.
Back multiple teams: With bet365's Parlay Boost you can back your favorite teams like the New York Yankees, Cincinnati Bengals, and Colorado Rockies in one wager.
Fun: Parlay bets are more thrilling and elevate your betting experience.
Improve your betting skills: Parlay wagers are the quickest way to improve your research and betting skills.
❌Cons
Low win rates: Parlays boosts have a low win rate compared to individual wagers and can quickly deplete your bankroll.
bet365 Parlay Betting Tips and Strategies

Getting winning parlay wagers is no walk in the park. Use the following pointers to get the most out of the bonus:
Don't skimp on bonus terms: Read the full terms linked to the bonus before you claim. They contain crucial information on the bonus or related odds.
Don't use the welcome offer: Don't use bonus bets from the welcome offer to place parlay wagers. They nullify the offer.
Don't fully cash out your wager: Avoid fully cashing out your qualifying bet, or it's revoked. If you have to settle your wager early on, at least make it a partial cash out because the sportsbook calculates the bonus boost on remaining active funds.
Avoid ineligible bet types: Avoid placing spread, player props, or total bets because they aren't allowed with this promo.
Hedge your bets: Hedge bets by including a combination of favorites and underdogs. If the former wins, the latter helps neutralize when you lose the other game.
Bet $1, Get $365 In Bonus Bets
21+. T&C Apply
21+. T&C Apply
Easy and fast banking options
Huge welcome bonus bet