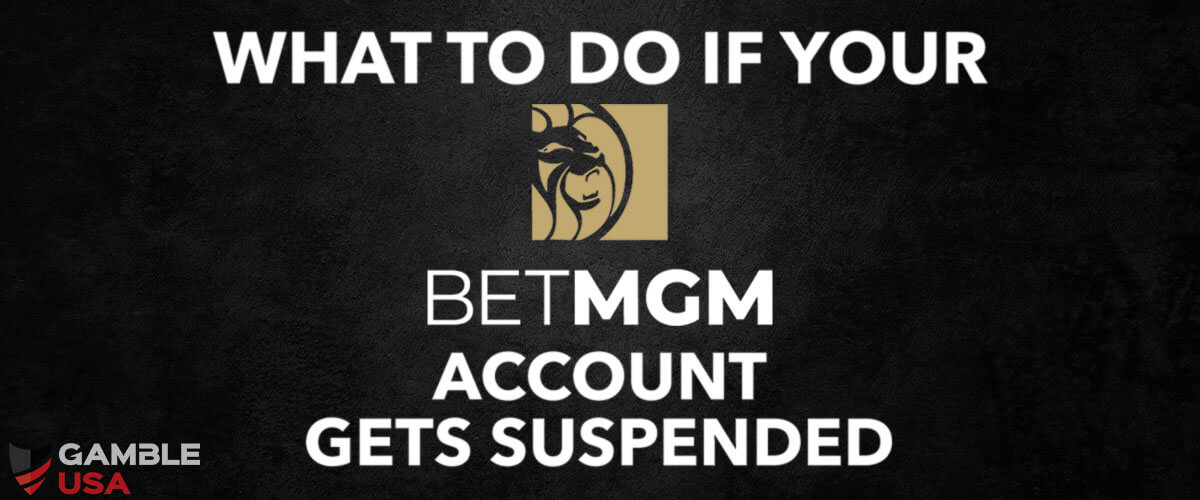 Your BetMGM account has been suspended or your BetMGM account is on hold. These are two terms that sports bettors really don't want to see.
If you are one of the unfortunate customers that have come across these messages, then you want to know why it's happened, and more importantly, what can you do to get back to betting. After all, when you have a hot tip and you about to bet on your favorite sport or event such as the Super Bowl or play online casino games, but you see a BetMGM account suspended message, that can be incredibly frustrating.
Online gambling continues to grow rapidly across the United States. Whether it is online sports betting or online iGaming, bettors have more choices than ever before. Following the US Supreme Court decision in 2018, operators jumped at the chance to launch online gaming websites. Consequently, players can now place bets remotely via sports betting apps or play their favorite casino games via a casino app. Additionally, these websites offer fantastic promos such as risk-free bets or free bet offers, so players really benefit from signing up.
However, technology isn't foolproof, and users regularly come across issues with their player accounts. One of these issues is an account being frozen or suspended, which is common with internet gambling. Whether you are in the New York sports betting market, or a sports bettor using the BetMGM app in New Jersey, you could get frozen out.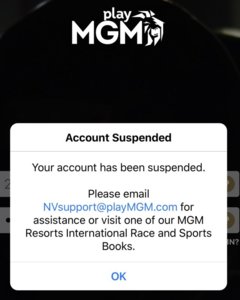 No matter how big or well-known the operator is, things like this can happen. BetMGM sport is one of the biggest names in the industry, with BetMGM NY, BetMGM Louisiana both available in addition to multiple other states. You might think such a household name in the gambling world, with their MGM resort properties and excellent real money betting sites, that issues such as account restriction wouldn't occur. However, unfortunately they do.
In this article, we will look at one of the biggest gambling brands globally, BetMGM. We regularly see customer queries such as 'I don't know why BetMGM closed my account,' 'does BetMGM close winning accounts?' and what does it mean if 'my BetMGM account is on hold.' If you are one of the customers who has experienced these problems, the following information may come in useful for you.
If your account has been permanently suspended, it doesn't mean the end of the highway for your betting as you can also wager with DraftKings, FanDuel, or PointsBet who are all great options.
---
Why does BetMGM Suspend Accounts? [7 Reasons]
You may genuinely have no idea why you are receiving BetMGM account restricted messages.
We take a look at the reasons why your BetMGM account is restricted. It doesn't matter if you are using the BetMGM sportsbook or the BetMGM online casino; once your account is limited, you will struggle to place your wagers or play any of the games. So let's take a look at why you might be struggling with the BetMGM website.
#1. Lack Of Action On Account
We have seen numerous reports of people trying to log in and being greeted with an error message saying their account is suspended. It doesn't matter if they are betting in New Jersey or West Virginia; the message is the same. Some people may think this is an account verification problem or because they are betting using a VPN; however, one of the most common issues of account suspension is that you haven't used it in a while.
Typically, the operator will inform you that it will lock the account if you don't use your app to place a bet in six months. This isn't just exclusive to BetMGM; Betfair or FanDuel can also suspend your account through a lack of betting action.

#2. Drivers License Expires
Yes, you have read the above correctly. You may think your driving license should have nothing to do with your online gambling activity, but it does. If your existing driving license has expired, BetMGM will suspend your account. This doesn't mean you are banned; however, you will need to apply for a new license before you can start gambling again.
Your personal details must always be up to date and accurate. In the same way, you would expect odds to be updated, so too should your details be kept in line. For example, if you wanted to self-exclude yourself from all betting activities, it is essential all of your information is correct.
If your account does get locked because of your driver's license, once you have sorted it, contact the customer support team and inform them your license is now in date. Following this, the operator should then update your details, and your suspension will be lifted.
#3. Winning Too Often
It may seem incredibly unfair that a responsible, well-known betting operator could suspend your account because you are winning too much money, but it often happens. If, for example, you are continuously winning betting on the NFL, the operator may well freeze the account while they look into your activity. Sportsbooks may feel suspicious about match-fixing or third-party betting and will investigate.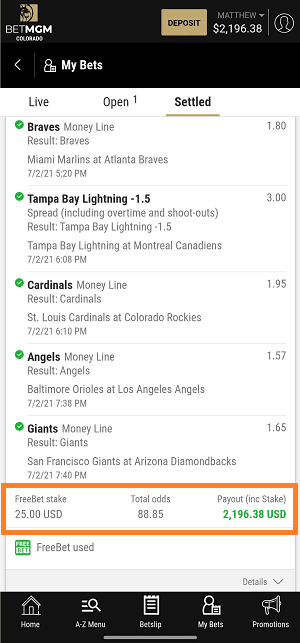 #4. Self Exclusion
Any responsible gambling operator should offer a self-exclusion program. If you feel you aren't in control of your gambling and it has become more than just fun, then you should seek help. Operators run a self-exclusion program where players can exclude themselves from being able to bet or play in online casinos and sportsbooks. If you have self-excluded yourself at BetMGM (or any other operator), then your account will be on hold until the limit is lifted or you attempt to remove a self-imposed ban on your account.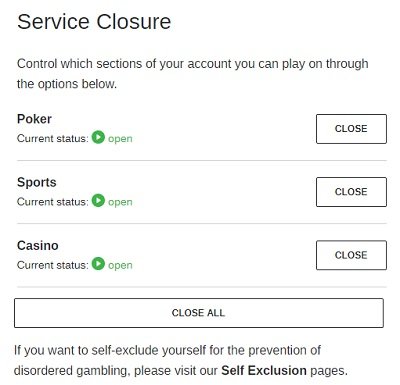 Customers of BetMGM can suspend or self exclude themself from playing at the operator from anywhere between 3, to 180 days. This is common in the industry, and if you are innocently betting but are just really good at it, they will remove all limits on your account in due course. If you have gone down this route, then you will be banned from any licensed Internet gaming for a duration of 1 or 5 years and cannot be revoked.
Did you self exclude yourself and forget that you have done so?
#5. Wagering out of state
Now that sports betting is available in several states across the country a lot of people are choosing to have a wager on their favorite team. However, legal sports betting it isn't available everywhere. If you are in a state that doesn't have sports betting but have been trying to open an account and bet using a proxy, or a VPN, your account can get suspended and more than likely, closed down.
Sportsbook and casino operators use geolocation technology to know where you are. If you try and change this through the use of a VPN, your account will get suspended. When this happens, you risk losing your deposit and winnings as well as getting banned from the operator.
BetMGM sportsbook states currently include AZ, CO, DC, IL, IN, IA, KS, LA, MD, MI, MS, NJ, NV, NY, PA, TN, VA, WV, and WY.
#6. Opening multiple accounts
Most sportsbooks only want customers to have one account. Opening up several accounts with an operator is against the terms of service that you agree to when you open your gambling account. If you are found to have opened multiple accounts then you can get one, or all of them suspended.
You may live with other people, and they have opened multiple accounts under the same address. If this happens, this can be classed as a duplicate account. Whilst strictly speaking, it is not, some operators will only allow one account per household or address. It is possible to close a BetMGM account by contacting the helpful support team.
#7. Suspicious Betting Patterns
Many bettors think they can cheat the system when they bet online. However, BetMGM has lots of technology in place to try and detect what they perceive as problem gambling. The artificial intelligence systems used by the operator will pick up on the use of cheats and bots almost instantly. Fixing wagers on certain games or only betting at specific times will be picked up, and your account will be suspended immediately.
---
What Yo Do if Your Account Has Been Suspended
If your account has been suspended or closed with BetMGM, don't panic. Having an account restricted at a sportsbook (especially if you keep winning) is sometimes just how it is. We have to roll with the punches and if you have been winning, see it as a good thing that you are making bank.
If your account has been restricted and you feel it has been done wrongly, you can contact the customer support team at support.nj@betmgm.com and ask what your account has been put on hold. The support team will usually get back to you within 24-48 hours. Your account details will go under review, and all being well, you should have it back open within a few business days.
Sometimes you will be required to send in an additional ID, maybe a copy of your driving license or passport to get your account approved.
---
Can I Make a New BetMGM Account?
If you really want to claim your BetMGM promo code for a new bonus but can't log in to the sportsbook app because your account is suspended, creating a new account will not resolve the issue. You may have read related articles suggesting opening multiple accounts can work, but believe us, they don't. However, there are other betting options out there for you.
What To Do Instead
You could create an account at DraftKings, FanDuel, or Caesars. Each of these prominent sportsbooks offers perks such as VIP preferred reward schemes, cash out, and a wide range of markets from the NFL to horse racing and cycling. New users can claim welcome bonuses at any of these operators, and there are regular bonus bet promos and other offers throughout the sporting calendar. Sign up today and claim your offer with no sportsbook promo code required.
---
Alternative Operators
If you can not reopen your BetMGM sports or casino account, this doesn't mean you are out of options. There are now lots of sportsbooks and online casinos available to players. Some great sportsbook alternatives to BetMGM are:
All of these sites offer a range of betting options and welcome bonus offers. There will also be specific promos for events like March Madness, the World Cup or even a regular season NFL game. They all have their own rewards program as well, which compare favorably to the BetMGM Rewards scheme.
If you have been locked out of the casino and looking to get back to playing online, try these recommended casinos:
A closed or suspended account with BetMGM is not the end of the world. It may be that your account has been locked and temporarily put on hold whilst your details are confirmed, or it may be that you have won too much. Whatever the reason, there is always a solution. The first port of call should be the BetMGM customer support team.
---
FAQs
How long does a BetMGM suspension last?
If you can't access your MGM online sportsbook account, there is no exact timeframe for when you will be back up and running. You could have full access to the sports betting app and BetMGM casino within 24 hours, or it could be suspended indefinitely. Until you contact customer service to query the account closure, it is hard to put a time limit on when you will be able to access your sportsbook account. You may be asked for proof of ID and a bank statement to get things back on track.