Gamble USA strives to improve your online gambling experience. We aim to help you play safely, make informed decisions when gambling, and increase your betting knowledge through our guides.
We adhere to strict editorial integrity; our content may contain links to products from our licensed & legal US partners.
If you have been placing bets on the BetMGM sportsbook online or on the BetMGM app, you may have come across the cash out option. But what exactly is cash out at BetMGM, and how do you use it to your advantage?
As online sports betting continues to flourish in the United States, online sportsbooks need to look at new ways to improve the user experience. Thanks to the introduction of mobile apps and new features, bettors can wager from anywhere, claim bonuses such as free bets, and access numerous bet types such as parlay bets. However, one feature that has emerged over the last few years but doesn't garner a lot of attention is the sportsbook cash out feature.
In the past, whether choosing straight and parlay bets or futures bets, there had never been a way to settle a bet early. That has now changed with online betting cash out as sportsbooks offer this option at your fingertips. If you feel it's time to cut your losses or at least lock in some profits so it then becomes a winning bet, cash out betting is now available.
The good news is many operators now have a cash out offer feature available on their platform. The best betting apps all allow cash out and they will make it straightforward for you to settle your wager early as soon as you meet the deposit limits. This article focuses on the BetMGM cash out option. Perhaps known best for the MGM Resort and entertainment, the brand has emerged as an excellent sports betting option. With the famous BetMGM Rewards program and an excellent betting app, this online sportsbook has become widely popular. Indeed, BetMGM is now among the most prominent sports betting sites alongside FanDuel and DraftKings Sportsbook.
We will cover how to cash out a bet on BetMGM, work out your cash out amount, early cash out options, and other crucial cash out information.
Promo Code: GAMBLEUSA
Up To $1,500 In Bonus Bets
21+. T&C Apply
21+. T&C Apply
Promo Code: GAMBLEUSA
Super fast payouts
Live streaming
Promo Code: GAMBLEUSA
Up To $1,500 In Bonus Bets
21+. T&C Apply
21+. T&C Apply
What does cash out mean in sports betting?
Before you visit the BetMGM sportsbook and create your BetMGM account, we thought it would be helpful to explain what a cash out, otherwise known as a Buy Out, means for players. Essentially, it allows you to top your bet early and take the cash out offer given by the bookmaker before the match finishes. If you decide to take this, the perk is that you lock up some profit that you can keep regardless of the score or how the event unfolds. So, you could choose to cancel the bet early on BetMGM if you feel it is struggling.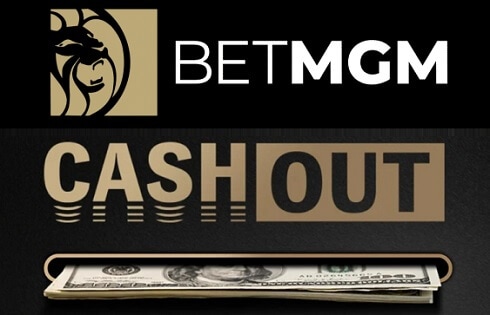 A betting site will usually offer cash out while an event is running and before it ends. As a result, cash outs can be seen as a live in-play betting feature. However, cashouts could be offered mid-season as well. For example, if you like to try and get a high payout by betting early, you may be interested in futures bets. These wagers could be a BetMGM NBA futures on the team you think will eventually be crowned NBA champions.
Not all bets are eligible for Cash Out offers, and you may not be able to use it when claiming welcome bonuses such as a risk-free first bet. But they are most commonly available for any single bet or parlay bet.
How to cash out BetMGM sportsbook
Cash outs are a popular feature of online and mobile wagering. Cash-out on BetMGM is available on selected sports for pre-game, live, future, and parlay bets. The total can be for more or less than your initial bet amount, depending on how events unfold after your bet has been placed. You will also be able to see if your bet qualifies for cash out when you add it to the bet slip.
When using the BetMGM app or desktop browser, the option is offered in two places: If the event has begun, cash out is shown in the My Bets section of the bet slip. If the event hasn't started, you can access the cash out option in the cash out section. Bettors also can activate Auto Cash Out if the Cash Out value hits a certain number.
Cash Out isn't guaranteed at all times, and you may notice a BetMGM cash out unavailable message appear. Once you click the cash out button, the system checks the availability of the respective bet. If the wager is already closed, or the respective odds have changed, cash out may be rejected. To see if your bet is eligible to be cashed out, sign in to your account on the app, or at betmgm.com. If you are new to the sportsbook, sign up to receive a new player free bet offer.
We should point out that you can only cash out your bet in a state where BetMGM is legal. If you place a future bet in NJ for example, then travel to Florida and try to cash out, you won't be able to.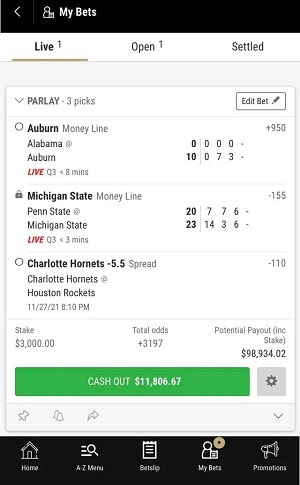 When should I use cash out?
With the advent of online gambling, you have the ability to control your bet to more extent than you would if you visited Atlantic City. There is more flexibility with BetMGM payment methods, such as online banking, and this also applies to other aspects of the betting experience.
Cash-out provides that flexibility but knowing when to use it can be tricky. There have been numerous examples of people who have made a parlay bet where several of their selections have come in, and they have accepted the guaranteed profit cash out provides. However, their bet goes on to win, meaning they miss out on a much larger cash prize they would have received had the original bet been left to run to its natural conclusion.
For lots of bettors, profit is the name of the game, and they would be glad to accept a guaranteed profit on a wager rather than let the bet continue and have the opportunity to win more cash but risk the guaranteed profit they can collect.
Cash Out Example
So, you have used your BetMGM bonus code to claim your $1,000 risk free bet and have placed a bet on an NFL game. However, the wager isn't going well, and you want to cut your losses. Let's look at what you do next.
These are examples of how it can look before the match: $10 pregame wager the Patriots -5.5 over the Raiders.
The patriots lead the Raiders 16-0 at half-time. BetMGM offers you a $15 cash out, so you can take this money or wait until the game finishes and earn $20 if the Patriots cover the spread.
The raiders are winning 26-14 at the start of the fourth quarter, and the Patriots must score 14 points more than the Raiders to cover the spread. With the Raiders now in a strong position, the BetMGM offers you $3 to cash out and make back some of your losses, or you can chance it and wait until the end in case it turns around.
FAQs
What does cash out mean in BetMGM betting?
Cash means the same on BetMGM as it does on all online bookmakers. Players can settle the bet early, meaning they get some returns even if the bet goes on to lose. Whatever payment selection you selected as a new customer will automatically be chosen as the banking used for any cash out payments.
When can you cash out on BetMGM?
When you have placed your bet, you can cash out early by heading to the 'My Bets' section and clicking the cash out button.
Can you cash out a parlay with BetMGM?
Yes, parlays are among the most popular bet types for the cash out feature. Cash out works well for both straight and parlay bets. You should also look for the same game parlay feature that is available on BetMGM (called One Game Parlay), which allows a bettor to combine their favorite bets for one game. This may suit one sport more than others, but it wouldn't be exciting for a major event such as the Super Bowl.
Why does cash out become unavailable?
If a market becomes suspended or frozen, cash out will become unavailable.
What does cash out suspended mean on BetMGM?
This happens when something occurs during an event—for example, a significant stoppage or a free-kick, or a corner kick in soccer.
Can you cash out on BetMGM out of state?
You can withdraw funds out of state but can't use cash out as you must be located in the state you are playing in to place a bet on the app.