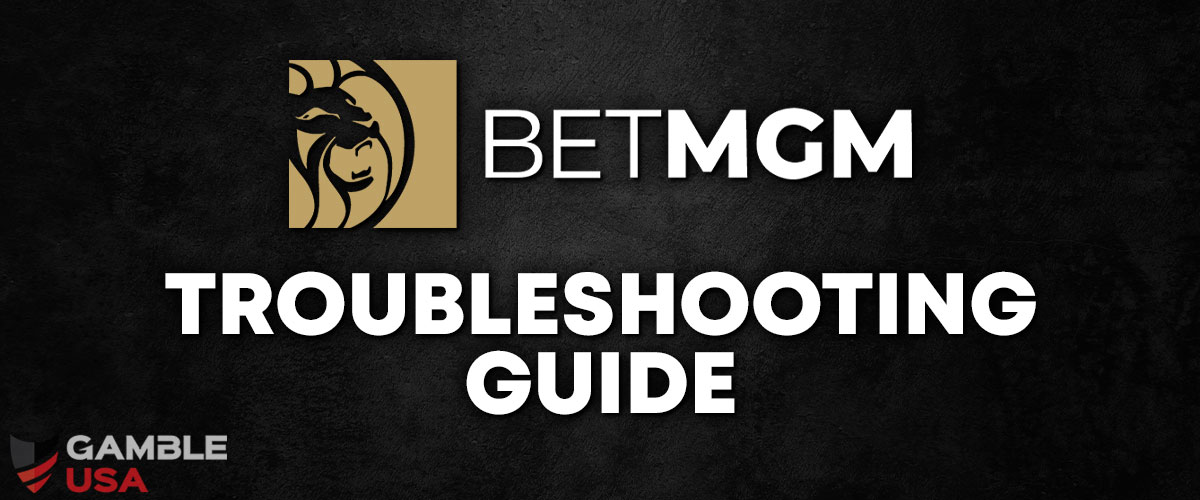 There is nothing more annoying than trying to lock in your bet during the game, and your BetMGM app stops working.
Sure, a lot of things in life get our backs up, but nothing annoys us sports fans like wanting to place a bet, only for our favorite sportsbook to throw up connectivity problems. Though it is a rare sight, BetMGM sportsbook app can crash and present you with the error message "BetMGM connection to the server has been dropped".
Luckily BetMGM has very few problems, but if you do come across the error message, you can follow our troubleshooting tips to fix the problems and get back to watching your team win. Even the king of sportsbooks is occasionally down.

How to Fix Technical Issues with the BetMGM Sportsbook and App [10 Problems]
BetMGM is one of the most popular online sportsbook sites in the US. Primarily known for MGM resort properties in Las Vegas, the sports betting arm has expanded its services with BetMGM Ohio, BetMGM NY, BetMGM New Jersey, BetMGM Maryland and more all available. If you are a sport fan, you have numerous betting options from college football to betting on Patrick Mahomes in the Super Bowl and the March Madness tournament. However, before you can use your bonus bet or BetMGM bonus code what happens if there are problems and how do you fix BetMGM issues?
We have always found BetMGM to be one of the most reliable online sportsbooks with a super reliable sports betting app. But, like all technology, it can occasionally throw up some issues. No one likes having these issues, so let's take a look at some of the most common problems with MGM online and what you can do to fix them. Here are the causes of some problems with your MGM sports account online or on the mobile app for Android or iPhone.
---
#1 – Are you in a legal state or close to a border?
Like all legal US sportsbooks, BetMGM relies on Geolocation technology to confirm your location. This is done by the GPS receiver in your smartphone, as well as using your IP address if you are on WiFi. Now, this technology is really good, but sometimes it falls short.
If you get the region fetch failed message when using the app, this is a problem where BetMGM can not confirm your location accurately. We have a separate guide to fixing geolocation problems with a sports betting app that you will want to check out.
The states that BetMGM is available in currently are: AZ, CO, DC, IL, IN, IA, KS, LA, MA, MD, MI, MS, NJ, OH, NV, NY, PA, TN, VA, WV, and WY.
#2 – Have you got funds in your account?
Sometimes we can log in to the account, come to place a bet with BetMGM, and then realize that we have no money in our account. Make sure you have a balance; if not, you can always go to the cashier and add funds. It may be that you have made a deposit, but the funds haven't yet cleared in your account. If you have made a deposit and, after a few hours it isn't showing, please contact customer support.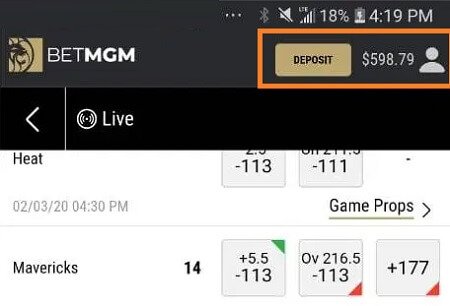 #3 – Can't get past the login screen?
Ok, now this can be for one of 2 reasons. The first is that BetMGM is down and that they are having technical difficulties. If this happens and you are putting in your logins, and it just won't work or connect, then there is an issue on BetMGM's end, and there is nothing you can do. You can tweet them on their dedicated support account @BetMGMSupport or contact the online support team as they may not be aware of the problem.
The second problem could be that you are submitting the wrong details to log in. We all probably have hundreds of email addresses, login names, and passwords in our heads so it's easy to get them mixed up or forget them completely (pass me another beer). If you are entering the wrong details, you will see this screen below. Use the I forgot my Password option to reset your password. It is always better safe than sorry, as if you enter the wrong password too many times, BetMGM will temporarily block you from accessing your account. This is part of the BetMGM Sportsbook's security policy, which is there to protect your account.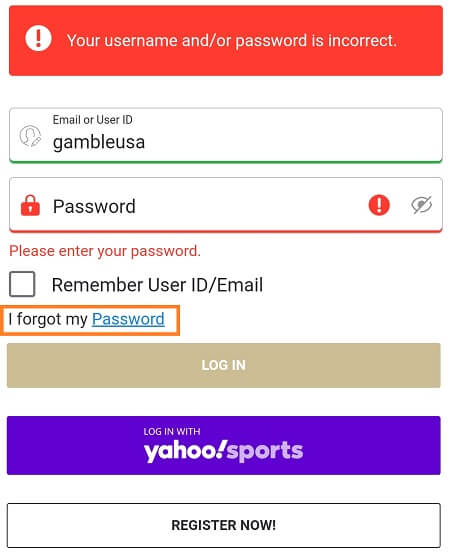 Resetting your password takes no time at all, and should you need further assistance with the matter, then feel free to reach out at any time to the BetMGM Sportsbook's customer support.
#4 – BetMGM app not loading – Android & iOS
Now, this issue is pretty common, and most of the time it's due to you running an older version of the app. iPhone & iPad users, go to iTunes and make sure you are using the latest version of the app by checking for updates in the iTunes app store. Android users, check the latest version by going to betmgm.com, then selecting the Android app from the main menu and downloading the latest update.
A good thing to do in this case is to uninstall the app, then download and install the latest version to see if that fixes the problem. Sometimes just restarting your mobile is enough to do the job too.
If you open the app and face a white or black loading screen, you can try to force-stop the app and open it again. If you are using the iOS app, make sure your device hasn't been jailbroken. If it has, reset it to factory settings. That should hopefully resolve the issues with your BetMGM betting app.
#5 – How's your cell phone signal?
Just like dropped calls, connectivity problems can and do happen. If you are having trouble connecting to the BetMGM server, it may be a problem with your cell signal or a problem with WiFi. Try and log in using just 4G or 5G, or switch to WiFi.
#6 – Does BetMGM keep crashing?
If your BetMGM sports app keeps crashing, it can be for one of several reasons. You may be using an old, less stable version of the app which has since been updated. Be sure to update to the latest application version in iTunes or Google Play at betmgm.com.
Your iPhone or Android device's memory may be full and unable to run the app. Close all your apps and try again. There may also be connectivity issues with MGM which means the server can't connect with your app. When this happens, you can load the app, but it just shuts down and crashes. This is normally only temporary so try again in a few minutes. If you need to access your account urgently, then you can contact the support team at BetMGM. If you need to access your account to place a quick bet, then you have to either wait for the issue to clear itself up, or go to another sportsbook to place that bet.
#7 – I'm getting a blank screen when I log in to my BetMGM account
One of the most common issues we see when looking at BetMGM not working discussions is that people are greeted with a blank screen when they login. Typically, when a bettor opens an app, they will see a black or white screen for a couple of seconds then the app will completely freeze with no error message appearing. There are some steps you could take if this ever happens:
The majority of the time, it could just be a loading issue. You can overcome this by pressing the recent applications button (on the left hand side of your device). Close the app that is this problem. Then open it up again and it may now be working as normal.
Restart your phone. One of the most common options to resolve issues with lots of technology can often be a case of re-starting or switching the device off and on again.
If you are still getting a blank screen, you may need to uninstall the app and re-install it. Most mobile devices will usually restore all of your settings after you re-install and log into the app.
If none of the above fix the problem, you may have wider issues with your iOS or Android device and may need to take it into your nearest store. The above could happen on the BetMGM casino app or BetMGM sportsook app and is also common on other mobile apps.
#8 – Your account may be closed or limited
If you have been trying to use a VPN or proxy to wager and have been found trying to do this, your account with BetMGM can be suspended and closed down. Using a proxy or a VPN to bet with any licensed US sportsbook is not allowed. You can only bet in states where the operator has a sports betting license, and you also need to physically be in the state. If you can't log in and your details are all correct, get in touch with customer support who can check the status of your account.
#9 – Your mobile cache memory is full
Cache memory is data that is temporarily stored on your device, and allows for quicker access to a website, an image, or an app. It is useful to speed things up when you want to enter your BetMGM sports betting app and starting firing off bets on your favorite sports. However, your mobile device can take up space on your mobile device, which will slow it down and can cause technical issues with certain apps. You may experience it with your BetMGM betting app or with all your apps in general. It is best to clear your cache data when you encounter such issues. This will not delete your sports betting account or any of the details you need on your mobile app. All it does is basically clean up old memory that has been stored on your phone.
#10 – Is BetMGM down?
The problems at BetMGM may not be just on mobile. Sometimes, the whole service goes down. Unfortunately, these issues are quite common. During the 2021 Super Bowl, DraftKings, BetRivers, BetMGM, FanDuel, and Barstool Sportsbook all reported technical difficulties which stopped players from getting their wagers down.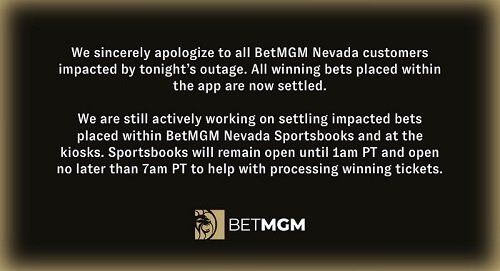 When this happens, the problems are usually fixed pretty quickly, and you just have to wait it out whilst the issue is sorted. Yes, it's annoying; yes we have lost bets because of this as we haven't been able to wager in-play or cash out. This is the main reason we use a couple of sportsbooks, just to be on the safe side.
---
Other Technical Issues with BetMGM Sports Betting App
Ok, the mobile app seems to be working but maybe you have another technical issue. While it is still possible to handle your account and make some bets, some of the features or tools do not seem to be operating as they should. These are not common problems you will face with the BetMGM sports betting app, but we have to address them just in case.
---
BetMGM Promo Code Not Working
If you have bagged a BetMGM promo code, and you are trying to claim your bonus, but it won't work, this too can be very annoying. The promo code you are using may be old, invalid, or you may be entering it wrong. You can try and use promo code GAMBLEUSA to claim the $1,000 Cash Bonus.
If you are new to BetMGM but still struggling to get the code to work, try and clear your cookies, or use a private/incognito tab and go to betmgm.com and use the new code GAMBLEUSA.
If you have registered previously for a BetMGM account and used a code in the past, codes are limited to one per player. You may have already used a code in the past and can't claim the offer again. Don't worry, there are lots of other sportsbook promo codes for other operators if you are keen to grab a welcome offer.
---
BetMGM won't let me bet
If you find the app is working as it should, but the operator won't let you place a bet, this can be for a number of reasons. You may find your account is limited or restricted. This can happen if you have been winning a lot with the operator. Sportsbooks don't want a lot of winning bettors, so if you are on a roll, they may limit your account. When this happens, it may mean you can no longer place bets, or can only bet on certain events or markets. You know this happens when you get this message on your betslip "Your requested bet is over the allowed limit".
The only way to get around a limited account is to use another operator. This doesn't just happen with MGM, all sportsbooks look to limit their losses from winning bettors.
---
One Game Parlay not working
What seems to be an increasing problem with the sportsbook is customers not being able to place a One Game Parlay with BetMGM. This unique feature lets you combine selections from the same game into a single bet, which can lead to higher returns. It can also lead to increase headaches as the feature doesn't seem to work a lot of the time.
Customers have been asking if the option has been removed, which it hasn't; it is just very temperamental. The One Game Parlay is only available on selected sports and markets. Whilst the idea of a custom same-game parlay is very good, actually being able to place one is a different story.
If the One Game Parlay option is not showing, it is not available for that market or game. If you can add selections to your betslip, they need to be between 2 and 10 to qualify for the parlay so make sure you keep in this limit. Sometimes we have had 5 selections and not been able to place it. This can be if pricing has changed and have had to go back and swap the selection for the newer price.
---
BetMGM sportsbook running slow
Even when the site or app is working, it can sometimes run slow and lag, which isn't good. Sometimes this can be fixed on your mobile, other times it's an issue with the server and site. If you find your app is running slow, try to close all the apps on your phone and do a restart. Like computers, phones only have limited memory and can only run so many apps safely at once. Restart your phone and see if that speeds up the app.
You may also have a bad signal which is the main reason the app can run slow and be sluggish. Make sure you have good cell coverage or that your wifi is running fast. A speed test can be done to make sure you're getting a good MBS to run the app.
If you are using an older version of the app, this could be another reason that the interface is dawdling and lagging. Make sure you update to the latest version which should speed things up.
Some common terms you may come across when the apps are not working:
BetMGM connection to the server has been dropped
BetMGM sorry due to a technical error
BetMGM technical error connection lost
You may want to check out our guides on what to do if you have problems with the FanDuel sportsbook, and also our guide to fixing DraftKings sportsbook.
If you need any help, you can always tweet us @Gamble_USA where we will be happy to help.
---
Keep Encountering Issues and Want a Change?
Technical issues are frustrating, especially in urgent situations – like when you want to make a live bet and you need to close your wager in precious seconds, but then something goes wrong. While we can reassure you that any glitch you encounter is seldom, because the app is powered by high end software and tested frequently, if it is not for you then it is not for you. Instead, we can point you in other directions to resolve your problems and get back on track with your betting action.
---
Use the MGM Mobile Site
The problem you are having may be on the Android or iPhone app and the mobile site might work just fine. Head to betmgm.com and try and log in on the mobile site rather than on the app. If you can log in and place your wager, then the issue is down to the app.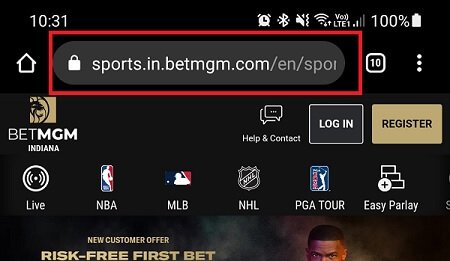 This may be a temporary solution until the app gets running again and you can use it to place all your bets. However, there is nothing wrong with using the site either. Some bettors are happier betting on the mobile-friendly BetMGM site as an alternative to downloading the software. Sure it means that you must keep your browser open and log into your account each time you want to start betting, but otherwise, the interface is excellent and the site runs like a charm.
---
Use an Alternative Sportsbook
Even the best of technology goes down occasionally (think Facebook, Twitter, & Netflix) so it's always good to have at least one other sportsbook available. Sportsbooks similar to BetMGM are DraftKings sportsbook, Caesars, and PointsBet. When you join any of these operators as a new customer, not only do you have a backup option, you can also receive a complimentary bet. It takes less than 5 minutes to sign up to any of these operators:
Backups are always useful for regular bettors. At one sportsbook you may take advantage of some exclusive enhanced odds deals, while you use the other to form your parlays or round robin bets. It even opens up the opportunity to hedge your bets, either by using an arbitrage betting strategy or simply by taking advantage of bonuses and promotions to form money-making matched bets.
All three of these MGM alternative betting sites offer their own native mobile apps. You can test out the apps for yourself and see whether you like the feel of them more or not.
---
FAQs
Can I use a VPN to wager at BetMGM?
No, you can not legally bet with the sportsbook using a VPN or a proxy. Trying to fake your location can lead to having your account suspended and you being banned from using the operator.
Why is my BetMGM betting app crashing?
This could happen for a number of reasons, but most often it is because of internet connectivity. Check to see that you have a strong signal and the internet connection is stable, as this can lead to frequent crashing and error messages.
Why am I not seeing my payments in the BetMGM app?
Deposits are instant at BetMGM, but this depends on whether the payment service you use can instantly confirm the transaction with the sportsbook. Sometimes, there may be an issue with your payment service provider, or there may be a lot of activity at BetMGM, causing the servers to slow down. Be patient, and if your account is not topped up after a couple of hours, contact customer support.
Why can't I open my BetMGM account?
If you have entered your password incorrectly three times, then BetMGM will block you from accessing the account. This is part of the safety protocol to ensure no one else can open your account. The solution is to contact customer support.
Why am I restricted from the BetMGM sportsbook?
Restrictions only happen when you are betting in a state where BetMGM is not licensed. You therefore cannot bet until you go to a state where BetMGM operates, and from there you can bet as much as you like. You do not need to reside in any of the states BetMGM works in, you only need to be within state borders.