Gamble USA strives to improve your online gambling experience. We aim to help you play safely, make informed decisions when gambling, and increase your betting knowledge through our guides.
We adhere to strict editorial integrity; our content may contain links to products from our licensed & legal US partners.

Comparing sportsbooks is no easy task and is very time-consuming. That is why we here at Gamble-USA have done all the hard work for you.
Going back a few years, there would have been no need for guides like this, but with the rise of both licensed and non-licensed sportsbooks appearing on the market, it is important for sports players to know who they are betting with and to understand the various state laws around betting.
Today, BetMGM Sportsbook is now licensed and available in 25 states, while Caesars Sportsbook is licensed in 23 states.
This comparison of BetMGM and Caesars (William Hill) will cover all you need to know about these two sportsbooks (including the good and bad)
Our team has researched both sites fully, so read on to learn about what they have to offer you.
BetMGM or Caesars – Who is the best?
This article follows on our previous comparisons of DraftKings and FanDuel, BetMGM vs. DraftKings, and FanDuel vs. Caesars.
The aim of this comparison of BetMGM and Caesars is to show you some of the key areas of two of the best sports betting sites online, why we think they may be useful, and if you should choose one over the other.
Both of these sites have put a lot of effort into the design and user experience on the desktop versions, and both have mobile betting apps that are easy to download.
Both sites are similar in the range of bets and markets that they cover; however, our final judgment gave a slight preference for BetMGM, even though Caesars has a $250 bigger welcome offer ($1,250 bonus bet + loyalty points) than BetMGM.
Many sports bettors will make a decision just based on the welcome offer, but BetMGM offers other benefits, including an easy-to-use interface, live streaming of selected sports events, as well as an outstanding sports betting blog called "The Roar".
Both sites offer some unique parlay bonus options, and we cover these in-depth further on in this comparison.
The ultimate decision as to which sportsbook is the best comes down to personal preference and will be a decision based on you, the customer's favorite sports, and types of bet. Features that might be very important to you personally, like a promo code as an example, might not be as important to other sports bettors.
BetMGM – Caesars Overview
Undoubtedly, two of the biggest online sports betting sites in the US market today are BetMGM and Caesars.
BetMGM launched its first retail sportsbooks in 2018 at the Beau Rivage Resort & Casino in Biloxi and at their Gold Strike Casino resort located in Tunica. Both sportsbooks opened on Aug. 1, 2018.
Since then, they have expanded as the sports betting industry changed dramatically after the repeal of PASPA (more commonly known as the Professional and Amateur Sports Protection Act).
BetMGM now operates mobile betting in 21 states and retail betting across 11 states (services provided across 25 states in total).
Caesars has always been associated with casinos after initially starting the business in 1937 in Reno, Nevada. Their move into the sportsbook world (partners with William Hill) coincided with the relaxing of state laws on mobile device and online sportsbook betting, and they now provide sports betting fans the ability to bet online in 23 different states.
Caesars completed its roughly $4 billion acquisition of the sports betting provider William Hill in April 2021. This acquisition gave them control of the William Hill sportsbooks plus the online and land-based properties in the United States. A move that gave them an immediate footprint in many states that provide legal betting via sports betting apps.
BetMGM Sportsbook vs. Caesars Sportsbook – New Player Offers
Being a sports bettor, you want to make sure you are getting the best offers on the market, and having two major sportsbooks like BetMGM and Caesars competing against each other is only good news for you.
BetMGM New Player Offer
BetMGM offers a new account sign-up bonus of "up to" $1000, and of course, that is nice, but let's dig a bit deeper to see if it is a good deal for you, the bettor.
This bonus works in a way that allows you to place your first bet as a 1,500 bonus bet. If you were to sign up and deposit $250 and place that amount on your favorite team to win and they lost, you would receive that amount back (Up to $1000) as a bonus bet.
That is a pretty sweet deal.
Be sure to check the full terms and conditions of the offer. Still, the main point you as the bettor need to be aware of with the BetMGM new player offer is that a bonus bet credit cannot be withdrawn, you do not receive the amount of the bonus bet credit if your bonus bet is a winner, but more importantly, you must use your bonus bet within seven days on this online sportsbook or else it will expire.
Caesars Sportsbook New Player Offer
So, Caesars has a very similar offer to BetMGM in that they will offer you a bonus bet if your first wager is a loser. However, they offer you an amount back, which is (up to $1,250), an excellent $250 more than BetMGM. 1000 Caesars Rewards Tier Credits + 1000 Reward Credits® are also added in the mix.
But let's look at the small print and dig a bit deeper into the Caesars sportsbook terms and conditions to see if this is as cut and dried as it looks at first glance.
Firstly you need to use the Caesars Sportsbook promo code (GUSAFULL) to take advantage of this bonus. We like companies that use a promo code; as you know this is a one-time offer, and you won't be confused with other future offers.
As with BetMGM, you get a certain period to use your bonus bet, 14 days, doubling the time of the BetMGM new player offer on this online sportsbook.
So which one comes out on top in the battle of the two bonus bets? The BetMGM new player offer or the Caesars new player offer?
Winner – Caesars Sportsbook
Promo Code: GUSA1000
$1,000 First Bet on Caesars
21+. T&C Apply
21+. T&C Apply
Promo Code: GUSA1000
Massive welcome bet offer
Earn Caesars Rewards
Promo Code: GUSA1000
$1,000 First Bet on Caesars
21+. T&C Apply
21+. T&C Apply
BetMGM or Caesars – Sports Coverage
Most bettors usually place bets on just one or two of their favorite sports, but being able to bet on any sport you choose is essential, as well as each sport having lots of sports betting markets to choose from.
For example, you might be a big fan of the NBA or MLB, but when it comes to Superbowl time, you want to know if your favorite online sportsbooks will be able to take your bets.
With soccer available on many sports betting apps, this is another sport that players want to have a choice on.
The table below gives you more info on which of these two has the best offer.
| Sport | BetMGM | Caesars |
| --- | --- | --- |
| Aussie Rules | ✔️YES | ✔️YES |
| Auto* | ❌NO | ✔️YES |
| Baseball | ✔️YES | ✔️YES |
| Basketball | ✔️YES | ✔️YES |
| Boxing | ✔️YES | ✔️YES |
| Cricket | ✔️YES | ✔️YES |
| Cycling | ✔️YES | ✔️YES |
| Darts | ✔️YES | ✔️YES |
| Football | ✔️YES | ✔️YES |
| Formula 1 | ✔️YES | ✔️YES |
| Golf | ✔️YES | ✔️YES |
| Hockey | ✔️YES | ✔️YES |
| Lacrosse | ✔️YES | ✔️YES |
| MMA | ✔️YES | ✔️YES |
| NASCAR | ✔️YES | ✔️YES |
| Rugby League | ✔️YES | ✔️YES |
| Rugby Union | ✔️YES | ✔️YES |
| Soccer* | ✔️YES | ✔️YES |
| Table Tennis | ❌NO | ✔️YES |
| Tennis | ✔️YES | ✔️YES |
Auto* – It is important to note that under Auto, where we have BetMGM listed as a NO, they do cover Nascar and Formula 1 as motorsports.
However, Caesars has a more extensive offer for this sport with NASCAR, Xfinity Series, Truck Series, Formula 1, and Indy Car racing.
Soccer* – BetMGM probably wins the battle here as they have the Premiership from England and the Championship and League 1 matches covered.
Caesars hit back by covering the Scottish Premiership and Championship, but overall the soccer sports betting offer is better at BetMGM.
It is vital for sportsbook players to check things like this, as some soccer leagues, especially in Europe, can give you an edge.
Deciding who runs out the winner in the sports coverage section was a tough call.
Winner – BetMGM
BetMGM or Caesars – State availability; Where You Can Play & Bet?
Although you mostly care about your state, the expansion of a US sportsbook is quite a big deal.
Of course, with states making their own licensing laws in relation to sports betting, it is critical to make sure you are aware of the laws in the state you reside in. Make sure to check if BetMGM and Caesars Sportsbook are licensed in the state you reside or the state you are betting in.
BetMGM States
If you are betting on BetMGM, then they have put together a great visual map of where they offer legalized betting and whether that is mobile sports betting, retail sports betting, or both.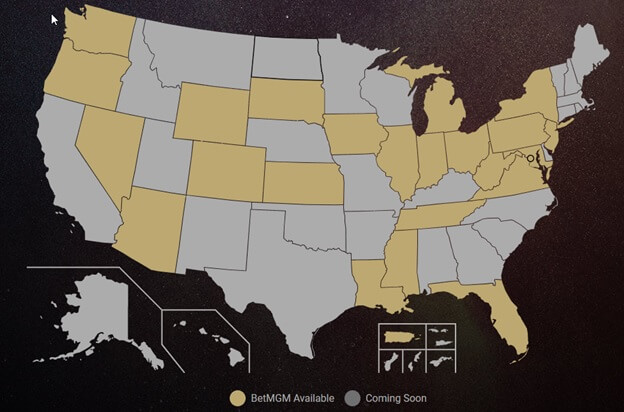 They also have a "State Switcher," which allows you to use their sports betting app/site based on the state you are currently in.
BetMGM is currently active in 25 different states/jurisdictions.
Caesars States
Caesars and BetMGM are trying to expand their reach and offer mobile sports betting to as many players as possible. Caesars is currently active in 23 states.
If you are going to place your bets on Caesars with your mobile device and want to check a list of the states, you can bet in, then go to the LOCATIONS menu item on your desktop or on mobile and select from one of the different states where you can place a legal bet.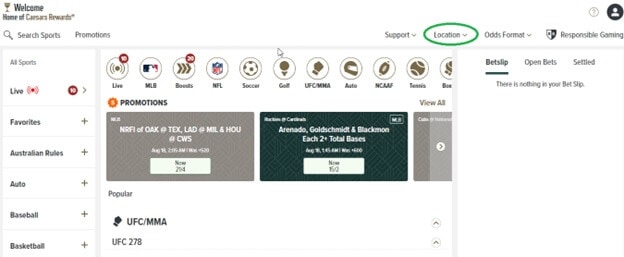 After choosing your state, you'll see a further dropdown that allows you to search by location type.
You'll be able to choose from the list below to deposit and place sports bets.
All
Deposit HotSpot
Full-Service Sportsbook
Mobile Deposits
Mobile Deposit Kiosk
PayNearMe Mobile Deposit
Racebook
Sports Betting Kiosk
Virtual Racing
Choosing the "All" option is best, and it will provide you with a list of the exact locations in your state where you can place a legal bet.
Just for quick reference, see the table below, which states each of their sports betting apps is currently licensed within.
| State* | BetMGM Sportsbook | Caesars Sportsbook |
| --- | --- | --- |
| Caesars Sportsbook | ✔️ YES | ✔️ YES |
| Bahamas | ❌NO | ✔️ YES |
| Colorado | ✔️ YES | ✔️ YES |
| District Of Columbia | ❌NO | ✔️ YES |
| Florida | ✔️ YES | ✔️ YES |
| Illinois | ✔️ YES | ✔️ YES |
| Indiana | ✔️ YES | ✔️ YES |
| Iowa | ✔️ YES | ✔️ YES |
| Louisiana | ✔️ YES | ✔️ YES |
| Maryland | ✔️ YES | ✔️ YES |
| Michigan | ✔️ YES | ✔️ YES |
| Mississippi | ✔️ YES | ✔️ YES |
| Nevada | ✔️ YES | ✔️ YES |
| New Jersey | ✔️ YES | ✔️ YES |
| New Mexico | ❌NO | ✔️ YES |
| New York | ✔️ YES | ✔️ YES |
| North Carolina | ❌NO | ✔️ YES |
| Ohio | ✔️ YES | ❌NO |
| Ontario | ✔️ YES | ✔️ YES |
| Oregon | ✔️ YES | ❌NO |
| Pennsylvania | ✔️ YES | ✔️ YES |
| Puerto Rico | ✔️ YES | ❌NO |
| South Dakota | ✔️ YES | ❌NO |
| Tennessee | ✔️ YES | ✔️ YES |
| Virginia | ✔️ YES | ✔️ YES |
| Washington | ✔️ YES | ❌NO |
| Washington D.C. | ✔️ YES | ❌NO |
| West Virginia | ✔️ YES | ✔️ YES |
| Wyoming | ✔️ YES | ✔️ YES |
State* These are the current list of states that both sportsbooks are currently licensed in as of today.
Of course, they are working on building their presence in other states as and when they open for legalized sports betting, and we will update this list as that happens.
BetMGM and Caesars (William Hill) have great coverage across the US through their mobile sports betting apps, but who is the winner?
Winner – BetMGM
BetMGM or Caesars – Banking Options
When choosing a sportsbook or legal sports betting app to open an account on, deposit options play a big part. Sports bettors want a wide choice of options, including standard credit and debit cards, plus e-wallets like Paypal, Skrill, and Neteller. And now, more and more players are looking to use cryptocurrencies like Bitcoin, Ethereum, and Litecoin as funding methods.
It is essential to point out that most sports betting apps offering crypto as a deposit method for online sports betting are offshore books that are not officially licensed in the United States.
So let's look at both sites and see the methods available for deposits and withdrawals.
Deposits
| Deposit Method | BetMGM | Caesars |
| --- | --- | --- |
| Credit Card | ✔️YES | ✔️YES |
| Debit Card | ✔️YES | ✔️YES |
| Play+ | ✔️YES | ✔️YES |
| PayNearMe | ✔️YES | ✔️YES |
| PayWithMyBank | ❌NO | ✔️YES |
| PayPal | ✔️YES | ✔️YES |
| Echeck | ✔️YES | ✔️YES |
| Cash | ✔️YES* | ✔️YES* |
| Crypto Currency | ❌NO | ❌NO |
| Online Banking | ✔️YES | ✔️YES |
It's important to be aware that the cash deposit option at Caesars is available at their Caesars retail sportsbook location at the Grand Victoria Casino Elgin.
It is useful to know that the cash deposit option at BetMGM is available at the cashier window and retail sportsbook at Borgata Hotel, Casino & Spa resort in Atlantic City, New Jersey, to fund your BetMGM account in cash.
Withdrawals
| Withdrawal Method | BetMGM | Caesars |
| --- | --- | --- |
| Online Banking | ✔️YES | ✔️YES |
| Play+ | ✔️YES | ✔️YES |
| Echeck | ❌NO | ✔️YES |
| Check by Mail | ✔️YES | ❌NO |
| VIP Preferred | ✔️YES | ✔️YES |
| Paypal | ✔️YES | ✔️YES |
| Cage | ✔️YES* | ❌NO |
| Cash | ✔️YES* | ✔️YES* |

*BetMGM offers Cage withdrawal payments but only in NJ, MI and MS.
All things considered, the two sportsbooks offer almost similar payment methods for withdrawing funds. Both have a minimum withdrawal of $20.
Winner – BetMGM
BetMGM or Caesars – Odds & Markets
We talked about the importance of choice of deposit methods, but the most crucial factor in choosing online sportsbooks comes down to the odds and markets offered.
Come on, let's not kid ourselves. As a sports bettor or player, you'll want to make as much profit from your wagers as you can, and the only way we can do that is to find an edge in the odds or find a market that we can take advantage of with our knowledge of that sport.
So who has the best sports betting odds and market offer, BetMGM or Caesars? Let's compare odds.
BetMGM Odds
Caesars Odds
So you can see the same game being offered by both sports betting sites, but there are variances in the spread, moneyline, and total points.
Even these tiny fractions can make the difference in choosing who you place your sports bets with.
So if you were a Bills fan, then betting with BetMGM would be the call, whereas if you are Rams fan and think they'll win, then Caesars is going to be the best sports betting book.
After looking at five other games on both sportsbooks, we found that BetMGM is one of the best sports betting apps or sites as they were always the best odds on the favorite, while Caesars were always the best odds on the outsider.
The differences were only 5 or 10 ticks, but that can make a difference to many bettors and is also why you might want to sign up to both sports betting apps so you can take advantage of these slight odds variances.
Live Sports Betting on BetMGM Sportsbook & Caesars Sportsbook
There is nothing to make watching a game more exciting than having sports bets running on your favorite team or player, and "Live Betting" now allows you to place bets even once the game has started.
It allows you to place bets based on a certain statistic like number of rushing yards for a player or number of turnovers for a team.
In this section, we'll uncover the best in-play and live bet tools for both BetMGM and Caesars and then give you our opinion on who comes out on top.
BetMGM Live Betting

Caesars Live Betting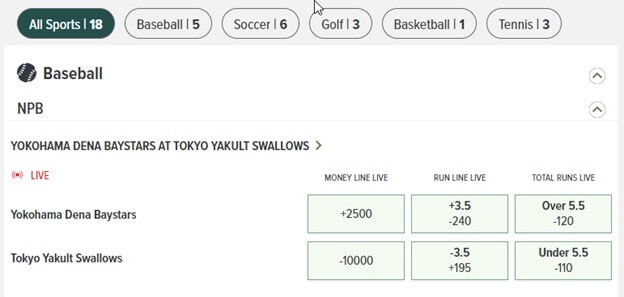 If you look at the above two screenshots, you'll see some key differences. Be aware we visited both online sports betting sites and opened their "live" screens at the same time.
You'll see that the BetMGM sportsbook showed 35 live sports betting events spread across soccer, tennis, and golf, whereas Caesars only showed 18 live events but spread across baseball, soccer, golf, basketball, and tennis.
The other big plus point with BetMGM is that you can actually stream some sports betting events live, so they beat out Caesars here.
Winner – BetMGM
Promo Code: GAMBLEUSA
Up To $1,500 In Bonus Bets
21+. T&C Apply
21+. T&C Apply
Promo Code: GAMBLEUSA
Super fast payouts
Live streaming
Promo Code: GAMBLEUSA
Up To $1,500 In Bonus Bets
21+. T&C Apply
21+. T&C Apply
BetMGM or Caesars – Sportsbook Features
In this section, we wanted to look at some of the features of both sportsbooks and their sports betting apps, and we have picked out three from each one.
BetMGM Features
The BetMGM sportsbook home screen is straightforward on the eye, with a sports menu on the top and to the left. The top menu shows all sports, so it is really easy to find your favorite major sports, find the game, player, or market you want to bet on, and place your sports betting wagers.
Go to the top right corner of the home screen and you'll see a section called "Media," Here, you can choose a live event and watch live or view a visual of the scoring and even the stats for each team/player. This uses tabs, so it's really easy for the sports bettor to use.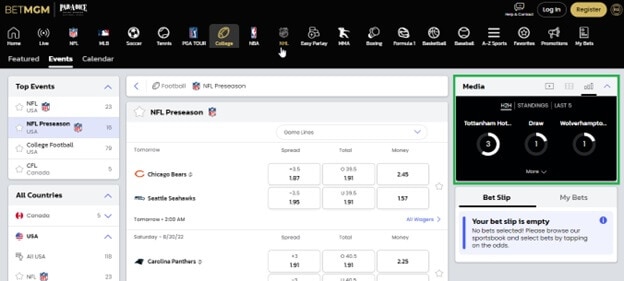 Another feature of the BetMGM sportsbook that we like can be found in the footer section of the website, where you'll find a link to their sports betting blog called "The Roar."
Caesars Features
One of our favorite features on Caesars is the "Boosts," which are immediately available as soon as you reach the home page. Just look at the main menu at the top of the page, and you'll see them there.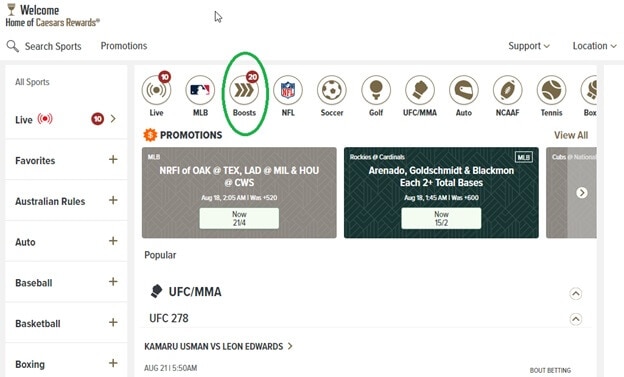 Just click on that icon, and it will open up all of the current odds boosts for major sports events, and Caesars allows you to bet up to $100 at the boosted odds.
The next feature we like, which is simple but is not easily found on its rival BetMGM's site, is the ability to switch the odds format. This is prominent at the top of the page on Caesars and is excellent for those that might prefer fractional or decimal to the traditional American odds.
Finally, it is really easy to see all of the Caesars promotions. Again you'll find a link in the top left of the main menu when you hit the home page. Great if you want to see what special offers and competitive odds they have. One of the best sports betting sites for promotions.
BetMGM Sportsbook vs. Caesars Sportsbook – Mobile Sports Betting App and User Interface
Using mobile sports betting apps has become the norm for many sportsbook players now, and of course, with how many sportsbooks are licensed, it allows you to bet on the go, allowing you to bet when traveling to other states.
The significant advantage of using legal sports betting apps or mobile sites is the user experience. The information you'll find on your desktop is stripped away to only show you the most important information and make it easy to navigate and place your bets quickly.
Let's look at a comparison of these two sports betting giant's mobile betting apps and see how they compare.
BetMGM App
As soon as you enter the mobile version of the BetMGM site, you will have everything at your fingertips. On the left corner at the top of the screen, you will see the menu button for "Sports" so you can quickly get to your favorite sport.
At the bottom of the mobile screen, you'll find a menu with a link to the home page and a link called "My Bets" so you can quickly check any outstanding bets.
"Promotions" are also easily accessible from this menu, so you have everything you need as soon as you land on the sports betting app.
Caesars App
When landing on the Caesars mobile site, you will first be asked to enter the state from where you are registered or will be betting. After this, you get a different experience from the desktop version of the site and will need to download the mobile app, which in our testing proved a problem.
This was a disappointing experience not being able to view the sports betting site on mobile, and we were sent in a continuous loop without being able to download the actual mobile app.
We will test this out again and revert with findings and updates on the Caesars sports betting app. For now, we created this Caesars Sportsbook troubleshooting guide in case you encounter similar issues.
Winner – BetMGM
BetMGM or Caesars – Football betting
Football is a tremendously popular sport in the US, and it is estimated that current sports betting revenue in the US is over $143 billion year to date, with last year's Super Bowl wagering reaching an estimated $8 billion.
Most bettors have their favorite teams and players, but how do BetMGM and Caesars cater to you, the football fan?
Here we are going to look at who has the best football betting offers, best markets, and also football-specific promotions.
BetMGM Football Betting
Here you will see an Aladdin's cave full of treasure in terms of the different bets football fans can place. BetMGM has a wide range of futures bets for the forthcoming NFL season.
Here are just a few examples of the bets you can place.
AFC North Division Winner
Super Bowl – Division of the winning team
Who will reach the final
Divisional straight/dual forecast
Most regular season sacks
These are just a few. In total, before the season started, BetMGM were offering forty-nine different futures markets as well as hundreds more involving every player from every team.
They are definitely one of the best sports betting sites for player-specific wagers.
BetMGM futures will give you plenty of wagering opportunities for those who love player stats.
They also offer a wide selection of parlays on which you can place bets. You can even build a parlay using the Giants moneyline price, the Ravens spread price, and add in a Josh Allen player prop bet to make a unique parlay.
Caesars Football Betting
Once you are on the main page of the Caesars Sportsbook, you will see all of the sports on the top menu, and football is the fourth icon from the left with the NFL logo.
Clicking on this will open up all of the football offers in a nice, clearly laid-out section with down arrows (accordions) that then open to reveal all the bets in that section.
We love the layout here, as it is easy to find the exact market you want by using one of the four tabs at the top.
Featured
Schedule
Live
Futures
Just select the tab that is of most interest to you. For example, if you choose futures, then it will lay out all of the futures markets in a really easy-to-use format.
Now Caesars have only forty-one futures sections compared to the forty-nine on BetMGM. However, The Caesars offer per section carries many more markets, making it one of the best sports betting sites.
Here are a few examples of sports betting wagers you can place.
Will, any team, have a 17-0 record
Will, any team, have a 0-17 record
First overall pick for the 2023 NFL draft
Highest scoring team
Lowest scoring team
Both sites have great football offers and markets, but the winner based on ease of use is
Winner – Caesars
BetMGM or Caesars – Promos, bonuses, and offers
We touched on promos, bonuses, and competitive odds in the previous section, but they were only related to football, but what about all you NBA, MLB, and NHL fans, not to mention those of you who love to place sports bets on golf, soccer, tennis, horse racing, etc.
Do the BetMGM and Caesars sports betting apps cater to you guys as well?
In this section, we'll look at some of the sports-specific bonuses and promotions offered outside of football. There are some great ones, so let's dive in.
BetMGM Promotions
As well as their $1000 bonus bet offer, BetMGM has a series of other sports betting offers for both new and existing customers.
BetMGM Cash Out – With this promo, you have the

chance to cash out

your straight or multi-leg parlay to lock in your winnings or reduce your losses. This promo is valid on selected bet types and events.
One Game Parlay Insurance – This new promo gives you the chance of a bonus bet and a chance to get your stake back up to $25 on selected baseball games if your bet goes down due to a single leg of your wager.
Parlay Plus – A great promo for you

parlay betting

lovers. Place any

BetMGM parlay bet

with 4-7 legs, and if your bet wins, you'll get a bonus of up to 40%
Edit My Bet – This allows the player to change any bet with a cash-out offer attached. Add, remove or swap selections, and even increase your stake to create a near bonus bet.
Caesars Promotions
Of course, Caesars has the better welcome offer for new sports betting players with their (up to $1,250) bonus bet offer, but how do they compare to their rival for other promotions, and who has the best overall bag of promos?
MLB Parlay

Insurance – Opt-in and get your money back if one leg of your MLB parlay loses! Just place a 4+ leg

Caesars parlay

on MLB, and if only one leg loses, you'll get a free wager equal to your stake, up to a maximum of $25.
Caesars Profit Boosts – Get a profit boost of up to 10% on your bets on all sports.
Same Game Parlays – This promo gives you the ability to build out a parlay on NFL, NBA, Select Soccer Leagues, and MLB Games.
This battle was tough as BetMGM have their Edit My Bet promo whilst Caesars Same Game Parlay is attractive as it goes across all the major sports and not just baseball like Bet MGM.
Winner – Caesars
BetMGM or Caesars for new players?
If you are a new sports bettor/handicapper looking at sports betting for the first time, it's vital to understand the concept of responsible gambling, and we wish to point out that gambling should be for recreational purposes only.
However, if you'd like to become a seasoned sports bettor and want to take this seriously, then you need to be aware of what is on offer for new players at BetMGM and at Caesars, including their sports betting player rewards programs.
We have shown in this article what we think about both sportsbooks, but with both having these great bonus bet sign-up offers, you might want to take advantage of both top sports betting apps for beginners, as each has different benefits for your initial bet.
BetMGM or Caesars – Extras
We have covered a lot of info for you here, but we wanted to share with you a few little extra things that we found on each of these sports betting sites.
Maybe these are not important to you from a betting perspective, but on the other hand, they may be things that will swing you one way or the other if you choose just one of these two excellent sports betting apps.
BetMGM Extras
Sports Betting Blog – The Roar is their sports betting blog, which gives in-depth analysis and stats on a wide range of sports.
Easy Parlay – This can be found in the main menu at the top of the site and is an interface that makes it very easy to place parlays across spreads, totals, and

moneyline odds

on a wide selection of games inside the sports betting app.
Live Streaming Media – BetMGM offers you the opportunity to watch games live, directly from your mobile device or desktop device.
Caesars Extras
Caesars Rewards – This excellent customer loyalty program gives you the chance to win bonus bets, sports tickets, dining, getaways, and various VIP experiences.
Bet Boosts – Caesars always has plenty of daily odds boosts and bonus bets across a wide range of sports.
Odds Format – Easily find and change the odds format from the top menu. Not available on BetMGM.
Alternatives to Both BetMGM and Caesars Sportsbook
Now you might be thinking, are these the only two sportsbooks you should check out or place sports bets on?
Or you might be wondering what other US sportsbooks are licensed and good BetMGM alternatives?
BetMGM and Caesars are not your only options. Below are some of the best sports betting sites and legal US sports betting apps we recommend looking at.
Final Verdict: Should You Choose BetMGM or Caesars Sportsbook?
First off, we hope you have enjoyed this breakdown and the overall challenge of comparing these two legal sports betting apps and sportsbooks. We at Gamble-USA must review every site thoroughly and give you the pros and cons so you can make your own decision.
As we have gone through, it has been a bit like a boxing match, with both competitors going blow for blow in the quest to be the best, and win that coveted belt.
Deciding which of these betting sites is the best sometimes comes down to personal preference. Still, many players will look at how easy the interface is to use, what range of sports are available to bet on, the available deposit and withdrawal options, and the promo codes, bonuses and promotions for new or existing customers.
It was a close call, but the judges gave a verdict by a very slim margin, and the winner is?
Winner – BetMGM
Why Choose BetMGM Over Caesars
Here are five things to consider on why you might decide to choose BetMGM over Caesars.
They show many events live from within the mobile app, so you can watch on your personal mobile device.
The sports coverage is better, especially

soccer betting

They offer bigger odds for the favorites for NFL games
BetMGM has a lower minimum deposit to start playing
Easy to get to the odds, sports, and markets, unlike Caesars, where it takes a few clicks
Promo Code: GAMBLEUSA
Up To $1,500 In Bonus Bets
21+. T&C Apply
21+. T&C Apply
Promo Code: GAMBLEUSA
Super fast payouts
Live streaming
Promo Code: GAMBLEUSA
Up To $1,500 In Bonus Bets
21+. T&C Apply
21+. T&C Apply
Why Choose Caesars Over BetMGM?
Here are five things to consider why you might choose Caesars over BetMGM.
Caesars has the most significant welcome offer of the two sportsbooks
New player bonus bets last twice as long on Caesars
They offer bigger odds on the outsiders for NFL games
Their "Same Game Parlay" is available on all sports, not just MLB
A more straightforward user interface for players wagering on football
Promo Code: GUSA1000
$1,000 First Bet on Caesars
21+. T&C Apply
21+. T&C Apply
Promo Code: GUSA1000
Massive welcome bet offer
Earn Caesars Rewards
Promo Code: GUSA1000
$1,000 First Bet on Caesars
21+. T&C Apply
21+. T&C Apply