Gamble USA strives to improve your online gambling experience. We aim to help you play safely, make informed decisions when gambling, and increase your betting knowledge through our guides.
We adhere to strict editorial integrity; our content may contain links to products from our licensed & legal US partners.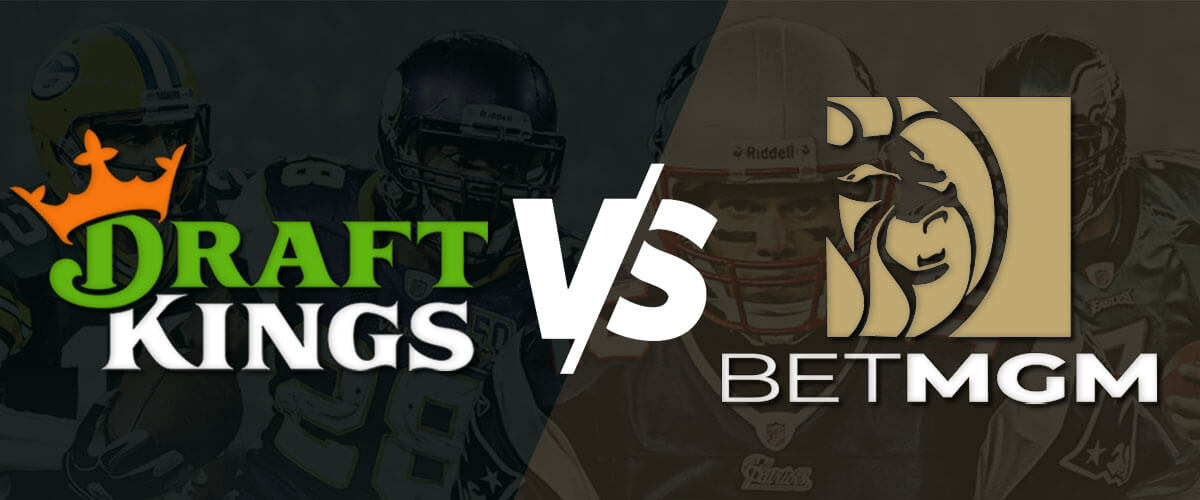 Online sports betting is expanding in the US, and both BetMGM and DraftKings have emerged as two of the most popular sports gambling sites in the nation. Both of these online sportsbook sites are legal and licensed in US states but have unique offerings.
If you have any experience with online gambling, you will surely have heard of these two brands. BetMGM sportsbook is one part of the gambling behemoth that is MGM Resorts International. You may recognize Bet MGM for the popular BetMGM Casino, but has it has grown into a fantastic option for any sports bettor. DraftKings is well-known for its popular Daily Fantasy Sports contests and is now making waves in the legalized sports betting space. The DraftKings sportsbook market share is significant in many states, and the operator is also the Official Daily Fantasy Partner of the NFL.
The competition in the online sports betting market is fierce with competitors like Caesars sportsbook (formerly William Hill), Barstool Sportsbook and FanDuel proving to be popular across North America. Many people may want to see a comparison of these big-name sportsbooks going head to head so they can see who the experts pick. Indeed, one of the most common questions asked by bettors in recent times has been DraftKings or FanDuel, due to both being market leaders in numerous states. But, is there a new king in town in the form of BetMGM?
The BetMGM sportsbook has made huge strides recently with a re-designed mobile app and can now compete with the 'big two' (FanDuel & DraftKings) in the mobile sports betting app market. Now might be a good time to invest in BetMGM stock! With that said, it can be difficult for new players to choose between the BetMGM and Draftkings sportsbook. Both sites have a lot to offer users, and neither has a clear advantage in the competition for new customers. So, should you choose the BetMGM or Draftkings sportsbook?
Our MGM vs. DraftKings comparison will help you decide which site is better for your sports betting needs.
BetMGM vs. DraftKings – Who is really the best?
So, let's look at the differences in the BetMGM vs DraftKings debate. The main difference between BetMGM sports and DraftKings is the number of features available. The BetMGM sportsbook app offers a lot more features over rivals DraftKings, including more banking options, and from our research, more promotions. DK on the other hand has the advantage of brand recognition through their uber-popular DFS platform.
If you are thinking, what's better, DraftKings or BetMGM? It is crucial to consider the differences between the two. One of the significant differences in the interface. They are both similar in many ways, from the bet types they offer to the number of sports provided and more. From our experience and feedback from users, the main difference is that the DraftKings mobile betting platform is easier to use than BetMGM.
This is particularly crucial for anybody new to online betting. The fact that DraftKings provides a smoother experience means new users will be comfortable from the get-go. It always means they are likely to keep coming back.
BetMGM vs. DraftKings Overview
Both of these sportsbooks have firmly established themselves as two of the most popular sports betting sites in the United States. When the decision to legalize sports gambling online was made, DraftKings became the first legal online sportsbook to launch in the US. DK made its debut in New Jersey on August 1, 2018. The brand was already familiar to many people, thanks to the success of its daily fantasy sports contests. It made a seamless transition into sports betting after the removal of the PASPA rule from the Supreme Court. That ruling paved the way for states outside of Nevada to pursue regulated sports wagering.
A few weeks later, BetMGM – initially operating as PlayMGM- became the second online sportsbook to launch in the US. Both the BetMGM app and DraftKings quickly expanded out of New Jersey and launched in numerous states across the country. This has led to many people asking, which is better, DraftKings or BetMGM?
It is not hard to see why both these giants are at the top of the rankings. Both BetMGM and DraftKings offer excellent promotions and bonuses, online casino games, competitive odds, and a first-class user experience. Consequently, deciding which platform is the right one for you is tough. Neither has a clear advantage over the other.
The best way to settle the argument, rather than looking for BetMGM vs. DraftKings Reddit, is to take a detailed look at both sites. This detailed vs. battle will cover two of the popular US sports betting apps extensively, from the free bets available, the online casinos, the mobile betting experience, and more.
BetMGM Sportsbook vs. DraftKings Sportsbook – New Player Offers
Before committing to either BetMGM or DraftKings, many will look to their welcome bonuses. BetMGM offers a $1,500 bonus bet for new players as part of its welcome package. BetMGM gets people through the door with a straightforward sign-up bonus offer. This can be seen as a positive as some books will release the bonus in increments, meaning you may end up having to play much more than you thought to get the full amount. That is not the case with the BetMGM offer. New players get the bonus bet after an initial deposit. If the bet loses, you will receive a refund for the amount of your wager up to the maximum amount, which you can then use to place more bets.
DraftKings provides a 20% match deposit welcome bonus of up to $1,000. To receive the full $1,000, you need to deposit $5,000. This bonus comes with a 25x rollover requirement, meaning for every $25 wager, $1 will be released into your account. DraftKings launches a new, exciting welcome bonus every few weeks. The DraftKings sportsbook welcome bonus allows you to make a deposit of $5 and then bet $1 on any NBA, NFL, college basketball, college football, or UFC moneyline. If a fighter lands a punch, if either team scores, you will get a $100 free bet bonus.
At least one team scores in every basketball or football game, and at least one punch lands on the opponent in every UFC fight, so this is essentially a "Bet $1, Get $100" bonus. The credit is separated into four $25 free bets, each with a 1x rollover requirement.
You can use the BetMGM sportsbook promo code GAMBLEUSA at betmgm.com to claim the $1,500 bonus bet, or the DraftKings promo code at sportsbook.draftkings.com to get your hands on a $1,000 deposit bonus.
Some sportsbooks don't require a bonus code such as the FanDuel sportsbook but you can use the above codes to gain instant access to the welcome offers. Otherwise, use the BetMGM bonus code and DraftKings bonus code above.
Winner: DraftKings sportsbook
BetMGM vs. DraftKings – Sports Coverage
Both of these sites cover the significant domestic and international leagues. You can also get odds on college football matches and other collegiate sporting events.
It is worth mentioning that BetMGM runs on Entain's proprietary technology, so you will get a unique user experience when playing on that sportsbook. DraftKings operates on the SBTech platform, which also powers the likes of Golden Nugget, Betway sportsbook, and Resorts sportsbook so that the experience will be very similar across those sites.
When discussing all of the major sports, both brands cover them in extensive detail. For example, BetMGM has online sports betting markets on basketball, including the NBA Finals, in the UK, Australia, France, Croatia, Argentina, Portugal, Spain, Israel, Italy, Japan, Lithuania, Poland, Turkey, and Sweden. DraftKings also offers markets in most of those countries.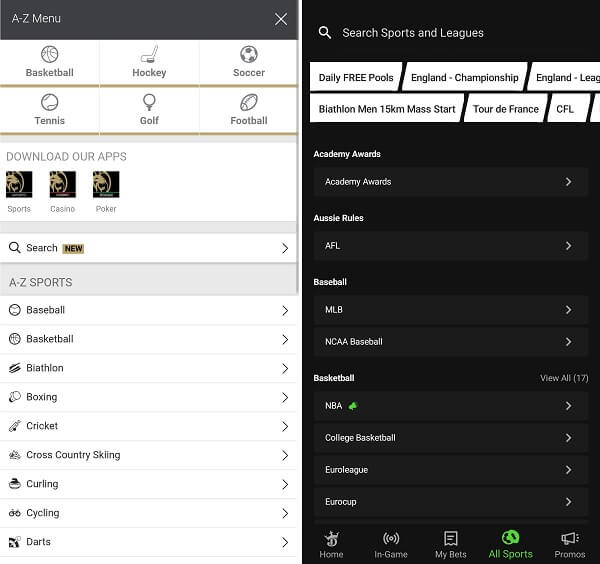 DraftKings covers events like the Tour de France and the FIVB World Championship, which some may consider more niche. However, DK does not offer odds on lacrosse or cycling.
Given that BetMGM covers slightly more sports, they get the edge in this round.
Winner: BetMGM sportsbook
BetMGM vs. DraftKings- State Availability; Where can you play & bet?
Before signing up for either of these sportsbooks, you must know if your state accepts them. So, we thought it would be helpful to list the states with the BetMGM and DraftKings sportsbooks available.
The BetMGM sportsbook app is available in AZ, CO, CT, IL, IN, IA, LA, MI, NJ, NY, PA, TN, VA, WV. You can also access BetMGM in Washington, DC, in a limited area.
The DraftKings sportsbook is available in exactly those states listed above and New Hampshire. Once again, this emphasizes the similarities between the two sites. When a new state announces that it will be launching an online gambling market, it will inevitably include a sports betting site from either BetMGM or DK.
BetMGM and DraftKings Maryland is now also available, and like DraftKings Illinois and other states with both apps, you can bet on Thursday Night Football, NBA prime time games and other sports.
Winner: Tie
BetMGM vs. DraftKings- Banking Options
You will find a wide range of payment options to choose from at BetMGM and DraftKings. You can deposit on BetMGM via Mastercard, Visa,  American Express, and Discover. If you would prefer e-wallets, you can choose from PayPal, Skrill, wire transfer, e-check, PayNearMe, or a branded Play+ card. The BetMGM sportsbook payment options cover all bases. DraftKings offers all of those payment methods except for Skrill. If Skrill is your method of choice, then head to BetMGM. Apart from that, there is no difference. BetMGM has a higher minimum deposit ($10), and neither book charges fees for deposits and withdrawals.
It takes BetMGM 3-5 days to approve and process payout requests, which is fairly slow compared to other sportsbooks. DraftKings also states to its customers that withdrawals are processed within five business days, so neither site particularly shines when it comes to paying sports betting and online casino customers. The BetMGM withdrawal methods are a wire transfer, e-check,  PayPal, Play+, Skrill, or check by mail. The DraftKings withdrawal methods are exactly the same with the addition of an online bank transfer.
The DraftKings minimum withdrawal amount is set at $20, which is also the case for BetMGM. Both operators provide secure withdrawals.
Winner: Draftkings sportsbook
BetMGM vs. DraftKings Sportsbook – Odds, Lines & Markets
One of the most crucial aspects of finding a suitable platform for sports betting is that they provide competitive odds. For example, you may be reluctant to sign up if you notice the DraftKings MMA odds aren't really appealing and if the odds in Las Vegas are better.
The good news is both online sports betting brands offer standard lines for NFL, NBA, college football, tournaments like March Madness and college basketball games. Additionally, both take a similar margin on moneyline bets. There isn't a lot of uniformity to the margins that either company takes on its moneylines. You might find that sometimes DraftKings will offer a  tighter margin on a game, but BetMGM has tighter margins on other games.
One thing worth noting is that BetMGM and DraftKings often open with contrarian odds and lines. Neither book is afraid to go against the broader consensus lines offered by lots of their competitors. For that reason, the MGM sportsbook odds will often see market-leading moneyline odds on one team, while DraftKings will provide the best moneyline odds on the other team.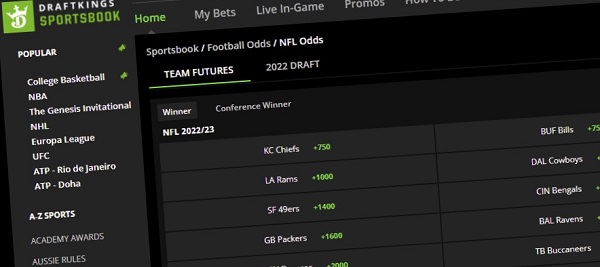 Both sites also regularly offer point spreads that differ from most other sportsbooks. For example, if most sites make the Green Bay Packers a 2.5-point favorite to beat the Chicago Bears, you might find that Green Bay is the 3-point favorite at BetMGM and the 2-point favorite at DraftKings. In this instance, BetMGM would be the best option for betting on Chicago, and DraftKings would be the best option for betting on Green Bay.
When taking all things into account, we recommend signing up for an account with both sportsbooks. By doing that, you can benefit from two welcome bonuses in addition to grabbing the best odds and lines at either book on each game.
Winner: Tie
Live Betting on BetMGM Sportsbook & DraftKings Sportsbook
Also known as in-play betting, this type of wagering has taken off in recent years. Both BetMGM and DraftKings excel when it comes to live betting. Both sportsbooks have a live streaming service, so you can watch the action unfold as you place bets. The in-play sections on both sites are presented in a tidy, clean format, and they each provide you with several live betting options.
For example, on both platforms, you can bet on the outcome of each point, game, and set within a tennis match. BetMGM offers more comprehensive live betting coverage of sports such as soccer, with more games to choose from. It also has live options for more niche sports like cricket.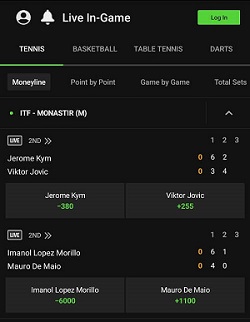 Both sportsbooks let you cash out live wagers before the game is over, and BetMGM has an excellent feature that will enable you to edit open bets.
Winner: BetMGM Sportsbook
BetMGM vs. DraftKings – Sportsbook Features
With the advances in technology, all sports bettors these days demand that online sportsbooks will have innovative features, and BetMGM and DraftKings deliver. For example, players can cash out on BetMGM and settle and edit their bets before the game ends. This is an excellent option if you are worried that your team will struggle. It locks in an early profit, which means you can then sit back and relax or protect yourself against the potential for further losses.
There is also a DraftKings cash-out option, and both sportsbooks have an extensive guide and resources on how to use this feature.
Each book has a detailed suite of pools contests to provide users with added value and excitement. Most of these contests are free to enter, and you can win real money prizes by making accurate predictions. Regarding the number of features both sites offer, we give the edge to DraftKings. They clearly place a lot of importance on keeping things fresh, and it is evident when you log in to your account.
The DraftKings platform includes gambling-specific stats about individual players and teams. This means you can research form and how a particular team has performed against the spread over its last ten games.
Winner: DraftKings Sportsbook
BetMGM Sportsbook vs. DraftKings Sportsbook – User Interface
These gambling giants offer two of the very best mobile betting apps worldwide. Both apps have an average rating of 4.8 out of 5 from iOS users on the App Store. Customers at Google Play tend to be more critical. On Google Play, BetMGM has an average rating of just 2.4, although the sample size is small. DraftKings has an average rating of 3.8 at Google Play. Apart from a few complaints about bugs, the majority are happy with the mobile betting experience they have received.
Both apps are easy to navigate, polished, and user-friendly. Both have lobbies that are arranged by sport and have filters so you can find what you are looking for with ease. From our experience, BetMGM packs more features and betting options into its app, so there might be more options available on there.
However, DraftKings is a slightly more smooth experience, where the pages load a bit quicker, and it is very easy to place bets. BetMGM has gone for a light, aesthetically pleasing background, whereas DraftKings has chosen a more stylish and modern black background. With all of that said, both are undoubtedly two of the best sports betting apps in the industry.
BetMGM vs. DraftKings – Football Betting
Unsurprisingly, two of the most popular sports betting sites in the US provide extensive coverage of the most popular sport in the US. BetMGM showed with the recent NFL playoffs how important they consider football betting. For the wild card round, BetMGM had a promotion that consisted of the following: Bet $10 on any team, and you will get $200 if that team scores a touchdown. Excellent promos like this can be found throughout the NFL season on the BetMGM sportsbook.
DraftKings also runs special promotions involving the NFL. During the playoffs, DraftKings had an NFL postseason exclusive. With this promo, any $5 bet would give you $280 on any team to win. Both brands also run special offers for the Super Bowl.
Both teams have fantastic offers, but BetMGM really goes above and beyond with their coverage and offers on football betting.
Winner: BetMGM Sportsbook
BetMGM vs. DraftKings – Ongoing promotions, bonuses & offers
We have already covered the welcome bonuses for each site above, but both must encourage the players to return. One way to do this is by providing generous ongoing promotions and bonuses. BetMGM shines here, with a range of daily bonuses. Its "Money Monday Club" promotion gives you a free $10 bet every week if you place $50 worth of wagers during the previous seven days.
BetMGM also runs a free-to-enter sportsbook contest called "Tackle the Weekend," where you could get up to $50,000 in cash prizes each week by accurately guessing the top-scoring NFL teams. Apart from that, BetMGM also offers up to 40% extra on successful parlays, including same game parlays, with four to seven legs.
The promos section at DraftKings isn't as impressive. There are excellent welcome bonuses but not a lot of ongoing promotions. You can earn up to $100 via its refer-a-friend promotion, and DK also offers daily odds boosts, but fewer than BetMGM Sportsbook.
Winner: BetMGM Sportsbook
BetMGM or DraftKings for new players?
If you are reading this guide, you are likely to be new to the sports betting world. BetMGM and DraftKings are undoubtedly two of the biggest brands in sports betting in the US. As more states open up to online and retail sports gambling, those who have never placed a single bet before will want to get involved. But which operator is the best for new sports bettors?
First, let's look at the very basics of signing up and placing a simple bet. Placing a wager with BetMGM is straightforward. The process involves creating an account at sports.betmgm.com,  adding funds to your account, then searching for a sport you want to bet on and making your selections. Even to a complete newbie, this is very easy.
Starting up and learning how to bet with DraftKings is the same. You need an account that you can make at sportsbook.draftkings.com, then deposit and select your sports. Ok, well, there is a little more to it than that, but you can watch our handy video and read this guide on DraftKings sportsbook.
Both books are excellent choices for amateur bettors, but we feel the simple interface on BetMGM makes them just edge in front.
Winner: BetMGM Sportsbook
BetMGM vs. DraftKings – Loyalty Programs
BetMGM users will have access to the popular M life Rewards loyalty program. You collect points the more you bet, and all of the points you have accumulated can be redeemed for rewards at MGM Resorts properties like MGM Grand, The Mirage, and Borgata in Atlantic City. This is a tiered system, and you begin in the Sapphire tier, trying climb your way through the Pearl, Gold, Platinum and eventually the top tier, which is Noir. To reach this level will require a large number of bets. This is a thorough and extensive rewards scheme, although we feel redeeming the points could be more simple. The rules state you receive 9 iRewards Points for a  moneyline bet at odds of -110. Additionally it says users get 12.5 points for a $25 parlay at odds of +300.
The loyalty program at DraftKings sportsbook allows you to collect points, referred to as Crowns, by betting on sports, entering DraftKings DFS contests and playing online casino games. All bettors get 1 Crown for every $2 wagered. When you are ready, you can redeem your Crowns for site credits, known as DK Dollars. The rate is 552 Crowns per $1. The tiers in the DraftKings scheme are Bronze, Silver, Gold, Platinum, Diamond, and Black.
Winner: BetMGM Sportsbook
BetMGM vs. DraftKings – Extras
Before deciding which site to sign-up for, there are multiple things to consider. One thing that may take your eye is each brand's current agreements with professional sports leagues or teams. Both operators have signed a wide range of partnership deals with leagues and franchises.
In 2021, DraftKings agreed to a $350 million partnership deal with the UFC, the largest sponsorship deal in the promotion's history. BetMGM also has agreements in place with teams such as the Pittsburgh Steelers, one of the most storied franchises in NFL history.
Additionally, both have casino options for players. Although neither are quite the MGM Grand, the BetMGM and DraftKings Casino allow players to play their favorite casino games on a mobile device.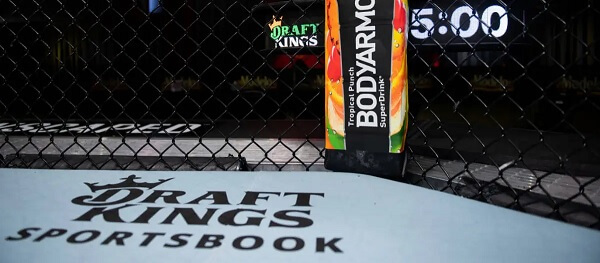 Both books have sponsorship deals with various NFL, NBA, MLB, and NHL franchises. They also have brand ambassadors with the likes of Wayne Gretzky, Barry Sanders, Marshawn Lynch, and  Jamie Foxx, all fronting commercials and marketing campaigns. It speaks volumes about their pulling power that such leagues and sports are willing to team up with them.
Winner: Draw
Final Verdict
So, that is DraftKings vs BetMGM compared in a lot of categories. Both of these sites excel in numerous categories. They both have great apps, top-quality live streaming platforms, multiple payment options, extensive sporting coverage, and generous welcome bonuses.
There are aspects where one is slightly ahead, in our opinion. DraftKings offers a better loyalty scheme and more payment methods. However, BetMGM has more promos and better sports coverage.
It is vital that you work out which is the most important category for you and then choose accordingly. Or, you could use our exclusive links and register with both sites and get the best of both worlds.
So, in our view, who is the best? It is very close; however, we give the slight edge to BetMGM, as it happened when we compared BetMGM with Caesars. There really is nothing in it, but it just shades this contest with a fantastic app and excellent promos to constantly keep you engaged.