Gamble USA strives to improve your online gambling experience. We aim to help you play safely, make informed decisions when gambling, and increase your betting knowledge through our guides.
We adhere to strict editorial integrity; our content may contain links to products from our licensed & legal US partners.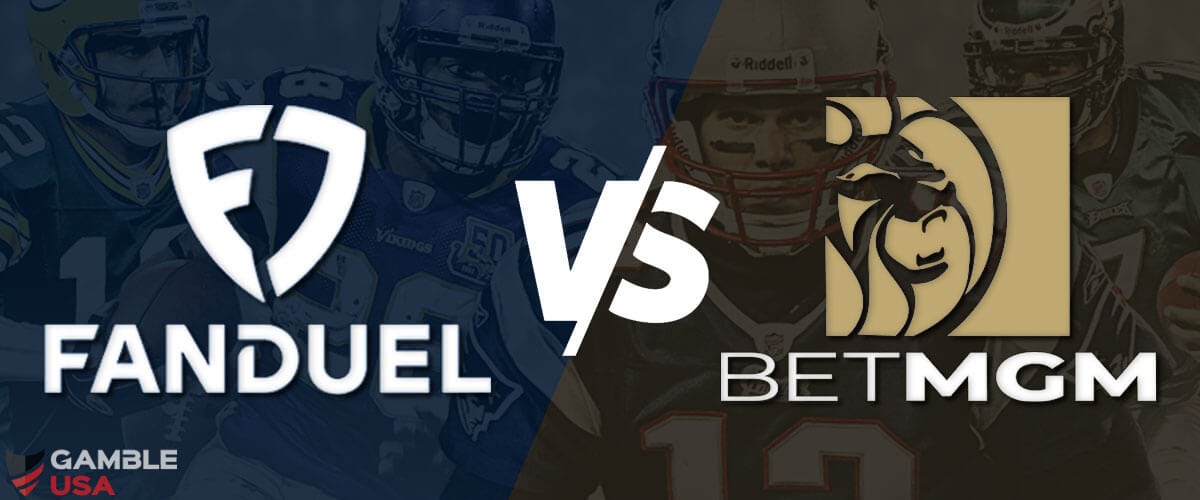 BetMGM and FanDuel are two of the best sportsbooks in the United States, and both offer betting sites crowded with excellent sports to bet on, from football to Nascar – and anything in between.
Their odds remain among the best in the market, their apps are top of the line, and their welcome bonuses can bring you up to $1000 in free bets.
So which one to choose? That's hard to say.
To make the right choice, details are essential. Let's place BetMGM Sportsbook and FanDuel Sportsbook side by side and take an in-depth look at everything they have to offer. Hopefully, this will make it easier for you to choose the sports betting site that suits you best and offers the best odds boosts, among other things.
BetMGM vs. FanDuel – Which one is better?
BetMGM and FanDuel are great American sportsbooks, but which of the two is better? To find out, we compared a whole series of features, including their best bonuses, how competitive their odds are, the variety of sports, the payment methods, the neatness of their interface, and many others.
Our winner is FanDuel for overall usability, but BetMGM offers better odds.
However, you should see which sports betting site suits you best to place your bets based on your preferences. This is what we cover in each of the following sections.
BetMGM vs. FanDuel – At a glance
Okay, first things first. Both BetMGM and FanDuel have a significant presence in the United States and allow you to bet on one of the best selections of sports you can find online. Both offer pretty competitively – if slightly different – odds and generous welcome bonuses. That's why the choice between one or the other must go through the subtle details we will break down below.
BetMGM vs. FanDuel – Overview
Before we get into the nuts and bolts of the BetMGM vs FanDuel debate, we thought it would be beneficial to give some background on both sites. Both BetMGM Sports and FanDuel launched in New Jersey in 2018 following the repeal of PASPA by the Supreme Court. This major decision meant sports betting was legal outside of Nevada, Las Vegas. This saw the rise of other notable betting brands such as Caesars sportsbook, Barstool sportsbook and DraftKings sportsbook. Since 2018, online gambling has expanded quickly across the country, and BetMGM and FanDuel have taken advantage. For example, FanDuel New York, FanDuel Maryland and BetMGM Maryland and BetMGM NY are available for all bettors of the required age in those states.
The brands come from different backgrounds, with FanDuel known for its DFS contests while BetMGM is known globally for its casino properties and BetMGM poker offerings. Both have enjoyed huge success since entering the sports betting market, and any sports bettor that chooses either of these apps for their wagering journey will not go wrong.
BetMGM sportsbook vs. FanDuel sportsbook – New players offer
New player offers are almost the first thing you will find when signing up at one of these sportsbooks. This will be a crucial moment where you will opt for a tremendous risk-free first bet that can boost your future gains.
You will be glad to know that the welcome bonus is not essential when choosing between BetMGM or FanDuel since it's practically identical on both sites.
BetMGM new players offer
BetMGM sportsbook offers a risk-free bet of up to $1,500 for new players, which is a great way to get you started with this sports betting site. To claim it, you must make an initial minimum deposit that BetMGM will double with a bonus bet of up to a thousand dollars.
You will then be able to bet this free amount on any sport. If you fail, you will get the money back to bet it again, this time in the good old-fashioned way. From here on, you will lose your balance if you make a mistake on your next bet. Initial $1000 free bets are great odds boosts, aren't they?
Promo Code: GAMBLEUSA
Up To $1,500 In Bonus Bets
21+. T&C Apply
21+. T&C Apply
Promo Code: GAMBLEUSA
Super fast payouts
Live streaming
FanDuel new players offer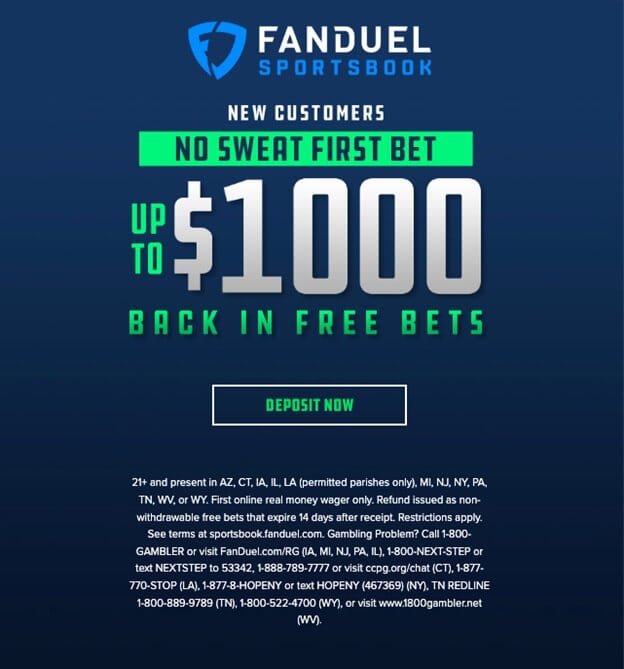 The FanDuel sportsbook promo code also matches the bonus bet of up to $1,500 offered by BetMGM, so on both sites, you will get the same amount of extra money to bet without risk on your first try. And the terms and conditions are also almost the same – it works as some sort of bet insurance.
This means that your amount will be equivalent to your first deposit. If you top up your account with $200, that's how large your free bet will be, so it is better to make a large deposit to enjoy higher odds boosts. You can use it safely on your first bet and get that extra balance back in case you fail, but from here on, it will just be considered an average balance – so you will be on your own on your second try.
No Sweat First Bet Up To $1,000
21+. T&C Apply
21+. T&C Apply
Convenient banking
Massive choice of sports
BetMGM vs. FanDuel – Sports covered
Both BetMGM and FanDuel will let you bet on all the best sports in the United States and Europe. In both cases, you can enjoy betting on football, basketball, boxing, field hockey, and darts, covering top competitions such as the NBA, NHL, NFL, and many others. Even soccer betting games are available!
Perhaps the only relevant difference is that FanDuel does not feature Lacrosse betting, which can be found at BetMGM sportsbook. But unless you have a specific interest in betting on this sport, both sites will be just as good to place your wagers.
| Sport | BetMGM | FanDuel |
| --- | --- | --- |
| Aussie Rules | ✔️YES | ✔️YES |
| Auto | ❌NO | ❌NO |
| Baseball | ✔️YES | ✔️YES |
| Basketball | ✔️YES | ✔️YES |
| Boxing | ✔️YES | ✔️YES |
| Cricket | ✔️YES | ✔️YES |
| Cycling | ✔️YES | ✔️YES |
| Darts | ✔️YES | ✔️YES |
| Football | ✔️YES | ✔️YES |
| Formula 1 | ✔️YES | ✔️YES |
| Golf | ✔️YES | ✔️YES |
| Hockey | ✔️YES | ✔️YES |
| Lacrosse | ✔️YES | ❌NO |
| MMA | ✔️YES | ✔️YES |
| NASCAR | ✔️YES | ✔️YES |
| Rugby League | ✔️YES | ✔️YES |
| Rugby Union | ✔️YES | ✔️YES |
| Soccer | ✔️YES | ✔️YES |
| Table Tennis | ❌NO | ❌NO |
| Tennis | ✔️YES | ✔️YES |
BetMGM vs. FanDuel – In which states are they available?
Choosing one sportsbook or the other may be just a matter of whether they are available in your state or not. Why rack your brain thinking about odds and bonuses from a bookmaker that isn't even available for you? Although they share their availability in some states, such as Illinois or New York, in other cases, you can only access one of them – so that will be your only choice, don't you think?
Let's take a closer look:
| State | BetMGM Sportsbook | FanDuel Sportsbook |
| --- | --- | --- |
| Colorado | ✔️ YES | ✔️ YES |
| Florida | ✔️ YES | ❌NO |
| Illinois | ✔️ YES | ✔️ YES |
| Indiana | ✔️ YES | ✔️ YES |
| Iowa | ✔️ YES | ✔️ YES |
| Kansas | ✔️ YES | ✔️ YES |
| Louisiana | ✔️ YES | ✔️ YES |
| Maryland | ✔️ YES | ✔️ YES |
| Michigan | ✔️ YES | ✔️ YES |
| Mississippi | ✔️ YES | ✔️ YES |
| Nevada | ✔️ YES | ❌NO |
| New Jersey | ✔️ YES | ✔️ YES |
| New York | ✔️ YES | ✔️ YES |
| Ohio | ✔️ YES | ❌NO (Coming soon) |
| Oregon | ✔️ YES | ❌NO |
| Pennsylvania | ✔️ YES | ✔️ YES |
| Puerto Rico | ✔️ YES | ❌NO |
| South Dakota | ✔️ YES | ❌NO |
| Tennessee | ✔️ YES | ❌NO |
| Virginia | ✔️ YES | ❌NO |
| Washington | ✔️ YES | ✔️ YES |
| Washington DC | ✔️ YES | ✔️ YES |
| West Virginia | ✔️ YES | ✔️ YES |
| Wyoming | ✔️ YES | ❌NO |
States where BetMGM sportsbook is available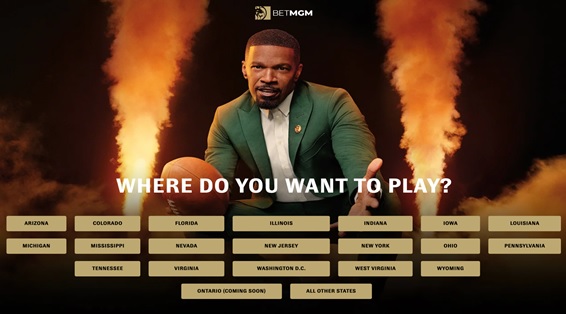 BetMGM sportsbook is legal in Arizona, Colorado, Florida, Illinois, Indiana, Iowa, Kansas, Louisiana, Michigan, Mississippi, Nevada, New Jersey, New York, Ohio, Pennsylvania, Tennessee, Virginia, Washington DC, West Virginia, and Wyoming.
Promo Code: GAMBLEUSA
Up To $1,500 In Bonus Bets
21+. T&C Apply
21+. T&C Apply
Promo Code: GAMBLEUSA
Super fast payouts
Live streaming
States where FanDuel sportsbook is available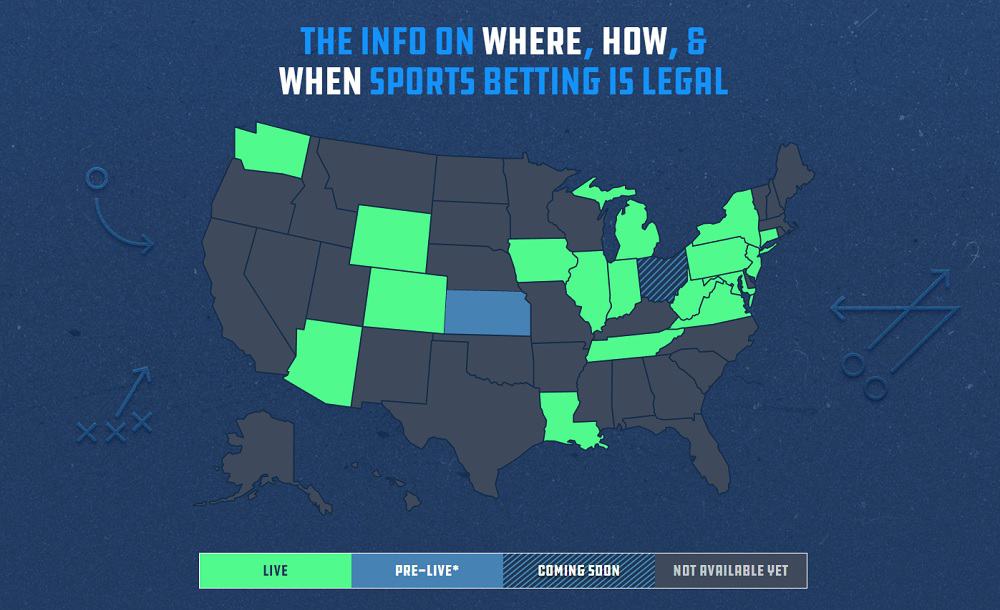 FanDuel sportsbook is legal in Arizona, Connecticut, Colorado, Illinois, Indiana, Iowa, Kansas, Louisiana, Maryland, Michigan, Mississippi, New Jersey, New York, Pennsylvania, Washington, Washington, DC, and West Virginia.
No Sweat First Bet Up To $1,000
21+. T&C Apply
21+. T&C Apply
Convenient banking
Massive choice of sports
BetMGM vs. FanDuel – Banking Options
Hey! Here comes another difference between these sites. They offer different options for you to deposit or withdraw your money. We are talking about your money, so you better pay attention to this. While the main digital payment methods, such as bank cards or PayPal, are available on BetMGM and FanDuel online sportsbooks, there are many differences in the others that you might want to check out.
Deposits
Starting with deposits, you can see in the table below that FanDuel sportsbook has a few more deposit methods available than BetMGM sportsbook. However, the differences are very few, and both sites will allow you to top up your balance in many different ways, including debit or credit cards, PlayNearMe or PayPal.
| Deposit Method | BetMGM | FanDuel |
| --- | --- | --- |
| Credit Card | ✔️YES | ✔️YES |
| Debit Card | ✔️YES | ✔️YES |
| Play+ | ✔️YES | ❌NO |
| PayNearMe | ✔️YES | ✔️YES |
| PayWithMyBank | ❌NO | ✔️YES |
| PayPal | ✔️YES | ✔️YES |
| Echeck | ✔️YES | ✔️YES |
| Cash | ✔️YES | ✔️YES |
| Crypto Currency | ❌NO | ❌NO |
| Online Banking | ✔️YES | ❌NO |
| Green Dot MoneyPak | ❌NO | ✔️YES |
| Venmo | ❌NO | ✔️YES |
Withdrawals
Withdrawals, on the other hand, give a slight advantage to BetMGM sportsbook since FanDuel does not allow the use of Play+, VIP Preferred, or Cage, while BetMGM only loses out to Venmo.
BetMGM sportsbook has a greater variety of cashout methods, but you may just want to check if the ones you're most interested in are available at the sportsbook you plan to choose. You can rest assured that the top withdrawal methods – bank transfers and PayPal – are more than covered.
Remember that the minimum withdrawal may vary depending on the selected method.
| Withdrawal Method | BetMGM | FanDuel |
| --- | --- | --- |
| Play+ | ✔️YES | ❌NO |
| Check by Mail | ✔️YES | ✔️YES |
| VIP Preferred | ✔️YES | ❌NO |
| PayPal | ✔️YES | ✔️YES |
| Cage | ✔️YES | ❌NO |
| Cash | ✔️YES | ✔️YES |
| Online Banking | ✔️YES | ✔️YES |
| Venmo | ❌NO | ✔️YES |
BetMGM vs. FanDuel – Odds and markets
Odds are among the key features to consider when choosing your favorite bookmaker. While so far, BetMGM and FanDuel have been tied in almost all comparisons, the truth is that the odds seem to be somewhat more favorable at BetMGM sportsbook.
After comparing the odds of several different sporting events simultaneously on the two sites, we have seen that BetMGM offers slightly more generous odds on average. The risk is always the same, so BetMGM sportsbook definitely stands out against its competitor in this matter.
BetMGM odds
BetMGM's odds are slightly better than FanDuel's, and the offer gives you better profits than FanDuel's. You can check it out in this match between the Pittsburgh Steelers and the Cleveland Browns. So, maybe BetMGM doesn't offer as many free bets as FanDuel, but it pays off for this with more competitive odds. Ready to bet with the best odds on your favorite NFL team?
FanDuel odds
FanDuel sportsbook's odds were not as generous in the exact match as BetMGM's. There are other features where FanDuel may have a more significant advantage over BetMGM, but unfortunately, boosted odds are not one of them – something it tries to compensate for with its more generous odds boosts. However, betting markets change quickly, so that you may find better odds at FanDuel in many cases. That's often the case with odds on favorites on FanDuel.
Live Sports Betting on BetMGM Sportsbook and FanDuel Sportsbook
Odds are not the only feature to determine how attractive live bets are regarding sports wagering. There are many other features to check if you want to get the best out of them. For example, the variety of live betting options or the updated frequency of the odds is vital.
BetMGM sportsbook live betting
BetMGM offers a good variety of live betting options on the vast majority of sports analyzed, and the update times are fast on their site. In addition, almost all BetMGM's sports allow you to bet live so that you can bet on almost any event at any given time.
FanDuel sportsbook live betting.
FanDuel is no slouch here, either. Their live bets also offer a wide selection of sports to bet on, with many different bets to wager on each event and a fast update rate. Live betting, FanDuel, check.
BetMGM vs. FanDuel – Sportsbook Features
Let's see below the best features offered by both sportsbooks. BetMGM and FanDuel have a straightforward interface full of exciting features that can significantly enhance your betting experience and may be a critical factor when choosing your favorite book.
BetMGM sportsbook features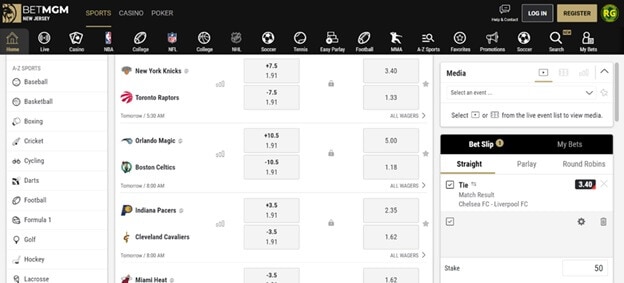 Some of the most exciting features offered by BetMGM are:
The 'Favorites' section. If you place recurring bets or are a fan of a specific squad, BetMGM will allow you to access these bets more easily from this section, which you can find in the top menu of their site.
The 'Live' section. Although this is common in most sportsbooks, the 'live' section of BetMGM is handy for discovering different events where you can bet live at any time of the day. It is ideal for discovering new exciting sports and significantly maximizing your gains by betting around the clock.
FanDuel sportsbook features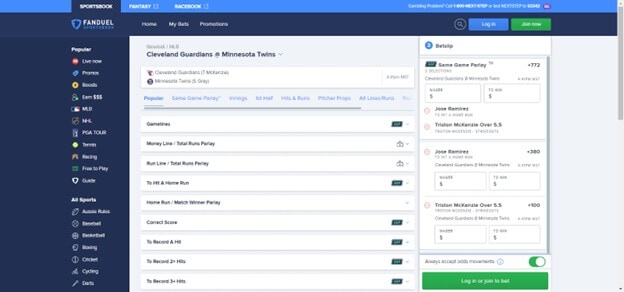 Among FanDuel's features, we would especially highlight these:
Better accessibility from any state. BetMGM makes you first select the state you want to bet from to access a platform designed specifically for that state, which can be a little bit annoying. FanDuel, on the other hand, will give you access to a single site for the entire United States, which makes betting more streamlined.
Alternating between sportsbook,

racebook

, and

casino

. FanDuel lets you alternate between bets far more quickly than BetMGM. Even some bonuses – such as

referral bonuses

– will simultaneously bring you benefits for different types of bets. If you are looking for a comprehensive operator, FanDuel sure feels more like it.
BetMGM Sportsbook vs. FanDuel Sportsbook – Mobile Sports Betting App and User Interface
BetMGM and FanDuel have excellent mobile betting apps that will allow you to bet much more easily wherever you go. In both cases, you can set your wagers quickly, top up your site credit, make your online bank transfer withdrawal, and even claim your bonuses.
BetMGM sportsbook App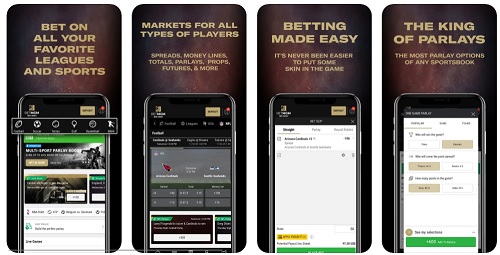 With BetMGM's app, you can place your wagers on all kinds of sports, including football, basketball, field hockey, and baseball, among many others. The app allows you to bet live in a very reliable way while enjoying your favorite game on TV and has one of the best designs of sports betting applications globally.
In terms of performance, features, and design, the BetMGM app is one of the best for all types of live betting and has one of the best average ratings in both Google Play and the App Store.
FanDuel sportsbook App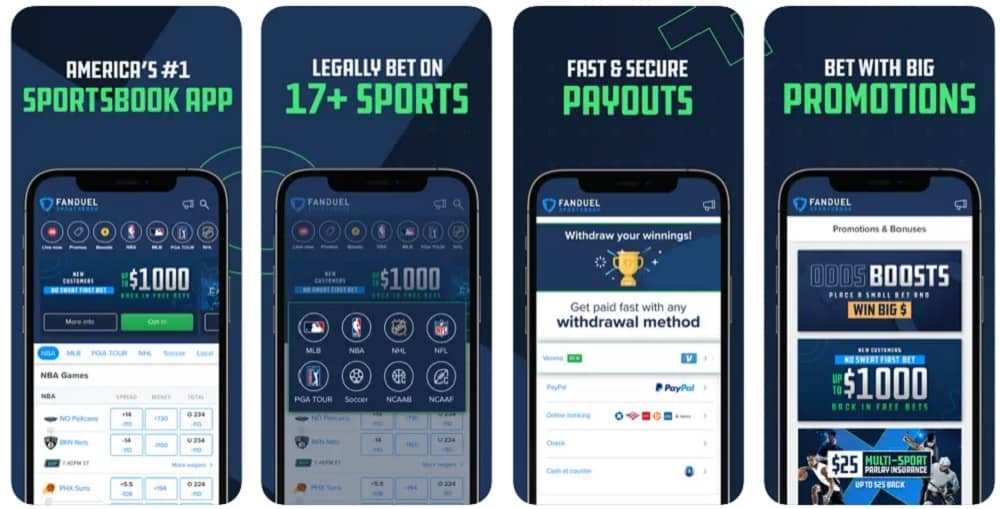 FanDuel's app is also available for iPhone and Android and has an even higher average rating than BetMGM's. With this app, you can enjoy one of the best selections of sports to bet on – the same that you will find on their website.
It's not surprising that FanDuel's app is among the most recommended for sports betting. It lets you easily top up your site credit, place same game parlays and you can withdraw funds to your bank account with just a few taps.
FanDuel vs. BetMGM – Football betting
As we have seen before, BetMGM and FanDuel allow you to bet on all types of football tournaments with competitive odds. However, there are always some differences that may be worth considering between these online sports betting sites. If you are a hardcore football fan and want to focus mainly on football, you probably want to check all their features in more detail.
BetMGM Football betting
With BetMGM, you will enjoy the best football tournaments, such as the NFL, NFL Parlays, College Football, and even the Canadian CFL, so you will have completely covered the range of football matches to bet on.
FanDuel Football betting
For its part, FanDuel sportsbook also covers the NFL and the NCAAF, and CFL, with both live and futures betting. And we should remind you that it offers generous betting promotions, specifically on College Football. If you are looking to bet on any sporting event regarding football, FanDuel has you covered.
Fanduel vs. BetMGM – Promos, bonuses, and offers
BetMGM and FanDuel offer you different types of bonuses and loyalty programs essential to get the most out of them in the long run. These offers differ from registration bonuses, which can only be used the first time you create your account. In this case, ongoing promotions and loyalty bonuses are the advantages that allow you to enjoy your betting site for months or years.
While new users' offers are identical on BetMGM and FanDuel online sportsbooks, the loyalty promotions are pretty different, so you should analyze them well to determine which of the two platforms suits you best. There is no BetMGM bonus code or FanDuel promo code required to claim the welcome bonuses.
BetMGM sportsbook promotions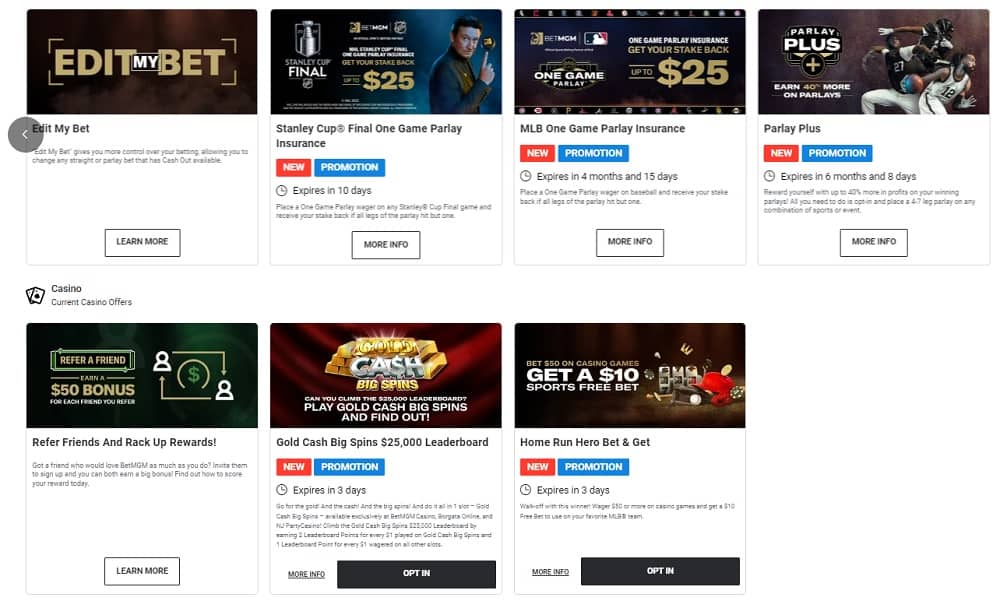 Starting with BetMGM, this online sports betting platform, offers relatively few ongoing promotions compared to FanDuel or the betting market. They essentially boil down to two basic options:
Refer a friend up to $50 per friend. The

BetMGM refer-a-friend bonus

will allow you to receive up to $50 for each friend you refer on the platform, with a limit of up to 20 friends. You can get up to a thousand dollars with referrals as long as all your referrals meet the appropriate requirements.
MGM Rewards. BetMGM also allows you to enjoy some occasional bonuses in the form of rewards. These rewards come under the MGM Rewards label. Still, essentially they are loyalty promotions that will allow you to get free bets of up to $100 and some other occasional perks depending on the amounts you wager regularly.
FanDuel sportsbook promotions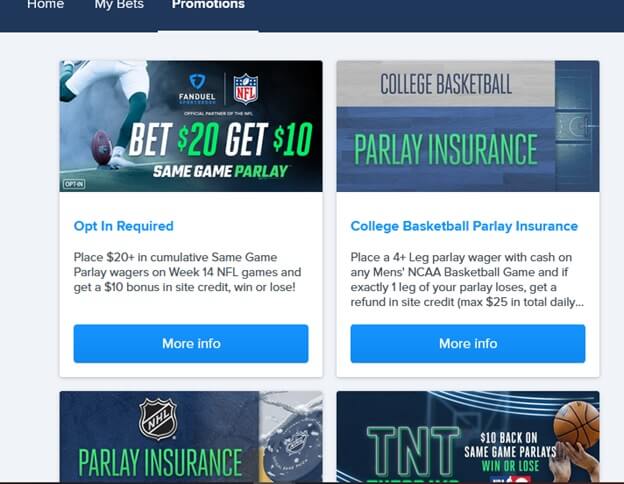 For its part, FanDuel online sportsbook also offers loyalty bonuses and promotions to enrich your experience on the platform over the months. Its offer of promotions is somewhat more varied than that of BetMGM, so that, on this point, it has a particular advantage over its competitor.
FanDuel Refer a friend

up to $75 / friend ($50 for the sportsbook and $25 for casino bets). FanDuel's referral bonus is one of the most complete you can find in the market and will allow you to enjoy an extra site credit of up to $75 per referral, distributed as follows: $50 for the sportsbook and $25 for casino bets.
Free chance to earn $1,000,000 with FanDuel Hi-Lo. FanDuel Hi Lo's promotion gives you a chance to win a million dollars to bet, although it's just a chance. More than a promotion, it is perceived as a kind of lottery among its users. The chance of winning is remote, but it is present, and, after all, it is a lottery that BetMGM does not have.
$20,000 in prizes with Twisted College Football Picks. If you love football, you will surely love the Twisted College Football Picks promotion, which can make you win up to $20,000 in prizes. This is an exciting promotion that perhaps is a bit too specific but still improves on those offered by BetMGM.
Fanduel vs. BetMGM – Partnerships
We are not talking about software partnerships such as FanDuel's with Action Network here. This is more to do with agreements with major sports teams from the NFL or NBA and how it increases brand awareness.
FanDuel Partnerships
FanDuel has a prestigious link to the NBA as one of two official betting partners, alongside rival DraftKings. The operator also has partnerships in place with other major leagues the NFL and NHL. Additionally, live NHL games are regularly broadcast on the FanDuel platform. FanDuel also signed a deal to become the authorized gaming partner of MLB, to its reach covers all four the major domestic sports leagues. In terms of teams, FanDuel is associated with the Brooklyn Nets, the Chicago Bulls, the Orlando Magic, the Los Angeles Lakers, the New York Knicks and the Dallas Mavericks.
BetMGM Partnerships
BetMGM has gone down a different route than FanDuel, and instead focused efforts on securing former sports stars as brand ambassadors. Ariel Helwani, Chris Johnson, Wayne Gretzky, Barry Sanders, Marshawn Lynch, Jalen Rose and Kevin Garnett all agreed to promote the brand. BetMGM has also been named as the official sports betting partner of the New York Rangers and New York Knicks via an agreement with Madison Square Garden Sports. The operator also sponsors franchises such as the Arizona Cardinals, Las Vegas Golden Knights, Philadelphia 76ers and the Denver Broncos.
BetMGM or FanDuel for new customers?
At first glance, new bettors will find virtually the same benefits at both bookmakers, especially if they look only at the risk-free first bet. As we have seen before, the welcome bonus amount is identical at both BetMGM and FanDuel, so both online sports betting sites roll out the same red carpet for you to start betting on their sportsbooks.
Both sites also feature easy-to-use betting apps and an excellent range of sports to bet on, so they are brilliant platforms to get started in sports betting.
The key, however, lies in their features in the long run, so perhaps you should decide whether you prefer the better odds offered by BetMGM or the greater variety of FanDuel's loyalty promotions.
FanDuel and BetMGM extras
With so many similar features between BetMGM and FanDuel, picking one sportsbook or the other can be one of the minor details. The extras offered by each platform can make you lean towards one or the other to place your sports wagers.
BetMGM sportsbook extras
BetMGM online sportsbook allows you to top up your site credit in cash at any MGM resort in the United States. This is undoubtedly a plus for this platform, especially if you are not very fond of online transactions.
BetMGM's betting blog is a great way to keep up to date with everything that's trending in the world of sports. The more you know, the easier it will be to fine-tune your bets and boost your winnings.
FanDuel sportsbook extras
Integrating casino and racebook bets with online sports betting is one of the best features of FanDuel, which offers you a complete betting site. If you want to enjoy your favorite football bets and some nice and fancy casino games, this is your pick.
FanDuel daily fantasy sports are fun to test everything you know about football and make big money with your fantasy team. Feels more like a game than a simple bet, and it can still multiply your profits!
Alternatives to both FanDuel and BetMGM
These are some of the top alternative sites for both BetMGM and FanDuel. Here you can also get excellent welcome bonuses, great odds, and a wide variety of sports to bet on:
You can also see how BetMGM compares to DraftKings or whether DK stacks up against FD.
Final Verdict: Should You Choose BetMGM or FanDuel Sportsbook?
After reviewing all the features of BetMGM and FanDuel, they are clearly among the most prominent online gambling brands and can offer many advantages when betting. Welcome bonuses and sports available are very similar in BetMGM and FanDuel. Each site also offers promos targeted at major sporting events such as the Super Bowl. Of course, both sites allow you to place multiple bets, but differences in the ongoing bonuses and the daily odds each site offers can tip the balance.
Why choose BetMGM over FanDuel?
Both the risk-free first bet and the variety of bets offered by BetMGM to new customers and recurrent bettors are virtually identical to those offered by FanDuel sportsbook, so they are not very important when picking one side or the other.
Overall, BetMGM stands out from FanDuel in the generosity of its odds, so you can get slightly higher returns when betting with this popular sportsbook. Although the difference is slight, this is a significant factor, as sports betting has the same risk as all sportsbooks. Choosing the most competitive odds is always in your best interest.
BetMGM also offers a slightly more complete web platform than FanDuel, with a very intuitive top menu that will make it easy to organize your bets. This menu lets you access your favorite bets more quickly, so everything is much more at hand – making your bets smoother and more pleasant.
BetMGM customers are usually proud of betting on their platform, which also offers an excellent mobile betting app. The BetMGM customer service department is also very prompt and knowledgeable. Overall, it's an excellent pick for bettors in the United States.
Promo Code: GAMBLEUSA
Up To $1,500 In Bonus Bets
21+. T&C Apply
21+. T&C Apply
Promo Code: GAMBLEUSA
Super fast payouts
Live streaming
Why choose FanDuel over BetMGM?
FanDuel offers the same welcome bonuses and almost the same variety of major sports offered by BetMGM, which makes choosing between the two somewhat tricky. However, several features give FanDuel some edge over BetMGM.
For example, FanDuel offers much more generous and clearer loyalty promotions than BetMGM. Although BetMGM has a VIP program promising many benefits for its top users, these are often not entirely transparent. The program seems more oriented toward offering a sense of prestige and not so many genuine offers to increase your profits. And we're all here for the profits, aren't we?
No Sweat First Bet Up To $1,000
21+. T&C Apply
21+. T&C Apply
Convenient banking
Massive choice of sports
Also, FanDuel has a slightly more practical mobile app than BetMGM. Its rating in the Play Store is also better, and many of its users say that it makes it very easy to manage bets, top up your bonus credit, and enjoy the platform as a whole. Additionally, the same game parlay betting type was first introduced by FanDuel, so if parlays are your favorite type of wager there are multiple options with this bookmaker.
Lastly, if you are looking for online casino bets, too, FanDuel makes it easier for you to switch between your sports prop bets and your favorite casino games. And you can even get a casino promo code to spice it up, unlocking a $100 no deposit bonus vs $25 free play on BetMGM.