Gamble USA strives to improve your online gambling experience. We aim to help you play safely, make informed decisions when gambling, and increase your betting knowledge through our guides.
We adhere to strict editorial integrity; our content may contain links to products from our licensed & legal US partners.
Have you found yourself screaming at your phone shouting why won't my BetRivers app work! If you have, you're not alone.
As sports bettors, nothing wind's us up more than when our sportsbook app isn't working or keeps crashing. Luckily this doesn't happen too often. But, when it does, you want to know what steps you can take to fix it.
For most, the BetRivers sportsbook app (and also the BetRivers Casino app) works flawlessly 99% of the time. Others it's a constant dumpster fire and leaving players unhappy right from the bat. When BetRivers does go down, you want to fix it, and fix it fast so you can get back to betting and watching the game.
Technology can be pretty awesome (hey, we can put a guy on the moon), but when it doesn't work, there is nothing more frustrating. So let's dive in and look at what you can do when your BetRivers mobile betting app won't work.
BetRivers troubleshooting – how to fix app & online problems
Any serious sports punter should always have at least 2 or 3 sportsbooks on their smartphone or accounts with a few operators. This isn't only so you can take advantage of the free bet offers that sportsbooks push out for new customers, it also gives you a backup if you are having problems with one. Two of the best sportsbooks in the US are BetMGM sports and Caesars Sportsbook. Both come highly recommended by us.
So, how to get your BetRivers app back online:
#1 – Are you in a licensed state?
Before we dive into other fixes, you need to be in a state where BetRivers sportsbook is licensed in and available online. You can't access the platform using a VPN or a proxy. Most of the problems with the Rivers betting app happen because players aren't in a legal state and are trying to spoof where they are. This just won't work. The operator has technology that can tell you are using a VPN and will block access.
The states BetRivers online & mobile betting platform is available in are: AZ, CO, IL, IN, IA, LA, MI, NJ, NY, PA, and VA.
If you are in a licensed state and having problems proving your location, then you need to read our guide to fixing sportsbook geolocation problems. Geolocation technology in your smartphone can pinpoint your location (usually within a few feet).

#2 – Are your login details correct?
It's no secret that we do everything on our mobiles. We watch sports, we chat with friends, we date, we shop, we order beers, and we wager. We have hundreds of online accounts, and sometimes we forget usernames, use wrong passwords and log in to the wrong site. Fixing the BetRivers app may be as simple as doing a password reset. If you can get to the sign-in page and are adding in your details but can't get past here, then try the Reset Password option. Enter your email and reset your password.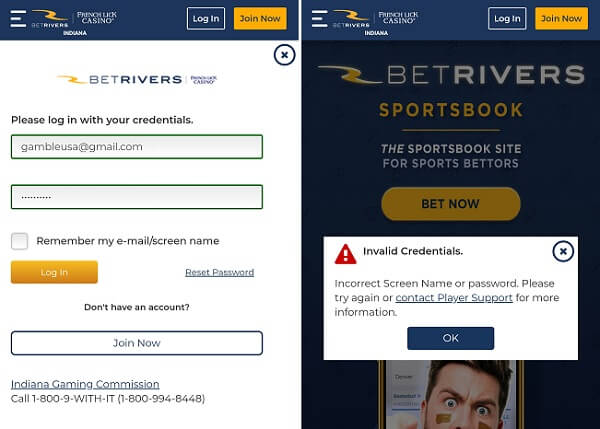 #3 – Try the Rivers mobile site
From time to time, just the Android & iPhone BetRivers app goes down, but the mobile site is fine. Try logging in and placing a bet on the mobile site at betrivers.com. If you can successfully log in, then you should be able to put your wager down on the mobile site until the apps come back online.
#4 – SugarHouse & BetRivers State apps
While many sportsbooks use the same app for all states, BetRivers has separate apps depending on the state you are in. You can not use the BetRivers IN app in Colorado and vice versa. Make sure you are using the right version of the app. This is the same scenario for both Android & iPhone versions of the application. Download the state-specific app from the Rivers mobile site at betrivers.com.
In NJ, Rush Street uses the PlaySugarHouse app brand, so trying to use BetRivers in NJ won't work. The platforms are identical, it's just the name that is different.

#5 – Is it time to update?
Most sports betting apps get regular updates to improve performance and add new features. If you are using an old version of the app, it may not necessarily work anymore. You can download the latest BetRivers Android app from the website at betrivers.com. Scroll to the footer of the site, and tap get for Android or download the latest APK here. iOS users (that's iPhone and iPad) can get the latest version of the app in iTunes. Go to the mobile site and follow the link to iTunes, and press GET.
If you open your app and see these messages below, you can try the reload option, then download to update your current app.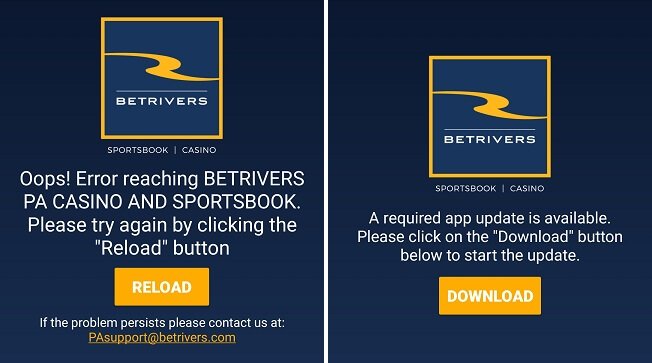 #6 – Black, white or frozen screen on the Rivers app
If you are using the latest version of the app and it freezes or shows a white or black screen when you open it up, try to force-stop the app. Android users can do this in settings and apps, then find the rivers app and hit Force Stop. You can also choose to close all apps as well. iPhone users, double press the home screen and swipe the app up to close it.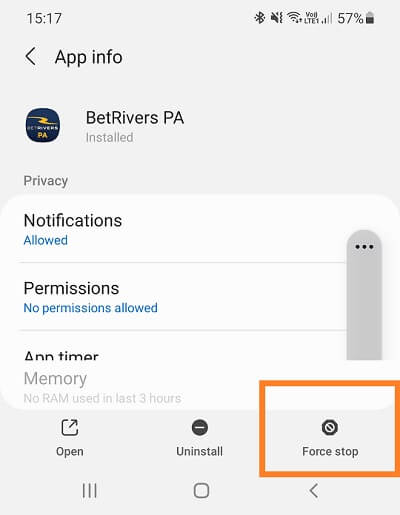 Try to launch the app again and if it keeps happening, uninstall the app and download it again on the instructions above.
#7 – Does the app keep crashing when loading?
If you are trying to load the BetRivers app and it keeps crashing, this is super annoying but normally fixable. Older versions of the app were prone to crashing and freezing. Luckily the latest versions are a lot more stable. Make sure you are using the latest version of the app. If you are and it still crashing, make sure you aren't running too many other apps by force-stopping all the apps and re-loading the app.
There may be huge numbers of customers flocking to the app and site, when this happens, the servers can get overloaded and cause the app to crash. When there is a big game on, thousands of people will be using the book at the same time and this can put too much pressure on the servers which will make the site and app go down. Luckily, this doesn't happen too often and is usually back to normal pretty sharpish.
What to do if App is Crashing
Of course, when we download anything from the Google Play Store or the iTunes App Store we hope the app works fine, but that isn't always the case. All your apps may from one time or another experience a crash or freeze right when you don't want them to. If you load the BetRivers app and it gets stuck while loading or the screen just randomly goes black, you know that it has crashed. You will then likely receive an error message but there are ways you can get around this to carry on betting.
Just an update can solve problems in a lot of cases. Make sure you have the newest version of the app available. If you haven't downloaded the latest version of the app then make sure you do it straight away. Another thing you can do is clear the app cache and and app data. To do this, go to setting then click apps. Search for the BetRivers app from the list available and then tap on it. Then go to the storage option and hit clear cache and then clear data. This will then remove all of the old cache data. Once this has been done, relaunch the app and see if you are still experiencing crashing and freezing issues.
And old but good tip, restart your phone. Hold the power button on your iOS or Android device for a few seconds and your reboot options will appear. Tap the restart button and then hopefully any bugs will have gone.
#8 – Have you got sufficient mobile signal?
Sometimes problems with the BetRivers app can be caused by your cell provider or WiFi provider. Make sure you have good coverage. Try and browse online or try another app to see if it works. It may be that no data is being sent and received to your phone. Restart your mobile so you can reconnect to the network and see if this has done the job.
#9 – Did you check your account funds?
Sometimes not being able to place a bet with the book is as simple as you not having funds in your account. Not all deposits clear instantly, and you may have to wait a few hours before funds show up in your account. If it has been a few hours since you made a deposit and it has not cleared, then go to the BetRivers help section on the website and contact the support team. Rivers online have a really good support team who can help you via live chat or via contact form email.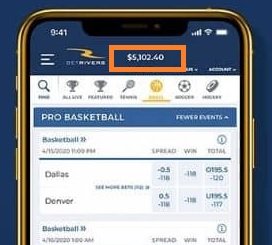 #10 – Is BetRivers down?
In rare circumstances, the whole of BetRiver's online wagering platform may be down. That's the regular site, mobile site, and Android & iPhone apps. Even big tech companies go down occasionally (Facebook, Zoom, Amazon, and others………..), and when this does happen, the operator will try to get normal service resumed as quickly as possible. Sever issues are quite common, especially during big events like the Super Bowl or Match Madness, where there are literally thousands of customers all trying to place that winning bet at the same time.
If this does happen, this is where having another sportsbook to use comes in handy, as the sites may be down for several hours while the problem is being fixed.
If all else fails………BetRivers Sportsbook & Casino alternatives
If you have tried all the steps above and your BetRivers app still won't play ball, we suggest looking for an alternative sportsbook. 4 of the best and most popular legal US sportsbooks that operate in several states are:
BetRivers Sportsbook running slow
Sometimes when using the site, mobile site, or app, the service is so slow you wonder why you bother. This can happen during big events, or if there are technical problems with the app or site.
Websites and apps can run slowly all the time. This can be from too many people using the service, to problems with the server and software running the program. It can also be a problem with your cell. If you have an iPhone or Android device, the memory can quickly get full with lots of apps open. Close down all the apps and free up some memory so the app can work freely.
Make sure you also have the latest (and probably fastest) version of the app. Uninstall the old version, then download the latest version of the application from betrivers.com.
BetRivers Promo Code Not Working
If you are looking to join BetRivers and have got a BetRivers Promo Code but are struggling to use it, you're not alone. You would think adding a promo code is pretty straightforward, but like any site or app, this can cause problems. There could be a number of reasons why it doesn't work. If you have opened an account with BetRivers before, then you can only use one code per person. You may have opened an account in another state or forgotten you have opened an account before. If this is the case, you can only claim the offer once.
To get the code SPORTS to work, try and clear your cookies, or use a new private window and try again at betrivers.com.
If you are keen to get a new player bonus by using a sportsbook promo code, we have got you covered. You can easily join another book and claim a huge welcome offer if you can't get the BetRiver bonus code to work properly.
Some common terms
Not everyone will have the same issues when the apps go down. Some common terms you may come across with the platform are:
503 Service Temporarily Unavailable
Network Error
We hope this guide has been able to sort and fix your issues with the BetRivers mobile app. It is very annoying when you are watching the game and trying to place a bet, and nothing seems to be going right. There have been quite a few discussion on reddit of other customers with similar problems.
If you have any other tips or tricks, then please reach out on Twitter and let us know @Gamble_USA.