Gamble USA strives to improve your online gambling experience. We aim to help you play safely, make informed decisions when gambling, and increase your betting knowledge through our guides.
We adhere to strict editorial integrity; our content may contain links to products from our licensed & legal US partners.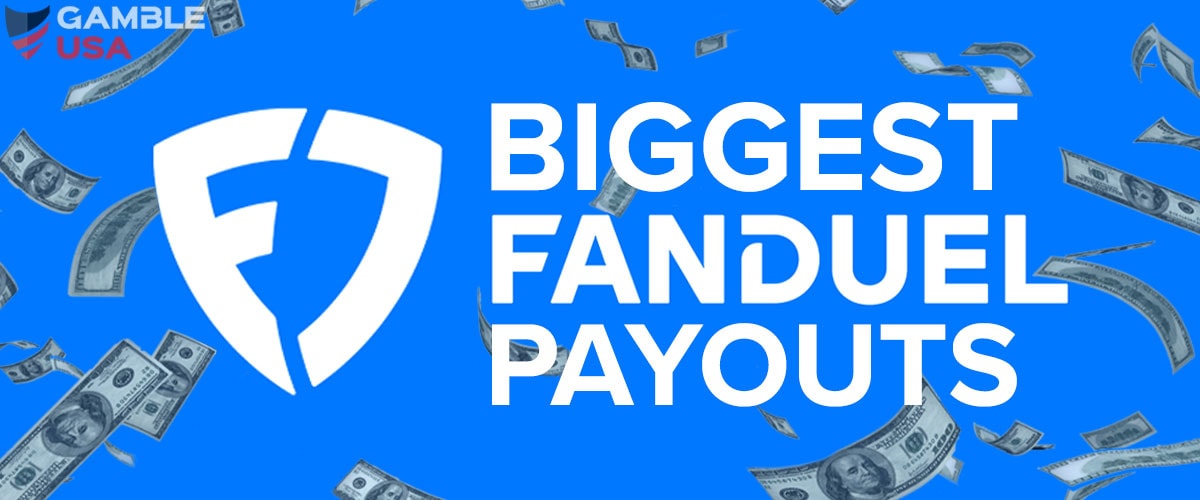 Do you have dreams of hitting it big and cashing out 7 figures? Then FanDuel is the sportsbook for you!
FanDuel has a maximum winning limit of a cool $1 million from a single bet, including straight bets and parlays. Also, thanks to FanDuel's max parlay leg limit of 25, you can chase huge payouts from modest stakes.
In this article, we are going to look at the biggest FanDuel payouts of all time and show you exactly how you can recreate these legendary bets!
What's the Biggest FanDuel Payout?
Only one FanDuel sports bettor has managed to win the max $1 million payout. Here are the biggest FanDuel payouts, use them as inspiration for your next bet!
🥇1. $1 Million Payout From $13.49 Four Leg Parlay On NASCAR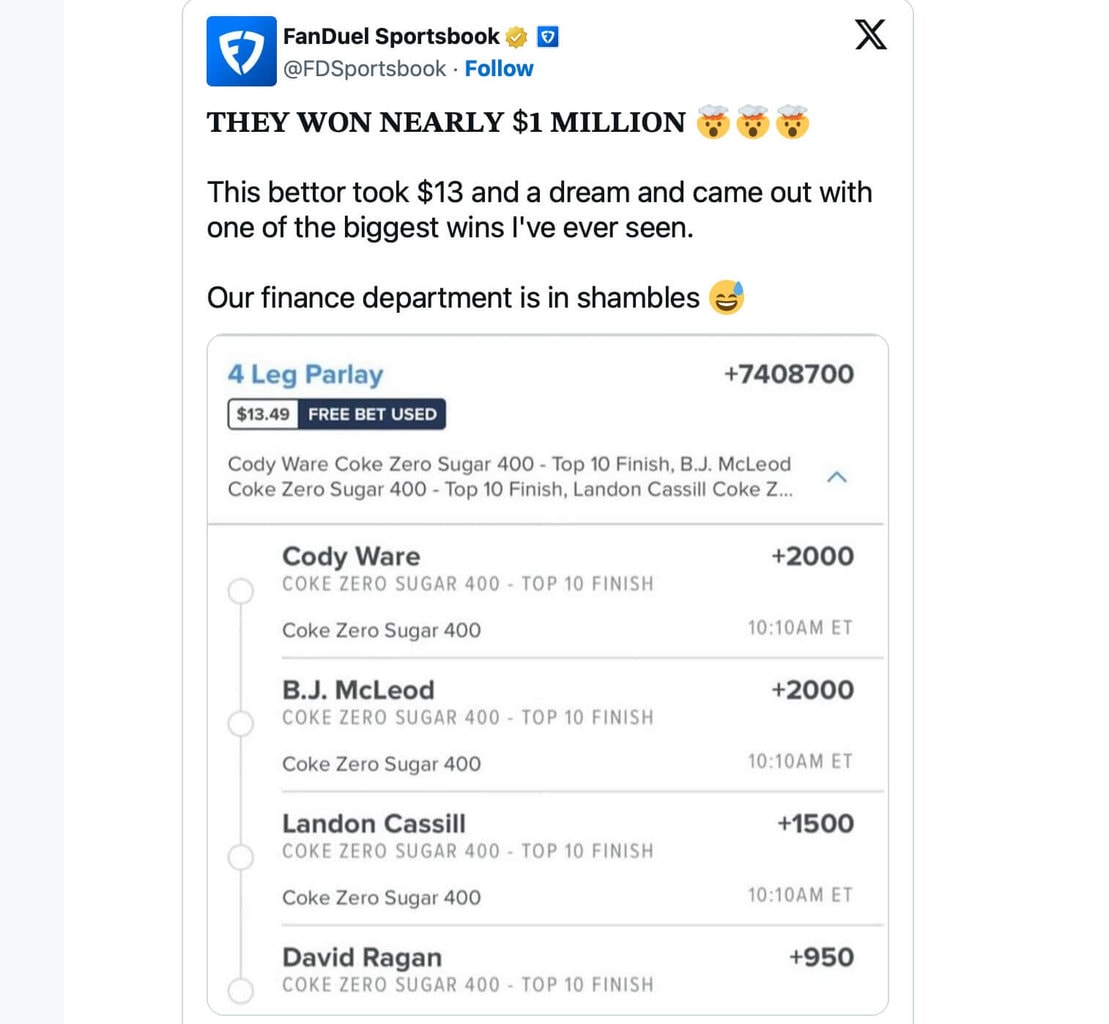 On Sunday, August 28, 2022, a mystery FanDuel sports bettor hit a huge $1 million win. They placed a four-leg parlay on Coke Zero Sugar 400 using a $13.49 bonus bet. They bet on Cody Ware +2000, B.J. McLeod +2000, Landon Cassill +1500, and David Ragan +950 to all finish in the top 10 of the race.
Could you imagine the emotions this bettor must have been feeling during the final lap? They must have been terrified to look at the race! Luckily for them, all of their selected drivers snuck into the top 10, and this fortunate bettor cashed out FanDuel's top $1 million payout!
🥈2. $966,290 Payout From $8 Twelve Leg Parlay On Ryder Cup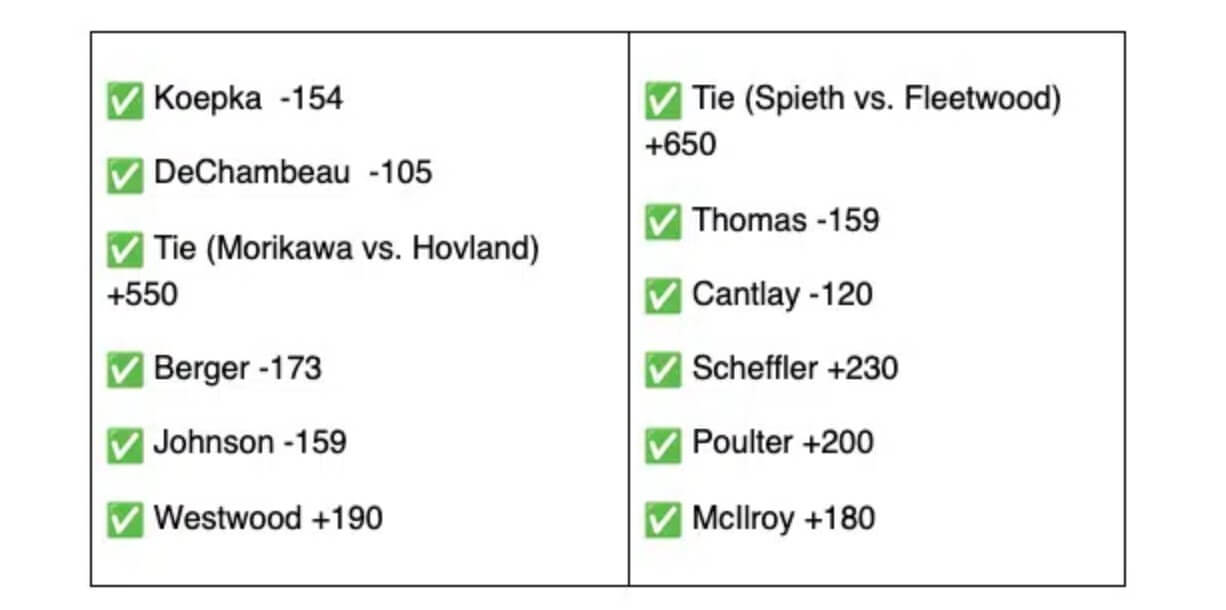 Back in 2021, there was one very happy golf fan who joined the list of big winners when they managed to cash out just under $1 million from their FanDuel account thanks to a Hail Mary twelve-leg parlay on the Ryder Cup. The unknown bettor staked only $8 on the 150,000 to 1 wager.
This unidentified sports bettor wagered on a tie between Collin Morikawa and Viktor Hovland (+550 for a tie) and between Jordan Spieth and Tommy Fleetwood (+650). Then he bet on Koepka (-154), Berger (-173), Westwood (+190), Johnson (-159), DeChambeau (-105), McIlroy (+180), Poulter (+200), Scheffler (+230), Cantlay (-120) and Thomas (-159) all to win.
He managed to pick some massive upsets, including Scheffler over Rahm, who was in fine form and had won the U.S Open and the British Open. Also, successfully picking a tie is hard enough, but this bettor managed to pick two in the same event. Who wouldn't want some of this guy's luck?
🥉3. $252,160 Payout From $7.16 Twenty Five Leg Parlay On College Football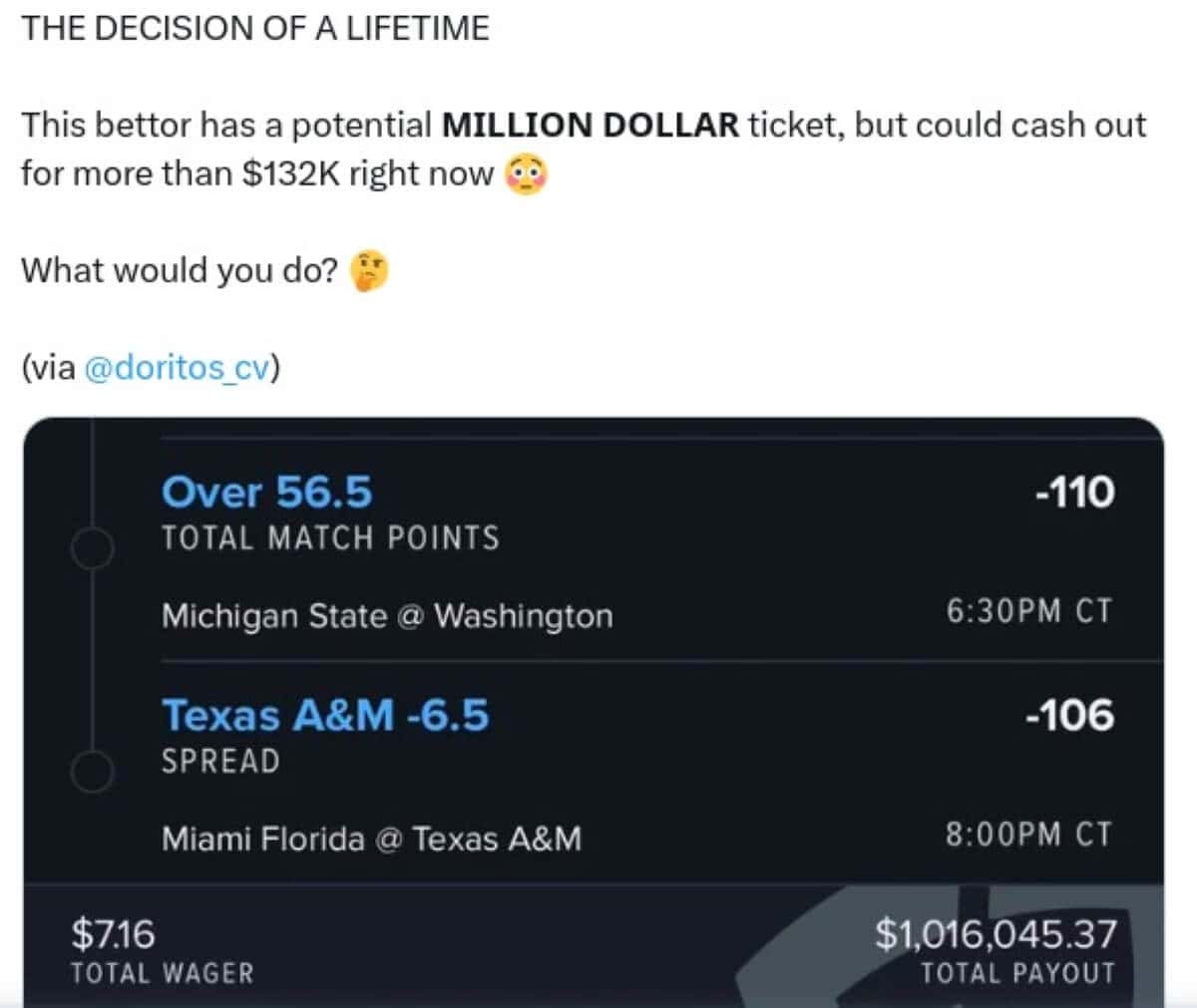 The unidentified bettor with the Twitter handle @doritos_cv faced an agonizing decision back in September 2022, hold on for the final two legs of his 25 leg parlay and chase the $1 million payout or smash the cash out button. The bettor ultimately cashed out and won $252,160!
The bettor exclusively wagered on college football, and their bet slip included a mixture of moneyline, totals, and spreads. The last two legs of the player's parlay were Texas A&M -6½ over Miami and Michigan State-Washington over 56½.
In a cruel twist of fate, Washington made a late field goal to clinch the over, and Texas A&M beat the spread with a strong 17-9 win over Miami. If the bettor had just held on, he would have scored a $1 million payday! Even though the player must have been delighted to pocket over $250,000 in winnings from a $7.16 crazy bet, there must be a part of him that feels bad they hit that cash-out button and missed out on life-changing money.
Does FanDuel Payout The Whole Sum?
FanDuel does payout the whole sum, even up to $1 million, if you request a wire transfer. FanDuel will then send the money directly to your bank account. The wire transfer will arrive in your account typically within 5 business days, but it may take a bit longer if you are withdrawing a 6 figure + sum. Also, wire transfers have a $15 fee.
Alternatively, you can break the $1 million payout into multiple $10,000 transactions. However, that is going to take a while. You are better off requesting a check in the mail or initiating a wire transfer.
Tips & Tricks to Win Big on FanDuel
No Sweat First Bet Up To $1,000
21+. T&C Apply
21+. T&C Apply
Convenient banking
Massive choice of sports
No Sweat First Bet Up To $1,000
21+. T&C Apply
21+. T&C Apply
The only way to win huge $1 million sports betting paydays on FanDuel is to make parlays. FanDuel Sportsbook has too low sports betting limits for single wagers. Typically the most you can win from a single bet is a few hundred thousand dollars.
For example, when we tried to bet on Carson Wentz to win the AP NFL SEASON MVP 2023-24 at +30,000, the most we could bet was $250 for a potential win of $75,000. Again when we tried to bet on the Houston Texans to win the Super Bowl at +18,000 odds, our max sports betting limit was just $250.

Now making sharp parlays is equal parts science and equal parts art. We recommend adding 4 to 6 legs to your parlay. If you add too many legs to your parlay, it becomes virtually impossible to win, and it is unsurprising that no one on FanDuel has won a 25 leg insane parlay.
When making parlays, you should stick to sports and markets you know. If you are a big baseball guy, then stay away from the NFL games and focus on the MLB. Or if you are the second coming of Haralabos Voulgaris, then bet on the NBA or college basketball.
Another secret to parlay sports betting is finding correlated wagers to add to your bet slip. Correlated bets are wagers where if Bet A wins, then Bet B is also likely to win. For example, you might bet on Alcaraz winning the first set against Djokovic and winning the match. Or bet the over on goal totals in an English Premier League match between Chelsea and Arsenal and also bet on Chelsea not to keep a clean sheet. Sportsbooks ban bets which are too correlated, but you can still find some options which will radically increase your chances of striking gold!
FAQs
What is the biggest sports bet payout ever on FanDuel?
The biggest sports bet payout ever on FanDuel is $1 million, which is the maximum you can win. Despite taking millions of bets every year, only a handful of players have won the max $1 million payout.
What is the most money ever won on a FanDuel parlay?
The most money ever won on a FanDuel parlay is $1 million. FanDuel has a maximum winning sports betting limit of $1 million for all bet types, including parlays. It is unlikely that FanDuel will raise this limit, so don't expect to hear from any 8 figure winners in the near future.
Has anyone won a million dollars on FanDuel?
In August 2022, an unknown FanDuel sports bettor won $1 million from a 4 leg parlay on the Coke Zero Sugar 400 NASCAR race with just a $13.49 stake. The bettor wagered on Cody Ware +2000, B.J. McLeod +2000, Landon Cassill +1500, and David Ragan +950 to all finish in the top 10.
Does FanDuel really pay out?
FanDuel is a fully licensed and legal sportsbook that always pays out. FanDuel processes cash outs within 48 hours via secure payment methods like Online Banking, Debit Card, Venmo, PayPal, FanDuel Prepaid Play+, and Check. The only reason FanDuel wouldn't pay out is if you broke their terms and conditions.