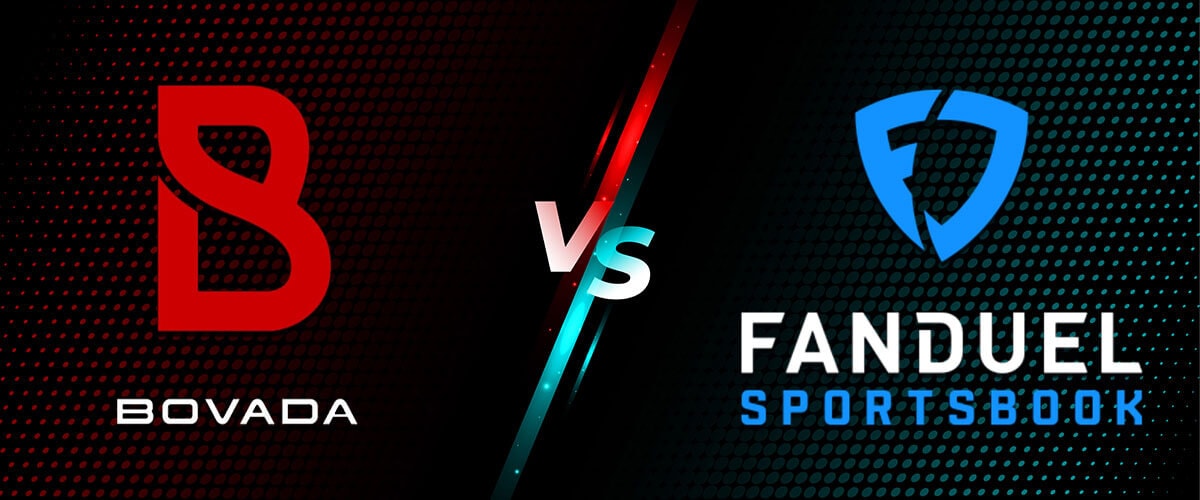 Do you want the skinny on which of these two sportsbooks is the best? Then read on to find out what we learned in this in-depth review of FanDuel Sportsbook and Bovada.
Woods vs. Mickelson, Kobe vs. Jordan, The Cowboys vs. The 49'ers, and now it's time for FanDuel vs. Bovada. There are big companies in the online gaming industry that go head to head trying to attract customers.
In this matchup, we'll be looking at sportsbook features, odds, bonuses and promotions, fantasy sports, and much more. Although there are Bovada and FanDuel casinos, this article looks at the online sports betting offerings of both sides.
Disclaimer: To be very clear, Bovada is an offshore sportsbook which means it is not licensed under US laws. Playing at Bovada is essentially breaking the law, so you must undertake your research and due diligence before signing up for any offshore sportsbooks. The gambling industry doesn't take too kindly to users playing at offshore sites as they are not protected and problems can quickly arise. So whether you want to wager on sports, or take part in some casino betting and play poker games, we would always recommend playing at the FanDuel casino over the Bovada casino in that case.
Bet $5, Get $150 In Bonus Bets
21+. T&C Apply
21+. T&C Apply
Convenient banking
Massive choice of sports
If you went back a few years, you would not have found content like this, as there would not have been any legal sportsbooks in the US. The only forms of legal betting were at racetracks and land-based casinos. Now though, we live in a different time, and sports fans can bet on their favorite sports, teams, and players quickly and easily from their mobile devices.
This was all made possible with the date May 14th, 2018, now etched in history. After many long, drawn-out battles across America's lower courts, the US Supreme Court finally passed a ruling that the sports wagering ban handed out at the federal level was unconstitutional and infringed the rights of US citizens.
So enough of the history lesson. Here we are answering one of the biggest questions in sports bettor's minds; which is better, FanDuel or Bovada? Let the battle commence!
FanDuel vs. Bovada – Who really is the best?
We previously did one of these faceoffs where we covered FanDuel vs. Caesars, and we received lots of feedback from sports fans like you requesting we do a similar one for FanDuel vs. Bovada.
Bet $5, Get $150 In Bonus Bets
21+. T&C Apply
21+. T&C Apply
Convenient banking
Massive choice of sports
Both sites have put a lot of time and effort into the user experience, and we're sure sports fans will love both of them. We like that they cater to beginners and expert bettors, and with an easy-to-download mobile wagering app/mobile site version, you can follow your favorite teams and place bets on the move.
We have gone through each component for each site and voted for a winner in each. However, you might disagree with what we think is good on FanDuel Sportsbook, and the same goes for Bovada.
The point of this review is to give you as much information as possible to help you make the right decision on which sportsbook you want to have in your corner.
FanDuel vs. Bovada Overview
FanDuel, as the name implies, was originally a peer-to-peer fantasy sports platform that kicked off in 2009, and it wasn't until the legal gambling landscape changed that it transitioned into a full-service sportsbook and more.
Being the first, FanDuel grabbed the lion's share of the DFS (Daily Fantasy Sports) market until its primary competitor, DraftKings Sportsbook, launched in 2012.
Both now offer DFS and traditional sports betting, and both have a large market share in the US. But what about Bovada?
Bovada has been bringing online gaming experiences to customers since December 2011 and is well recognized in the casino space for providing real-time casino gaming experiences, where you play online but with other players on screen. It's not the same as FanDuel's DFS betting, but it has that same peer-to-peer element.
Both sportsbooks make it easy to sign up, but finding detailed information on a social channel like Reddit takes a lot of work. We have yet to see a FanDuel vs. Bovada Reddit thread of any depth, so let's settle the argument right here.
FanDuel Sportsbook vs. Bovada Sportsbook – New Player Offers
Every sports bettor loves an excellent welcome offer, so who comes out on top in this area?
FanDuel New Player Offer

FanDuel Sportsbook has put together an offer that is unique, called the "No Sweat First Bet" promo.
When you sign up and deposit just $10 and place your first bet, they will give you up to $1,000 in free bets that can be used as either a single bet or as several bets if your first qualifying bet is a loser. These free bets should be in your cashier balance within 72 hours of settling your qualifying bet.
Your FanDuel free bets may be designated to specific sports, betting markets, or bet types. The only restriction you have in using your free bets is that they cannot be used on Round Robin and Same Game Parlay + wagers.
This offer is valid until the end of the year. We contacted FanDuel to check this, and they say this is an ongoing promotion, so make sure to check the site often for any changes. Be aware that your free bets should be used within 14 days.
Bet $5, Get $150 In Bonus Bets
21+. T&C Apply
21+. T&C Apply
Convenient banking
Massive choice of sports
Bovada New Player Offer

Bovada doesn't just have one welcome offer but a few, including several Bitcoin welcome sign-up offers.
For this review, we'll focus on the Bovada Sportsbook offer, which is a 50% matched deposit bonus up to $250. The amount is not as significant as some other sportsbook offers, like Caesar's $1,250 risk-free bet or the $1,000 risk-free bet from BetMGM, but it is there for the taking.
A big plus point on the Bovada bonus is that it is available within 30 minutes of making your qualifying deposit. No need to make a qualifying bet.
There are specific wagering requirements with the Bovada bonus, so check the terms and conditions (Rollover is Sports x5/Horses x5/Casino x30 on the initial deposit and the bonus amount.)
The Winner: FanDuel Sportsbook
We like that there are no rollover or wagering requirements, and you are not limited in spending the $1000 all at once or spread across several bets. FanDuel gives you a great choice here.
FanDuel vs. Bovada – Sports Coverage
It doesn't matter which sportsbook you use; the welcome bonus becomes irrelevant if it does not have a wide range of sports to bet on. Sports bettors want a varied range of betting markets and sports to bet on.
FanDuel Sports Coverage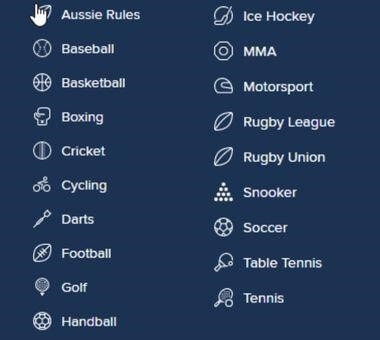 So FanDuel Sportsbook covers 19 separate sports and has its daily fantasy sports and racebook products. Being part of the Paddy Power Betfair/Flutter Entertainment Group, you'll see plenty of European sports like Cricket, Darts, Snooker, Rugby Union, and Rugby League. Still, FanDuel covers all major US sports, including the NFL, NBA, MLB, and NHL.
Bovada Sports Coverage
Bovada has excellent sports coverage, with 26 mainstream sports, including college football and Aussie Rules, and also covers some novelty betting markets like Entertainment, Numbers Games, eSports, and Politics.
Bovada also has its own horse racing section on the website, but this is less strong than FanDuels racing offers.
Winner: Bovada
It was a tight race on this one, but Bovada got the nod as they have the same sports as FanDuel but also offer some specialty betting markets, including Esports and Virtual sports. It should be noted, though, that legal US sportsbooks are not permitted to cover these markets.
FanDuel vs. Bovada – State availability; Where You Can Play & Bet?
Here we have big differences, for obvious reasons. FanDuel is legal and licensed while Bovada is not.
FanDuel State Availability
The FanDuel sportsbook is fully licensed in several US states, and it is legal to use the sportsbook, racebook, and fantasy sports products on desktop or mobile. You can place bets with FanDuel in various states if you are physically located in AZ, CO, CT, IL, IN, IA, KS, LA, MI, NH, NJ, NY, PA, TN, VA, WV, and WY.
FanDuel is also in the process of opening across the US as and when more states change legislation on online sports wagering.
Bovada State Availability
This is a very important question here because sports bettors need to know that Bovada is an offshore sportsbook that is not licensed in the US.
It means that anybody betting with Bovada online will effectively be breaking the law. Of course, we are aware that some players may wish to use the platform (that is a personal choice), but being licensed ourselves, we do not recommend or condone the use of Bovada.
Winner: FanDuel Sportsbook
With FanDuel being licensed in the US, this was an easy choice in this category.
FanDuel vs. Bovada – Banking Options
Payment method providers is another big difference between legal and illegal betting sites.
FanDuel Banking Options
FanDuel Sportsbook has many payment options, including the excellent Play+ card. This is a prepaid card you can fund from your bank account, credit, or debit card. Of course, you can also make straight payments to your sportsbook balance using the following methods.
| 💳Deposit Method | 💵Minimum Deposit | 💲Deposit Fees |
| --- | --- | --- |
| Credit/Debit Card* | $10 | No fees |
| eCheck/ACH | $10 | No fees |
| PayPal | $10 | No fees |
| Play+ | $10 | No fees |
| PayNearMe | $10 | $3.99 |
| Green Dot MoneyPak | $10 | $5.95 |
| Gift Cards** | $10 | No fees |
| Money Orders/Checks | $10 | No fees |
| Wire Transfer | $10 | $15.00 |
*It is important to note that VISA no longer allows funding of gambling and wagering-related sites.
**Not all Gift Cards can be used at FanDuel. Most prepaid card providers do not allow the use of cards to fund gambling accounts. Make sure to check first before purchasing and attempting to add funds.
Bovada Banking Options
Because Bovada is not licensed in the US, it has the option to offer a different set of funding methods, including cryptocurrencies, which is undoubtedly attractive for some players.
The thing to be aware of with Bovada is that their fees are expensive. Your first deposit by card is free, but after this, you will pay 5.9%, along with any applicable fees from your bank or card issuer. The table below shows a wide range of funding methods at Bovada.
| 💳Deposit Method | 💵Minimum Deposit | 💲Deposit Fees |
| --- | --- | --- |
| Credit/Debit Card | $20 | First deposit free. 5.9% on subsequent deposits |
| Visa/Mastercard Gift Cards | $20 | 3-5% activation fee |
| Matchpay | $20 | No fees |
| Bitcoin | $10 | No fees |
| Bitcoin Cash | $10 | No fees |
| Litecoin | $10 | No fees |
| Voucher | $20 | No fees |
| Zelle | $20 | No fees |
One important note is that you must wager any deposited funds 100% before making a withdrawal.
E.g., If you fund your account with $100 and place a wager of $50 at +1100 and it wins, you will be able to withdraw funds once you have wagered at least another $50.
Winner: FanDuel Sportsbook
FanDuel has better account funding options for US residents looking to bet legally in their chosen state. Likewise, there are no fees or long processing times like with Bovada, which is often accused of not paying out winners.
FanDuel vs. Bovada – Odds & Markets
Funding your account is one thing, but on which sportsbook will your money make the biggest impact?
FanDuel Odds & Markets
It does not matter which sport you bet on. The biggest thing for sports bettors is the best odds. This is one of the most important things when looking at a sportsbook.
Let's look at the odds of an NFL game between the Browns and the Ravens.

Bovada Odds & Markets
So below is the same game and odds on offer from Bovada.

As you can see from the above screenshots, both sportsbooks have different offers on the main spread, moneyline, and over/under markets. The margins offered are very tight, so it's hard to call a winner here.
Now, if we're looking at the analysis between FanDuel vs. Draftkings as an example, then our advice is to look at both sportsbooks, set up accounts with both, and check out all of the Fanduel and DraftKings offers.
But in this FanDuel vs. Bovada matchup,  similar to Bovada vs. DraftKings, we cannot pick a winner, and remember, Bovada is not a licensed sportsbook in the US.
Winner: Draw
FanDuel vs. Bovada – Bet Types
When it comes to the types of wagers you can place, both of these sites offer all of the standard wagers you would expect. There are not many differences between with both offering the following:
Moneyline
Tesers
Parlays (Including same game parlays)
Live betting
Round robin
Prop bets (including player props)
Spreads
When we tested both sites we found that the same game parlay builder option on FanDuel was much more sophisticated. You can combine multiple options to wager on one game and it is an excellent feature. Additionally, FanDuel also offers a slightly better prop betting menu, particularly for the NFL and NBA.
Winner: FanDuel Sportsbook
Although both FanDuel and Bovada offer similar standard types of wagers, FanDuel excels when it comes to same game parlays and prop betting. You can utilize the parlay builder to see what you can add to your parlay wager and it is simple to use.
Live Betting on Bovada Sportsbook & FanDuel Sportsbook
This is a major area if you are looking to bet when the match is ongoing.
Bovada Sportsbook Live Betting
Bovada provides a wide range of live-in-play options across many sports, and like FanDuel, they have a very user-friendly user interface. However, Bovada does not provide the same live event viewing coverage you get with FanDuel.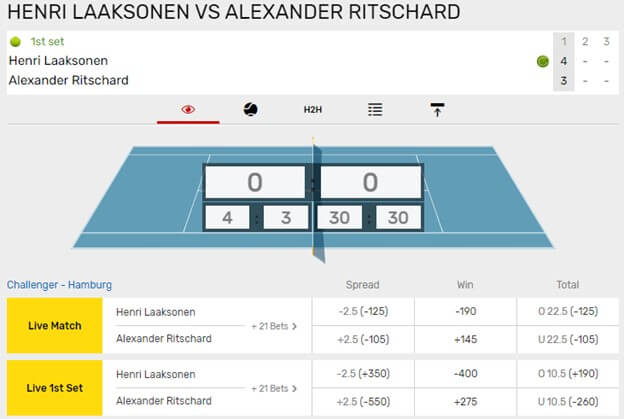 FanDuel Sportsbook Live Betting
FanDuel Sportsbook has one of the best live betting interfaces we have seen and is straightforward to use.
As live betting has become more popular, the number of actual markets you can bet on has increased. Using tennis as an example, you can now bet live on the next point, next game, next set, and many others.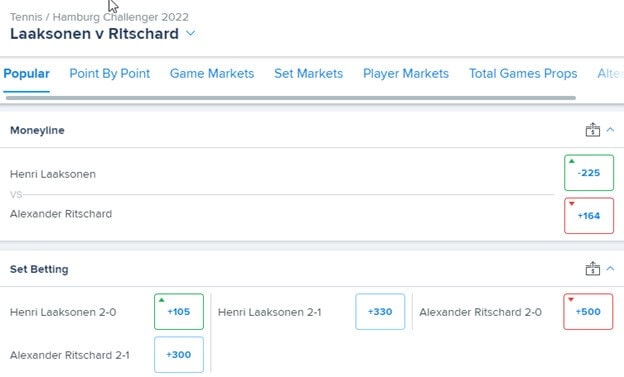 As you see above, FanDuel makes it easy to get to each of the fast markets quickly and easily.
Winner: FanDuel Sportsbook
Both Bovada and FanDuel have great live betting interfaces, but the ability to watch the game live on FanDuel gives them the edge in this battle.
FanDuel vs. Bovada – Sportsbook Features
As sportsbook fans, we have gotten used to having information and data at our fingertips. We now expect various features to make our betting fun and profitable, and sportsbooks are now providing data, statistics, sports news in the form of blogs, and much more.
So let's see how FanDuel and Bovada compare.
| 🎁Feature | 🏈FanDuel Sportsbook | 🏈Bovada Sportsbook |
| --- | --- | --- |
| 🆓Risk Free Bet | ✔️YES | ❌NO |
| 💵Minimum Deposit | ✔️$10 | ❌$20 |
| 🔥Daily Odds Boosts | ✔️YES | ✔️YES |
| 🤑Rewards Program | ✔️YES | ✔️YES |
| 💰Refer A Friend Scheme | ✔️YES | ❌NO |
| 📚Sports Betting Guide | ✔️YES | ✔️YES |
| 📱Android App | ✔️YES | ❌NO* |
| 📱iPhone App | ✔️YES | ❌NO* |
*Bovada only has an app for casino games and products. There is no app available for sportsbook betting.
Winner: FanDuel Sportsbook
FanDuel is a clear winner here. They have a lower minimum initial funding requirement, their bonus is free from wagering requirements, and they have a sportsbook mobile app, which most sports fans like to use nowadays.
FanDuel Sportsbook vs. Bovada Sportsbook – Mobile Betting App and User Interface
Most Americans have a smartphone, and most US bettors like to use it for online betting. Mobile betting apps are big business now in the US, if people can place wagers straight away as quickly as possible, a betting app provides the perfect way to do just that.
FanDuel Sportsbook Mobile Betting App
Most users will be using an Android or IOS (Apple) device, and it is crucial to be aware that Google Play does not allow gambling and sportsbook apps to be downloaded from the Play store. This is not an issue for Apple users; downloading the mobile sportsbook app is very straightforward.
For Android users, you can still view the FanDuel sportsbook perfectly on a mobile browser, and if you are a racing fan, there is a separate horse racing app that can be downloaded directly from the Google Chrome browser on your phone.
Go to https://racing.fanduel.com, and you can download it from there.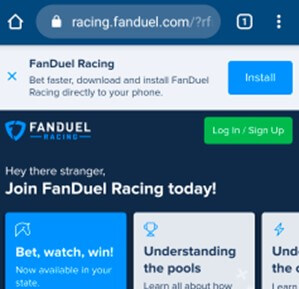 Bovada Sportsbook Mobile Betting App
Bovada does not have a native app that you can download for the sportsbook but has gone to great lengths to provide a solid mobile version of its website. It means you can access this directly from your browser.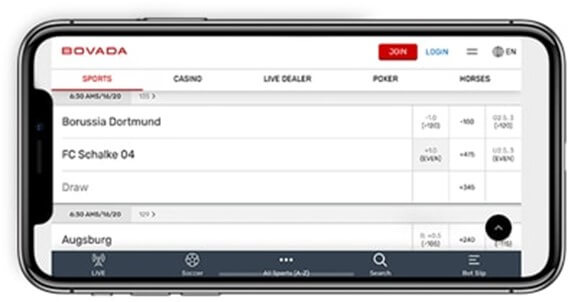 As you can see from the image above, the Bovada mobile site looks great on any mobile device.
Winner: FanDuel Sportsbook
With Fanduel having their sportsbook app available for Apple (IOS) and Android users and their racebook app for Android users, they get the vote here.
FanDuel vs. Bovada – Football betting
As you can imagine, with these popular sportsbooks, football betting is a big part of both sites, with both having an excellent range of markets to bet on.
Fanduel Sportsbook offers great promotions, bets, and markets, including same-game parlays, touchdown scorer props, passing props, and receiving props. Bets that put the choices into the sports bettor's hands. They also have a wide range of bets for each quarter. Everything a football fan wants to make betting on the game more fun.
Bovada has a very similar offer to FanDuel regarding the markets. When we looked at a recent game between the Chicago Bears and The New England Patriots, they had 268 different betting markets to choose from. There is no doubt that the Bovada layout and organization of football bets is better than Fanduel, but we have to consider the odds, which swayed our decision.
Winner: FanDuel Sportsbook
This was one of the closest comparisons of the complete review, but FanDuel just shaded it due to more attractive odds.
FanDuel vs. Bovada – Promos, bonuses, and Offers
Of course, these major sportsbooks always entice players to join with an attractive welcome offer, but there are other vital things for sports bettors these days. Experienced players look "under the hood" to see what betting options they can get as existing players.
FanDuel Sportsbook does not disappoint with a wide range of bonuses and incentives, including same-game parlay boosted odds, the 2×1 NFL special boost, player and team prop specials, as well as their free competitions to win cash on the FanDuel fantasy games.
Bovada has no promotions currently, so in this section, they are blown out of the water by Fanduel.
Winner: Fanduel Sportsbook
With Bovada having no promotions, FanDuel runs out an easy winner in this category.
FanDuel or Bovada for new players?
Setting up a sportsbook account online should be easy, and as more states open their doors to sports betting, we are sure to see more beginners taking the plunge and setting up for sports betting.
FanDuel is one of the most prominent and respected brands in the US, and you can be safe knowing you are betting legally with them.
Bet $5, Get $150 In Bonus Bets
21+. T&C Apply
21+. T&C Apply
Convenient banking
Massive choice of sports
Let's take you through the simple process of signing up and betting on FanDuel.
Go to fanduel.com or sportsbook.fanduel.com
Choose the state you are located in
Fill out the simple form and click "Create an account."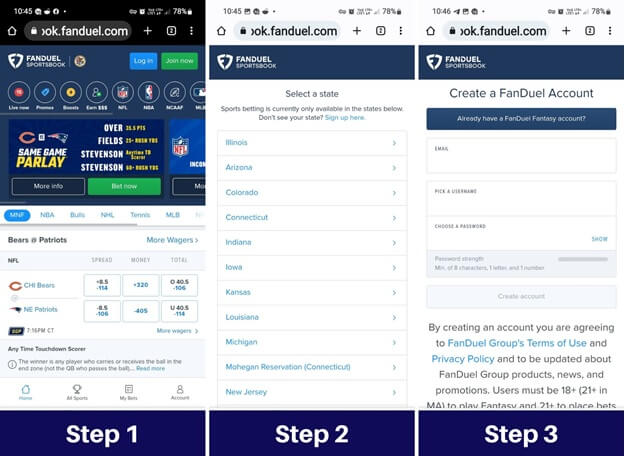 For Bovada, the process is very similar and just as quick as FanDuel
Go to bovada.com and click the "Join Now" button in the top right corner.
Complete the registration form and then click the "Register" button.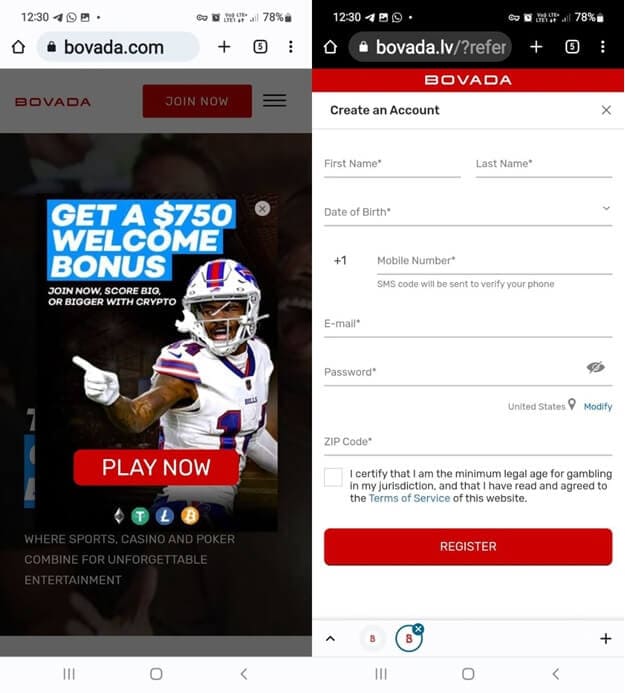 As we have mentioned in this guide earlier, we are comparing both sportsbooks at the request of our users. You must be aware that Bovada is not a licensed sportsbook in the US, so US residents who sign up would be breaking the law.
Winner: FanDuel Sportsbook
The Fanduel sign-up process is swift and one of the most streamlined processes we have seen at any legal online sportsbook. It will take less than a minute to sign up.
FanDuel vs. Bovada | Daily Fantasy Sports
There is no doubt that FanDuel is one of the most significant operations in providing players with various daily fantasy sports games and leagues. You can play for free or cash to win various prizes, and they even have special fantasy contests for beginners. As well as fantasy football, you can also play fantasy golf, hockey, and even fantasy NASCAR.
Bovada does not offer any fantasy sports, so we have a clear winner here.
Winner: FanDuel Sportsbook
The FanDuel fantasy sports app allows players of all levels to get involved across a wide range of top sports.
FanDuel vs. Bovada – Loyalty Programs
The FanDuel Sportsbook has several loyalty programs in place, with the main one being their "Face Off" rewards. These allow you to collect reward points for taking specific actions. This could be taking part in both free and paid fantasy games as well as taking part in TVG horse racing promotions as well. You can earn reward points to take advantage of free bets and cash bonuses.
Bovada also has a rewards program, and this one has six different tiers with three levels in each tier until you get to the "Hall Of Fame," which has one level.
You receive dollar amounts as free bets for achieving from 2,500 – 5,000,000 lifetime points.
And you achieve your points by wagering across their sportsbook, casinos, games, and racebook. It means you have numerous options to build up your rewards.
Winner: Bovada
Bovada has a robust rewards program that is both easy to understand and gives users the option to gain points across their whole range of products.
FanDuel Vs. Bovada – Payouts
As mentioned in the section above, both sites offer a solid range of payment options, but the important thing is to access your funds quickly when you want to withdraw.
From the reviews, we have read and our experiences of seeking player testimonials, the time to process payouts is quicker on FanDuel.
Both sites also have different minimum and maximum payout levels and timeframes.
FanDuel Payouts
We tried to find precise info on the FanDual Sportsbook site as to maximum payouts, so we jumped on with their customer support live to chat and get you the answer.

As you can see above, there are no limits to the amounts you can withdraw or win at Fanduel, and the time it takes to make a withdrawal depends on the payment method.
For the following methods:
Withdrawals of your winnings can take as little as 2 hours but can take up to 48 hours in certain circumstances.
Cash at-counter withdrawals are typically processed within an hour, but large withdrawals need to be verified and can take up to 48 hours. An email notification will be sent when your cash is ready for pickup.
If you want a paper check, it should get to you within 14 business days after it has been approved by the Fanduel finance team.
Bovada Payouts
Bovada, an offshore sportsbook, has different payout rules, and it is essential to note that withdrawing by check or bank transfer will incur hefty fees.
Your first withdrawal is free for any payment method, but subsequent withdrawals by check will incur a fee of $100 and by bank transfer $50.
In terms of the timeframes, you can see these below.
| 💵Payout Method | 💲Minimum Withdrawal | 💰Maximum Withdrawal | 📅Frequency | ⏱️Timeframe |
| --- | --- | --- | --- | --- |
| Check by courier | $100 | $3000 | 1 per 7 days | 10-15 business days |
| Voucher | $10 | $3000 | No limit | Instant |
| Matchpay | $20 | $1000 | 2 per calendar day | Instant |
| Wire transfer | $1500 | $9500 | 1 per 30 days | 10-15 business days |
Bovada also has separate payout terms for cryptocurrencies:
| 💵Payout/Withdrawal Method | 💲Minimum Withdrawal | 💰Maximum Withdrawal (per 15 minutes) | 📅Weekly Limit |
| --- | --- | --- | --- |
| Bitcoin | $10 | $9500 | $180500 |
| Bitcoin Cash | $10 | $2500 | $2500 |
| Bitcoin SV | $10 | $9500 | $9500 |
| Litecoin | $10 | $2500 | $2500 |
| Ethereum | $50 | $2500 | $2500 |
| USD Tether | $50 | $2500 | $2500 |
Winner: FanDuel Sportsbook
Most US residents will want to play legally, and FanDuel provides a great range of payment and payout options, and it is important to stress that playing at Bovada will be construed as breaking the law. Many reports also show Bovada doesn't always payout users.
FanDuel vs. Bovada – Extras
FanDuel Sportsbook aims to give its customer a great range of benefits, and apart from having mobile apps you can download from Google Play and The App Store, they offer some great extras.
You can take advantage of their three-month NBA League Pass free when you sign up as a new player. Along with that, they have an online casino, Faceoff App, as well as their famous fantasy games.
But it does not stop there. If you go to the left-hand navigation on the site, you'll find the link for Betting Guide under other links. Open this, and you'll find their Sports Betting 101 guide, full of helpful screenshots and videos explaining how to bet for both beginners and advanced players.
Bovada falls a distant second here. They have a community forum and a range of videos about the essential functions and how to set up your account.
However, it does not show this information from a sports perspective like FanDuel.
Winner: FanDuel Sportsbook
A great set of extras and new customers will find the Sports Betting 101 guide very useful.
Alternatives to Both FanDuel and Bovada Sportsbook
FanDuel and Bovada are good sportsbooks in their own right, but other options are open to players. We have covered this matchup extensively, and you should also take a look at our BetMGM vs. FanDuel comparison if you have a few minutes.
But remember, there are lots of other sportsbooks that offer legal online wagering across the US.
Our top alternative best sportsbooks to FanDuel and Bovada are:
Final Verdict: Should You Choose FanDuel or Bovada Sportsbook?
Both FanDuel and Bovada have their positive points, and selecting a sportsbook to bet with is a personal choice. There is no doubt that these sportsbooks provide excellent user experiences and make it easy to find your favorite sports and market to place bets on.
One offers a better odds range, while the other has more markets to bet on. One has no fees when depositing using specific methods, while the other charges relatively high fees. And one clearly is a safer site for US residents to bet with.
From our overall experience, the clear winner in this sports betting sector matchup is the FanDuel Sportsbook.
Why Choose FanDuel Over Bovada
FanDuel is legally licensed to provide sports betting in many US States.
FanDuel comes out on top in the odds stakes, providing better value across many sports.
FanDuel has a wide range of promotions, which is something Bovada does not offer.
FanDuel has the edge of providing a full range of fantasy sports contests for players to play against other FanDuel fans. Bovada does not provide fantasy sports.
Why Choose Bovada Over FanDuel?
It's a close-run thing, but Bovada does beat out FanDuel in terms of the range of markets it covers.
Bovada offers players a wide range of cryptocurrency funding methods. Something FanDuel does not currently provide.
Bovada has a request for your own odds bet called #whatsyawager, where you request specific odds, something we don't see on FanDuel.
Both sportsbooks offer the major

soccer

leagues, but Bovada has a broader range of leagues globally, with more obscure countries covered.
FAQs
Are Bovada and FanDuel legal?
FanDuel is one of the most recognizable gambling brands in the United States and is licensed to operate in the United States. The sportsbook operates in numerous states where online sports betting and online iGaming is legal across the country. Although you can argue that Bovada is reliable and provides decent odds for sporting events, it is not licensed by any regulatory body in the United States. Bovada operates offshore and does not have to abide by US legislation and rules.
Who pays out faster between Bovada and FanDuel?
Bovada withdrawal requests are initially reviewed within 24-48 hours before they get approval. Unless the payout on Bovada is through cryptocurrency, the processing times can be quite slow, especially if the request is for a large amount of money. In some cases you could be waiting as long as 14 days for your cash. FanDuel typically completes the process within 2-5 business days, making it the faster of the two sites.
What is the legal betting age on FanDuel on Bovada?
FanDuel works within all of the rules and legislation from governing bodies in the United States, and most states have their minimum required betting age set at 21. On the other hand, Bovada is an offshore company so is not bound to the same set of rules. Bovada currently states that you must be 18 years of age or older to wager on their platform.
Who owns Bovada and FanDuel?
Bovada is owned by  Mohawk Morris Gaming Group. Flutter Entertainment are co-owners of FanDuel.