Caesars Sportsbook has quickly grown to be one of the most popular betting operators across the US. This is mainly down to its great odds, betting markets, and features like Cash Out. But what is Caesars cash out and how can you use it to your advantage?
Sports bettors should always look for the early cash out feature when using any sports betting app, and because there are many sports betting options on Caesars, it means that you can use this feature on several betting markets. In addition to bonus bets and promos, when you create a new Caesars sportsbook account you will have the ability to lock in some profit if your bet doesn't appear to be going well.
Caesars Sportsbook is expanding across the United States. The brand purchased William Hill in a huge deal to strengthen its position in the US sports betting industry. You can now play at Caesars in more states than ever, with the operator available in many states, including New York, Arizona, Michigan, and now, Ohio. All of this means that the Caesars online sportsbook has grown to appear at the top of the list of available sports betting sites alongside the likes of FanDuel sportsbook and DraftKings sportsbook.
You perhaps know Caesars best for all for the Caesars Entertainment properties such as Caesars Atlantic City and also the online casino platform. However, the brand wants to be known for its sports wagering options and bonus bet offers in addition to Caesars casino.
This cash-out guide below will explain everything you need to know about how it works. You can use the links on this page to set up a Caesars account, get a welcome bonus, place a wide range of sports bets, and even take advantage of a Caesars risk free bet or bonus cash when joining the betting app.
Promo Code: GUSA1000
$1,000 First Bet on Caesars
21+. T&C Apply
21+. T&C Apply
Promo Code: GUSA1000
Massive welcome bet offer
Earn Caesars Rewards
Promo Code: GUSA1000
$1,000 First Bet on Caesars
21+. T&C Apply
21+. T&C Apply
What does cash out mean when using a sportsbook?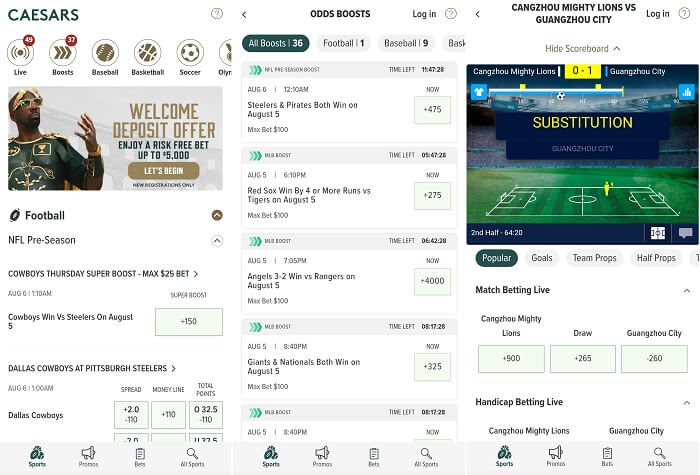 Cash-out is growing in popularity in the US after many of the big European sportsbooks implemented this to reward sports betting customers. In simple terms, "cash out" means closing your sports bets early for a profit or a slight loss.
Let's say you have a parlay (same game parlays) bet on the NFL and have chosen four teams. Three of the matches are on a Sunday, and the final one is for the big Monday night football game.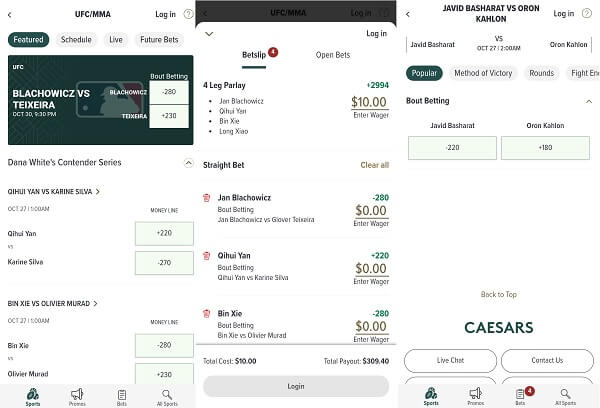 Your three teams playing Sunday might win; now you are waiting for the Giants to get a result on Monday and they are chalked up at competitive odds of -200.
In your account, you might see the option to cash out your bet on certain betting markets. You now have to decide whether to take the offer from the sportsbook or let it ride and go for the big win.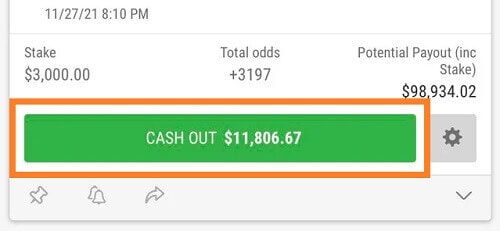 How to use the cash out feature on Caesars Sportsbook
The first thing to note is that the feature is not always available. During a game or event, many things happen. Scores change, and players go in and out of the game (subs and injuries), which means the sports betting odds are changing during the match, live as it happens.
Parlays are a popular betting option for many players, and you can use cash out on these types of bets in play as events change during a game. During a game, go to the "Open Bets" section of your Caesars betting account and see if you have an offer for a cash-out amount. If the button is grayed out, then no cash-out offer is available.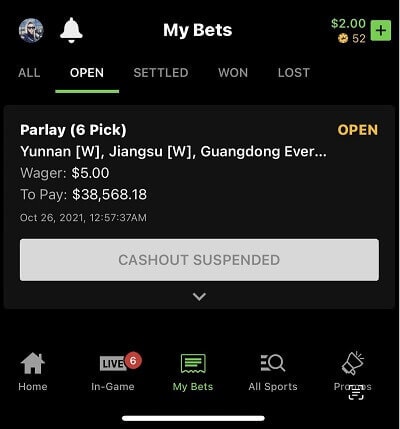 However, if the sportsbook offers you an amount, that button will be highlighted in color and will show the amount you can take to your betting balance.
That is then available in your cash balance, and you can go ahead and make a Caesars withdrawal request to your verified bank account.
You can use Caesars cash out in any state where the sportsbook is legal. Whether you are playing in New Jersey, or using the Caesars New York, Caesars sportsbook Illinois.
Why should I cash out my bets on Caesars Sportsbook?
As sports bettors and handicappers, we all want to win when we place bets, and cashing out gives us that opportunity.
Betting and gambling are fun but sports betting carries the risk of losing your money. Using the cash-out feature on the Caesars Sportsbook website or app means you can limit that risk, wager responsibly and become an intelligent bettor.
How many times have you placed a parlay only for one team to let you down and your bet loses?
We know what that is like, so this gives savvy punters like you the option to take a smaller winning amount or even a losing amount on your original wager.
Three legs of your parlay have won, and it's the final leg, and the New York Giants are two touchdowns down with a quarter to play. Now, your Caesars Sportsbook bet slip may offer you a chance to cash out and get a part of your original stake back, or they may even offer you a small profit so that you can take some early cash right on the spot.
You can let it ride and hope the New York Giants get back in the game, or you can take the offer on the table to invest as a free bet in your next parlay. Cash out will be available on all major domestic and international sporting events such as the Super Bowl or the Soccer World Cup.
How does a sportsbook calculate my cash-out offer
Using the example of our parlay earlier, we have three winners with one more match to play. The sportsbook will look at the bet and determine if they feel the Giants can come back from that two touchdowns 14-point deficit.
If they think they can, your cash-out offer will be much lower. If Caesars Online Sportsbook thinks they can't, then the cash-out offer will be higher.
Sportsbooks make their money by calculating risk. If they think the Giants will still win, then the risk of a payout to the sports bettor is higher. They want to alleviate that risk by offering an early cash amount. They are therefore limiting their downside (risk).
If they think the Giants won't win, they will offer a much lower offer as they'll want you to keep the bet and risk all of your potential winnings (think Atlantic City) instead of taking some profit.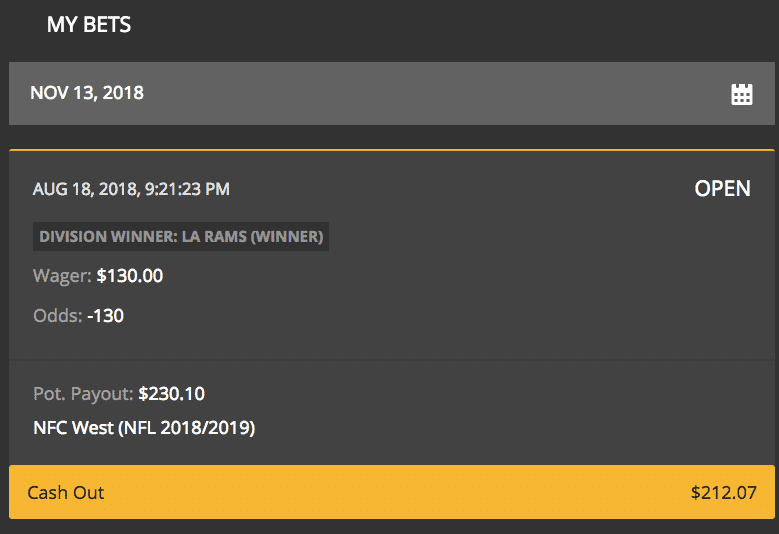 Payment methods on Caesars Sportsbook
Once you have used your Caesars sportsbook promo code and claimed your 1000 reward credits or free bet, you can use them to place a bet. However, if the wager isn't going well and you decide to cut your losses, you can cash out. There are multiple payment options available to withdraw your money:
echeck
Online Banking
Caesars Sportsbook Prepaid Card (Play Card)
The fastest way to get your money transferred is via the prepaid card. When you choose to cash out, the money will automatically be transferred.
FAQs
What does cash out mean on Caesars Sportsbook?
It is also sometimes referred to as Buy Out, which means the Caesars sportsbook is putting a value on your bet and buying it back from you. It means you, as the bettor, can lock in some profit. It won't be as much as if you had kept the bet and the final selection/event had won.
Caesars Sportsbook cash out is grayed out, what does this mean?
Cash-out is a feature that is fluid. When you see that the cash-out button is grayed out, it means there is no current offer for you on those open bets. It does not mean there won't be though as your bet progresses.
When can I cash out on Caesars Sportsbook?
Most sportsbooks including Caesars are likely to offer you a cash-out amount even before your first bet has started. This will usually be a little bit lower than the amount you have staked.

Once your bet is in-play, cash out becomes more random. Again, using our four-leg parlay example, let's say the first team has won and the second game is coming to an end but your team looks assured of the win. If you check your "My Bets" section in your Caesars betting account, you are now likely to see an offer that might be a little less than if you had bet a two-leg parlay.

That offer though will more than likely be grayed out as soon as your second leg has won and before your third leg has started.

It means you have to make a quick decision.

Once the third game in your parlay starts, the feature is likely to be grayed out. As the game progresses it might appear if your team looks like losing, but it will only be available for a short time. On the other hand, if your third leg is winning, it could appear a couple of times up until the end of the game, tempting you to lock in some profit.
Can you cash out on caesars sportsbook?
Yes, you can cash out on Caesars Sportsbook. The sportsbook allows cash out on selected markets and events where you can end your bet early for profit. You can check out the early cash out options before placing your bet.
Can you cash out parlay bets and wagers on Caesars Sportsbook?
Yes, Caesars Sportsbook offers cash out on parlay bets, as do many other sportsbooks. Cash-out is not available on every sport and every type of bet, but parlays are one of those that often have cash-out options, especially when each leg is live and in play.
Why is cash out not available on all Caesars Sportsbook bets?
Because most sports that use cash out are live in-play events, sometimes there are certain points in the game/match where a score is likely to happen. For example, a team may have a fourth down 10 yards from the end zone. Because of the likelihood of a score, the cash out will be unavailable.
What does it mean when cash out is suspended on Caesars Sportsbook?
If you see that it is suspended, it means that either something has happened or is about to happen that will affect the odds. This happens a lot in soccer betting. A great example of this is where one team is awarded a penalty.

Make sure to use the Caesars Sportsbook app to get the most up-to-date in play info, and if you have questions, you can always contact their customer support.
Can you cash out on Caesars out of state?
No, you can't cash out on Caesars out of state. You need be physically located in a legal state to use the cash out option with Caesars sportsbook.