Gamble USA strives to improve your online gambling experience. We aim to help you play safely, make informed decisions when gambling, and increase your betting knowledge through our guides.
We adhere to strict editorial integrity; our content may contain links to products from our licensed & legal US partners.
The new Caesars sportsbook is making all the headlines after taking over the William Hill Sportbook app. But it seems that the Caesars sportsbook and mobile app are hitting the news for all the wrong reasons.
Frustratingly the Caesars sportsbook app is having problems with several sources reporting that it is crashing or not working. The new Caesars/William Hill platform is brand new, and we expected a few teething problems to crop up.
Our objective is to get you back up and running to wager on your favorite sports as quickly as possible. Sometimes you have to understand that a new betting app will have its glitches and problems, but a good sportsbook should be reliable when you need it to be!
Right from the bat, we have been impressed with the new platforms, but we know this hasn't been the case for everyone. We have seen lots of customers reporting problems with the new sportsbook from Caesars on Twitter. So much, so players have been jumping ship and switching to BetMGM or DraftKings before even trying to fix the problems.

When we heard of the issues, we took some steps to try and get the app working again. If you have been having a problem, or that Caesars Sportsbook is down, try these tips to get you back up and running.
Promo Code: GAMBLEUSA
Up To $1,500 In Bonus Bets
21+. T&C Apply
21+. T&C Apply
Promo Code: GAMBLEUSA
Super fast payouts
Live streaming
Promo Code: GAMBLEUSA
Up To $1,500 In Bonus Bets
21+. T&C Apply
21+. T&C Apply
---
Fixing the Caesars Sportsbook – 7 Steps
If you want to get back to betting like an emperor, this guide should help cure most of the common problems. Should you still have problems, then you should alert customer support. No one wants to keep encountering the same problem over and over again, and the support is there to ensure that does not happen. Hopefully, you can quickly fix the issue and won't have to worry about it ever again.
#1 – Are you online?
Caesars sportsbook, like other apps, needs to have a mobile internet connection or Wi-fi connection when using the app. To test this connection, get yourself on to Google and see if you can search for something or scroll on social media and see if any new comments pop up. This may sound like a no-brainer, but sometimes internet connections drop, and you think you are connected, even when you are not.
Sometimes faulty apps can even restrict or block your access to certain apps and make it appear like you are not connected. If you are using a VPN or proxy, even if only for security/private browsing, turn it off and try again.
#2 – Where are you located?
Geolocation services are commonly one of the factors that can restrict you from using sports betting applications. You must have location services switched on to use online sports betting apps. Locating users on mobile phones is normally quite easy, just ensure that you are allowing Caesars Sportsbook to have access to your location. Problems with sportsbook geolocation are pretty common and unique to Caesars sportsbook (or casino) app.
Since 2018 any state in the US has had the opportunity to legalize sports betting. As such online gambling is spreading across America, but there are many states where the activity is still not legal. If you are in a legal state and experiencing issues, then try our guide to fixing sportsbook geolocation problems for more help.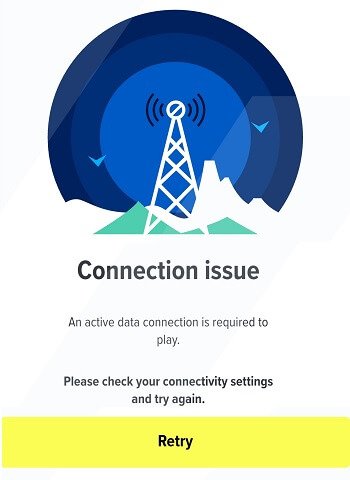 Do not try to use a VPN or proxy. Trying to fake your location is illegal and will lead you to have your Caesars account suspended and you being banned from the operator.
#3 – Is Caesars Sportsbook available in your state?
Caesars Sportsbook is trying its best to emulate Rome and is quickly spreading its takeover through the US; however, they aren't available in every US state. The legal states you can use Caesars sportsbook in are listed below:
AZ, CO, IN, IA, IL, KS, LA, MD, MI, NJ, NY, OH, PA, TN, VA, WV, and WY.
Caesars Sportsbook has plans to also launch in Louisiana, and Maryland very soon, but for now, these states are off the roster.
It is completely legal to sign up for the Caesars online sportsbook outside of a legalized state. However, you can not place a bet unless you are within the states listed above.
#4 – Is Caesars Sportsbook down?
The problems you are having may not be unique to you, from time to time, the Caesars Sportsbook may be down. Like most mobile apps, errors can occur, and they may take some time to resolve. Unfortunately, these things never happen as quickly as you and I want them to, and this can even result in you missing laying that winning bet which isn't ideal. This is the main reason we use a few operators. So that if you have problems with 1, you have a backup ready in the wings.

You can check to see if Caesars is down normally on the social media sites like @CaesarsSports or on the main website. Operators will often post service updates if things go down.
Still frustrated? Why not make the most of your experience and use another sportsbook application to make the most of your experience. We recommend using more than one sportsbook at a time. Putting all your eggs in one basket is an amateur move. Why not take advantage of the sign-up offers and free bets on other gambling sites that are available in your area?
#5 – Is your app up-to-date?
Brand new apps, software, and products normally come with more than a few issues. It takes some field testing and real users to find and trigger most problems. As the Caesars app was only released on August 21, 2021, we expected to see a few problems right away. And we were right. To fix these problems, an update was released pretty much right away. So if you are having issues with the app, more often than not, we will be that you are using an out-of-date app without realizing it.
For those of you with automatic updates on then kudos to you, you probably won't have this problem. Open the app (Android and iOS users), and normally if there is an update available, it will say so and ask you if you want to update. Sometimes this doesn't happen right away. If that is happening, uninstall the app, then download the latest version from iTunes or Google Play. You can find quick links on the Caesars Sportsbook site, which is still at caesars.com/sportsbook-and-casino.
#6 – Problems with your Caesars Sportsbook account
Your actual Caesars sportsbook account can often be the problem for you not being able to bet with Caesars. For several security reasons, your account can be banned or temporarily suspended. To check the status of your account, head over to caesars.com/sportsbook-and-casino and try to log in here.
If you can't log in still, then get in contact with the help support team, via call, email, or live chat to check if your account is still valid. Sometimes accounts are placed on hold to verify them and confirm details. Your account may be flagged by security systems if you are logging in with a different IP address, or if they feel your account has been compromised. If you can't log in online or on the mobile site, reach out to support for help at caesars.com/sportsbook-and-casino, then contact or live chat in the footer.
#7 – Wrong Account details
We may not like to admit it, but we all forget our passwords and account names. I hope for your sanity that this wasn't the reason after considering all these other options.
If you can't log in to your account, then try and reset your passcode to see if this is the reason that you can't get into your account. When logging in, you will see a reset passcode or forgot password option. Enter your registered email, and you will receive a link inside your inbox that will allow you to reset your password.
If you have not received the email, then head back to the app and re-send the link. Still no email? You may have registered with a different email or made a spelling mistake during your singn up process.
If you are sure you have an account, don't try and create a second account, as the operator only allows one account per customer. Doing this violates the T&Cs, and you can end up being suspended from Caesars and not able to wager here in the future.
---
Caesars Sportsbook Promo Code Not Working
When Caesars launched their new sportsbook, they introduced one of the biggest bonus bet offers we have ever seen. The $5,000bonus offer is awesome and sure helped Caesars get a lot of customers. Many new customers have had issued using the Caesars Sportsbook promo code and have not been able to get it to work.
If you have been a previous customer of William Hill, you can't claim the offer. It is only for new customers. Likewise, if you have already opened an account with the book, you can't open a 2nd account and try and use the code again. Do not fear, there are plenty of other sportsbook promo codes available for you.
If you are a new customer and adding the promo code in the box and it won't work, it may be the code is old, invalid, has expired, or has been claimed too many times. If this happens, you can use promo code GUSAFULL at caesars.com/sportsbook-and-casino and try again. We recommend clearing your cookies, or using a new incognito/private browser and seeing if that works.
---
What Else is Left To Try?
Let's get back to the basics, your best sports betting experience may only be a few steps away.
Delete and download the app
Sometimes applications need to be deleted and re-downloaded. Simply delete the application from your mobile device and re-download it on the app store and see if you can get back up and running.
Try to log in on a different device
To try and eliminate whether it is your device that is restricting your access to the Caesars mobile app, please try and access your account on another device. If you don't have another device, then why not ask a friend or family member to use their device?
If this didn't solve your problem
There is a strong level of support available with the Caesars sportsbook. You can contact them through the app, the regular desktop site, and through the mobile site. Support is available via Live Chat, email, and Caesars also has helpful phone support.
There are some handy FAQs and guides built into the app so you can head there if you have any additional questions, and this may help, although the info is more geared towards questions on deposits, withdrawals, bet types, etc.
---
Alternatives to Caesars Sportsbook
If you are done trying to fix your Caesars app, and you want a fresh start on another sportsbook, we don't blame you. We understand that these things can be frustrating sometimes, so we have provided 3 alternate sportsbooks that you can sign up for now!
With each, we have provided our review to make sure you are choosing the best app for you.
If you have been experiencing problems with Caesars and found a good fix or workaround, then please share it with us, and we can update our guide.
---
FAQs
Why can't I log into my Caesars Sportsbook account?
The most common problem people have is that they forget their password or username. Make sure you are using the correct username and password, and if you forgot your password, it is better to change it. This is because you are only allowed a certain amount of tries to get into your account, and after that the Sportsbook will temporarily block you from accessing it.
Does Caesars Sportsbook have a live chat?
Yes! Caesars Sportsbook has a live chat platform that works 24/7. You can reach out at any time to customer support, and they will be more than happy to address any and all of your concerns.
Can I use Caesars Sportsbook in my state?
Caesars Sportsbook can operate in the following states: AZ, CO, IN, IA, IL, KS, LA, MD, MI, NJ, NY, OH, PA, TN, VA, WV, and WY. You do not need to be a resident of any of these states - as long as you are within the state, you can bet at Caesars Sportsbook. As soon as you leave the state and enter another state where Caesars Sportsbook does not operate, you cannot place any bets.
Why is Caesars Sportsbook running slowly?
If the Caesars Sportsbook website or mobile app is running slowly or lags, then you may have to check your internet connection. Make sure you have a secure connection to a stable internet, and then reload the page or reopen the mobile app. This should solve the problem, but if it still does not, then you may have to reach out to customer support.
How long does it take to deposit money into my Caesars Sportsbook account?
Deposits are usually instant, as Caesars Sportsbook will top up your account as soon as it receives confirmation of the payment from your bank or electronic payment service provider. Of course, if there is a delay from your bank or payment provider, then this can delay your payment. If that is the case, then you may have to wait for up to 2 hour, and if your deposit still has not arrived, contact Caesars Sportsbook customer support.