Gamble USA strives to improve your online gambling experience. We aim to help you play safely, make informed decisions when gambling, and increase your betting knowledge through our guides.
We adhere to strict editorial integrity; our content may contain links to products from our licensed & legal US partners.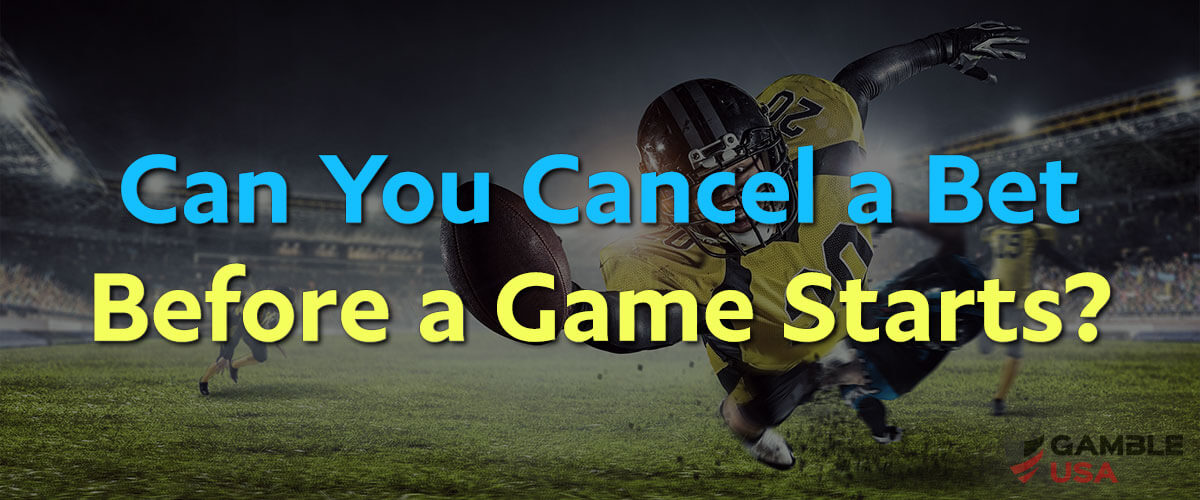 Have you ever made a bet, only to regret it afterward? Even before the game started, you think you made a mistake and wish you could take your bet back. Or maybe after you purchased your ticket or submitted your bet slip, you looked at it closely and realized that either through your own error or the clerk's error, you were stuck with a bet you never intended to make.
Since these kinds of situations occur frequently, this article will answer the important question you are probably asking yourself right now: Can you cancel a bet before a game starts?
When Canceling Your Bet Before the Game Begins is a Good Strategy
Even the best handicappers will not be on the winning side of every wager. For example, parlay bets on your selected sports are extremely difficult to win. That is why being selective and using smart money management are a must for any sports bettor but especially for beginners who are still learning the ropes and those with a very limited bankroll. No bets should be for an amount that is way out of proportion to what the player bets ordinarily. You need to do your research, pre game, to give you a chance of having winning bets more often than not.
If you are betting online or on the phone, particularly if it is with a site you just joined and still have difficulty navigating, you might inadvertently add extra digits to a bet on your bet slip. Or maybe you bet a big favorite on the moneyline, not realizing that your bet would cost you more than 3x the amount of money you would profit if it was a winner. Even one mistake of this type can play havoc with your bankroll, so whenever possible, the best strategy is to rectify it by having your bet canceled or voided immediately.
Another time when canceling a bet before the game starts makes sense is if somehow you wound up with a bet on a different team or a different game than the one you intended to wager. If you are betting in person, you can minimize the likelihood of these kinds of mistakes by being very specific. For example, don't only say you want to bet on Philadelphia; name the sport – football, basketball, baseball, or hockey. If you are making a baseball bet on a team that is playing a double-header, specify whether your bet is on the first game or the second game.
If you are betting online or with a mobile app, given the tremendous number of betting markets and bet types listed, you need to be equally mindful. Confirm every entry on every bet slip carefully before submitting it.
If you don't discover until after you have already made your bet that it is not on the team or game you wanted, whether or not you can have it canceled you won't know for sure until you try. The decision is at the discretion of the sportsbook or bookmaker. However, in most cases, the request to cancel your bet will be turned down.
Reasons You Are Unable to Cancel Confirmed Bets
Situations often arise where a gambler realizes after making a bet that it might have been a mistake. But canceling a bet before a game starts is not as easy and cut-and-dry as it sounds. The usual answer that bettors get to such requests is 'No" rather than "Yes."
Many bookies regard all bets as final with no exceptions. Even with bookmakers and sportsbooks that might occasionally bend the rules, it is far more likely that your request to cancel a bet will be denied.
How Canceled Bets Can Cost Bookmakers Big Time
From the bettor's perspective, it does not seem at all unreasonable to cancel a bet on a game that hasn't even started yet, whatever the reason.
After all, people change their minds and cancel orders or return department store purchases for a refund all of the time, no questions asked. You can even show up at the store with just the item and no receipt a month later, and it won't make a difference.
However, bookmakers and sportsbooks are not so accommodating. Here are the three major reasons why they don't want to cancel bets, and it will take a lot of persuading to get them to consider otherwise.
Canceling bets is time-consuming and not cost-effective. It causes longer lines and forces other customers who want to bet to wait.
The main reason most gamblers have for wanting to cancel a bet is new information such as a report of a key player injury that makes the wager less attractive, not because they accidentally made a mistake. No bookie wants to be stuck with one-sided action, which would surely occur if as soon as a horde of gamblers realize their bet will probably lose, they are allowed to cancel it.
If your reason for wanting to cancel your bet is an injury or another factor that reduces your team's chance of winning, the odds on the game will have changed. If you were to get a full refund based on the odds at the time you made your bet while anyone betting the same way from this point forward would get better odds, that would also cut into the bookmaker's potential for profit.
Moreover, if the sportsbook agrees to cancel your bet because of new information, it would also have to allow anyone else who wants to cancel the same option. It would also have to be willing to accept the same people's new bets either on the same team at better odds or on the opposing team.
Sportsbooks that operate as a betting exchange don't allow their customers to cancel bets at any time for any reason. Since all betting is peer-to-peer rather than the player trying to beat the bookmaker, a bet can only be accepted if another bettor agrees to wager the same amount on the opposite side. All bets are final. Therefore, the best you can do is bet on the opposite side yourself and hope you get someone to take the side you bet on initially. However, you should be prepared to accept worse odds since the bookmaker was probably privy to the same new information that could impact the outcome of the game way ahead of you.
Can Bookmakers Decide to Cancel Bets on Certain Games?
While customers are severely limited in their ability to cancel bets, bookmakers basically have free rein to restrict or deny action on any game they choose.
If they make a mistake and post an erroneous line that sharp bettors subsequently take advantage of, they can declare all bets against that line null and void and give the bettors a refund. They can also take a game on which extremely lopsided action is expected "off the board."
You might feel that the difference between what you are allowed to do and what they are allowed to do is unfair. But that is the way it is, take it or leave it.
When You Are Allowed to Cancel a Bet Before The Game Starts
Your chance of getting a refund is better if you placed the bet unintentionally than if, based on new information, you now believe your money is on a loser. When making your request, you should act as soon as you discover your mistake, before the odds change, if possible. Obviously, if you wait until after the game has started, you have zero chance of canceling your bet.
Here are a couple of scenarios where the sportsbook might decide in your favor, but not necessarily, so don't count on it.
If you signed up with a particular sportsbook very recently and you are still trying to get the hang of its website or mobile app and you have accidentally pressed a button you didn't mean to, go ahead and try to have the bet canceled. Sometimes it will be clear that the bet was unintentional. For example, if you're a small bettor who normally makes point spread bets of $22 to try to win $20, and suddenly, out of nowhere, you have a bet for $2,200, the mistake should be obvious.
Similarly, an inexperienced sports bettor might want to make a prop bet on a particular player to win the MVP but accidentally bets the field instead. Or the bettor might unintentionally place a bet on the wrong sport or the wrong day.
Anyone can make an honest mistake on a betting slip once in a while, so in an isolated instance, you might be given the benefit of the doubt. However, if you try to cancel bets on a regular basis or right after canceling, you make a new bet at better odds, the sportsbook will catch on and not let these tactics continue.
If you are placing your bets in person, another possibility is that the clerk fills out the ticket incorrectly. Once this happened to me with a team, and I spotted the error before I left the window, so I had the bet canceled and got a new ticket with the correct bet. Another time, the clerk's mistake was on an over/under bet, but because I didn't notice it until after I left the window, I could not have the bet canceled and changed.
Ways to Cancel Your Bet Before the First Whistle
If you want to cancel a bet, you should contact the customer support team at the place you made the bet as soon as possible. If you made your bet in person, ask to speak to the manager on duty. If you made your bet online or on your mobile device, contact customer support by phone if that is an option. Otherwise, use live chat. Your request may have to be referred to a supervisor, whose decision will be final. Regardless of the reason for wanting to cancel your bet, don't be surprised if the answer you receive is "No."
Solutions if You Cannot Cancel Your Bet
If you want to cancel your bet but can't, many sportsbooks will still allow early cashout. Depending on when you accept the offer and fluctuating odds, the cash-out amount could be less than your original stake. You will then need to decide if it is still worth it to get most of your stake back but not all of it.
If you take the early cashout option immediately after you place your bet, the odds might remain the same, and if you're lucky, you will get your entire stake returned to you. Or if you're not sure if this is what you really want to do, you can wait until later. But by then, the odds will probably change, so there is less chance of getting your full stake back.
The window of time for cashouts starts as soon as you make your bet and continues while the game is in progress. Keep in mind, however, that once you exercise the cashout option, the decision is final; you cannot change your mind afterward. Therefore, our advice is to let the bet stand at least until after the game has started and only cash out before then if you are convinced it is a lost cause. If you are second-guessing your bet but are not quite ready to give up on it yet, wait until the game is underway and then decide.
Once the game is in progress, you can still choose to cash out early, but you will have to act very quickly because, based on the action taking place so far, the betting odds can change in a heartbeat after every play. If your team is ahead, taking an early cashout allows you to lock in a profit regardless of the final score. However, you won't win as much as you could if you let your bet ride until the end of the game. If your team is behind, taking an early cashout allows you to salvage part of your bet rather than risk losing all of it. Either way, you can't wait too long because in the final minutes, or sooner if it is a completely one-sided contest, the early cashout option will probably be off the table.
If you are prone to making errors, these sportsbooks with cash out can be the best betting apps for you. You can also find dedicated guides on how to cash out on DraftKings or FanDuel on our site, or reasons cash out might be suspended.
Are You 100% Certain You Want to Cancel Your Bet?
Rather than canceling your bet, you can let it stand and hope for the best.
Sometimes a bet that you think was a mistake ends up winning.
You can also follow the action while the game is in progress, and if it looks like your bet will indeed lose, you can try to cut your losses with a live bet opposite to your original bet.
Understanding Voided Bets
Voided bets are those wagers that various operators cancel for numerous reasons. In the case of a voided wager, the money staked by the player is returned, so the amount that was wagered is not lost. When a bet is canceled, the money that has been submitted by the bettor is returned to the relevant account instantly.
There could be several different reasons for canceling a bet. The reasons will be stated in the terms and conditions that all players must sign before they register with a site. Typically a bet is canceled after something happens that significantly changes the market conditions.
This substantial change to the market could be canceled games, one of the game's players suffers something terrible which causes an abandonment or something along those lines. A cancelled event will likely trigger the operator to declare any wager on that event void, so players get their stake back.
FAQ's
Can you cancel a sports bet before the game starts?
Whether or not you can cancel a bet depends on both the reason for wanting to cancel and the policy of the sportsbook. Sports operators are within their rights to refuse to cancel a bet because when you sign up as a customer, you agree to their terms and conditions. One of those conditions is that the sportsbook pays you if you win, but from the time you place your bet until the outcome is decided, your bet is binding. However, if you can convince customer support that you made an honest mistake, some sportsbooks will make an exception and agree to cancel or void your bet.
Can you cancel a bet before a game begins on FanDuel?
Can I cancel my DraftKings bet before the game begins?