Gamble USA strives to improve your online gambling experience. We aim to help you play safely, make informed decisions when gambling, and increase your betting knowledge through our guides.
We adhere to strict editorial integrity; our content may contain links to products from our licensed & legal US partners.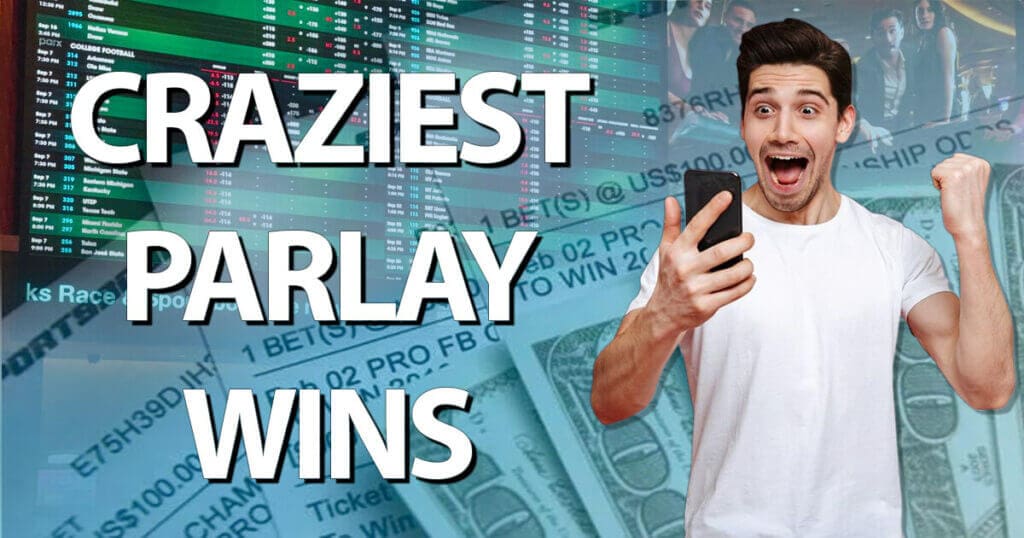 An insane parlay is a story as old as sports betting itself. Whether it be a colossal 20-leg parlay of outright winners or a 10-leg first-basket scorer parlay, everyone loves to hit big on bets they never thought would win! Big winners are what everyone is chasing, and sportsbooks love to advertise a huge payout to keep people coming back because everyone loves them.
Parlays might be the most entertaining form of sports betting because it's the only way to wager 50 cents and win six figures! Bettors everywhere love to place the parlay with the longest odds possible every week because it's fun and is a similar experience to winning the lottery!
If you're like me and love to see other sports bettors beat the house, read below for the ten biggest parlay wins that I've ever seen, tips for parlay betting, and how to use bonus bet promos in a bold move to chase the elusive 15 leg parlay that actually wins. The following links will grant you a free parlay bet on the sportsbooks that have paid out the biggest wins this year:
#1 50 Cent six-leg parlay wins over 130k on the FanDuel Sportsbook
In January 2022, a 50-cent six-leg NBA first-basket scorer parlay hit big for three friends who rode the wave together. That's right, this 260 thousand to one bet hit for three friends and probably changed all of their lives!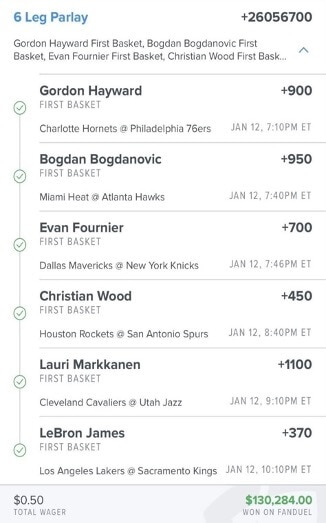 Being able to win one NBA first-basket bet is hard enough as it is (I've never done it), and these kids were able to hit six in one night. I'm not sure if they went out and immediately bought a lottery ticket, but with how lucky they were that day, they should have. I can't imagine the excitement they must have felt after checking their FanDuel account.
#2 $5 wins 305k in Las Vegas on college basketball
In 2016, one bettor who lives in Las Vegas placed a 15-leg, mostly college basketball parlay with 61 thousand to 1 odds and cashed it like a bet against Ohio State in March. The $5 bet paid out winnings of $305,375 and contained 13 picks on college basketball and two picks on the NBA. Huge leg parlays that hit like this are always great to see, especially when they're not even taking significant risks!
Unfortunately, there's no picture of the actual ticket because it was placed at an in-person sportsbook; however, his 15 outright picks were: Texas, Utah, Mississippi State, Vanderbilt, Purdue, Stanford, Middle Tennessee, Arkansas, Gonzaga, Ohio State, Wisconsin, California, the Detroit Pistons, and the Golden State Warriors.
#3 $6.90 wins 219k on Caesars Sportsbook
One bettor in New York in May 2022 placed a 16-leg parlay containing 10 MLB bets, 2 NBA playoff bets, and four NHL playoff bets consisting of three spreads and 13 money line bets (including one live money line bet). This bet is unique because not a single bet was below -210 (only one leg had worse odds than -160), while not a single bet was over +160 and consisted of 10 favorites and six underdogs.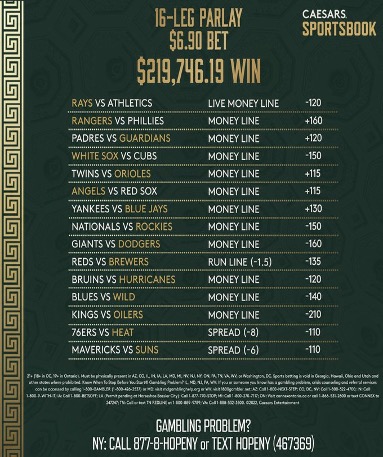 The bet took the St. Louis Blues, Boston Bruins, Washington Nationals, and the New York Yankees to lose, which is somewhat surprising considering those teams' statures; however, it ended up being a great call! It's great to see people betting across different sports rather than making large bets on big events like the NFC Championship or the Super Bowl!
#4 $5 hits for almost 90k on FanDuel Sportsbook
This FanDuel bettor hit a 10-leg parlay on NHL goal scorer bets and turned $5 into almost 100 grand! The odds were astronomical to this bet because it is difficult to bet on the correct goal scorer in a game that is as low scoring as hockey.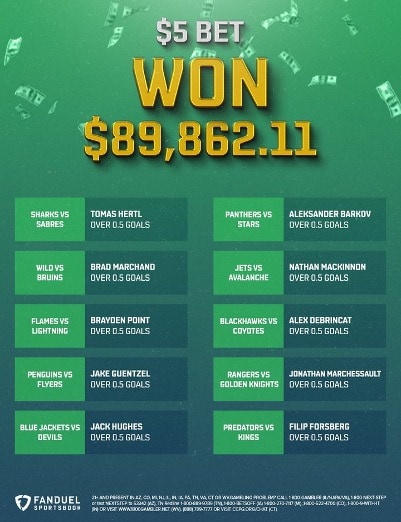 Unlike anytime touchdown scorers in NFL games, hockey has constant line changes with several players at the same position getting meaningful minutes with a much smaller point total, meaning it's much harder to guess the right person to score in hockey. All I know is that this NHL season, I will be making many plays on goalscorer bets.
#5 $50 wins 450k+ on Caesars Sportsbook
One Virginia bettor had a massive victory on NFL games last season as he made a $50 play on a 14-leg longshot parlay that cashed for close to half a million dollars! This bettor did what I do every week and bet the spread on every game of the week (except for Monday Night Football) in a single wager and actually won his bet of +900,000 odds.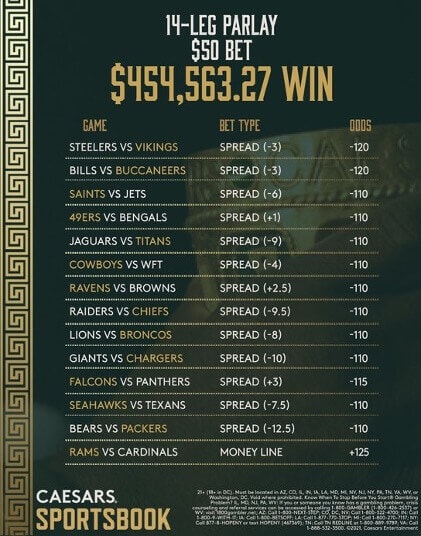 The closest game of the bet happened in Tampa Bay as Tom Brady faced off against Josh Allen and the Buffalo Bills in one of the most exciting games of the NFL season (other than maybe Tampa vs. Green Bay). The former quarterback of the New England Patriots fell apart in the second half as the Bills tied the game in the final minutes; however, he pulled it out and finished the game with a 54-yard touchdown.
#6 NFL and NBA parlay turns $30 into $59k on FanDuel
This bettor placed a massive 14-leg parlay that combined five NFL money line wagers with nine NBA money line bets for total odds of +198422. The bettor played mostly favorites as 8 of the bets were; however, six of the legs were underdogs, and one even had odds of +210.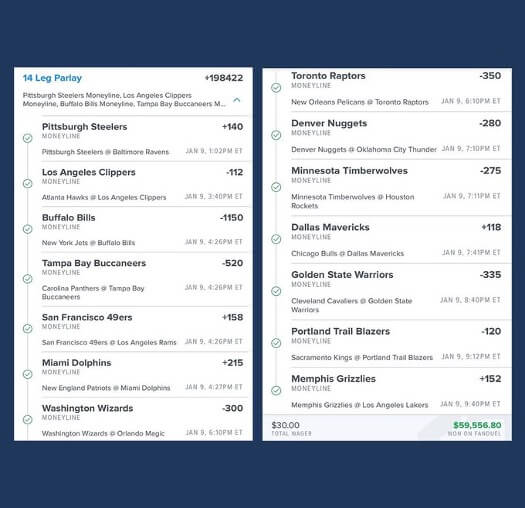 While the bet leaned heavily toward the NBA, three of the five NFL picks were underdogs, with his longest odds bet being on the Dolphins as well. With the NBA season right around the corner, I know I'll be placing similar parlays if the Sunday slate catches my eye.
#7 $100 wins 42k on FanDuel
More big winnings from NHL bettors as this one hit a simple 2-leg parlay for a massive $42,900 payout! While this bet might not have been many legs, it was a bet on the exact score outcome of each game for +42800 odds combined.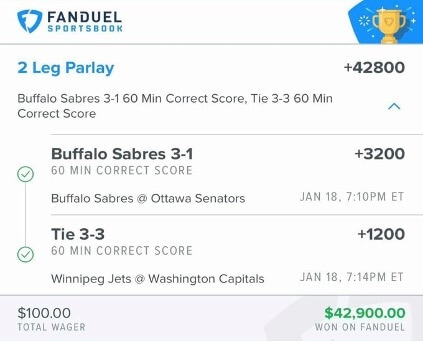 While this bet hit in the end, it was an absolute sweat for this bettor as both scores didn't happen until very late in the third period, and one went to overtime! Luckily the Jets and the Capitols couldn't score in OT because if they did, this person would have lost out on a once-in-a-lifetime bet!
#8 $100 wins 41.5k on FanDuel from a same-game parlay
This NFL bettor picked Green Bay vs. Philadelphia to be a shootout in 2020 as a seven-leg same-game parlay predicting a high-scoring affair cashed for almost 42 thousand dollars. This same-game parlay consisted of the spread for the Packers, three separate anytime touchdown scorers, and three overs on yardage for passing, receiving, and rushing props.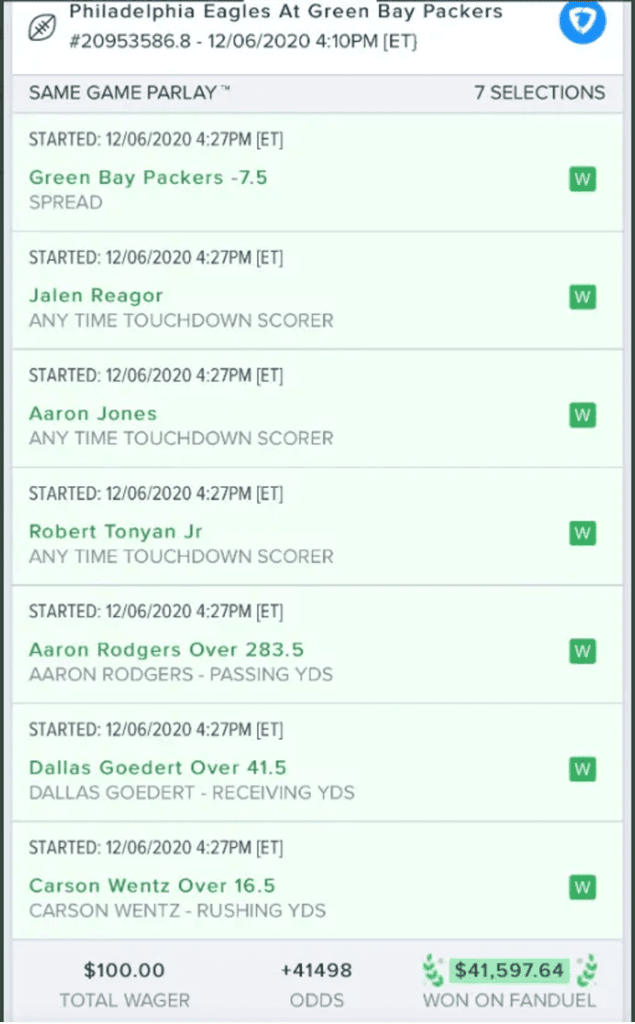 Even though this was one of the last games that Carson Wentz played for the Eagles while he was on his original downturn, this bettor put faith in him and his legs as they took Wentz to throw a touchdown, throw a good number of yards to his TE, and to rush for over 16.5 yards. Wentz delivered on not only these three props but also failed to keep his team within a touchdown as well as the -7.5-point spread hit.
#9 One bettor wins $1k from a $5 bet
This NFL bettor loves nothing more than some great defensive plays as their three-leg parlay of defensive touchdowns hit to turn $5 into a grand. The combined odds of this unlikely event were +20780, which I don't think is high enough personally.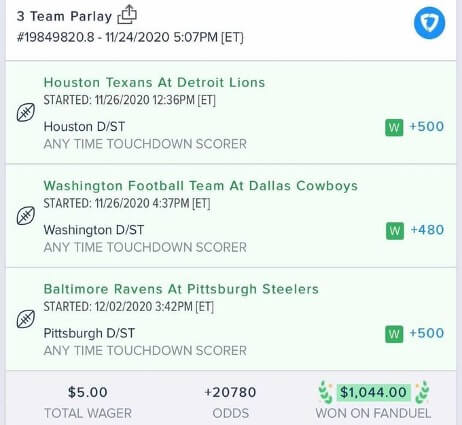 This crazy bet in 2020 combined three separate defensive touchdowns in one Sunday, which is crazy enough as it is, let alone calling which games and teams they will happen in.
#10 $15 NFL parlay wins close to 6k at William Hill Sportsbook
One bettor in Vegas took advantage of their beloved Philadelphia Eagles in the Super Bowl in 2018 as they placed a 9-leg same-game parlay on the event that cashed for a little under six thousand dollars. This parlay consisted of several prop bets, the Eagles spread, and the total points.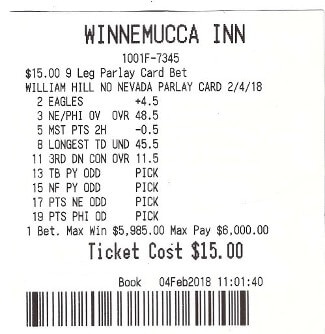 To watch your favorite team compete for a championship is always exhilarating, so I can't imagine the joy this person felt not only to watch their team win but also to win a good chunk of change of their own! I know I'd pay to watch my favorite team pay to win a championship, let alone get paid to watch it!
How Parlays Work
Parlays are a pretty simple concept of sports betting that 99.99% of sportsbooks offer (and if they don't, don't use them). Simply put, parlays are multiple bets combined together to compound odds to earn more cash from a victory. All picks must win for the big payday.
Parlays can combine prop bets or straight bets like the money line, spread, and point totals; however, many sportsbooks require users to place a same-game parlay if they're trying to place several different prop bets on the same game. While this feature is also available on most sportsbooks, it's not available everywhere.
Same Game Parlays
A same game or single game parlay is a parlay that consists of correlated bets. Players can use these separate parlays to put together several props or markets from the same game, in the hope, as ever, that they can secure a huge payout. Correlated bets refers to two or more wagers which are linked in a way which means the likelihood of one of the legs winning is improved or decreased by the result of the other leg.
FanDuel was the first operator to really dive forward with SGPs, but they are now widely available on most sports betting sties. Initially, sportsbooks allowed small combination bets on a single contest, like a over/under, spread or the monyeline, but parlays for single games weren't available. However, there have been big changes in recent years.
In the same way as a standard parlay, all of your choices need to be correct for you to win. If just one leg lets you down, the whole parlay loses. Consequently, like with any parlay bet you place, it is very much a high risk high reward type of wager.
3 Tips for Parlay Sports Betting
Below are three tips and strategies for parlay sports betting to make you a better bettor and to win you more money! While it's not an exact science, there are definitely steps you can take to increase your win percentage and minimize your losses.
Remember, a sports betting account is for entertainment purposes only, and you should only be betting with money you're prepared to lose. Don't try to make quick cash to pay your bills because there's no guarantee that you will win. If you're gambling money you can't afford to lose, you might have a gambling problem. Please click the link here for help or call 1-800-GAMBLER.
Tip 1: Do your research
The biggest thing you can do to increase your betting percentage is to do your research on each event you're betting on. First, look into each team or athlete and look at their strengths and weaknesses, then double-check the injury report to ensure no key players are hurt (primarily in team sports).
Other stats to look at are season averages and team rankings in specific game categories to identify the potential areas of exploitation each team might look for throughout the game. Previous matchup history should always be taken into account as well, especially for individual sports.
Look into other factors as well surrounding the event, such as the weather for an NFL game or whether or not a team is on the second night of a back-to-back in the NBA. Before placing a wager, anything and everything should be thought of and studied thoroughly, but don't forget to trust your gut.
Tip 2: Have a routine and stick to it
Especially in parlay betting, figuring out the parlays you want to make and doing them consistently at a specific dollar amount each time helps limit losses. What I mean by this is to find a base unit for each type of parlay. What I like to do each week in the NFL is place two parlays with lower odds while throwing down three long shots at a much smaller wager.
My parlays are $10-$20 depending on the odds of a smaller parlay and $1-$5 if it's a longer shot parlay with 6+ legs. For NFL specifically, I look at each time slate of games and place an anytime touchdown scorer from each game in multiple parlays across the slates.
Doing this allows me to place a large parlay on the morning games, a midsized parlay on the midday games, and then make a same-game parlay on the solo night games. By doing this, I tend to win more than I lose because I'm risking less on the longer shots and betting more on the bets I tend to win more often.
Tip 3: Find the bets you hit the most
Are you good at picking golf tournament winners in the PGA women's division? Then place a parlay consisting of group winners from the KPMG Women's PGA Championship. What's most important is that you're betting on what's most familiar and comfortable to you.
Don't try to bet on sports you're not knowledgeable about because that's a recipe for disaster. First, try out straight bets and figure out what sport and type of bet you hit the most, then move on to parlay betting and progressively make them larger and larger while lowering the risk.
Doing this allows you to get acclimated to the types of bets and sport you're betting on by learning valuable lessons on individual bets with a better likelihood of success. As someone who jumped into sports betting by placing wild parlays because I liked the enormous potential payouts, follow this tip.
Free Bets to Chase Massive Parlay Betting Wins
Free bets are all the rage right now as most sports betting platforms give new users bet insurance on their first bet worth up to a specific dollar amount. They're also featured very frequently in ongoing promotions on different sportsbooks and are a great way to go big on longshot parlays.
A good strategy for free bets is to use a larger risk on a longer shot parlay because it will give you a second chance if your bet loses. Doing this allows you to make your second wager significantly lower odds and can help make big plays bigger by maximizing potential longshots.
If you're looking for a new sportsbook and want to use some big free bets to make your own crazy parlay, look at the promotions below from my top five sportsbooks offering new customers free bet offers. Be sure to click the link before registering for an account (if applicable) and use the promo code (if necessary) during the registration process to get the bonus listed.
Parlay insurance bonuses, weekly reload bonuses, and more offers are up on each of the above sportsbooks!
FAQs
How often do parlays hit?
If you have two bets that have odds of +100 each (bet $100 to win $100) this means the parlay has an approximately 25% chance of winning. If the odds move to -100, the chances improve to 27%, however, the payout would be lower.
What are the odds of winning a parlay?
A simple two leg parlay has 4 possible outcomes. So this means that you should hit one out of every 4 legs, or, put another way, odds of 3-1 against you. The typical payoff for a two team parlay is 13-5.